Mauritius North Tour (Private Tour)
| | |
| --- | --- |
| Location | North |
| Operating Days | Monday, Tuesday, Wednesday, Thursday, Friday, Saturday |
| Duration | 8 hrs |
| Activity Time | 09:00 - 17:00 |
| Transportation | Included in price |
| Comment | As this is a private trip, we can customize the tour route and times as per your prefrences |
Tour of the North of Mauritius – Mauritius Private North Tour
Discover the North region of Mauritius on its many sights.
This tour offers you to discover and visit all the main tourist sights, attractions and places of interest of the North of Mauritius.
This is a Private Tour, only for you to go in a private vehicle (including pick up and drop off from anywhere in Mauritius)!
As part of this tour you will visit many attractions and sights in one day:
Mauritius National Botanical garden
Visit and tour of the Sugar estate & Museum
Visit of the city of Port Louis – The Capital of Mauritius
Port Louis' waterfront area including Caudan Shopping complex
Port Louis main market
Port Louis craft market
Fort Adelaide Port Louis (aka La Citadelle)
The full day private north tour includes:
Pick up and drop off from any hotel / place of accommodation anywhere in Mauritius
Full transportation to all the sights
A personal driver guide to show you around and inform you on each of the sights
All along, you will travel in maximum convenience in an air-conditioned family car / minivan (for bigger groups), with an experienced driver/guide to show you around.
---
The Mauritius North Tour – Tour Itinerary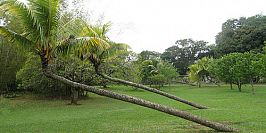 Mauritius National Botanical Garden. The botanical garden is home to an incredible variety of tropical plants, many of them indigenous. The Botanical Garden is one of the most visited sights in Mauritius. It was first opened as a private garden by the French governor of Mauritius nearly 300 years ago. The botanical garden stretches over endless acres of land and it can take you more than a week to cover the whole garden. The Botanical Garden is populated with more than 650 varieties of plants among which are the famous Baobabs, the palmier bouteille, the ineluctable giant water lilies, dozens of medicinal plants, 85 different varieties of palms, a big spice garden and many more. As part of the tour, you will get to explore the Botanical garden and have a taste of their beauty.
Sugar estate and Museum. The Sugar estate and Museum located at the North West of Mauritius stretches over 5000 square meters. In the estate you will discover the profound effect and the key part of sugar in the history and identity of Mauritius. You will also hear local sugar tales and stories on sugar in Mauritius and on its importance. As part of the sugar estate tour you can see a selection of panorama videos and films on many sugar related subjects. Also, you will have the opportunity to shop at the estate's boutique.
Be sure not to miss this great opportunity to enjoy the tastes and purchase unique-local made special sugars, and also the very famous local made Mauritian rum!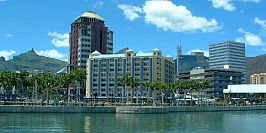 Visit and Tour of Port Louis. Enjoy a visit of Port Louis the capital of Mauritius. Port Louis is the Mauritius' largest city and the economic and administrative center of the island. Right off the main square you can stroll besides the palm-lined Place d'Armes. You can see some wonderful French colonial buildings, especially the Government House and the Municipal Theater. You will have free time to visit Port Louis Waterfront and the Le Caudan Waterfront shopping complex. The bustling Port Louis Waterfront offers exciting shopping and entertainment venues intermingle with world-class hotels and restaurants overlooking the Port Louis Harbor. The waterfront area has become an essential actor of the vivid tourism and cultural life in Mauritius.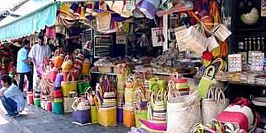 The craft market in particular is a hive of activity with wonderful ambiance where you are sure to find a lot of souvenirs for the family back home.
Another place to visit is the Port Louis central market – the market is a fun place to visit and the ideal place to find many local made products, textiles, Mauritian spices, fruits and many souvenirs for very cheap prices. On your free time you can stroll the city streets and see several sightseeing attractions such as: The Anglican and Catholic cathedrals, the main city Mosque, Chinatown, the Supreme Court house, the 18th century Barracks and the Natural History Museum (free entry).
Fort Adelaide (also known as La Citadelle) was built in a very strategic location on higher lands of Port Louis at 240 feet above sea level. The construction of Fort Adelaide started on 1832 and completed after almost ten years. Fort Adelaide offers a vast panorama on Port-Louis and its harbour. The British built this fortress in fear of a civil war from the remaining French settlers on the island and also for the purpose of guarding the harbor against enemy attacks. A ride uphill to Fort Adelaide, guarantee breathtaking view of Port Louis andof the mountain range surrounding Port Louis.
---
Additional information regarding the North Tour
Start & End times:
Duration: The duration of the private North tour is 8 hours
This private tour is offered every day
Departure time: 9:00 am from your hotel / place of accommodation
Return time: 17:00 pm back to your hotel / place of accommodation
(Upon request it is possible to start or finish the tour in a different time)
Car Capacities
You can choose from a selection of vehicles types:
Family Car - Up to 4 passengers
SUV Car - Up to 6 passengers
Minivan - Up to 12 passengers
About the drivers
All drivers speak fluent English and French (Upon special request we can organize driver who speaks additional languages). The drivers, citizens of Mauritius, will be happy to provide you with information about Mauritius and each of its sights.
All drivers are very professional, time efficient and friendly. There is high emphasis on being always on time and providing reliable devoted service to customers.
Lunch Menu
As part of this tour, we offer you to enjoy a delicious lunch and a unique dinning experience at the beautiful Fangourin restaurant situated inside the sugar estate. With its perfectly preserved vegetation, its picturesque pond with lush greenery and geese, the restaurant offers a stress free environment conducive to relaxation. The Fangourin cuisine is inspired from unique flavors while maintaining a rich Mauritian culinary heritage. The restaurant quickly became renowned thanks to its unique setting and colorful and gourmet cuisine.
You have the freedom to choose from a 3 possible set menus:
(all the set menus are identical except for the main dish which is different as part of each menu):
Appetizer:Fangourin finger bites served with garlic butter toasted tartines
Starter: Freshly prepared Mauritian fish salad with Rodrigues lemon confit
Main course (3 options to choose from):
MENU A - Farm Chicken Creole Style with vegetables fricassé Accompaniments: Steamed rice and cucumber salad
MENU B - Pan fried babonne fillet with vegetables fricassé Accompaniments: Sautéed rice with sultanas and cucumber salad
MENU C - Traditionally slow cooked venison served with breadfruit bites Accompaniments: Sautéed rice with sultanas and cucumber salad
Dessert: (applicable to all the menus) Pure dark chocolate mousse with a hint of molasses
Drinks: 0.5L water, Coffee, Tea or Infusion
Children Lunch Menu:
Main Dish (3 options to choose from): Bolognese / Tomato Neapolitan / Chicken or beef burger topped with cheese, French fries, Mixed Salad
Dessert: Pancake filled with Demerara sugar and chocolate
Drink: ½ water
Prices for the lunch menu are:
Menu A: 22 Euro/person
Menu B: 26 Euro/person
Menu C: 30 Euro/person
Children Menu: 10 Euro/child
---
Comments
The private tour is done in a private car / minivan (for bigger groups) and includes full transportation to all the sights, pick up and drop off from any hotel in Mauritius and a driver to show you around.
This trip is offered every day except on Sunday
---
Prices
Transportation:
The Transportation prices are Per Vehicle (and not per person). You can choose the vehicle type according to the number of passengers in your group.
Private Daily Tour in a family Car (for up to 4 people): 79 Euro
Private Daily Tour in a SUV big Car (for up to 6 people): 89 Euro
Private Daily Tour in a Minivan (up to 12 people): 109 Euro
The above transportation prices are per vehicle and not per person
Entry Tickets Packages (includes entry tickets to all the sights as part of this tour):
Price per Adult: 15 Euro
Price per Child (ages 3-12): 12 Euro
Price per Baby (ages 0-3): Free of charge
The prices of the entry tickets packages are special discounted prices.
Lunch Menu
Price per person for the lunch menu at the Fangourin fine dinning restaurant: 22 / 26 / 30 Euro (10 Euro/child)
Total Tour Price Per Person
| | | |
| --- | --- | --- |
| Number of Participants | Total Price | Price Per Person |
| 2 Adults | 109 Euro | 54 Euro |
| 4 Adults | 139 Euro | 34 Euro |
| 6 Adults | 179 Euro | 29 Euro |
| 12 Adults | 289 Euro | 24 Euro |
| 2 Adults + 2 Children | 133 Euro | 33 Euro |
The total tour price includes: Private Transportation and Entry Tickets to all the sights