Motorbike Ride Experience in Mauritius - Guided Biking Adventure
| | |
| --- | --- |
| Location | All Regions |
| Operating Days | All Days |
| Duration | Flexible |
| Activity Time | Flexible |
| Transportation | Offered as Supplement |
| Comment | The tour is customisable according to your preferences. |
Transportation
Offered as Supplement
Comment
The tour is customisable according to your preferences.
Guided Tour of Mauritius on a Motorbike - Overview
Have you ever wanted to explore a new country on a motorbike like in the movies? Or maybe you're planning a road trip in Mauritius and want to add a little excitement by riding a motorbike. Whichever the case, Mauritius Attractions has got you covered!
This package offers you an amazing motorbike touring experience in Mauritius. The guided biking trip comes with an experienced guide who'll accompany you on this memorable journey. Whether you are a seasoned biker or just want to experience a bike ride, this tour is for you! You can either ride your own bike or enjoy the ride as a passenger - with your own chauffeur.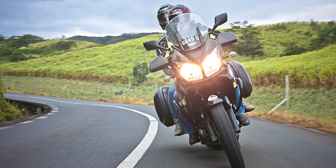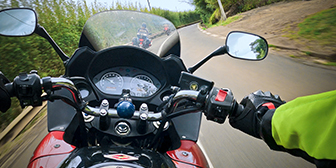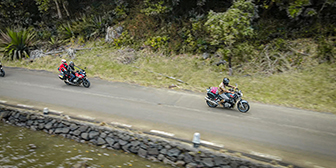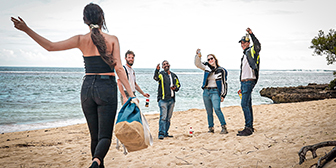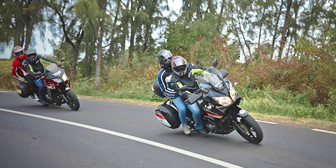 Highlights of this activity:
A new, fresh and unique way of discovering Mauritius.
Opportunity to ride your bike or to book one of the bikes, with your own chauffeur
Choose your preferred tour itinerary & customise as per your likings
Take your pick from the 3 motorbikes on offer - Solo or as a Passenger
Discover panoramic views while you explore Mauritius on two wheels
A guide to tell you more about what you see ensure you're having an awesome experience
Have a safe biking experience; all required equipment offered
---
The Guided Biking Adventure includes:
Your tour of choice
Motorbike - choose from the following:
- Honda CBF 600 SA
- Suzuki DL1000 V-Strom
- Suzuki GSX 1400 (Passenger only)
Full-Face DOT & ECE certified helmets
Riding jackets
Riding gloves
Balaclavas
Fuel
Tour guide's experience and support
Hard luggage attached to the motorcycle
Opportunity to customise your tour
Water & soft drinks (charges apply for some optional non-alcoholic drinks)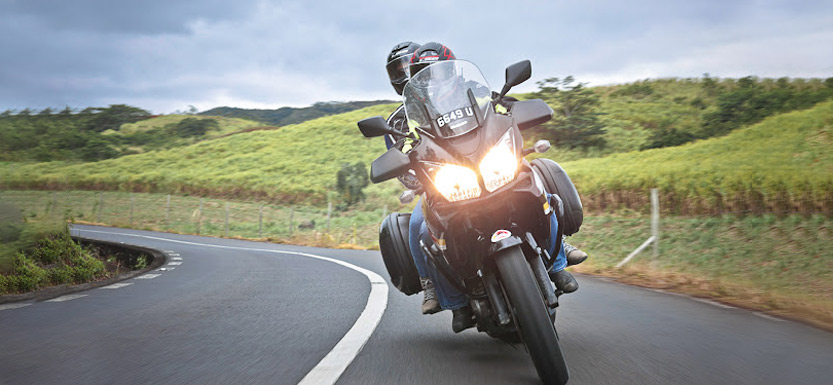 ---
Transportation & Driver Details
Transport is available for an additional supplement and will include pick up and drop off from any hotel / place of accommodation in Mauritius.
Car Capacities
You can choose from a selection of vehicles types:
Family Car - Up to 4 passengers
6 Seater vehicle - Up to 6 passengers
Minivan - Up to 10 passengers
About the Drivers
All drivers speak fluent English and French (Upon special request we can organize drivers who speak additional languages). The drivers, citizens of Mauritius, will be happy to provide you with information about Mauritius and each of its sights.
All drivers are very professional, time efficient and friendly. There is high emphasis on being always on time and providing reliable devoted service to customers.
---
| | |
| --- | --- |
| Operating Hours: | 09:00 - 18:00 |
| Operating Days: | Monday to Sunday |
| Activity Time: | Flexible |
| Duration: | Flexible |
---
About the Guided Motorbike Ride in Mauritius - Tours & Bikes
This motorbike adventure offers you an incredible time discovering the true beauty of Mauritius through a nature tour. Riding a motorbike while you feel the adrenaline pumping is a real thrill for the senses.
With this package, Mauritius Attractions allows you to tour Mauritius island on two-wheels with utmost excitement. There's a range of tours & bikes on offer - and the choice is all yours! In addition, you may even have a personalised itinerary. You will be able to choose the itinerary you prefer from these 3 options:
Option 1: The Biker's Sunday (200 Km)
A trip through the south and southwest of the island with the best it has to offer.
The Biker's Sunday consists mainly of coastal roads with some well-known photo stops, from the World Heritage site of Le Morne Brabant to the Marine Reserve of Blue Bay and across the twisty mountain roads of Chamarel leading to the ritual site of Ganga Talao. ‍This itinerary is where you'll find most of the bikers that are out for a spin during the weekends.
Option 2: To the Old Capital (250 Km)
Very similar to the first option, with a twist. Taking a slightly different route on the mountain roads through a forest of high trees, you return to the first route in Chamarel.
After leaving Blue Bay, you continue along the East coast, passing the picturesque old town of Mahébourg and then the old capital, Vieux Grand Port, which dates back to Dutch times.
You will then head for Pointe du Diable, overlooking the site of a historic naval battle, the story of which is still featured on the Arc de Triomphe in Paris.
Option 3: The Better Half (270 Km)
Start off this tour like the previous two options, following the coast line proceeding to the wild South and then to the even more remote East.
The area feels like it was lost in time, through small fishermen villages and where sometimes, the only thing between sugar cane fields and the sea is the road! From the furthest stop, near the Bras d'Eau National Park, you will cross the island - including a few kilometres on the highway - and then arrive at the old town of Curepipe. From there, you will return to the coast by mountain roads and the unique Chamarel.
About the Bikes
Honda CBF 600SA Alias "Tickle"
The popular CBF 600S makes a very nice light tourer with a tamed lion's heart. The engine and gearbox combo is smooth as silk and exploitable and fits perfectly to this nimble, comfy and easy-to-ride bike.
It has a neutral riding position that will accommodate shorter legs with ease and offers 120L of storage.
Features:
599cc
77 bhp
58 Nm
218 kg dry without add-ons
785 mm of seat height
Shad SH36 panniers + Shad SH48 top case
Suzuki DL1000 V-Strom Alias "The Rain Catcher" (Solo or Duo)
Suzuki humbly created one of the world's favourite road-biased adventure tourers.
The V-Strom 1000 - an updated first generation - is a bike boasting great stability and a surprising ease of use with its wide handlebars and upright riding position. Let's not forget its torquey big 90° twin with racing origins that is sure to bring you some smiles.
It is equipped with a lower seat from its little sister, the 650 and 127L of storage.
Features:
996 cc
98 bhp
101 nm
207 kg dry without add-ons
820 mm of seat height
Kappa K40N panniers
Kappa K49NT top case
SUZUKI GSX 1400 Alias "Achilles"(Passenger only - as part of a group or 100% exclusive)
Take place on the passenger seat of this modern classic bike, inspired by the original superbikes of the 70's and 80's.
This pure-bred Japanese muscle bike surely is a head turner and, more importantly, catches the attention of the people around it.It is the guide's bike and opens the ride.
Boasting a lot of character, one side of its personality is a gentle and mellow tourer, while the other side packs a serious punch!
Features:
1402 cc
106 bhp
126 Nm
228 kg dry
---
Back-pack
Sport Shoes
Sunglasses
Sun block creams/lotions
Towel
Spare clothes
---
| HONDA CBF 600SA | SOLO | DUO |
| --- | --- | --- |
| Option 1 - The Biker's Sunday - 200 Km | €150 | €170 |
| Option 2 - To the old Capital - 250 Km | €185 | €215 |
| Option 3 - The better Half - 270 Km | €205 | €230 |
| Suzuki DL1000 V-Strom | SOLO | DUO |
| --- | --- | --- |
| Option 1 - The Biker's Sunday - 200 Km | €170 | €190 |
| Option 2 - To the old Capital - 250 Km | €215 | €230 |
| Option 3 - The better Half - 270 Km | €230 | €250 |
| SUZUKI GSX 1400 - as part of a group | Price |
| --- | --- |
| Option 1 - The Biker's Sunday - 200 Km | €75 |
| Option 2 - To the old Capital - 250 Km | €85 |
| Option 3 - The better Half - 270 km | €95 |
| SUZUKI GSX 1400 - 100% exclusive - Passenger only | Price |
| --- | --- |
| Option 1 - The Biker's Sunday - 200 Km | €205 |
| Option 2 - To the old Capital - 250 Km | €255 |
| Option 3 - The better Half -270 km | €275 |
---
Booking Attributes