Padi Advanced Open Water Diver Course - Pereybere
| | |
| --- | --- |
| Location | North |
| Operating Hours | 08:00 - 16:30 |
| Operating Days | Monday, Tuesday, Wednesday, Thursday, Friday, Saturday |
| Duration | Flexible |
| Activity Time | Flexible |
| Transportation | Offered as Supplement |
| Comment | Participants should be Certified Open Water Divers |
PADI/ SSI Advanced Open Water Diver Course in Pereybere
Explore the striking beauty of the underwater world of Mauritius during your holiday and become an advanced, open water scuba diving professional.
Mauritius is a real gem of the South Indian Ocean, especially when it comes to the unparalleled beauty of its coral reefs, its magnificent marine ecosystem, its crystal clear turquoise waters, and its unspoilt Northern islets!
There cannot be a better place for you to expand your scuba skills than in the waters of Mauritius which provide ideal training conditions all year round.
Earn an internationally recognized PADI Advanced Diver or SSI Advanced Diver certification through the expertise of the professional diving instructors who are here to guide you.
About The Padi Advanced Open Water Diver Course - Pereybere
Those who have an insatiable love for the marine world with the intent to specialize their scuba diving skills, can become an advanced scuba diver through this professional diving course. As a highlight, you will have the chance to encounter colourful fish such as the king fish, moray eels, triggerfish, stone fish, lion fish, parrot fish, leaf fish and sea slugs. You might also have the chance to spot some gorgeous dolphins, and sea turtles, not to mention the mesmerizing colourful soft corals and algae.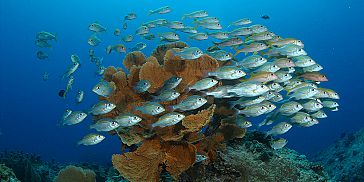 Get ready to expand your knowledge and train at the highest of standards for the Advanced Open Water Scuba Diving course in Mauritius. The package consists of a total of 5 dives, whereby there are 2 compulsory dives; notably the 'Deep & Underwater Navigation', and 3 dives that you choose with the instructor. You will also have 5 knowledge reviews to complete before you receive your certification.
The advanced course is all about excitement and exploration. You can start as soon as you have completed the Open Water Diving course. According to your preference, you can choose either a PADI Advanced Diver certification or an SSI Advanced Diver certification; both internationally recognized. It is also possible for Junior Open Water Divers (at least 12 years old) to get enrolled in this advanced diving course.
The advanced scuba diving course lasts for 2 and a half days, with dives starting at 7:00 am and ending at 11:30 am. There are 2 tank dives that are carried per day, and the 'Knowledge Reviews' are filled in just after the dives. Equipment is provided upon arrival including the logbooks. There will be a briefing before your diving sessions and all your questions can be directed to the expert divers to clear any doubts.You will be assisted by highly trained SSI, PADI, and CMAS instructors for a wonderful scuba diving experience.
As part of the Padi Advanced Open Water Diver Course - Pereybere you will benefit from:
A total of 5 Dives: 2 Compulsory Dives (Deep & Underwater Navigation) + 3 Dives (chosen with the instructor)
Online e-Learning that includes all the theoretical knowledge required
5 knowledge reviews
Certification (choose either PADI Advanced Diver or SSI Advanced Diver)
All equipment provided upon arrival (wetsuits, mask, snorkel, fins, regulator, buoyancy control device and a tank)
Full time, highly trained SSI, PADI and CMAS instructors
Insurance and log books included
Safe lockers
---
Additional Information About The Scuba Diving Centre In Mauritius
The diving center, fully-equipped and certified, offers amazing diving experiences around the five northern islets of Mauritius. These spots are considered as great diving sites where both beginners and advanced divers can experience depths and topographies of all levels. Diving sites include; square profiles, multilevel dives, caves, wreck explorations, cliffs, coral gardens, shark dives, drift dives and safari dives.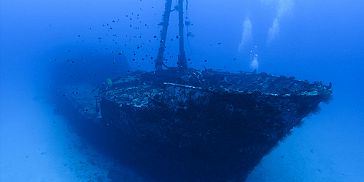 The full-time and highly trained SSI, PADI and CMAS instructors provide diving courses and programs designed to suit your needs. The diving centre is equipped with: a reception, a dive shop, changing rooms, Wifi and an external air & nitrox compressor room. There are also safe lockers to store your belongings.
The centre is pleased to allow beginners and experienced divers to choose their own training path through several international Scuba Diving organizations such as: PADI, SSI, SDI and TDI.
Facilities:
MARES diving equipment (Regulators, Gauges, Buoyancy Control Devices, Fins and Masks) purchased in 2017 and well maintained
LUXFER Aluminum Cylinders
DIVERS ALERT NETWORK Emergency Oxygen and First Aid on board
Dive Centre consisting of:
Reception
Wet Area
Equipment Room
Compressor Room
Training Pool
Class room
Outside hang out area
Safety:
Full time, highly trained PADI and SSI instructor's
Divers Alert Network emergency oxygen and first aid on board.
---
Comments
Duration: 2 ½ days
Dive Time: 08:00 – 16:30
Requirement: Participants should be a Certified Open Water Diver. They should bring their certificates along with them.
Restriction: A medical certificate stating no indication against diving must be provided on arrival.
Minimum age: 12 years old
Reservation: Required 48 hours in advance and is subject to availability.
What to bring: Sunscreen, towel, and other items that you deem necessary.
Note:
Voucher is valid for 60 days from purchase date
Junior Certificates are available for children aged between 12-14 years
Dives are still carried out under rain unless safety is compromised
Parents should accompany children (under the age of 18) on the first day to complete some formalities.
2 tank dives are carried per day
The knowledge reviews are done after the dives
---
Prices
Price per participant: 410 Euro