Snorkel with Turtles - 2 hour Private Boat Trip in the North
| | |
| --- | --- |
| Location | North |
| Operating Hours | 08:30 - 16:00 |
| Operating Days | All Days |
| Duration | 2 hrs |
| Activity Time | Flexible |
| Transportation | Offered as Supplement |
This Activity Is Not Operational Until Further Notice
2-Hour Private Snorkeling Trip in the North - Swim with Turtles
Discover one of the best snorkelling sites in Mauritius with this Private Speedboat Snorkelling Trip including the opportunity to swim with turtles.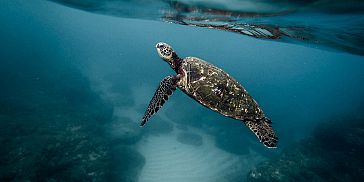 This is definitely an unmissable trip for any snorkeling fan or visitor to Mauritius who is looking to discover the remarkable underwater marine world, in the heart of the Indian Ocean- home to some of the world's most breathtaking coral reefs and marine life ever to be seen.
Wonderfully warm waters year-round, remarkably high visibility and a vibrant marine ecosystem make the northern lagoon of Mauritius an amazing place for snorkeling. Turtles being prolific in this area, it is possible to spot different types, such as the Hawksbill turtles or the slightly larger Green Sea turtles.
Although, the best part of this private snorkelling trip is that you will get to swim with turtles, you will also have the opportunity to admire a wide variety of colourful fish and other marine life in the Indian Ocean.
The 2-Hour Private Snorkeling Trip with Turtles includes:
Half an hour cruising along the north coast of Mauritius
1 ½ hours to enjoy snorkeling and swimming in the northern lagoon
Opportunity to swim with turtles
Snorkeling gear for each passenger
Beverages
---
Additional Info about the Private Snorkelling Session with Turtles
You will enjoy sailing through the crystal-clear waters of the beautiful northern lagoons with breathtaking scenery all around. Explore the rich marine life and swim with turtles by snorkelling in a renowned snorkelling site in Mauritius, at Trou aux Biches.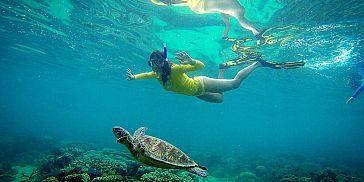 During the half an hour speedboat trip to the snorkelling spot, situated 8 km north of Mauritius, sit back and admire the surrounding magnificent views and catch a glimpse of various native coastal birds while enjoying a selection of drinks.
Once you've reached Trou aux Biches, gear up and explore a few key snorkelling locations to discover the amazing underwater marine world found along the island. At an average depth of 6 meters (depth ranges from 3-9 meters), with crystal clear water offering great visibility, the snorkeling conditions here are ideal year-round.
When snorkeling at Trou aux Biches you will explore the colourful fauna and flora of the Trou aux Biches reef which is absolutely stunning. The reef is home to a variety of fish species that include Damselfish, Surgeonfish, Butterfly fish, juvenile Sailfin tangs, as well as tiny Pipefish and large Trumpet fish.
During your underwater adventure, you will also come across turtles and enjoy an unforgettable swimming experience with these adorable sea creatures. While swimming in their proximity, remember not to touch them. Contrary to what you might think, the carapace, plastron and skull of these reptiles is very sensitive and touching them can frighten the animals. It is best to admire the turtles from a safe distance and not hinder their swimming.
---
Refreshments
As part of the trip the following refreshments are included:
Beer
Soft drinks
Juice
Mineral water
Note: French Champagne or sparkling wine can be made available on request.
---
About Turtles in the Indian Ocean
5 types of sea turtles live in the Indian Ocean, though Loggerhead and Leatherback turtles are less common than the Green, Hawksbill and Olive Ridley turtles.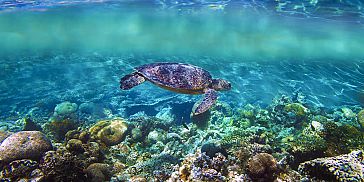 Green Sea Turtles
Green Sea Turtles are widely known because their smooth teardrop-shaped shells make them the largest shelled sea turtle in the world. These remarkable gentle giants can reach up to 1.2 meters in length and can weigh as much as 200 kg. Although large in size, Green Sea Turtles are generally quite shy herbivores. Surprisingly, green turtles got their name because of the green colour of their fat and cartilage – not the colour of their shells.
Hawksbill Turtles
The Hawksbill is identified by its curved beak and is slightly smaller than Green Sea Turtles. A Hawksbill shell is also known to change colour slightly depending on the temperature of the water. The hawksbill is one of the smallest species of marine turtles, with adults measuring about 75-90 cm in length and weighing around 70 kg. Indian Ocean turtles tend to be smaller than their Pacific and Atlantic counterparts.
Olive Ridley Turtles
The name for this sea turtle is tied to the colour of its shell—an olive-green hue. They are the smallest of the sea turtles, weighing up to 45 kg and reaching only about 0.6 metres in shell length. These turtles are solitary, preferring the open ocean. They migrate hundreds or even thousands of miles every year, and come together as a group only once a year.
---
About the boat
The vessel is a very spacious speedboat (7.62m), that can accommodate 8 passengers very comfortably. The boat is also equipped with a small diving platform, a swimming ladder, a small arch with a canopy for protection from the sun, a GPS/Fish finder, a VHF radio and many other safety devices. It is powered by two 90HP Evinrude E-Tec outboard engines.
The boat offers high comfort levels and reliability even in challenging ocean conditions, and is designed to cope with high seas. It is a multi-purpose boat, built for offshore travel as well as shallow lagoon cruising.
---
Comments
Snorkeling Gear included - complete snorkeling mask and fins are provided and available for use
What to bring - We recommend that you bring sunscreen, a hat, towel, swimsuit, a camera (or underwater camera)
Note - There is a guarantee of 70% that you will see the turtles, but if that is not the case, there will be no refund
---
Prices
Price up to 8 persons: 295 Euro
This Activity Is Not Operational Until Further Notice