Thrilling Guided Hikes with Experienced Climbers in Mauritius
| | |
| --- | --- |
| Location | All Regions |
| Operating Days | All Days |
| Duration | Flexible |
| Activity Time | Flexible |
| Transportation | Offered as Supplement |
| Comment | Minimum number of participants: 3 |
Transportation
Offered as Supplement
Comment
Minimum number of participants: 3
Guided Hike at Mt. Quoin Bluff, Mt. Bamboo or Mt. Tourelle - Overview
Whilst on holidays in Mauritius, it is the perfect time to mend your bonds with nature by enjoying all that it has to offer - beaches, crystal clear lagoons, forests, mountains and much more!
Talking about mountains, Mauritius Attractions has got an amazing package for you, where you get to choose from three hiking venues across the island. Take your pick, gear up and get ready for an adventure of a lifetime hiking to the peak!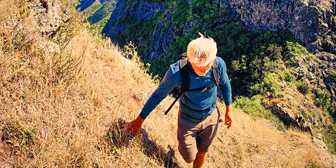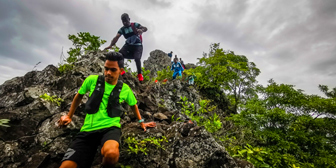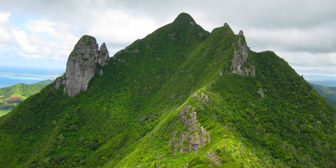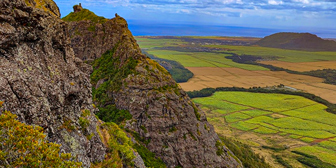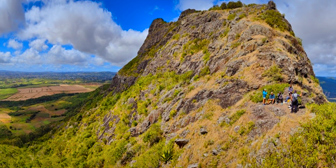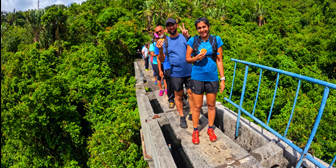 Highlights of this package:
3 Hours or 5 Hours Hiking Trip
Opportunity to hike up amazing mountains in Mauritius
Stunning panoramic views of the island and surrounding coasts
Perfect for nature lovers & thrill-seekers
---
Thrilled - Packed Hikes in Mauritius includes:
A 3-Hour or 5-Hour Hike
Friendly & experienced guide by your side
Choose from a hike at Mt. Quoin Bluff/ Mt. Bamboo/ Mt. Tourelle
Breathtaking views from the summit
Proper hiking gears & fitness provided
Climbing equipments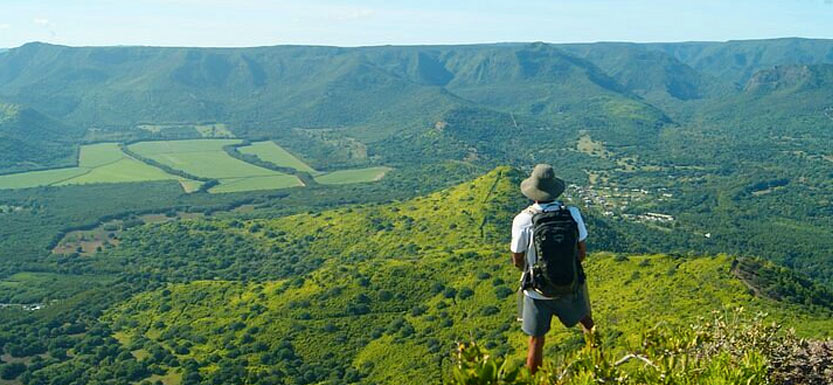 ---
Transportation & Driver Details
Transport is available for an additional supplement and will include pick up and drop off from any hotel / place of accommodation in Mauritius.
Car Capacities
You can choose from a selection of vehicles types:
Family Car - Up to 4 passengers
6 Seater vehicle - Up to 6 passengers
Minivan - Up to 10 passengers
About the Drivers
All drivers speak fluent English and French (Upon special request we can organise drivers who speak additional languages). The drivers, citizens of Mauritius, will be happy to provide you with information about Mauritius and each of its sights.
All drivers are very professional, time efficient and friendly. There is high emphasis on being always on time and providing reliable devoted service to customers.
---
Start & End times:
(*Duration may vary according to Participant's Pace.)
| | |
| --- | --- |
| Duration: | Around 3 Hours or 5 Hours |
| Operational Days: | All Days |
| Activity time: | 08:00 - 11:00 or 08:00 - 13:00 |
---
About the Hiking Trip in Mauritius (Mt. Quoin Bluff, Mt. Bamboo or Mt. Tourelle)
What better way to escape from your hectic routine than reconnecting with nature?
This package offers you the chance to indulge in slightly challenging yet super fun hikes. Starting with a short briefing session, you will be guided all the way to the foot of the mountain before beginning your ascent to the top.
Warm up your muscles, and begin your hike towards the summit. Throughout the hike a professional guide will accompany you, making sure no one gets lost and is left behind. Moreover, you'll get to learn more about the fauna and flora you come across during your hike.
Although it can get tiring along the way, you'll be rewarded with an unmatched sense of satisfaction, never-seen-before panoramic views and pure ecstasy!
Hike Mt. Quoin Bluff
Located near Port Louis, this 6.9-km trail is generally considered a moderately challenging route. It's a great place for hiking as it combines the joy of being in the heart of nature, with enough twists and turns to get your muscles working and your heart pumping! With an enthusiastic guide by your side, hiking at Mt. Quoin Bluff is all the more exciting.
Meeting Point: Marie Reine de la Paix, North West Region
Difficulty Level: 3/5
Duration: Approx. 3 Hours
Hike Mt. Bamboo
Mt. Bamboo boasts a prominent peak and features a rocky summit that towers high above the sugarcane and fields of palm. Known for being challenging and strenuous, it is the ideal hike option for those looking for some adrenaline rush and sheer thrill! The Mt. Bamboo hike best suits confident climbers who have quite some experience in hiking rather than beginners as it can get quite tricky, especially with it rains.
Meeting Point: Lion Mountain Hiking Trail, South East Region
Difficulty Level: 4/5
Duration: Approx. 5 Hours
Hike Mt. Tourelle (Special Permission)
This lesser known hiking trail is surely a hidden gem that's up to the level of more popular spots in Mauritius. Towering over the village of Tamarin, a climb up Mt. Tourelle is a breath of fresh air - but of course, you've got to make it through the challenging path before having the privilege to enjoy the marvellous views from the summit.
Note: As the Mt. Tourelle is located in a private property, advance booking is required to be granted permission and access.
Meeting Point: Point Black, South West Region
Difficulty Level: 4/5
Duration: Approx. 5 Hours
About the guide and the spirit of the trip
All hiking excursions and treks will be under the experienced and professional guidance of one of the top guides in Mauritius, while sharing his local knowledge, passion for sports and love of nature.
Each trip is carried out with a total respect towards nature and while making it a top priority to stress on the importance of its preservation. The trip will take you around some of the most beautiful places in Mauritius and you will get to learn more about the fauna and flora and what's being done towards its preservation, making this a unique and enriching experience.
About Hiking in Mauritius
Mauritius, being a volcanic island, has several alluring summits and valleys to explore on foot. The island is well known for its natural beauty.
Mauritius is famous for its breathtaking nature, beautiful birds, flora, coastlines with many magnificent views.
The flora of Mauritius is composed of 700 species of indigenous plants.
To learn more about hiking and trekking in Mauritius check our Trekking in Mauritius page.
---
Hiking shoes

Sun cream

Mosquito repellent

Spare set of clothes
---
| Thrilling Guided Hikes with Experienced Climbers | |
| --- | --- |
| Hike Mt. Quoin Bluff | 59 Euros/ Participant |
| Hike Mt. Bamboo | 69 Euros/ Participant |
| Hike Mt. Tourelle (Special Permission) | 69 Euros/ Participant |
---
Booking Attributes