Traditional Foot Reflexology Treatment (60 mins)
| | |
| --- | --- |
| Location | North |
| Operating Hours | 09:00 - 18:00 |
| Operating Days | Monday, Tuesday, Wednesday, Thursday, Friday, Saturday |
| Duration | 1 hrs |
| Activity Time | Flexible |
| Transportation | Offered as Supplement |
| Comment | Sunday and Public Holidays open as from 09:00 to 14:00 |
A Traditional Foot Reflexology Treatment of 60 minutes
Fulfill the quest for a good well-being through a divine foot massage offered during your Mauritian holiday!
Using special herbal oils, an ancient tradition in South East Asia, enjoy a 60 minutes Traditional Javanese Foot Reflexology Treatment, combining a range of massage techniques and expert knowledge from Bali.
The House of Traditional Balinese Massage, a franchise from Singapore offers you the best Traditional Balinese Foot spa treatment delivered in the most professional way.
This is a great opportunity to benefit a great foot massage experience offered at special discounted online price.
About the Traditional Foot Reflexology Treatment:
The 60 minutes Traditional Foot Reflexology involves applying pressure on the feet which are believed to have points that correspond to various organs and body systems. Under the nurturing hands of the foot reflexology therapist, enjoy this blissful pamper.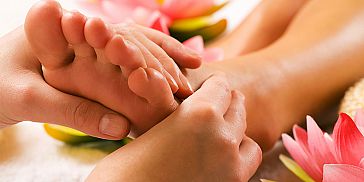 The foot treatment start with stimulating various points to identify areas of tenderness or tension, followed gentle movements to warm the feet up. After that, pressure is applied from the toes to the heel to work every part of the feet.
This method helps to improve blood circulation and relieves a range of problems including tension, migraines, nausea and congestion by targeting specific accupoints. It will allow the nervous system to release endorphins that reduce pain and stress. The foot massage can also be deeply relaxing and therapeutic for those suffering from plantar fasciitis and ankle injuries.
Smoothly regenerating and maintaining the body's natural balance, this Traditional Foot Reflexology treatment encourages your body to work naturally and reconstruct its own healthy balance. So, by stimulating these points, a beneficial result can be achieved, bringing back the energy flow of the body.
The Foot Reflexology Package includes
A Traditional Foot Massage of 60 minutes
Changing cabin and shower facility
A robe, disposable underwear and slippers will be provided.
About the Spa:
Located in the North of the island, the House of Traditional Balinese Massage is a franchise from Singapore opened in Mauritius since 2010. With a Traditional Asian feel, the spa was the first to offer authentic traditional Balinese treatments in Mauritius.
This spa focuses on delivering professionalism, satisfaction and quality as the hallmarks of its business philosophy. All the spa therapists are qualified and trained by Singaporean massage therapy experts to meet the varied needs of each client.
The décor of the spa is very special as it fits perfectly with the natural setting of South East Asia where the walls are covered with traditional bamboo both from the inside and outside. The spa has a shop where you can find a range of decorations and traditional spa products including organic oils, all the way from Bali.
All these features make the House of Traditional Balinese Massage a unique place for the perfect spa experience during your holiday.
---
Comments
We advise you to arrive 15 minutes in advance of your scheduled treatment time. Arriving late can reduce the time of your treatment. Your treatment will end at its scheduled time so the next guest is not delayed.
Spa Location: Arsenal (North of Mauritius)
---
Prices
Price per Participant: 49 Euro