Exclusive-Private Swim With Dolphins & Whale Watching
84% Level of Satisfaction
Based on 1 review
| | |
| --- | --- |
| Location | South West |
| Minimum Age | 7 |
| Operating Days | Monday, Tuesday, Wednesday, Thursday, Friday, Saturday |
| Duration | 5 hrs 30 mins |
| Activity Time | 07:00 - 12:30 |
| Transportation | Offered as Supplement |
| Comment | Direct pick-up/drop off by boat from hotels situated at the South West coast (for supplement) |
A unique experience of Swimming with Dolphins and Whale Watching in their natural surroundings!
Enjoy an Exclusive and Private speed boat trip of swimming with Dolphins and whale watching.
Treat yourself and your friends / family / partners to a private swimming with Dolphins and whale watching trip.
It is a unique dolphins activity done on a speed boat.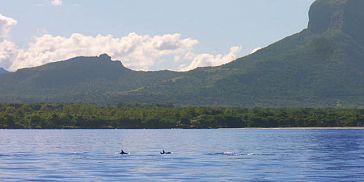 This is a unique chance to explore the spectacular lives of these magnificent marine mammals in their natural aquatic habitat.
Immerse yourself in the adventure of a lifetime, swim with dolphins in crystal clear waters and encounter whales in the open sea.
Swimming with dolphins and encountering whales are both incredibly moving experiences. It will bring you into contact with strikingly beautiful scenery, unspoiled landscapes and wonderful animals
Swimming with Dolphins: you'll plunge into the remarkable world of these powerful marine mammals and come face to face with the dolphins.
Unlike many other dolphin facilities that limit the swim with dolphins program to pools or shallow water, we provide the unique opportunity to enter the dolphins' natural environment and enjoy an encounter with the dolphins in the open sea.
As part of the trip you will enjoy
Swimming with the dolphins in their natural surroundings
Cruising inside the lagoon on speed boat
Sandwiches and soft Drinks are offered on this trip.
Whale Watching
The briefing will also include such aspects as
Types of dolphins and whales which you will encounter
Dolphins and whales habits
Guidelines for successful dolphins and whale watching
Security measures on the boats
Swimmingprocedures with the dolphins
Then you will be off swimming with the dolphins....
Note: Snorkeling equipment is not provided due to sanitary measures. Clients are requested to bring their own mask, snorkel and fins.
After the outing with the dolphins, you will be taken further out to the deep sea for the whale watching.
Whale watching is an outing in which you will go further out to sea and the number of encounters you will have will depend a lot on weather and sea conditions. If the sea is rough, it will be more difficult to see the whales.
When you see the whales, the sight is unbelievable. Everyone has their own way of describing this incredible sight. Sometimes instead of the usual outbursts, it is the deafening silence of being lost for words as you hear the enormous humpback whale take one last breath before a dive.
Advantages of the Exclusive trip
Enjoy an exclusive private trip for only you and your partners
Enjoy private swimming with dolphins and private whale watching activity
Enjoy a fully customized cruise course according to your wishes
You set the schedule and decide when to take a break, when to end the dolphin swim and head to the whale watching, and when to stop the boat for snorkeling
Receive personal care and guidance from the boat staff
Both Swimming with dolphins and encountering whales undoubtedly offers a rewarding, educational, therapeutic and amazing experience for everyone!
Please note that Sandwiches and soft Drinks will be provided during this trip.
Comments
What to bring: Snorkeling equipment, Sun cream, Towels, Swimming suit (already on)
Snorkeling equipment is not provided due to sanitary measures. Clients are requested to bring their own mask, snorkel and fins.
This trip is not recommended for pregnant women.
Children of any age can participate in the trip accompanied by their parent, unless they suffer from sea sickness.
The max capacity of the boat is of 6 passengers.
Note: there is a guarantee of 90% that you will see the Dolphins, but if that is not the case, there will be no money back but instead we will offer you to join a second trip free of charge.
Note: there is a guarantee of 60% that you will see the whales.
This trip is done on speed boats, as it is much easier to look for the dolphins and for the whales in comparison to catamarans which take much more time to arrive to the sites. With a catamaran you will have less time to spend with the dolphins and whales, and more time will be spent on the journey there and back.
This trips departs from the West Coast from the area of Tamarin
Upon request we can also arrange your transport from and back to your hotel.
Note: clients with limited mobility need to specify their weight
A little information about Dolphins in Mauritius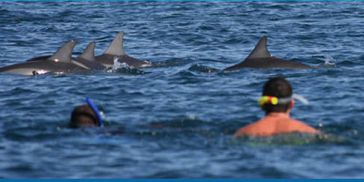 Dolphins are one of the most fantastic creatures that live in the ocean. The dolphins - cheerful and playful, symbol of intelligence and grace.
Dolphins lived in pods of around 20 individuals or more and can be observed swimming casually from Tamarin (on the west coast of Mauritius) on their way to the deep sea off the coast of le Morne peninsula, early in the morning.
The Dolphins, the Bottlenose Dolphin and the Spinner Dolphin, have made the West Coast of Mauritius a place for them to rest and sleep before going to the deep sea for their fishing.
The Bottlenose Dolphin is one of the most common and well-known dolphins. Bottlenose Dolphins are Grey in color and can be between 2 and 4 meters (6.6 and 13 ft) long, and weigh between 150 and 650 kilograms (330 and 1,400 lb). Bottlenose Dolphins live in groups called pods that typically are of 15 dolphins, but it is also possible to find groups of over 100 or even occasionally over 1000 dolphins. Their diet consists mainly of small fish.
The Spinner Dolphin is dark gray, with darker patches in the tail stock, back and throat. Usually it has creamy-white patch on the belly though this varies considerably. The beak is distinctively long and thin, with a dark tip. The fins too are lengthy for dolphins of this size. Adults have varied in size from 129 cm to 235 cm and weight from 23 kg to 78 kg. The gestation period is 10 months. Individuals reach maturity at 4-7 years (females) and 7-10 years (males). Longevity is unknown. Spinners congregate in groups that vary from just a few dolphins to great schools numbering in the thousands.
A little information about Whales in Mauritius
It is possible to find many different types of whales in Mauritius. The most common whales are: Blainville's Beaked Whale, Gray's Beaked Whale, Dwarf Sperm Whale, and the Sperm whale which is the most famous whale in Mauritius.
The Sperm Whale is the largest species of toothed whale, with adult growing to be about 15-18 meters (50-60 feet) long, and weighing about 45-70 tones. The body of sperm whales is robustly proportioned, with paddled-shaped flippers. The lower jaw is always relatively small and thin relative to the upper jaw. The Sperm Whale dives to great depths to find food, and it eats squid, fish, and even sharks.
---
Prices
Price for the Exclusive Swim with Dolphins & Whale Watching (up to 6 passengers): 550 Euro
---
Important Details to Submit
In order to process your booking, client MUST provide the following details at the comment box during the order process:
Name of each participant as per the passports
Reviews
84% Level of Satisfaction
Based on 1 review
|
reviewed by Wolfgang Taumann – Germany
|
September 05, 2017
Reaction time to your queries and requests
Travel consultant's professionalism level
Added value given to you by the travel consultant
Consultant's knowledge of Mauritius and the products / services
Level of services provided as part of the activity?
Level of professionalism by activity operator staff / guide
Your level of enjoyment from the activity
Quality of meals & drinks included (if applicable)
Ease of booking the activity
Overall satisfaction from the activity
---