Horse Ride in The North of Mauritius
| | |
| --- | --- |
| Location | North |
| Operating Days | All Days |
| Duration | 1 hrs |
| Activity Time | Flexible |
| Transportation | Offered as Supplement |
| Comment | Operating Hours: 08h30 - 11h30 & 13h30 - 17h00 - This activity is not suitable for pregnant women |
This Activity Is Not Operational Until Further Notice
Horse Riding in the North: A fun 1-hour horse ride in the midst of a beautiful forest in the North of the island
Set out at a leisurely canter to explore the Daruty Forest, a preserved area of gorgeous greenery in the North of Mauritius. The horseback ride allows you to go past the luxuriant tropical forest and vast pineapple fields. Your kids can also tag along on beautiful well-bred ponies and discover the island's stunning flora at their own pace. Horse riding in Mauritius is the perfect way for you to get in touch with nature.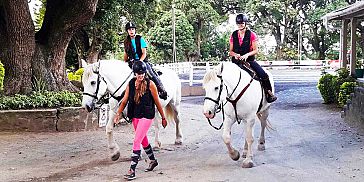 Suitable for novice and intermediate riders, this exhilarating horse-riding excursion takes you to some of the northern region's most picturesque rural landscapes. The trail will take you off the beaten track, through the heart of the green forest and you will be surprised by the astonishing calmness of this place. The stable proposes top horse breeds, ranging from gorgeous Irish Cobs to magnificent Percherons, the only ones in Mauritius.
The majestic horses have warm personalities and calm demeanours, so you can ride without any fear or concern.
Horse riding trips are performed every day in the morning or during the afternoon, so you can pick a time slot that suits you best. You will be accompanied by a professional guide, who will set the riding pace for you (according to your riding skill level), allowing you to enjoy an excellent horse-riding experience while in maximum safety.
Spend quality time with your partner or family, in this serene, relaxing setting in a forested landscape.
---
About the Stable - Les Calèches du Paradis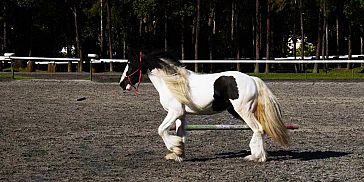 Les Calèches du Paradis is a cosy stable located in the North of Mauritius. With 8 horses and 3 ponies, the stable offers fun horse rides in a friendly atmosphere, amidst a tropical forest and pineapple fields. The team of horses include rare species like the Irish Cob, Percheron, a Welsh Pony, amongst others.
The Irish Cobs have long and flowing manes that give a them mystical and dreamy look. Although they are typically known for their strength, here they are mostly popular because of their warm and friendly personalities. Angel, the Welsh Pony, is known for being spirited and is very popular with the kids. The Percherons, a breed of draft-horse, are easy-going and gentle.
Les Calèches du Paradis accommodates for both beginners and experienced riders. Rides are personalised and adapted to the level of the rider, ensuring maximum security during their excursion.
---
Comments
A drink is offered at the end of the ride
Activity Times:

Morning: 08h30 – 11h30
Afternoon: 13h30 – 17h00

Minimum Age Requirements

Pony: 3-10 years old
Horses: 5 years old

Maximum weight: 120 Kg
Maximum number of participants: 10
Health Restrictions: This activity is not suitable for pregnant women.
What to bring: It is recommended that you wear long trousers, closed toe shoes, sunscreen and mosquito repellent.
Horse Riding Equipment will be provided
This activity is suitable for all levels, including those with no prior horse-riding experience. Only experienced riders will be allowed to gallop with horses.
You will be accompanied by a professional team member on foot or on horse depending level of rider.
Reservations are required at least 48 hours in advance
---
Price
Price per participant: 58 Euro
This Activity Is Not Operational Until Further Notice