Ziplining - Lions Walking - Animal Park - 1 Day Package
| | |
| --- | --- |
| Location | South West |
| Minimum Age | 15 |
| Operating Days | Monday, Tuesday, Wednesday, Thursday, Friday, Saturday |
| Duration | 9 hrs |
| Activity Time | 08:00 - 17:00 |
| Transportation | Offered as Supplement |
| Comment | When ordering this day package you benefit special discounted package price |
Operating Days
Monday, Tuesday, Wednesday, Thursday, Friday, Saturday
Activity Time
08:00 - 17:00
Transportation
Offered as Supplement
Comment
When ordering this day package you benefit special discounted package price
Ziplining - Lions Walking - Animal Park - 1 Day Package
This is an amazing package for adventurous animal and nature lovers! Experience an exhilarating ziplines (Tyroliennes) excursion in the south West of Mauritius amidst the rich dense nature. Go on an epic Walk with Lions Adventure and visit the unmissable Mauritius Casela Nature Parks.
This is your chance to visit the attractions park with an impressive population of over 1,800 animals, some of which are endemic to the island. Seize this opportunity to connect with nature and interact with a wide variety of animal species.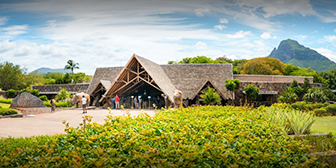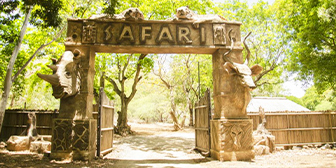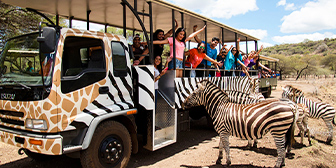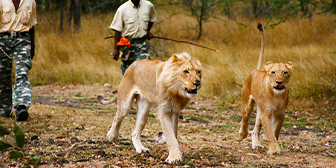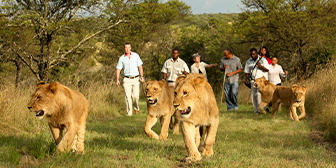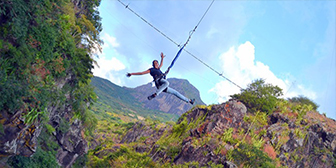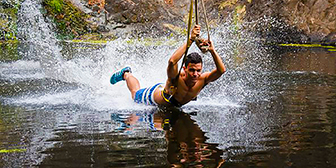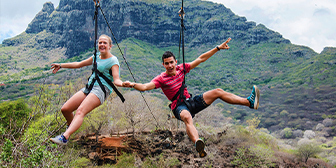 Package Highlights:
Ziplines excursion at Casela Nature Parks
A Bird's View of one of the most beautiful green sceneries of Mauritius
Explore 4,500 Hectares of wild nature during your Safari
60 minutes walking with Lions in Mauritius
An opportunity to experience the Wild African Habitat of Big Cats
Visit the Casela Nature Parks (Safari and Bird Park)- home to 1,800 animals
---
This special day package, Ziplining - Lion Walking - Visit Animal Park includes:
All excursion fees ( Zipline, Visit to Casela Park and Walk with Lions activity)
400m Zipline & 4 Ziplines
Visit of the No. 1 Attractions Park in Mauritius - Casela Nature Parks
Visit the different animal kingdoms, access kids park, aviary and petting farm
An Epic 60 minutes Walk with Lions activity
Experienced guides and activities carried out under close supervision in safe environment
Learn more about the Lions from the Keeper and other animals in the Casela Park
Full transportation to all the sights including Pick up and drop off from any hotel / place of accommodation anywhere in Mauritius (optional)
A personal driver (optional)
Entrance ticket to Casela Nature Parks includes:
Safari to see zebras, ostriches, white rhinoceros, impalas, antelopes, kudus, wildebeest
Visit Birds Paradise Park - Walk thru the aviary
Animal viewing - Giraffe, camel, pygmy hippo, llama viewing
Petting farm and Tortoise pen
Access to Pangia Kid's Park
Visit Predator Kingdom (Big Cats Kingdom)
1 Ride at the Tulawaka Coaster
(All activities and attractions which are not included in this package are pay-as-you-go)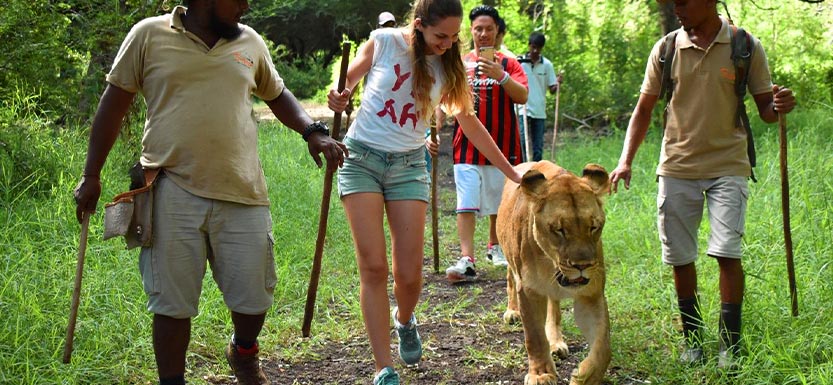 ---
Transportation & Driver Details
Transport is offered at a supplement and will include pick up and drop off from any hotel / place of accommodation in Mauritius.
Car Capacities
You can choose from a selection of vehicles types:
Family Car - Up to 4 passengers
6 Seater vehicle - Up to 6 passengers
Minivan - Up to 10 passengers
About the Drivers
All drivers speak fluent English and French (Upon special request we can organize drivers who speak additional languages). The drivers, citizens of Mauritius, will be happy to provide you with information about Mauritius and each of its sights.
All drivers are very professional, time efficient and friendly. There is high emphasis on being always on time and providing reliable devoted service to customers.
---
Your Hotel / Place of accommodation anywhere in Mauritius
| | |
| --- | --- |
| Duration: | The duration of the private tour is 9 hours |
| Operational Days: | Monday - Saturday |
| Departure Time: | 08:00** from your hotel / place of accommodation |
| Return Time: | 17:00** back to your hotel / place of accommodation |
**The exact pick up / drop off times will be determined according to the location of your place of accommodation.

---
Ziplining - Walk with Lion Activity - Visit Casela Nature Parks
Ziplines excursion at Casela Nature Parks
The 400m Zipline & 4 Ziplines - Feel the wind like never before as you slide down the legendary 400m zipline! And afterwards, zig-zag across 4 ziplines for a sensational experience with your friends or family! Soar through the air and immerse yourself in the breathtaking beauty of nature while satisfying your adventurous spirit.
Maximum weight limit: 115 kg
Minimum age: 6 years old
Minimum height: 1m35
Activity Time: 10h45, 14h15
NOTE: No previous experience in ziplines is required.
Walking with Lions
Experience a one-on-one encounter with Lions in Mauritius!
WALKING WITH LIONS AT CASELA NATURE PARKS
As part of Casela Nature Parks, the Predator Kingdom, found in Yemen Nature Reserve, welcomes people to experience a thrilling moment with the Big Cat - the Lion. You will learn about, watch and walk with these incredible creatures, a lifetime experience indeed. For the brave hearts out there, this package is for you, to walk alongside your equals in bravery. So get ready for an epic moment of your life.
Let the Safari Begin - On your arrival to the park, you will be guided to a special safari bus which will take you to the lions reserve where you could see the lions as well as tigers and cheetahs. At the lions reserve, the safari team will welcome you and consecutively will brief you with a short introductory chat on the lions and on the safety measures which should be taken during the adventure and the time you will spend with the lions.
Time for the Feline Encounter - Once the keeper and Rangers are done with the brief, it is time for you to meet your majestic host in its natural enclosure. You will feel like walking in the African desert, sun shining bright over your head and a building excitement about seeing the lions up close. For one hour, you will be walking around the park next to this majestic animal, a surreal moment that could well be a movie scene from Narnia. You will get to pet your lion as well.
A walk to remember - While walking with your lion, you will get to discover the amazing place where those creatures live. See them walk around, laze on the grass, enjoying a nap, play with each other, hopping on the rocks on the river banks and scaling the trees. Your rangers and keepers will also elaborate on the reproduction and conservation program for your newly made fur-buddies.
Age Restriction: 15 years old and above
Minimum height: 150cm
Visit to the Casela Nature Parks – World of Adventures.
About the Casela Nature Parks: Located beside the Rempart Mountain on the South-West of Mauritius, the Mauritius Casela Nature Parks stays true to being a real nature and adventure park. Along with plenty of activities and attractions for all ages, that park also offers magnificent views of the countryside, rolling down the west coast of Mauritius.
Entrance ticket includes:
African Safari: Get a taste of Africa in Mauritius with a unique chance to encounter antelopes, white rhinos, zebras and ostriches. Immerse yourself in the wild in the company of Kudus, Impalas, Oryx, Nyalas, and Waterbucks, just to name a few. The African reserve is of extraordinary scenic beauty with the iconic Rempart Mountain serving as a backdrop.
Visit Birds Paradise Park - Walk thru the aviary - Get ready to be fascinated when visiting the Bird Paradise. Walk through the bird aviary to discover various colorful bird species from all around the world.
Animal viewing - Giraffe, camel, pygmy hippo, llama viewing - Among the many animals in the park, you will get to see giraffes and pygmy hippos for a unique viewing experience. Meet the camels and llamas, considered as one of the friendliest and most loving animals you will ever meet. Spend some time getting to know these amazing creatures.
Petting farm and Tortoise pen - Be sure to stop by the Petting farm and Tortoise pen, the ideal setting for people of all ages, especially children to interact with farm animals as well as tortoises.
Access to Pangia Kid's Park - The new Pangia Kid's Park boasts a children's playground that will offer fun to the young ones! Make sure to bring along the little ones to let them have their fair share of fun!
Visit Predator Kingdom (Big Cats Kingdom) - For Big Cat lovers, this is a dream come true! Visit the Predator Kingdom to enjoy a close view of the big cats such as the roaring lions, the magnificent caracals and the majestic tigers.
One Ride on the Tulawaka Gold Coaster - The perfect ride for thrill seekers, a unique summer luge running on a 760m track including a cable lift hill, vertiginous descents and bends while offering thrill-seekers an exciting ride with a breathtaking view of the west coast of Mauritius!
(All activities and attractions which are not included in this package are pay-as-you-go)
Additional Info about Casela Nature Parks
The park includes several thematic worlds, as well as a hub for discovery and learning.
African Safari: Casela Nature Parks offers several fun ways to get closer to animals of the African Safari: choose between our zebra bus or the safari Quad .
Predator Kingdom: At the Predator Kingdom, Safari adventures brings you the best of the Big Cats experiences in Mauritius. This is a unique opportunity for visitors to have once in a lifetime experience. Big Cats encounters include: walking with lions, interaction with cheetah, caracal and serval and the drive-thru to see tigers and lions in their natural habitat.
Thrill Mountain: Thrill Mountain at Casela combines all the mountain and rope activities for thrill-seekers. Jump from a 40m platform into the canyon with the Canyon Swing, zip across breath-taking scenic valleys with plenty of Ziplines, walk on our spectacular Nepalese Bridge, and for the more adventurous: hiking and mountain climbing on the Via Ferrata.
Birds & Rides: A range of rides, activities and attractions to suit all ages. The Tulawaka Gold Coaster for thrill seekers, slide on a Buoy into the air with a Toboggan Ride, awaken your senses with the 4D Cinema, and discover the most impressive bird species in Mauritius with the Aviary
Pangia Kids Park: Pangia Kids Park is a brand new world, full of fun, located in the heart of Casela! Come and experience family time like never before with the Monkey Swing, the Dino Ride, the Mushroom Vortex, the Carousel and so many more! The kids will also become little chefs at the Wamwam restaurant.
(All activities and attractions which are not included in this package are pay-as-you-go)
Additional activities offered at the Park
---
Private & Exclusivity VIP Option
Private Walk with Lions
For more exclusivity, we also offer you the opportunity to Walk with Lions in a private group with just your companions (up to 5 pax), the lions and the keepers - a truly once in a lifetime walk with lions adventure in Mauritius.
You will be accompanied by a personal guide; receive personalised guidance from the big cats' keeper and benefit from various extras. Your Exclusive Walk with Lions also includes a complimentary interaction with one of the Big Cats-a Cheetah, as well as a complimentary DVD of your experience.
Included in the Private Walking with Lions package:
Private Walk with Lions (1 hour)
Interaction with one of the big cats - Cheetah (15 min)
DVD with pictures and videos of your activities (Walk with lions & Interaction)
Note: Reservations for this activity must be made 48h in advance.
---
Mosquito Repellent

Sun block cream

Sport Shoes

Hat

Swimming suit

Clothing

Cap
---
The rates are valid only for bookings until 30 June 2023.
| Transportation | |
| --- | --- |
| Private Daily Tour in a family Car (for up to 4 people): | 79 Euros |
| Private Daily Tour in a 6 Seater vehicle (for up to 6 people): | 85 Euros |
| Private Daily Tour in a Minivan (up to 12 people): | 105 Euros |
The Prices are per vehicle referring to the number of passengers applicable for each vehicle type.
Excursions & Entry Tickets Packages
When ordering this day package you benefit from a special discounted package price on these trips and excursions.
Included in the price: 400m Zipline & 4 Ziplines, Walking with Lions and Visit of Casela Nature Parks
The special discounted price for this day package:
| | |
| --- | --- |
| Price per Participant | 165 Euros |
---
Booking Attributes