Discover Blue Bay Marine Park by SUP (Stand Up Paddle)
| | |
| --- | --- |
| Location | South East |
| Operating Days | All Days |
| Duration | 6 hrs 30 mins |
| Activity Time | 09:30 - 16:00 |
| Transportation | Offered as Supplement |
"
Did you know?
Tamarin Bay is home to hundreds of dolphins and whale which you can discover through one of our many
Dolphins and Whales'
trips.
Full day Stand Up Paddle (SUP) to Blue Bay Marine Park including 3 course meal.
Mauritius Attractions offers you this great opportunity to take a break from your routine life, get on a water board, and discover the beauty of the largest lagoon in South East. You can also enjoy a wonderful eco tour at Blue Bay Marine Park and the bright sandy beaches all around!(Optional) This activity can be enjoyed alone, with your friends or family for more fun.
Paddle standing up through the beautiful lagoon and get captivated by its calmness. Our professional guides will take you on a guided tour by glass-bottom boat in the renowned Blue Bay Marine Park where you will learn about its fascinating fauna and flora and its important role in the marine eco system.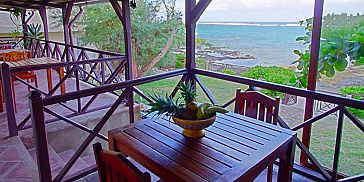 As part of this package, you will also get to enjoy a relaxing day at the family guesthouse located on a private beach in Pointe D'Esny, near to the Blue Bay Marine Park and its surrounding beautiful lagoon. You will be pampered by one of the top ten chefs on the island who will make you discover the flavours of the island with a 3 course meal served in the garden or on the veranda overseeing the sea.
This Stand Up Paddle starts with a full briefing on safety instructions and on how to control the paddling by one of our professional guide. Our safety boat is always on standby and we use quality equipment, life vests, leashes as well as provide you with shoes -all for your comfort.
Optional: Go for a trip to the Blue Bay Marine Park by glass-bottom boat, taking you for a discovery of the anemones, the biggest brain coral (Cerveau de Venus) in the Indian Ocean, encountering many different species of tropical fish and maybe even a turtle or a ray among other interesting marine creatures.
This is an original, ecological and fun activity which will let you discover the secrets of one of Mauritius' beautiful lagoon and peaceful beaches.
Of course, we will make sure you have a memorable day, with lots of fun!
Suggested plan of the day
Arrival at the guesthouse situated at Pointe D'Esny (South East of Mauritius) where you will be served a welcome cocktail and receive the briefing for the day.
Snorkeling close to the Dalblair ship wreck, and return using the Stand Up Paddle (SUP).
Other option: you can chose to do our Eco-guided tour of the Blue Bay Marine Park.
Lunch will be served from the guesthouse's terrace or garden facing the lagoon.
Relax on the beach or use any on the Boathouse equipment such as the kayaks, wind surfers, SUP and many others.
Included in the package
Professional guide
A welcome cocktail
Snorkelling equipment/Kayaks/SUP/Windsurf
A 3 course meal
A private beach in Pointe D'esny, part of Chantauvent Guesthouse
Access to the Blue Bay Marine park by glass-bottom boat (optional)
---
About Stand Up Paddle (SUP)
Stand Up Paddle (SUP) is a sport activity originated in Hawaii, resulting from surfing. It enables surfers to paddle farther into the ocean than usual or to paddle standing up as a sport by itself. Paddlers race on lakes, large rivers and canals, ride breaking waves, and slide over long distances along sea coasts, often using tail winds(blowing in the direction of the trip).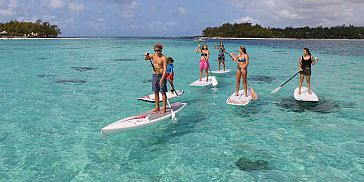 Stand up paddle is a fun and adrenaline-pumping activity for everybody- whether alone, with friends, or family, including children- after only a few minutes of learning! Stand up paddlers wear a range of wet suits and other clothing, depending on both water and air temperature as most of their time is spent standing on the board.
Stand Up Paddle in Mauritius: Mauritius is a real paradise for SUP, and SUP is equally one of the best way to discover Mauritius on the green side. What is more interesting is that Stand Up Paddle can be enjoyed as from 5 years old. Mauritius Attractions takes you to the most beautiful spot: the largest lagoon in South East, an incredible marine eco-system at Blue Bay Marine Park with the bright sandy beaches all around, let alone best waves for Stand Up Paddle all year long with nice temperatures!
About the Blue Bay Marine Park
The Blue Bay Lagoon –the bay with a mixture of stunning deep blue and turquoise colors in South East of Mauritius is a MUST see amongst all the locations in Mauritius. And the best way is through the glass-bottom boat activity to visit one of the largest lagoons in Mauritius!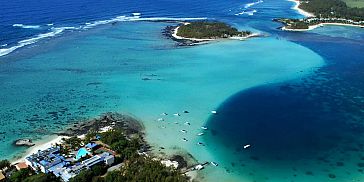 Blue Bay lagoon is a very rich marine area related to its incredible fauna and flora. To protect the marine life from negative impacts (pollution, sedimentation), Blue Bay was declared a National Park in 1997 under the Wildlife and National Parks Act and in year 2000, it became officially a marine protected area under the Fisheries and Marine Resources Act 1998. The park covers an area of 353 hectares and is protected under the International RAMSAR Convention (convention related to the protection of all wetlands throughout the world) - the second one actually on the island after Rivulet Terre Rouge for migratory birds.
Blue Bay Marine Park is home to mangroves, algae, sea grasses, corals, and other marine organisms. There is also a wide variety of fish species that include Damselfish, Surgeonfish, Butterfly fish, juvenile Sailfin tangs, tiny Pipefish and large Trumpet fish. As per 2008, 38 coral species and 72 fish species were identified in the waters. All these make the Stand Up Paddle trip at the Blue Bay Marine Park an amazing adventure!
Comments
For babies, there are no meals prepared
Drinks during the lunch can be available at an extra cost.
Prices
Price per adult:62 Euro
Price per child (ages 3-12):55 Euro
Price per baby (ages 0-2):Free of charge
Blue Bay Marine Park Supplement: 15 Euro