Exclusive Romantic Royal Lunch or Dinner at Sea
100% Level of Satisfaction
Based on 3 reviews
| | |
| --- | --- |
| Location | North East |
| Operating Days | Monday, Tuesday, Wednesday, Thursday, Friday, Saturday |
| Duration | 2 hrs |
| Activity Time | Flexible |
| Transportation | Offered as Supplement |
Exclusive Romantic Royal Lunch or Dinner at Sea
Enjoy the most amazing lunch or dinner with your loved one in an exclusive and romantic setting!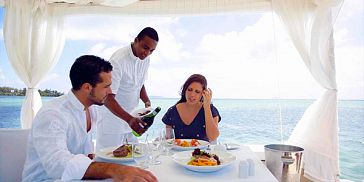 Offered in the North-East coast of Mauritius, the Exclusive Romantic Royal Lunch or Dinner at Sea package lets your partner and you be treated in a true VIP style, with maximum privacy, relishing on a gourmet lunch or dinner while being served by a personal waiter to enjoy the ultimate couple dinner experience.
The North-East coast is the ideal place to enjoy a romantic day or evening with many perfect 'US' moments to cherish! It is a unique invitation in the most romantic setting - a lovely table adorned with is set for the two of you either under the azure sky or under the twinkling stars with candles. After a warm welcome, you will have the opportunity on feast on a delicious 3-course lunch or dinner on the floating platform-the ideal romantic hideaway.
To spice up this magical moment, guests can furthermore enjoy a 60-minute Royal Floating Relaxation Massage that will be done by professional therapists, far from the usual concept of traditional spas, in sheer romance and far away from prying eyes. This pampering treatment will induce a deep sense of relaxation.
More about the Exclusive Romantic Royal Lunch or Dinner at Sea:
Spend unforgettable moments with your loved one amidst crystal clear waters of the Indian Ocean and the matchless beautiful skyline - it promises to be an exclusive romantic experience for just the two of you as you lunch or dine!
Along the beautiful North-East coast of the paradise island, this is an exceptional dining experience with a modern and romantic touch. In the middle of one of the most beautiful lagoon in Mauritius and with a dedicated personal service, you will surely enjoy the best escape with your partner. As you will embark on the platform you will be surely overwhelmed with a feeling of complete satisfaction on seeing the romantic setting. A beautiful floating platform in the middle of the sea adorned with cotton curtains, flowers and a lovely table set for two altogether make for a highly romantic moments.
As part of this amazing package, enjoy a delightful 3-course meal from a selection of dishes. You will definitely be taken to another world as you will be treated with royalty by a personal waiter who will cater for all your needs and desires and see to it that your romantic culinary experience meets a successful and highly satisfactory end!
After your delicious meal, cosy up on the sofa specially set for you while you contemplate the stunning sky and appreciate the lulling sounds of the waves. To further enhance this relaxing experience, you will get to enjoy a STR 60-minute Royal Floating Relaxation Massage after which you will be served some light snacks as well. This Relaxation massage not only relieves stress and muscle tensions, but is also known to increase the flow of energy in the body and bring a natural glow to your skin, thanks to the natural products used.
The Exclusive Romantic Royal Lunch or Dinner at Sea Menu:
Patrons are invited to relish one dish from each course, passionately and creatively prepared with fine ingredients:
Starters:
Roulade of Asparagus and Egg Mimosa Parsley (Asparagus, ham, egg, parsley)
OR
Tomato tuna on bed of lettuce
OR
Jar Gazpacho mascarpone (Tomato, capsicum, bacon, mascarpone)
OR
Serrano ham and melon
OR
Smoked salmon
OR
Trilogy of Verrines (3 choices of above options)
Main Courses:
Seafood (Shrimp, St Jacques scallops, salmon steak) served with rice and Home made tartar sauce
OR
Carpaccio of smoked Marlin with capers and basil from the garden
OR
Grilled Chicken served with Tartar sauce, Potato salad & tomato vinaigrette
OR
Vindaye with pickled vegetables, chutney and rice
Desserts:
Seasonal Fruit Salad
OR
Chocolate Mousse
OR
Pastry
Drinks:
Water
Soft Drinks
Beers - 3 Beers per person
Half bottle of wine per person
Tea and Coffee
*Please note that all starters, main course and dessert menus are served cold.
---
---
Comments
This Exclusive Romantic Royal Lunch or Dinner at Sea includes:
Cold refreshing towels
Lunch/Dinner (Starter, Main Course, Dessert)
Soft Drinks
Beers - 3 beers per person
Half bottle of wine per person
60-minute Royal Floating Relaxation Massage
Please note that the latest booking for massages is at 16h00.
---
About Grand Gaube Beach: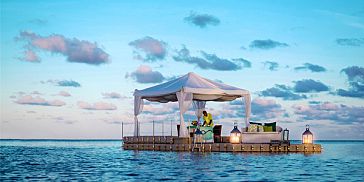 One of the most beautiful sites in Mauritius, you will not find a match for the gorgeous ocean views elsewhere other than Grand Gaube Beach.
The floating platform lies on the crystal clear and turquoise lagoon in the North-East coast. You can enjoy spectacular views of the northern islets of Mauritius from the sea - Gunner's Quoin (Coin de Mire), Flat Island, Round Island and Serpent Island.
Take a break in one of the most beautiful coasts in Mauritius; this is island life at its most romantic and joyful self!
---
Prices
Price per Couple: 360 Euros
Supplement per additional person: 180 Euros
Reviews
100% Level of Satisfaction
Based on 3 reviews
|
reviewed by Khalid Alanazi –
|
November 24, 2017
Your level of enjoyment from the activity
---
|
reviewed by Felipe Brayner – Brazil
|
September 19, 2017
Reaction time to your queries and requests
Travel consultant's professionalism level
Added value given to you by the travel consultant
Consultant's knowledge of Mauritius and the products / services
Overall satisfaction from the customer support service
Level of services provided as part of the activity?
Level of professionalism by activity operator staff / guide
Your level of enjoyment from the activity
Quality of meals & drinks included (if applicable)
Ease of booking the activity
Overall satisfaction from the activity
---
|
reviewed by Gurpreet Singh – Angsana Balaclava Hotel
|
May 24, 2017
---