Full Day Package at Andrea Lodges
| | |
| --- | --- |
| Location | South |
| Operating Days | Weekdays Only |
| Duration | 7 hrs |
| Activity Time | 10:00 - 17:00 |
| Transportation | Offered as Supplement |
"
Did you know?
With our
Underwater Adventures 1 Day Package
, you can discover the underwater world of Mauritius and at the same time experience a selection of unique activities and adventures.
Eco Day Package at Andrea Lodges in Mauritius
Experience an utterly amazing eco-adventure day package in the Southernmost tip of Mauritius at Andrea Lodges.
Immerse yourself into the totally secluded area and eco setting of the Andrea Lodges. Perched between the gorge of the Anguilles River and an impressive black basalt clifftop overlooking the beach and sea, the Andrea Lodges promise you a perfect spot for adventure-packed activities in the midst of wilderness.
This is an authentic, nature getaway to revitalize yourself in a lush green environment. It's serenity and peacefulness will give you the chance to witness the timeless natural beauty of Mauritius. Connect with nature as you indulge yourself with adventurous activities such as hiking, swimming, exploration of the tropical forest, and archery.
About The Full Day Package At Andrea Lodges
Begin this amazing eco day package at 10h00 where you will be welcomed by the striking beauty of nature. Upon arrival you will be greeted with a tea break, where you can enjoy the hot tea or coffee and home-made cakes which are absolutely delicious.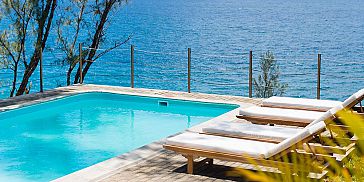 This eco-adventure package is especially designed for those who wish to spend a fun-packed nature adventure accompanied by a guide. With this package you will be given the chance to hike the Exil Falls, which is situated on the outskirts of the tropical Combo forest-a nature reserve. Additionally, you will have the chance to take a refreshing plunge at the 'Cascade Leon', a waterfall with a height of 20 meters. Enjoy a blissful, rejuvenating moment where you can let go all of all your fatigue and stress.
Upon returning back to the lodge, you will have a scrumptious lunch at the restaurant where you can enjoy a 3 course Mauritian meal with selected appetizers, a main course and delicious dessert.
You will also have a selected soft drink or a preferred juice, a local beer or a glass of house wine per person, during lunch.
After your lunch enjoy a 45-minute archery session. You can also access to the pool where you can chill and relax while contemplating the beautiful surroundings and great ocean views.
End this beautiful day at 17h00 surrounded by a serene and rejuvenating environment.
The Full Day Package At Andrea Lodges includes:
Tea Break upon arrival including tea, coffee and home-made cakes
Hiking trip to Exile and Mauritius Wildlife forest accompanied by a guide
Swim at Cascade Leon
Lunch at restaurant (3 course Mauritian meal with selected appetizers, main course & dessert with 1 selected soft or 1 selected juice, 1 local beer or 1 glass of house wine per person, during lunch)
45 minutes of archery session after lunch time
Optional: Day-use room
Access to the pool
Free secured parking
---
About The Lunch At Andrea Lodges
Samoussa Cocktail
Grilled fish filet served with Creole rice, sautéed vegetables and home-made salads
Or
Roasted chicken breast served with sautéed vegetables, potato wedges and home-made salads.
Chocolate Mousse
1 selected soft drink or 1 selected juice, 1 local beer or 1 glass of house wine per person, during lunch
---
About Andrea Lodges
Andrea Lodges Mauritius offers 10 sea-facing chalets which are designed in a rustic manner with light colours and refined décor; reflecting a peaceful harmony with the surrounding nature and views. Fully furnished, the lodges are equipped with ceiling fans, mosquito nets, tea and coffee making facilities and en-suite shower room. Each chalet has a private terrace where guests can sit and admire the views and soak up the tranquility of the location.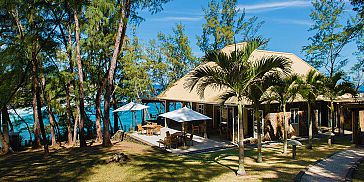 The main swimming pool is found near the restaurant. Here you can swim leisurely with an incredible ocean view; this is where you can relax and let go. Those who want an adrenalin rush can indulge in various fun activities, including guided cliff top walks through the protected deer park, excursions to local sites of interest such as waterfalls & beaches, mountain biking and horse riding.
The thatched roof restaurant overlooks unique views, and welcome guests with its delicious local meals that can be taken in the dining area. At breakfast there is a choice of either a full English or Continental fare. An a la carte menu is offered at lunchtime and picnic lunches can be arranged for those away from the lodge. Dinner is a set 3-course meal.
Key Highlights of the Andrea Lodges:
Furnished veranda / Seating Area / WC
10 Sea Facing Chalets
Outdoor Activities: Hiking, Guided Tours, Quad Biking
Swimming Pool
The restaurant offers breakfast, lunch and dinner
Adventure at the Andrea Lodges:
Exil Canyon
Situated on the Southern slopes of Mauritius, more precisely on the outskirts of the Combo forest, the Exil canyon sits on the Savanna River on the lands of the Exil lodges. Exil Falls is surrounded by tropical forests and offers a picturesque nature view which will soothes your mind and soul.
The canyon has a moderate level of water all year round that rapidly swells up during heavy rainfall, turning the river into a nice aquatic adventure. The canyon consists of two main waterfalls, Leon, a 20 meter drop into a 25 meter wide pool and Cascade Cecile, a 45 meter drop. The river continues to the hydroelectric power station with various water pools and a few possible jumps.
---
Comments
What to bring: We suggest bringing hats, extra sunscreen, cameras, mosquito repellent and swimsuits.
Reservation: Required 48 hours in advance by phone, and subject to availability
Minimum 2 persons required for booking.
Day Room-Use (Optional)
Category: Standard Room
Maximum Capacity: 2 adults + 1 child ( under 12 years old) OR 3 adults
Amenities: Personal electronic safe, complimentary tea and coffee making facilities, hair dryer and air conditioning
---
Prices
Full Day Package at Andrea Lodges: 58 Euro / Person
Day Room-Use (Optional): 28 Euro / Room