Horse Riding On The Beach
| | |
| --- | --- |
| Location | South West |
| Minimum Age | 3 |
| Operating Hours | 07:00 - 18:00 |
| Operating Days | All Days |
| Duration | 1 hrs 30 mins |
| Activity Time | Flexible |
| Transportation | Offered as Supplement |
| Comment | NOT operational on Sundays |
Horse Riding on the Beach – For a Unique and Unforgettable experience
Get out and explore Mauritius on horseback along fantastic white sandy beaches around the stunning Le Morne peninsula.
Mauritius Attractions offers horseback rides with professional staff for beginners or experienced riders.
Imagine yourself, riding the most majestic Horse, with the crystal turquoise blue lagoon contrasting with the pristine white sandy beaches in the background!
Feeling romantic?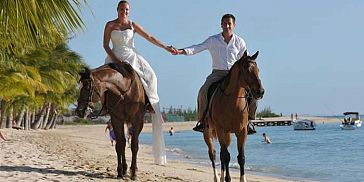 This is something you have probably seen in magazines or on post cards. Well, we can assure that you can saddle up and enjoy the most enchanting moment with Mauritius Attractions!
Do not miss the wonderful ride along the water line and enjoy the splashing of the waves riding your horse!
The horseback riding is organized with calm and docile horses to guarantee our clients a maximum security.
Horse Riding on the Beach - Trip Description
Upon arrival you will be welcomed by a very friendly staff and you will meet your horse. You will have 10 minutes initiation before leaving the paddock. Novice riders will be taught how to mount their horse and will be given basic tuition on how to control their horse.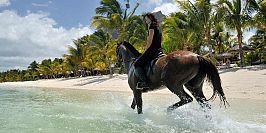 The instructor will watch you ride in the paddock first, which will help you build up your confidence with trotting and galloping. Now, it's time to set out from the stables and go for a ride along these long stretches of white sand and turquoise sea.
Le Morne's landscape is exceptional and magical! Its unique landscape is one of the most appealing mountains on the island.
As part of this horse riding trip you will ride along the beautiful beaches of the Le Morne Peninsula starting from the South west tip of the peninsula and ending the trip at its north part, having beautiful views of Benitiers Island and the big west coast lagoon.
You will get to see the different hotels from the beach side, as well as to have a remarkable view of the Le Morne Mountain from the beach.
You will start this ride in land and finish right into the sea splashing in the waves with your horse.
So, take your time and enjoy this outstanding landscape with your horse. During your horde ride, you can have a nice chat with the professional guides, who would be happy to share their experience and love for the horses with you.
After 1:30 hours ride, you will return to the stables where you can spend more time with the horses.
About the Stud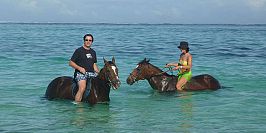 The adult 20 horses and 2 ponies (ideal for children) are kept and trained in this unique environment of Le Morne.
The horses are treated and vaccinated. They are taken care of with regular exercise everyday and are fed with freshly cut grass and cereals. These horses are ideal for both beginners and experienced riders. They are very calm and ensure a safe and pleasant ride also for the non-experienced riders.
Comments
This ride is suitable for all levels, including for those with no horse riding experience
For experience riders, the trail and technical aspect of the ride are adjusted accordingly for providing the most rewarding riding experience
All along you will be accompanied by two professional guides
Horse riding equipments such as riding helmets, chaps, boots and clothes will be offered at the club.
2 ponies are available for children starting from 3 years old
Refreshments are offered at the end of the horse ride
This horse riding trip is offered between 7.00 am and 6.00 pm, for you to enjoy a ride during morning time, mid day or at sunset – as per your preferences
The private horseback rides last approximately 1:30 hours
This is a private horse riding trip which is limited to small groups of up to 6 riders
Due to different level of riding by each client, and to guarantee top personal service and maximum enjoyment, all riders are done on Private basis only
If an advanced rider would want to ride for 1:30 hours on the beach, morning ride is recommended as there is less people on the beach and therefore easy to trot and gallop.
So come and fall in love with the natural beauty of Mauritius – discover beautiful blue lagoon, white sandy beaches, mountain range and breathtaking nature beauty, all while horse riding! A dream for some, a reality for you…
Prices
Price per adult: 120 Euro
Price per child (3-12): 95 Euro