2-hour Swim with Dolphins Budget Trip
| | |
| --- | --- |
| Location | South West |
| Operating Days | All Days |
| Duration | 2 hrs |
| Activity Time | 08:00 - 10:00 |
| Transportation | Offered as Supplement |
About the 2-Hour Swim with Dolphins Budget Trip
Check one thing off your bucket list with this uniquely memorable experience of swimming with dolphins in their natural habitat!
Once-in-a-lifetime moments that take your breath away are what most people only dream about- so make the most of this incredible opportunity and discover the spectacular lives of these magnificent marine mammals, in the crystal-clear waters of Mauritius.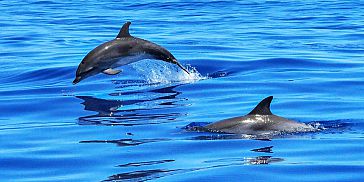 Dolphins are very energetic mammals that love to show off their playful nature. Instead of a short swim limited to the confines of a pool or a quick encounter in shallow waters, you will have the chance of jumping into the warm waters of the Indian Ocean and enjoy snorkelling in the open sea to have a close encounter with these friendly and charismatic mammals in their natural setting. Along with the thrill of swimming with dolphins, you will surely enjoy watching them have fun.
Once you get aboard the speedboat that will take you out to sea, you will receive a short briefing about the activity by the skipper.
The briefing will include aspects such as:
Types of dolphins which you will encounter
Dolphins' habits
Guidelines for sustainable dolphin watching
Safety & Security measures
Swimming with dolphins procedures
Then you will be off for an incredible 2-hour adventure in the open sea.
As part of the trip you will enjoy:
2 hours at the sea swimming with the dolphins in their natural surroundings
Cruising inside the lagoon on speed boat
Snorkeling equipment provided free of charge
Swimming with dolphins offers a rewarding, educational, therapeutic and amazing experience for everyone!
---
Comments
Departure time: 08.00 am
This trips departs from the West Coast area of Tamarin. Participants must arrive at least 15 mins before departure time
This trip is very popular, so please make sure to book this activity well in advance.
Note: there is a guarantee of 90% that you will see the Dolphins, but if that is not the case, there will be no money back but instead we will offer you to join a second trip free of charge.
The trip is not recommended for pregnant women.
This trip is done on speedboats, as it is much easier to look for the dolphins in comparison to catamarans which take much more time to reach the Dolphins sites. With a catamaran you will have less time to spend with the dolphins and more time will be spent on the journey there and back.
Note: clients with limited mobility need to specify their weight
---
A little information about Dolphins in Mauritius:
Dolphins are one of the most fantastic creatures that live in the ocean. The dolphins, while cheerful and playful are also a symbol of intelligence and grace. Dolphins live in pods of about 20 individuals or more and can be observed in the early morning, swimming along the west coast of Mauritius- from Tamarin to the deep sea, off the coast of Le Morne Peninsula.
The Bottlenose Dolphin and the Spinner Dolphin have made the West Coast of Mauritius a place for them to rest and sleep before going to the deep sea for their fishing.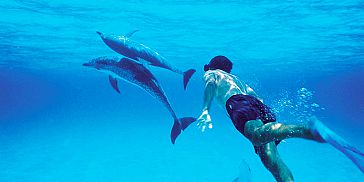 The Bottlenose Dolphin is one of the most common and well-known dolphins. Bottlenose Dolphins are Grey in color and can be between 2 and 4 meters (6.6 and 13 ft) long, and weigh between 150 and 650 kilograms (330 and 1,400 lb). Bottlenose Dolphins live in groups called pods that typically have 15 dolphins, but it is also possible to find groups of over 100 or even occasionally over 1000 dolphins. Their diet consists mainly of small fish.
The Spinner Dolphin is dark gray, with darker patches in the tail stock, back and throat. Usually it has a creamy-white patch on the belly though this varies considerably. The beak is distinctively long and thin, with a dark tip. The fins too, are lengthy for dolphins of this size. Adult dolphins vary in size from 129 cm to 235 cm and weigh from 23 kg to 78 kg. The gestation period is 10 months.
Individuals reach maturity at 4-7 years (females) and 7-10 years (males). Longevity is unknown. Spinners congregate in groups that vary from just a few dolphins to great schools numbering in the thousands.
---
Prices
Price per adult: 29 Euro
Price per child (ages 4-10): 19 Euro
Price per baby (ages 0-3): Free of Charge
---
Important Details to Submit
In order to process your booking, client MUST provide the following details at the comment box during the order process:
Name and date of birth of each participant as per the passport