Air, Sea and Land Day Package on the East Coast
| | |
| --- | --- |
| Location | East |
| Minimum Age | 7 |
| Operating Days | All Days |
| Duration | 7 hrs 30 mins |
| Activity Time | 09:30 - 17:00 |
| Transportation | Included in price |
| Comment | When ordering this day package you benefit special discounted package price |
CURRENTLY UNAVAILABLE
Air, Sea and Land activities package along the East Coast of Mauritius
As part of this day package you will get to experience the quad bike in the nature reserve, parasailing, underwater sea walk and tube ride.
This is a full day full of fun, exciting activities and nature discovery, consisting of a range of adventurous activities.
As part of this day package you will enjoy selection of activities
Quad Biking Excursion (2 hours)
Mauritian Lunch (Optional)
Parasailing adventure
Underwater Sea Walk Excursion including complimentary photo CD
Tube ride
Included in the price of this special day package are
All trips and excursions charges (Quad bike, Underwater Sea Walk, Parasailing, Tube Ride)
Photo CD consisting of various photos of your Underwater Sea Walk experience
As part of the quad bike, you are offered a welcome cocktail upon arrival, Mineral Water during the trip and Refreshing towel after tour
Complete Mauritian buffet lunch (optional)
Full transportation to all the sights including Pick up and drop off from any hotel / place of accommodation anywhere in Mauritius
A personal driver guide to show you around and inform you on each of the sights
Suggested Day Itinerary
07:30 – 08:00* Pick up from your place of accommodation
09:00 – 10:30: Parasailing adventure Underwater Sea Walk Excursion including complimentary photo CD Tube ride
12:00 – 13:00 - Enjoy a delicious Mauritian Buffet at the domain's restaurant (optional)
13:15 – 13:30 - You will have a briefing session by the instructors followed by a Test Drive and fill the disclaimer form
13:30 – 15:30 - Adventure time. Enjoy 2 hours of Quad Biking while discovering the fauna and flora of the reserve
16:00 - 17:30* Drop off at your place of accommodation "
Parasailing adventure
Underwater Sea Walk Excursion including complimentary photo CD
Tube ride
16:00 - 17:30* Drop off at your place of accommodation
*The exact pick up / drop off times will be determined according to the location of your place of accommodation.
Information about each Excursion
About the Quad Biking Trip
2 hours of Quad Biking activity in the 2,000 hectares of green hills, mountains, ponds and river of the reserve. The activity takes place in Mauritius' reserve which was a private hunting domaine before. Today, it is a private nature reserve where luxurious fauna and flora can be admired.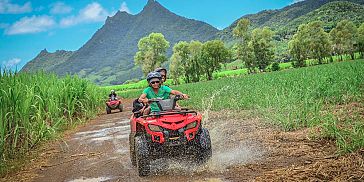 Upon Arrival to the Domain, you will receive a welcome cocktails followed by Safety Briefing and Basis Quad Biking Lesson.
During the quad biking trip, you will past large plantations, indigenous forests, lush valleys and rivers. Your guide will make sure to show you all the hidden gems found along the way and to provide interesting information on the spectacular surroundings and introduce you to the endemic flora and fauna.
From up the mountains you will have panoramic views on more than half of Mauritius can be seen; from the central plateaus to the Lion Mountain via the Moka range. You will also be able to admire the birds, deer and other animals that roam along in the reserve.
You will have the privilege to watch Kestrel, Mauritian Cardinals Java Stag Deers ( Rare deers found in Mauritius), boars, monkey and bats as well as the rare species of birds like the "Cateau Vert" and the "Crescerelle."
You drive in a group led by experienced guides. After a last checking of this four-wheel drive, it takes a few minutes to initiate the quad drive.
The instructors are outgoing and friendly and talk about the history of the natural site, the meaning of this nature reserve and give a lot of geographic information in a very interesting way.
You can enjoy this amazing experience in Mauritius as individual or together with your partner - You have a choice between single-sit quad for 1 person and double-sits quad, ideal for 2 people.
Included in the price
Welcome cocktail
Test drive & security briefing
Sanitary caps with helmets
2 hrs guided quad biking tour
Mineral Water during the tour
Refreshing towel after tour
Fact Sheet
No. of Vehicles : 10 Double seated "Arctic Cat" Quad Bikes
Type : Arctic Cat— 400 cc (4 x 4) / 477 kgs
Maximum capacity per Quad Bike tour : 10 x 2 = 20 persons
Circuit length for Quad Bike : 26 Km – 28 Km
Comments
An initiation circuit is compulsory so the guides can evaluate the driving capacity of each client
Children above the age of 7 can enjoy this activity alongside an adult on a double quad bike
You have to be 17 years old or more to drive a quad (or 7 years and above, to join the quad biking trip as a passenger)
It is recommended to participants to wear sports shoes with socks and to wear long trousers
Helmets, goggles, coats, cooler box are also provided for the Quad Bike Tour
Hot showers and refreshing towels are available for the use of visitors. Accordingly, it is recommend bringing spare clothes in case you would like to have shower after the excursion
---
About the Parasailing adventure: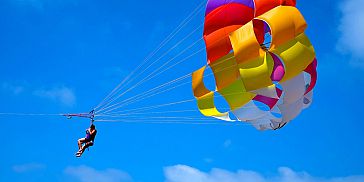 Parasailing is the ideal excursion for those looking for a special sea-air activity. Parasailing offers you a breathtaking bird's eye view of the beautiful lagoon and beach of East Coast of Mauritius, making it one of the best things to do during your holiday in Mauritius
The parasailing begins with a short safety briefing. Then you will have a speed boat transfer to the launch platform where you will later take off and start the parasailing.
Upon arrival to the launch platform, you will be connected with a secured certified harness to the parasail. Only after the ground assistants will check the rig and the flight harness they will signal the boat driver to start the engine and gradually accelerate the boat. You will slowly take off from the launch pod for a 10 minutes parasail flight above the beautiful lagoon.
Comments
Total duration of the parasailing is about 10 minutes
You can go for the parasailing as individual or as a pair
---
About the Underwater Sea Walk Excursion
Enjoy a unique, safe and fascinating underwater walk on the ocean bed (about 3-4m depth), and witness firsthand the magnificent marine life of the Eastern coast of Mauritius, the beautiful fauna, corals, and a wide variety of fish, all in their natural habitat.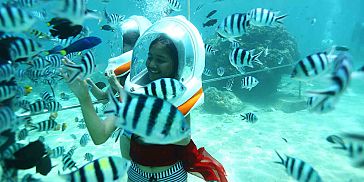 Qualified experienced guides will accompany you along the course of the Underwater Sea Walk guaranteeing your maximum safety.
The excursion begins with a motorboat transfer from the Belle Mare beach to a platform situated inside the lagoon. Upon arrival to the platform you will receive a pre departure briefing on the gear, the local marine life, on safety procedures and on the underwater walking trail.
Then, with the help of the guide you will go off board the platform to start your underwater walk adventure.
Underwater Sea Walk Photo CD:For the benefit of all participants your entire experience for the Underwater Sea Walk is captured in digital photography. Pictures of your Underwater Sea Walk experience will be available on CD which will be given to you for no additional charge as soon as you have completed your Underwater Sea Walk experience.
Comments
Total time of the excursion is approx. one hour (walk itself takes about 15-20 minutes)
Wetsuits and soft underwater shoes are available and provided free of charge
Glasses or contact lenses may be worn during this excursions (you will not get your head wet)
Participants do not need to know how to swim
What to bring: swimming costume and a towel
---
About the Tube ride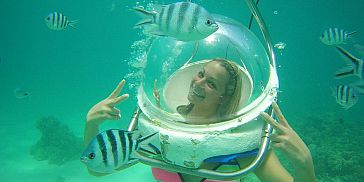 Tube Ride is one of the most popular fun water sports activities to enjoy as individual couple or with friends.
You will enjoy a 100% fun activity and an absolutely mind-blowing 15-minutes tub ride on the colorful water tube.
To cater all participants, you can choose out of a large selection of different models, such as single, twin, triple, kneeling or laying water tubes, each offering a different tube ride experience.
How it works?
You will be seated in an original pneumatic tube which is being pulled by the speed boat through the water of the Belle Mare beach. All you have to do is hold the two handles at the sides of the tube, while enjoying an exhilarating ride.
….so get ready for some serious fun, bouncing on the waves, cruising through the crystal clear lagoons while being attached to the speedboat.
Comments
Total time of the excursion is approx. 15 minutes
Maximum number of participants on a tube is 4 participants at a time
---
Traditional Mauritian lunch buffet (optional)
For an additional cost, we can arrange for you the Mauritian lunch buffet and below, you can have more information about the lunch menu:
Beef Dry Curry, Chicken in Créole Sauce, Chinese cabbage, Lentils, Pumpkins, Rice, Pasta, Sauteed salted fish, Aubergine Chutney, Tomato Chutney, Coconuts & peanuts chutney, Vegetables pickles, Caramelized papaya in fresh orange flavour.
Price for the lunch:
Optional lunch buffet: 19 Euro / person
---
Additional information regarding this day tour package
Comments
This activity is offered every day except on Christmas and New Year (1st and 2nd)
The minimum age requirement for the day package is 12 years old
As for the quad bike, Children above the age of 12 can enjoy this activity alongside an adult on a double quad bike and you have to be 17 years old or more to drive a quad (or 12 years and above, to join the quad biking trip as a passenger)
What to bring: Sun block cream, mosquito repellent, good footwear, long trousers, spare clothes sport shoes, socks and a camera!
Pregnant women and physically challenged person are not authorized to go on this excursion
Car Capacities
You can choose from a selection of vehicles types:
Family Car- Up to 4 passengers
SUV Car - Up to 6 passengers
Minivan - Up to 12 passengers
About the drivers
All drivers speak fluent English and French (Upon special request we can organize driver who speaks additional languages). The drivers, citizens of Mauritius, will be happy to provide you with information about Mauritius and each of its sights.
All drivers are very professional, time efficient and friendly. There is high emphasis on being always on time and providing reliable devoted service to customers.
---
Prices
Transportation
Private Daily Tour in a family Car (for up to 4 people): 75 Euro
Private Daily Tour in a SUV big Car (for up to 6 people): 85 Euro
Private Daily Tour in a Minivan (up to 12 people): 115 Euro
The Prices are per vehicle referring to the number of passengers applicable for each vehicle type.
Excursions & Entry Tickets Packages
When ordering this day package you benefit special discounted package price on these trips and excursions.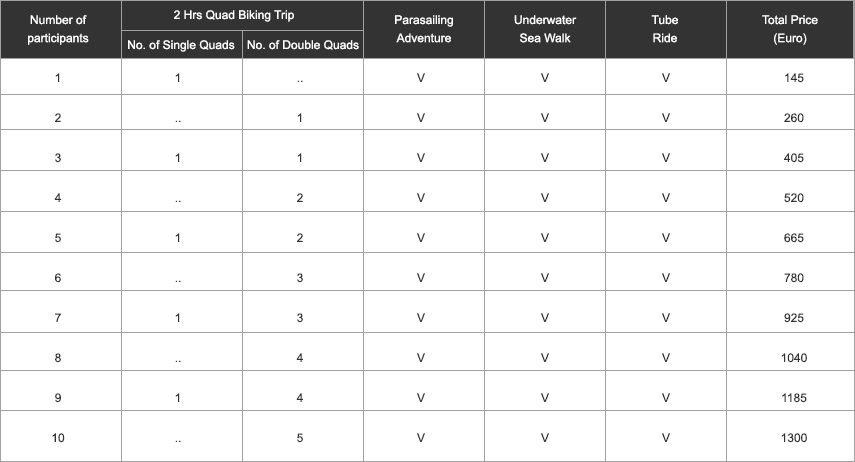 The special discounted package prices are detailed in the table here below:
Please note that in case of even number of participants (For example: 2, 4, 6, 8, 10) each two participants will ride one double quad. In case odd number of participants (1, 3, 5, 7, 9), one of the participants will have to ride a single quad bike.
Lunch Menu
Price per person for the lunch menu at Domain's restaurant: 19 Euro
CURRENTLY UNAVAILABLE
Dear Customer, to book this activity please contact us on +230 269 1000.