Zip line Excursions at Vallée des Couleurs
| | |
| --- | --- |
| Location | South |
| Minimum Age | 6 |
| Operating Hours | 09:00 - 17:00 |
| Operating Days | All Days |
| Duration | Flexible |
| Activity Time | Flexible |
| Transportation | Offered as Supplement |
| Comment | Duration: depending on the zip-line package chosen. Level of difficulty: Easy to Medium |
Zip line Excursions at Vallée des Couleurs
Experience an aerial adrenalin rush with through zip-lines (Tyroliennes) at the beautiful South part of Mauritius at the Vallée des Couleurs reserve!
This is a great opportunity to unveil the true beauty of this remarkable nature reserve, flying like birds from the tree tops, riding the longest zip lines in Mauritius
Children and adults are surprisingly taken by the excitement and adrenaline that comes naturally when you start zip lining for the first time. You will get to discover the beautiful scenery of the South Coast of Mauritius, including the entire nature park, its waterfalls and canyons from high above.
We offer you a selection of amazing Zip line Excursions – 1 Line (500m), 4 Lines (1.3km, including 500m line) and Super Longest line (1.5km), all accompanied by professional guides.
The Zip Line Packages:
1 single-line Zip line of 500 m
4 Lines Zip lines package in total accumulated length of 1.3 km (includes a 500m line)
Super Longest Zip line of 1.5 km
Each zip line, varying in length, height and speed offers you to explore a unique and different landscapes.
The Zip line Excursions package inclusions:
Spectacular glides along zip lines of different length (500m, 1.3 km or 1.5 km)
Opportunity to contemplate a fantastic land of 23 Coloured Earths from above
Professional guides during the zip line excursions
As part of this adventure at Vallée des Couleurs, you would be sure to have remarkable views of the canyon, the stunning landscapes and forest from high above!
Following the zip line adventure you can spend some more time in the nature park strolling along the many beautiful trails. This is a good opportunity to have a closer look at the unique 23 Coloured Earths and the animals in the park. Reach the viewpoint at the mountain top where you will enjoy a breathtaking panoramic view of almost the entire South Coast.
Note: Each of these zip line activities is offered separately, accompanied by the guides. As such, you have maximum flexibility to take part in one or more zip lines.
More information on Zip line Activities at Vallée des Couleurs: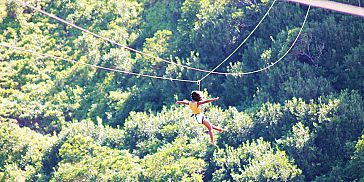 As part of these thrilling zip line excursions, you will discover one the most stunning nature reserves – La Vallée des Couleurs and all its stunning attractions.
Your amazing journey starts with meeting your guide who will take you to the launching spot of your preferred zip lines package riding on the park's 4x4 vehicle.
Enjoy the view of the beautiful surroundings, spotting some animals as you pass through the forest. As you arrive at the spot, you will be provided with all the necessary zip line equipment as well as have a safety briefing on the zip line activity.
The topmost priority is your safety and as such, all the equipment used for the zip-line activities adhere to the highest safety standards and are regularly checked, then double-checked.
Below, you have more information about the zip line activities offered at the nature park:
1 Line Zip line (500m)

Enjoy an unforgettable adventure as you slide from one platform to the other along a steel cable, set among the stunning natural surroundings of Vallée des Couleurs.

We offer an amazing guided zip-lining activity of 500m long for nature enthusiasts and adventure lovers. This activity can be enjoyed as from 6 years old with no previous experience required.

4 Lines Zip line (1.3 km)

This outstanding 1.3 km zip lines package at Vallée des Couleurs is not only adrenalin-filled but a safe adventure. It consists of 4 lines placed at different points including a 500m line, offering you the unique opportunity to explore an untouched, unspoilt area that was previously entirely out of reach. As part of this 1.3km zip line, you will have remarkable views of the entire park and the green scenery all around.

Super Longest Zip line (1.5km)

Enjoy a day full of fun and adventures in nature with the Super Longest 1.5 km Zip line at Vallée des Couleurs.

The 1.5 km zip line is recommended as from 12 years old and is ideal for families which offers a great time together.
Comments
This zip line activity is offered anytime between 09:00 and 17:00.
The nature park is open every day, including 25th December and 1st January.
Duration of the 500 meters zip line excursion: 15 minutes
Duration of the 1.3 km (4 zip lines) package: 45 minutes – 1 hour
Duration of this Super Longest zip line excursion: 30 minutes
The 500m Zip line & the 1.3km (4 zip lines) package are suitable from the age of 6 years old, accompanied by an adult.
This Super Longest Zip line (1.5km) is suitable as from the age of 12 years old.
All participants must be physically and mentally capable to perform this particular activity.
No previous experience in zip lining is required.
Weight limitation for the Super Longest Zip line (1.5km): Max 130 Kg (sitting) & Max 80 Kg (superman)
Vallée des Couleurs Lunch Package (Optional)
As part of this Zip Line packages, we offer you to enjoy a 3 course set lunch menu (Starter, Main Course, Side Dish, Dessert and a Drink) served at the park's restaurant the La Citronnelle. Nature lovers are bound to like the restaurant as it is literally found in nature's lap, offering a unique lunch experience in the midst of the indigenous fauna and flora of the park
At La Citronnelle, you have a choice between two menus for lunch– a traditional Mauritian set menu (Menu A) or an International BBQ grilled menu (Menu B). The restaurant also offers a special child-friendly menu and dishes, directly available on the spot.
The 2 proposed lunch menus to choose from:
Menu A (Mauritian Lunch Menu):
Starter: Mauritian Fish Salad
Main Course: Chicken & Prawn in coconut milk and salad accompanied with rice
Dessert: Roasted Pineapple with Ice Cream
Drinks: Water or Soft Drink or Juice (1 Glass)
Menu B (Grilled Lunch Menu):
Starter: Crispy Chicken
Main Course: Seafood Vindaye and salad accompanied with rice
Dessert: Chocolate mousse
Drinks: Water or Soft Drink or Juice (1 Glass)
About Vallée des Couleurs Nature Park
Located in the South of Mauritius, La Vallée des Couleurs Nature Park is one of the most famous and unique attractions of the island which fascinates Mauritians as well as foreigners.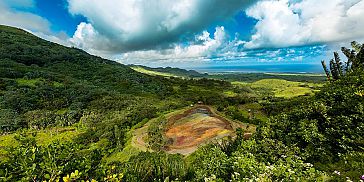 Nature lovers are bound to love Vallée des Couleurs; it offers a unique experience with the indigenous fauna and flora alongside various fun activities and excursions, suitable for all ages. Visitors are treated with a range of natural landscapes, including plateaus, mountains, valleys, craters and crater-lakes.
The visit of Vallée des Couleurs begins with access to the park's exhibition room. This is provides an outline of the different places of interest which you will discover through your visit to this domain-park.
You will also enjoy the visit to the fern garden, without which, any visit of Vallée des Couleurs Nature Park would be incomplete. This is where you get to see the beauty of tree ferns, wild orchids or other native flowers like Trochetia (Boucle d'oreille/Earring) and Bouquet Banané (achna Mauriciana), which only bloom at the end of every year
The unspoiled beauty of the land captures every heart and soul; some of the domain's landmarks such as the remarkable 23 Coloured Earths has gain reputation worldwide as a 'must visit' site in Mauritius. The park is also home to tortoises, monkeys, stags, fish and also birds such as Pink Pigeon, Paille en Queue, Cateau Vert, amongst others. Various endemic trees like Ebony, Bois de Natte, Takamaka and some other rare plants also contribute to the beauty of the nature park
Additional packages offered at La Vallée des Couleurs Nature Park:
---
Prices
Visit of Vallée des Couleurs (Entry tickets):
Price per Adult (12 years old and above): 7 Euro
Price per Child (ages 6-11): 5 Euro
Price per child (ages 1-5): Free of charge
1 Line Zip line (500m):
Price per participant: 26 Euro / person
4 Lines Zip line package (1.3 km):
Price per participant: 52 Euro / person
Super Longest Zip line (1.5km):
Price per participant: 65 Euro / person
The Complete Zip line package (2.8km + 1.5 km):
Price per participant: 110 Euro / person
Lunch
Price per Person for lunch: 18 Euro