Lion Mountain Half-Day Guided Hike
| | |
| --- | --- |
| Location | South East |
| Operating Hours | 08:30 - 12:45 |
| Operating Days | All Days |
| Duration | 3 hrs |
| Activity Time | Flexible |
| Transportation | Offered as Supplement |
| Comment | Optional Lunch at a supplement |
This activity is not available until further notice
About Lion Mountain Hike
Seize the opportunity to climb Lion Mountain on a 8 km hike with a unique dip in the endemic flora of the valley. Lion Mountain, situated in the South East of the island, shall leave you amazed with the breathtaking scenery of the turquoise lagoons, as well as the islets and coast.
Your hiking activity will start at 08:30 with a safety briefing by the professional guides, and by 08:45 you will begin the trail. Usual safety measures to be taken are the use of sports shoes which are highly recommended, use of mosquito repellent, a sweater and spare clothes. Since this hiking trip is guided, you will get the chance to learn more about Mauritius with an experienced guide.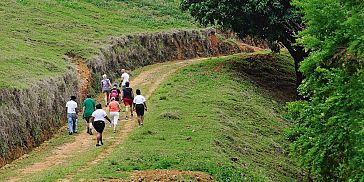 Throughout your walk in the forest, you will get to discover different species of plants and other greeneries. The location is abundant with native vegetation, exotic plants, and if you are lucky enough, you might spot the small, endemic falcon-the Mauritian Kestrel. This hike has steep drops and slopes, which may be challenging for novice hikers. Once at the summit, you will be rewarded with some of the most breathtaking views of the Mauritian islets, the crystal-clear blue lagoons, as well as the tropical birds, Paille en queue, soaring above.
In a nutshell, this can be an amazing opportunity for you to cut off, break away from your daily routine and rejuvenate yourself in the midst of nature.
If you wish to have lunch after the hike, then a 100% percent Mauritian Cuisine meal awaits you at the Falaise Rouge Restaurant. The restaurant compliments your lunch with a scenic and superb view of the sea.
---
About Lion Mountain
Lion Mountain is a protruding mountain in the Bambous mountain range. It is visible from Mahebourg and is also very famous for is vegetation and amazing views of the south east. It is one of the mountains across the bay, said to be the only witness left of the 'Bataille Of Vieux Grand Port."
The Lion Mountain hike usually starts in the sugarcane fields and which then follows through the woods and then ends at the peak. Caution should be exercised during the hike, as some of the places are rocky and quite challenging.
---
Lion Mountain Hike schedule: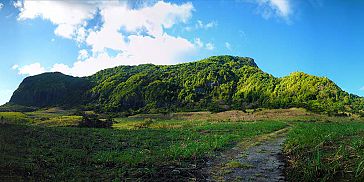 08:30 : Arrival at La Vallee De Ferney
08:35 : Signature of Disclaimer
08:40 : Briefing of Hike
08:45 : Start Hike
12:45 : End Hike & Arrival at Visitors' Corner
Optional:
13:00: Lunch at Falaise rouge Restaurant
---
Optional Lunch at La Falaise Rouge Restaurant - Vallee de Ferney
Facing the bay of Grand-Port, alongside the cliffs and valleys, you can appreciate a delicious meal of local cuisines, while admiring the mountain view as well as the lagoon and islets of the South-east. This typical lunch is categorised under three different sub-menus.
Seafood
Starter: Smoked Marlin Salad
Main Course
Fish Stew
Lentils
Rice
Chutney
Dessert: Caramelised Papaya & Vanilla Ice Cream
Drinks (Either / Or)
1 Juice / 1 Water / 1 Soft drink
Vallée de Ferney Chef Speciality
Starter: Chicken Salad
Main Course
Deer 'Vindaye'
Lentils
Rice
Chutney
Dessert: Caramelised Papaya & Vanilla Ice Cream
Drinks (Either / Or)
1 Juice / 1 Water / 1 Soft drink
Vegetarian
Starter: Green Salad & Feta
Main Course
Vegetable Curry
Lentils
Rice
Chutney
Dessert: Caramelised Papaya & Vanilla Ice Cream
Drinks (Either / Or)
1 Juice / 1 Water / 1 Soft
---
Comments
It is recommended to bring: Sports Shoes, Mosquito Repellent Cream, Sweater or jacket, Spare clothes
Water Offered: 0.5 L
This trail is a technical track with some steep downhill sections. Parental discretion is advised for children undertaking the hike.
No littering and no damaging to the animals and plants.
---
Prices
Lion Mountain Hike without lunch
Price Per Adult: 33 Euro
Price Per Child (3 – 10 years): 23 Euro
Price Per Child (0 – 2 years): 17 Euro
Lion Mountain Hike with lunch
Price Per Adult: 65 Euro
Price Per Child (3 – 10 years): 52 Euro
Price Per Child (0 – 2 years): 30 Euro
This activity is not available until further notice