Windsurfing Beginners Lesson at Mont Choisy
| | |
| --- | --- |
| Location | North |
| Minimum Age | 10 |
| Operating Days | All Days |
| Duration | Flexible |
| Activity Time | Flexible |
| Transportation | Offered as Supplement |
| Comment | Activity time: 10h00 – 12h30 OR 13h30 – 17h00. Duration: 60 minutes. Children between 10 – 14 years are recommended to be accompanied by an adult. Max no. of person: 6 participants at a time with one instructor and 2 rescue boat cover |
Windsurfing Beginners Lesson – Discover windsurfing in Mauritius!
Experience the thrill of windsurfing at the beautiful lagoon of Mont Choisy by joining our windsurfing lessons!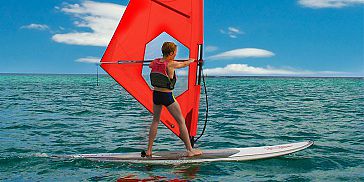 The windsurfing lessons give you the opportunity to learn the very basic windsurfing skills, and to have a "taste" of windsurfing. This makes the windsurfing lesson an ideal activity for beginners and complete novices in windsurfing looking to enjoy a great eco-friendly water sport activity.
Practiced at Mont Choisy, one of the most beautiful spot and the longest beach in the North of Mauritius, you are sure to benefit from the best windsurfing conditions. The calm water inside the large lagoon are ideal for practicing the basic controls and skills of windsurfing.
Included in Windsurfing Beginners Lesson:
The Windsurf lesson at Mont Choisy Beach includes:
A short 10 – 15 minutes safety briefing instruction on land on arrival
Windsurfing lesson including full assistance by a professional instructor throughout your lesson on water of either 60 minutes / Full Day
Complete Windsurf equipment- board and sail, life vests
Two safety boats and a dedicated rescue team are always on standby.
More about the Windsurfing Beginners Lesson:
During the windsurfing lesson you will learn about wind control and body dragging and have your first water-start. Each spot is carefully chosen by the instructors with low depth-water, where it will be easier for you to practice and learn the basic windsurfing controls.
In order to make your first windsurfing steps as easy as possible, the equipment which is used for the windsurfing lessons is especially made for beginner windsurfers.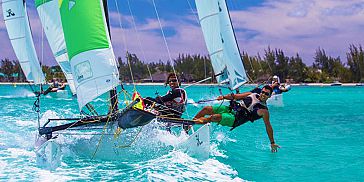 Under the dedicated and enthusiastic guidance from the professional instructors, you can be sure of discovering a deep and lasting passion for windsurfing.
Also, for best results, the windsurfing training lessons have been created following many years of experience.
As part of the lesson, you will receive a 10 – 15 minutes safety briefing instructions on a windsurfing simulator on land from the professional instructor. Then, after gaining a little confidence, get set and head to the open sea having an instructor always by your side.
Each of the maneuvers and training sessions is made up by steps that are logically structured to enable individual stepwise training. This is why the lesson makes you learn efficiently, and achieve your goal!
About Windsurfing
Windsurfing is a surface water sport using a windsurf board powered by the wind pushing on a sail.
The sport combines aspects of both sailing and surfing, along with certain athletic features shared with other board sports like skateboarding, snowboarding and water skiing.
This amazing sport attracts people of all ages and abilities. With proper coaching and favorable conditions all year round in Mauritius, the basic skills of surfing, steering, and turning can be learned within a few hours.
Windsurfing – Safety first:
The windsurfing lessons includes a full briefing on safety instructions
During the entire windsurfing lesson you would have personal guidance by the windsurfing guide
Two safety boats and a dedicated rescue team are always on standby.
Only the best quality windsurfing equipment is used including, having special equipment suitable for beginner windsurfers.
The Mont Choisy Beach
Stretching almost 3 kilometers from Trou aux Biches to Pointe aux Canonniers, this is the island's longest beach: a gently curving strand of golden sand lined with a shady grove of filao trees on one side and by gentle, crystal-clear aquamarine water on the other.
The beach is characterized by its gentle arch which shows the waters curving as they hit the shores. It enjoys the panoramic scenery of the Indian Ocean, featuring gentle turquoise colored waters, powdery white shores and a rich marine life.
Comments
Operating Days: All days
Operating time: (Anytime during the following schedule): In the morning: 10:00 – 12:30, In the Afternoon: 13:30 – 17:00
Departure point: From Coral Azur Hotel, Mont Choisy
Duration: 60 minutes / Full Day (6 – 7 hours)
Minimum age: 10 years and above. However children between 10 – 14 years are recommended to be accompanied by an adult.
Maximum number of people: 6 participants at a time with one instructor and 2 rescue boat cover.
What to bring: Swimwear, suitable shoes, towels, water, suncream
Note: Two rescue boats and a team are always on water and we use quality equipment, life vests and trapeze harnesses if necessary – all for your maximum safety and comfort.
---
Prices
Price per participant for the Windsurfing Beginners Lesson – 60 minutes package: 39 Euro