Zipline (Tyrolienne) Adventure in Rodrigues
| | |
| --- | --- |
| Location | Rodrigues |
| Minimum Age | 4 |
| Operating Hours | 09:00 - 17:00 |
| Operating Days | All Days |
| Duration | 1 hrs 30 mins |
| Activity Time | Flexible |
| Transportation | Offered as Supplement |
| Comment | Level of difficulty: Easy |
This Activity Is Not Available Until Further Notice
Tyrolienne Adventure - Rodrigues Island
Zip lines excursion at the south coast of Rodrigues Island at Montagne Malgache.
Come and enjoy a unique and exhilarating zip lines (Tyroliennes) excursion at the very south of Rodrigues.
This is the ideal activity for adventure and nature lovers and for those who have wished to experience flying like a bird along the mountain.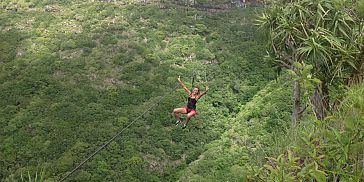 You will get to discover the breathtaking views to the lagoon of the South Coast of the Rodrigues Island, the waterfalls, the lush green valleys and discover of beauty of the Rodrigues Island.
The zip line adventure namely knows 'Tyrodrig' takes you across 3 lush green valleys amidst the flying 'paille en queues' and golden bats.
Connected to zip lines you will fly over the Montagne Malgache with a view of the Rodrigues lagoon sliding across the valley from cliff to cliff.
You will discover the beauty of the island suspended at a thrilling height of more than 100 meters above the dense vegetation with the longest zip line spanning over 400 meters. You would not want to miss it !!!
Mauritius Attractions offers you 2 courses of Tyroliennes as detailed here below
The first one consists of three courses; 400 meter Tyrolienne which is one of the longest; the second is a Tyroliennes of 200 meter and the last one is a Tyroliennes of 100 meters.
The second course consists of four zip lines 160m, 240m, 200m and 100m in length.
The zipline tracks were installed with a strong regard for respecting the environment and its integration in the landscape.
This activity is recommended for everyone from the age of 4 and is ideal for families and offers a great time and entertainment for all. No previous experience in zip lines is required.
Children and adults are surprisingly taken by the excitement and adrenaline that comes naturally when you start flying for the first time.
The zip lines is considered by many as one of the most fun activities offered in Rodrigues.
During the entire zip line experience you will be accompanied by our professional guides who will be of your assistance.
Comments
Duration 1.0 - 1.5 hour
Operational days Everyday as from 0900 – 1700
Ages From 4 years old
Level of difficulty Easy
What to wear Clothing and tennis shoes, cap and swimwear
Do not forget Sunscreen, mosquito repellent cream
Maximum group size 12 persons
Prices
Price per participants 34 Euro
This Activity Is Not Available Until Further Notice