Mauritius South - Leisure Parks & Fun Tour
| | |
| --- | --- |
| Location | South |
| Operating Days | All Days |
| Duration | 9 hrs |
| Activity Time | 08:30 - 17:30 |
| Transportation | Included in price |
| Comment | As this is a private trip, we can customize the tour times as per your preferences - This private tour is offered every day. |
Tour of Mauritius South Region- Mauritius South – Leisure Parks & Fun Tour
Discover the leisure parks in the southern region of Mauritius with this exclusive tour.
The South of Mauritius is not only famous for its beautiful beaches, untouched nature reserves and charming villages; it also has a selection of attractions that are a great source of entertainment and fun for adults and kids alike.
This package comprises of a selection of activities that will undoubtedly give you memorable and enriching experiences.
The Leisure Parks & Fun Tour includes: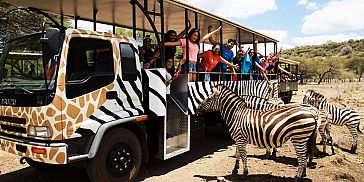 Visit of the Casela Nature Park ( Thursday to Sunday)
Viewpoint of Morne Brabant and l'île aux Benitiers
Chamarel village
Seven-coloured earth
Visit of Curious Corner Chamarel
Chamarel Waterfalls
---
Mauritius South – Leisure Parks & Fun Tour - Itinerary
Visit of the Casela Nature Park – World of Adventures
The Mauritius Casela Park is a real nature and adventure park. It is located besides the Rempart Mountain on the South-West of Mauritius, offering magnificent views of the countryside rolling down the west coast of Mauritius.
The park includes four thematic worlds: Safari, Nature, Mountain and Water, as well as a hub for discovery and learning.
Safari Kingdom: Quad, Photo-Safari, dedicated area for Big Cats, Elephants and suitable for safaris and interactions with Giraffes.
Nature Kingdom: Bird Park, Canopy Park, Animal show.
Mountain Kingdom: Canyoning, Via Ferrata, Zip Lines, Climbing Wall
Water Kingdom: Wave pool, Toboggans (children and adults), a lagoon as well as an artificial river.
Discovery Centre: 4D Cinema, discovery of natural science and History of Mauritius through giant 3D Maps.
The visit to the park includes
Toboggan (Avalanche Mines) - a thrilling fun ride on the first toboggan slide in Mauritius. The Toboggan includes two slides placed on a slope on which one slips with buoys.
Tulawaka Gold Coaster – an adrenaline-inducing alpine coaster that runs along 800m. Perfect for all thrill seekers. It can be ridden solo or in tandem.
Walk thru the aviary - Walk through the bird aviary and interact with various colorful bird species from around the world.
Safari photo - This great value tour lets you find yourself face-to-face with zebras, ostriches, deer, African antelopes, white rhinoceros, impalas and kudus during a unique safari tour on-board one of the safari vehicles.
Big Cats Kingdom - For Big Cats lovers, this is a dream come true! Visit the Big Cats' park to enjoy a close view of the lions, caracal and tigers.
Giraffe and pygmy hippo viewing - Come face to face with these majestic animals for a unique viewing experience.
Camel and llama viewing - Meet the camels and llamas, considered as one of the friendliest and most loving animals you will ever meet. Spend some time getting to know these amazing creatures.
Monkey Kingdom - have some fun watching the long-tailed monkeys skip and hop about, in their enriched, natural habitat.
Kid's playground - A new kid's playground that will offer sensation to the young ones!
Petting farm and Tortoise pen - Ideal setting for people of all ages, especially children to interact with farm animals as well as tortoises.
3D Interactive Map and 4D Cinema
Viewpoint of Morne Brabant and l'île aux Benitiers
Discover the UNESCO World Heritage Site, Le Morne, a rugged mountain that juts into the Indian Ocean at the southwest of Mauritius. It was used as a shelter by runaway slaves and maroons, through the 18th and early years of the 19th centuries.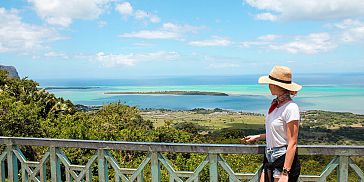 Protected by the mountain's isolated and almost inaccessible cliffs, the escaped slaves formed small settlements in the caves and on the summit of Le Morne. The oral traditions associated with the maroons, have made Le Morne a symbol of the slaves' fight for freedom, their suffering, and their sacrifice, all of which have relevance to the countries from which the slaves came - the African mainland, Madagascar, India, and South-east Asia.
About 500 metres off the coast at La Gaulette (South West of Mauritius) is l'ile aux Bénitiers. It is a large coral sand island approximately two kilometres long and 500 metres at its widest point and 65 hectares in area.
The island itself has very little biodiversity value since it has a highly modified vegetative cover and is used as a coconut plantation.
Chamarel Village
The village of Chamarel in southwest Mauritius is home to two natural wonders - the magnificent Chamarel waterfall and the seven-coloured earth of Chamarel. It has a population of 700 and was named after the Frenchman Charles Antoine de Chazal de Chamarel, who lived in the area around 1800.
The Seven-Coloured Earth
The seven-coloured earth is one of the incredible wonders of Mauritius and is considered one of the must-see places on the island. The seven-coloured earth is a natural phenomenon and a prominent tourist attraction. The colours evolved through conversion of basaltic lava to clay minerals. It is a relatively small area of sand dunes comprising sand of seven distinct colours (approximately red, brown, violet, green, blue, purple and yellow).
Geologists are still intrigued by the rolling dunes of multi-coloured lunar-like landscape. The colours, red, brown, violet, green, blue, purple and yellow never erode in spite of torrential downpours and adverse climatic conditions.
Chamarel Waterfalls
Known as the highest waterfalls of Mauritius, the Chamarel Waterfalls has a height of about 100 meters (almost the same height as the Statue of Liberty) cascading down against a scenic backdrop of luxuriant forests and mountains which is simply breath-taking.
You will find exposed volcanic rocks dating back to some 8-10 million years ago, thus representing some of the oldest lava rocks of Mauritius. The waterfall is formed by three distinct streams of water sourcing from the River Saint Denis which is nearby the village Cachette, Cascade Chamarel and La Crete.
The Curious Corner of Chamarel
Curious Corner as the name states is for those of us who like snooping around and have an ever-probing mind, as we all naturally are. It is a fascinating, fun and social excursion into the wonderful world of optical illusions, which will leave you quite literally, not believing your eyes! Some of the attractions at Curious Corner are guaranteed to give your mind a wobble.
Located just opposite the 7-coloured earth entrance in the Chamarel village on the west of the island, with an impounding façade, on a winding hilly road, it is a house filled with a variety of astounding delusional fantasies.
Constructed passionately by a team of thrilling professionals, with the main aim to surprise their visitors, curious minds with mythical thoughts. Curious Corner is surely out to surprise you in every sense of the way, with just under 40 exhibits set over the 5,000sq meters.
---
Lunch Menu at Varangue Sur Morne Restaurant
As part of this tour, we offer you to enjoy a delicious lunch and a unique dining experience at the beautiful Varangue sur Morne restaurant which is nestled high up in the Black River mountains. The view of the south-west coast, from Le Morne to Black River is unsurpassable in beauty as it stretches from dense forests the haven of monkeys, wild deer and varied birds, amongst others - to the shimmering turquoise and blues of the Indian Ocean.
Varangue sur Morne has overtime, hosted important events and functions, with well-known personalities, such as Mrs Sonia Gandhi, Prince Edward, President Jacques Chirac, Robert de Niro, and important dignitaries / Heads of States.
The Varangue sur Morne restaurant will surely offer you a unique dining experience against a spectacular backdrop.
You can choose from the selection of dishes below:
Menu A
Starter:
Pasta Salad with pesto and olives
Main Course:
Chicken and Potato Stew served with Rice, black Lentils and an exotic condiment
Dessert:
Tapioca, our Sagoo with a Coconut Flavour, Varangue Sur Morne Style.
Menu B
Starter:
Main Course:
Grilled fish served with plain rice and sautéd vegetables
Dessert:
Roasted banana with old Rhum
Menu C
Starter:
Main Course:
Chicken and shrimps curry served with steamed riz and Mauritian green
Dessert:
Kid's Menu
Mini Chicken or Mini Fish, Chips
Ice Cream
Price for the lunch Menus
Menu A: 24 Euros /person
Menu B: 32 Euros /person
Menu C: 38 Euros /person
Kids Menu: 15 Euros
---
Additional information regarding the South West Tour
Start & End times:
Duration: The duration of the private South West tour is 9 hours
This private tour is offered every day
Departure time: 8:30 am from your hotel / place of accommodation
Return time: 17:30 pm back to your hotel / place of accommodation
(Upon request it is possible to start or finish the tour in a different time)
Car Capacities
You can choose from a selection of vehicles types
Family Car - Up to 4 passengers
6 Seater vehicle - Up to 6 passengers
Minivan - Up to 10 passengers
About the drivers
All drivers speak fluent English and French (Upon special request we can organize driver who speaks additional languages). The drivers, citizens of Mauritius, will be happy to provide you with information about Mauritius and each of its sights.
All drivers are very professional, time efficient and friendly. There is high emphasis on being always on time and providing reliable devoted service to customers.
Prices
The Transportation prices are Per Vehicle (and not per person). You can choose the vehicle type according to the number of passengers in your group.
Private Daily Tour in a family Car (for up to 4 people): 85 Euro
Private Daily Tour in a 6 Seater vehicle (for up to 6 people): 95 Euro
Private Daily Tour in a Minivan (up to 10 people): 115 Euro
The above transportation prices are per vehicle and not per person.
Entry Tickets Packages (includes entry tickets to all the sights as part of this tour):
Price per Adult: 42 Euro
Price per Child (ages 3-12): 27 Euro
Price per Baby (ages 0-2): Free of charge
---
Total Tour Price Per Person
| | | |
| --- | --- | --- |
| Number of Participants | Total Price | Price Per Person |
| 2 Adults | 169 Euro | 84 Euro |
| 4 Adults | 253 Euro | 63 Euro |
| 6 Adults | 347 Euro | 57 Euro |
| 12 Adults | 619 Euro | 51 Euro |
| 2 Adults + 2 Children | 223 Euro | 55 Euro |
---
Comments
This tour is under time limitation as per the times mentioned on this page / booking voucher, in case of additional hours beyond the agreed tour times, there will be an additional fee of 15 Euro payable directly to the driver on the day of your tour.
Tulawaka Gold Coaster: Riders can go solo as from 12 years old (minimum height 1m40) or in tandem. Those under 4 years old should be accompanied by an adult
This private tour is offered every day