Diving Packages - Grand Bay (North Coast)
100% Level of Satisfaction
Based on 1 review
| | |
| --- | --- |
| Location | North |
| Minimum Age | 10 |
| Operating Hours | 08:30 - 16:00 |
| Operating Days | All Days |
| Duration | Flexible |
| Activity Time | Flexible |
| Transportation | Offered as Supplement |
| Comment | Divers must bring their log books and diving qualification certificates |
Diving in Mauritius
Experience diving at the North of Mauritius
Mauritius Attractions offers the best diving packages for discovering the many remarkable dive sites and rich marine life at the North of Mauritius.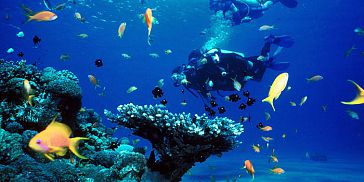 When diving at the North of Mauritius you are sure to find numerous exiting dive sights, suitable for all levels and benefit from the most calm sea condition.
The diving center is ideally situated at Grand Bay center, quick short boat trip ride from some of Mauritius top dive sites of the North such as Coin de Mire, Merville Aquarium, Stella Maru and many more.
Diving in Mauritius - Mauritius, the island of incomparable beauty situated in the Indian Ocean is home to some of the world's most breathtaking coral reefs and marine life ever to be seen. Full with hundreds of bright-colored fish, the underwater world of Mauritius can be deemed a natural wonder.
Both beginners and certified divers can be sure to have safe and enjoyable dives in these perfect conditions. It is exciting to explore and get close to the amazing life at the coral reefs that surround Mauritius.
Scuba divers in Mauritius are spoilt for choice of dive sites. There are numerous dive sites all over the island. Beginners can start at the shallow side of the ocean, whereas experienced divers can head straight for the more adventurous dive sites such as cliffs, caverns, reefs, pinnacles and wrecks.
Each dive becomes a unique experience when looking at colorful fish like the butterfly and soldier fish, large corals, majestic lion fish, giant lobsters, scorpion fish, stone fish, barracudas - and with a bit of luck you will get to see dolphins or water turtles.
From Grand Bay we offer diving trips to the following popular diving sites
Aquarium (depth:10-18m)
Temple (depth: 9-15m)
Stephen Cliff (depth: 8-12m)
Coral garden (depth: 10-21m)
Poison Reef (depth: 7-12m)
Whale Rock (depth: 18-38m)
Lost Anchor (depth: 19-31m)
Stenopus Reef (depth: 18-31m)
Stella Maru (depth: 14-25m)
Emily and Water Lily (depth: 14-25m)
Silver Star (depth: 26-41m)
Flat Island (depth: 8-15m)
Confetti Bay (depth: 10-22m)
Iabeddah Wreck (depth: 16-32m)
The Tube (depth: 7-11m)
Black Forest (depth: 35-50m)
Upon request it is also possible to arrange diving trips to other dive sites.
Comments
Divers must bring their log books and diving qualification certificates.
All divers will be required to fill in a medical and liability form.
Additional information
To learn more about the diving conditions in Mauritius check our Diving in Mauritius page
You can also learn about the different diving courses available in Mauritius, the general structure of a diving course, and on the biggest diving organizations by checking our Diving Courses page
Diving packages Prices
Price for 1-4 dives:55 Euro / dive
Price for 5-9 dives: 53 Euro / dive
Price for 10-14 dives: 52 Euro / dive
Price for 15-20 dives: 51 Euro / dive
Please note that
The right to go on these dives is not personal and more than one person can go on diving and use these dives packages.
This is why the bigger packages are ideal for groups/families that plan to go diving.
These dives packages are only valid at the diving center in Grand Bay.
The activity is accessible to anyone in good physical condition, not suffering from cardio vascular, hearing or respiratory problems.
The diving trip is not suitable for pregnant women.
Reviews
100% Level of Satisfaction
Based on 1 review
|
reviewed by Courtney Channon – United Kingdom
|
October 13, 2017
Reaction time to your queries and requests
Travel consultant's professionalism level
Added value given to you by the travel consultant
Consultant's knowledge of Mauritius and the products / services
Overall satisfaction from the customer support service
Level of services provided as part of the package / tour?
Level of professionalism by on-site staff / guide?
Your level of enjoyment from the package / tour
Quality of meals included (if applicable)
Ease of booking the package / tour
Overall satisfaction from the package / tour
Ashish the driver was amazing. Very knowledgable and polite
---