Visit to Chamarel 7 Coloured Earth + Authentic Mauritian Lunch
| | |
| --- | --- |
| Location | South West |
| Operating Days | All Days |
| Duration | Flexible |
| Activity Time | Flexible |
| Transportation | Offered as Supplement |
| Comment | Lunch Hours: 11:30 - 13:15 OR 13:15 - 15:30 (Kitchen closes at 15h00) |
Transportation
Offered as Supplement
Comment
Lunch Hours: 11:30 - 13:15 OR 13:15 - 15:30 (Kitchen closes at 15h00)
Visit to Chamarel 7 Coloured Earth + Authentic Mauritian Lunch - Overview
Mauritius Attractions offers you the chance to discover a whole new side to the paradise island, away from the usual pristine lagoons and white sandy beaches. Head to Chamarel to discover the famed rainbow-hued sand dunes and surprise your tastebuds with unique Mauritian flavours for lunch.
This package allows you and your favourite people to witness the spectacular Chamarel waterfall, play with the friendliest giant tortoises and relish exquisite food at 260m above sea level. However, the dunes reaching up to 15 metres in thickness at Chamarel 7 Coloured Earth ought to be the showstopper. This Geopark remains one of the most visited and photographed sights on the island, and a must-see attraction for curious minds of all ages.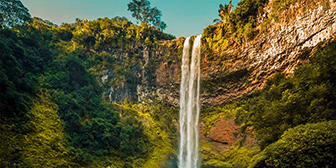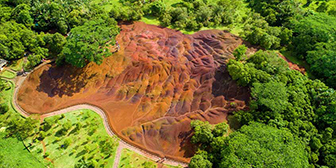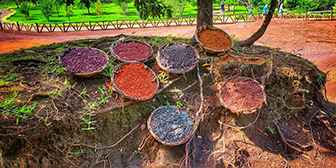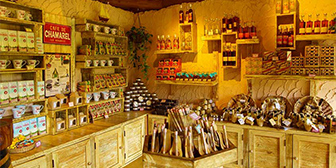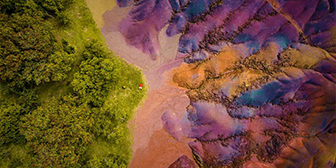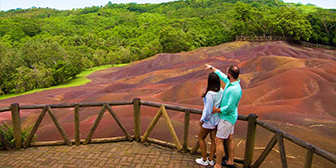 Highlights of this package:
Discover one of the most popular tourist attractions of Mauritius
Witness the Undulating Strips of Seven Colored Earth
Enjoy views of the Spectacular 100m Chamarel Waterfall
Interact with the Six Giant Aldabra Tortoises
Dine on Creole Cuisine Flavours in a Scenic Setting at Le Chamarel Restaurant
Purchase locally sourced & crafted items, including homegrown roasted coffee, from the souvenir shop
---
Visit to Chamarel 7 Coloured Earth + Authentic Mauritian Lunch - Inclusions
Entrance Ticket to the Geopark
Explore the Chamarel 7 Coloured Earth
Meet the 6 Friendly Giant Tortoises
View the Chamarel Waterfall
A unique Lunch Experience with a Scenic View
Mauritian- Style Lunch featuring Unique & Delicious Flavours
Access to the Coffee Shop and Gift Shop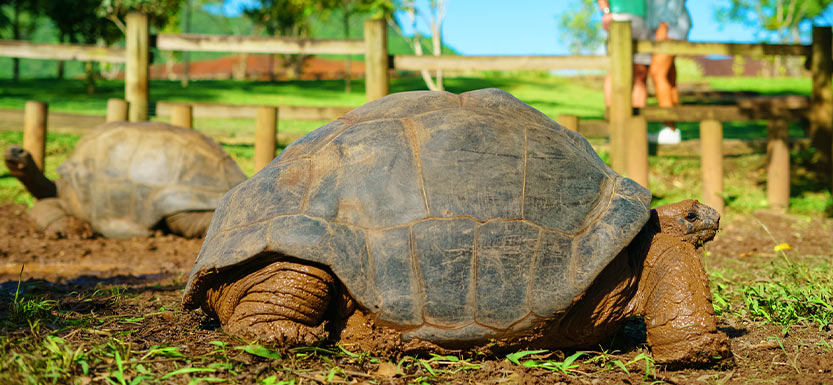 ---
Transportation & Driver Details
Transport is available for an additional supplement and will include pick up and drop off from any hotel / place of accommodation in Mauritius.
Car Capacities
You can choose from a selection of vehicles types:
Family Car - Up to 4 passengers
6 Seater vehicle - Up to 6 passengers
Minivan - Up to 10 passengers
About the Drivers
All drivers speak fluent English and French (Upon special request we can organise drivers who speak additional languages). The drivers, citizens of Mauritius, will be happy to provide you with information about Mauritius and each of its sights.
All drivers are very professional, time efficient and friendly. There is high emphasis on being always on time and providing reliable devoted service to customers.
---
Chamarel, South West Region
| | |
| --- | --- |
| Operating Times: | Summer (October - May) : 08.30 am to 5.30 pm |
| | Winter (June - December) : 08.30 am to 5.00 pm |
| Le Chamarel Restaurant Hours: | 11:30 - 13:15 OR 13:15 - 15:30 (Kitchen closes at 15h00) |
| Operating Days: | Everyday (open during public holidays unless stated otherwise) |
| Duration: | Flexible |
---
About the Visit to Chamarel 7 Coloured Earth + Authentic Mauritian Lunch
Nature has her own ways of piquing our curiosity and Chamarel 7 Coloured Earth is no exception. The Geopark brings you an out-of-the-ordinary adventure, along with a unique Mauritian lunch and other exciting activities to keep everyone entertained- both young and old. This package allows you to decide how to spend your time at the park; you might go for lunch after exploring around, or vice versa.
Red, brown, violet, green, blue, purple and yellow. An almost surreal, lunar-like spectacle of Chamarel 7 Coloured Earth unfolds before your eyes, leaving you utterly mesmerised. Set in the middle of lush green vegetation, this unique geological oddity is one of those amazing creations of nature that just make you go "Wow". On the upper edge, expect spectacular views of a vast amphitheatre of ravines clothed with luxuriant tropical vegetation while a glimpse of the picturesque Chamarel Waterfall in the distance floods the senses with freshness.
There is a fun Tortoise Park where you can get up close to the giant tortoises, munching away their food, wandering at a leisurely pace or simply lazing about in their enclosure. A favourite among kids and adults of all ages! Originally from Aldabra in the Seychelles, the species can reach up to 1m in length with an average lifespan of more than 150 years.
Get ready to be blown away by the spectacular view, and of course, the diverse tantalising Mauritian Creole flavours at Le Chamarel Restaurant. The menu, La Table Créole, is all about discovering the local cuisine stemming from the country's rich culinary heritage. Enjoy a family-style lunch, where everything will be served at your table the Mauritian way. The plethora of authentic local flavours is truly a feast for the senses
As part of the La Table Créole menu, you get to taste delicious Authentic Creole flavours. The table d'hote starts with some flavourful appetisers, followed by creole salads. Then comes the star of the show, your main course of choice; one of the savoury Creole dishes, along with pickles and chutney on the side. Obviously, the feast of your dreams ends with amazing desserts. You can also stop by the Coffee shop for a happy and unique café experience.
Your wonderful day out ends with a unique shopping experience at the Souvenir Shop. Choose from an array of memorabilia and local products from Chamarel to take home a piece of the wonderful 7 Coloured Earth that you will cherish forever.
About the Chamarel 7 Coloured Earth
One of the most iconic places of interest Mauritius is renowned for - you cannot leave the island without visiting Chamarel 7 Coloured Earth.
Rooted in the history of Chamarel, the Seven Coloured Earth Geopark provides visitors with an extraordinary glimpse into millions of years of natural history, geology and evolution.
A member of the Royal Society of Arts and Sciences of Mauritius, drew attention to this particularly curious natural occurrence back in 1879. This unusual phenomenon, the Seven Coloured Earth, has since become one of the Major Tourists Attractions of the island.
During the visit you will get to witness the famous dunes of upto 15 metres of coloured earth as well as view the Chamarel Waterfall. The Chamarel Waterfall is a striking piece of nature standing amid dense vegetation - the tallest single-drop waterfall in Mauritius at about 100m high!
The reserve is also home to giant tortoises namely, Toto, Tizean, Tizom, Tifam, Rosette and Nini. A few who are long term residents and are practically the friendliest giant tortoises you will ever meet.
Your entrance tickets also allow you to visit the waterfalls viewpoints and access the coffee shop, where you can sip on a cup of locally grown coffee and have a unique shopping experience at the souvenir shop, which sells locally sourced and made products including the homegrown coffee.
About Le Chamarel Restaurant
Welcome to Le Chamarel Restaurant, where the only thing as delightful as the food is the unique bird's-eye view over a mountainous landscape and across to the captivating coastline fringed by the clear blue waters of the Indian Ocean and the horizon.
The restaurant is a year-round, all-day feast for both the taste buds and eyes of both locals and tourists visiting this quaint region in the southwestern uplands of Mauritius. Food is the best excuse to share with guests the knowledge and history of the Creole gastronomic heritage as well as the thrill of mystery and discovery while connecting with our culture and music.
Prepare to immerse in a distinctive Creole culinary journey with soulful, authentic local cooking, a peaceful bucolic ambiance and superb service at 260m above sea level!
Please note that Le Chamarel Restaurant is not located inside the Chamarel 7 Coloured Earth Geopark.
About Café Chamarel and the Coffee Shop
Chamarel Coffee has been produced in Chamarel since 1967.
Made from pure Arabica coffee beans. Arabica, or Coffea Arabica, is one of the most popular coffee varieties in the world. A small tree that grows up to 9 metres high, it originated in the highlands of Ethiopia and is believed to be the first species of coffee ever to be cultivated by humans
Indulge yourself in a place where European café culture meets tropical lifestyle, serving a menu of locally-produced food as well as the authentic Café de Chamarel, the only coffee locally grown and roasted
About the Souvenir Shop at Chamarel
Take home your own slice of Chamarel's Seven Coloured Earth Geopark with a souvenir from the shop bordering the coloured earth site.
You will find lots of choice, including branded items, the region's homegrown and roasted coffee, Café de Chamarel and a number of other locally-sourced and crafted products for visitors of all ages.
This unique shopping experience engages our customers with geology, ecology and various tropical retail items at a range of price points.
---
Comfortable walking shoes

Sunscreen lotion & mosquito repellent

Cap

Camera
---
Authentic Mauritian Lunch - La Table Créole at Le Chamarel Restaurant - Menu Details
---
| Visit to Chamarel 7 Coloured Earth + Authentic Mauritian Lunch | |
| --- | --- |
| Price per Adult | 52 Euros |
| Price per Child (5-12 Years) | 22 Euros |
---
Booking Attributes