Full Body Scrub Treatment (30 mins)
| | |
| --- | --- |
| Location | North |
| Operating Hours | 09:00 - 18:00 |
| Operating Days | Monday, Tuesday, Wednesday, Thursday, Friday, Saturday |
| Duration | 30 mins |
| Activity Time | Flexible |
| Transportation | Offered as Supplement |
| Comment | Sunday and Public Holidays open as from 09:00 to 14:00 |
Full Body Scrub Treatment (30mins)
Let your skin glow and look fresh by joining the 30 minutes Revitalizing Body Scrub at the House of Traditional Balinese Massage, a global spa brand originally from Singapore, and pioneer in offering authentic traditional Balinese treatments in Mauritius!
The refreshing body scrub made from natural herbal products from Bali has a range of benefits: from skin whitening to eliminating dead cells from the skin.
So, make the most of this blissful body scrub treatment, offered for an unbeatable price at the House of Traditional Balinese Massage – one of the best Balinese spas in Mauritius!
About the Full Body Scrub Treatment: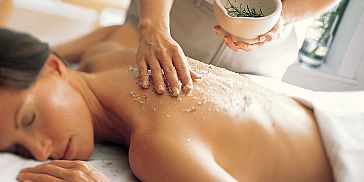 An invigorating 30 minutes Body Scrub treatment is the best way to get rid of skin dullness and get that refreshing glow as you are on holidays. You will not only feel good but look great!
With the experts in the hands, you will experience a gentle body scrub using a range of ingredients prepared to fit your needs – from skin whitening to calming aromatherapy. Basically the ingredients consist of traditional herbal products, including natural chocolate from Bali, all of which have been carefully selected for your skin's wellness.
This body scrub made from traditional herbs has a wide range of benefits. It will eliminate dead skin and cleanse, soothe, hydrate, as well as nourish your skin with natural vitamins and potent antioxidants. This body scrub treatment will prevent free radical damage to the skin, protect its natural elasticity and boost skin softness.
A unique invitation to let your spirit travel in a refreshing way!
The Full Body Scrub Treatment package includes:
A Full Body Scrub of 30 minutes
Changing cabin and shower facility
A robe, disposable underwear and slippers will be provided.
About the Spa
Located in the North of the island, the House of Traditional Balinese Massage is a franchise from Singapore opened in Mauritius since 2010. With a Traditional Asian feel, the spa was the first to offer authentic traditional Balinese treatments in Mauritius.
This spa focuses on delivering professionalism, satisfaction and quality as the hallmarks of its business philosophy. All the spa therapists are qualified and trained by Singaporean massage therapy experts to meet the varied needs of each client.
The décor of the spa is very special as it fits perfectly with the natural setting of South East Asia where the walls are covered with traditional bamboo both from the inside and outside. The spa has a shop where you can find a range of decorations and traditional spa products including organic oils, all the way from Bali.
All these features make the House of Traditional Balinese Massage a unique place for the perfect spa experience during your holiday.
---
Comments
We advise you to arrive 15 minutes in advance of your scheduled treatment time. Arriving late can reduce the time of your treatment. Your treatment will end at its scheduled time so the next guest is not delayed.
Spa Location: Arsenal (North of Mauritius)
---
Prices
Price per Participant: 32 Euro