VIP Horse Racing in Mauritius
99% Level of Satisfaction
Based on 8 reviews
| | |
| --- | --- |
| Location | West |
| Operating Days | Weekends Only |
| Duration | 5 hrs |
| Activity Time | 12:00 - 17:00 |
| Transportation | Included in price |
| Comment | The dress code is Casual Smart "Chic" for both men and women |
VIP Horse Racing in Mauritius
Come and enjoy a unique, full day at the Mauritius horse racing arena, Champ de Mars, which combines history, tradition, glamour and excitement!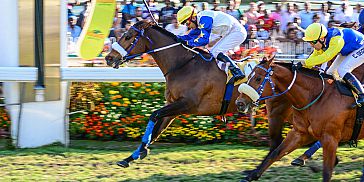 Mauritius Attractions offers you a thrilling day (12:00-17:00) at the Champ de Mars, horse racing arena in the VIP suite. Enjoy the electric atmosphere in utmost comfort and luxury. The VIP suite is located on the first floor of the horse racing arena, with an open balcony offering you an unobstructed and clear view of the horses racing to the finish line and the paddock.
The Champ de Mars was founded in 1812, making it the oldest race track in the Southern Hemisphere, and one of the oldest in the world. The horse racing season usually starts in March and ends in the first weekend of December. With an average of 8 horses per race (some may even go up to a maximum of 11 horses), about 60 horses participate on each racing day.
Over the years the Mauritius Turf Club has developed a high level of professionalism, allowing them to organise Classic and Semi-classic races such as the Duchess of York Cup – a race reserved for newly imported horses. Most of the horses come from South Africa, although some are also acquired from the UK, France and Australia, thereby boosting competition levels.
Since horse racing is the most popular sport in Mauritius and a lot of the islanders are passionate about it, you can expect to have an average of 30,000 visitors on a raceday. The electrifying ambiance and the enthusiasm on race days is an amazing, palpable experience.
This is a great attraction that enables tourists and horse racing enthusiasts to enjoy horse racing events in Mauritius.
Day Schedule
Pick up from your hotel/lodging:

North: 11:30
South and East: 11:00

Arrival at Champ de Mars: at about 12:00
Upon your arrival you will be greeted and guided to the VIP box where you are offered a welcome drink
You will be briefed on horse racing in Mauritius and the services offered during the day
After the 2nd race, a common bet is organized and all guests have the opportunity to win the jackpot
You watch a total of 8 races (at intervals of 35 minutes)
Food (hot and cold canapés) and drinks (soft, beer, whiskey, sparkling wine, rum, gin, vodka etc) are served for free upon requests from 12:00 to 17:00
After the last race, you will be taken back to your hotel/lodge or accommodation
Benefits
This package includes a set of premium services and benefits:
Transport to the Champ de Mars racing course to and from your hotel/accommodation (from anywhere in Mauritius)
Free, exclusive open alcoholic and non alcoholic bar and a range of delicious snacks (open from 12:00-17:00)
Enjoy full personal assistance from the VIP suite staff
Bet directly in the VIP suite up to the last minute
Enjoying private betting facility services
Horse racing specialist will assist you and advise you on bets during the entire day
You can occasionally meet local horse trainers, horse owners and jockeys
A TV transmits the races live and key information such as horses' handicaps and live betting odds
Strategically located on the VIP balcony (next to the president of the Mauritius Turf Club) providing a magnificent and direct view of the paddock, race course and the finish line
Comments
Free transport to the racing arena and back to the hotel will be offered from anywhere in the island
You will get to see 8 races during your visit; the last race is at 17:00
Child under 6 years old will enjoy this activity free of charge
The dress code is: Casual Smart "Chic" ( (trousers and shirts for men). Wearing formal dress of suits and ties is not required
There is a full insurance coverage!
Race Schedule 2019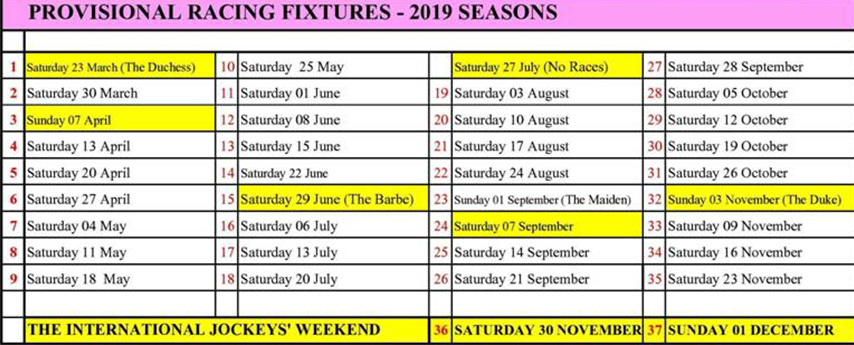 Prices:
Price per adult:189 Euro
Price per child (ages 6-12): 115 Euro
Price per child (ages 0-6):Free of charge
Reviews
99% Level of Satisfaction
Based on 8 reviews
|
reviewed by Lynn Elliott – United Kingdom
|
December 07, 2017
Reaction time to your queries and requests
Consultant's knowledge of Mauritius and the products / services
Fantastic day. Very polite and informative driver to and from venue.
---
|
reviewed by Thorvaldur Sigurdsson – Iceland
|
November 08, 2017
Reaction time to your queries and requests
Travel consultant's professionalism level
Added value given to you by the travel consultant
Consultant's knowledge of Mauritius and the products / services
Overall satisfaction from the customer support service
Level of services provided as part of the activity?
Level of professionalism by activity operator staff / guide
Your level of enjoyment from the activity
Quality of meals & drinks included (if applicable)
Ease of booking the activity
Overall satisfaction from the activity
---
|
reviewed by John Smith – United Kingdom
|
October 18, 2017
The organisation and staff at Crown Lodge were fantastic. It's a must for visitors to Mauritius.
---