Sea Kayaking Trip - Ile d'Ambre Island - Half Day
89% Level of Satisfaction
Based on 1 review
| | |
| --- | --- |
| Location | North East |
| Minimum Age | 8 |
| Operating Days | All Days |
| Duration | 3 hrs 30 mins |
| Activity Time | 09:00 - 12:30 |
| Transportation | Offered as Supplement |
Half day Sea Kayaking trip to Ile D'Ambre
This is a great opportunity to switch off your mobile, slide in a kayak and discover the beauty of the lagoon, the bright sandy beaches, and of the small islands surrounding Mauritius, together with your friends and family.
Paddle through the mangroves of ile d`Ambre & soak in the peace and quite. Learn about this fascinating plant and it's vital role in the marine eco system. Visit the ruins & forest of this tranquil islet and discover its history.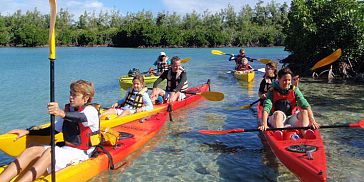 This kayaking adventure will start with a short briefing on safety instructions, before wearing the life jackets and getting ready for the fun trip.
First, you will be heading for Ile D'Ambre island. Ile D'Ambre is an islet (islet = small island) inside the lagoon, with varied vegetation.
One of the most interesting feature of Ile D'Ambre is the flora all around it, creating small shady water alleys under which it is nice to paddle in kayaks.
This is a great chance for you to enjoy a kayaking trip in this beautiful surrounding while learning about the vegetation and on the marine eco system.
This is an original, ecological and fun excursion which will let you discover the secret of Mauritius' beautiful lagoons, islands, rivers, channels, and hidden beaches.
Juice and snacks will be provided during this trip.
Region: Mauritius North
Difficulty: Easy to Average
Minimum age requirement: 8 years and above
Duration: from 9:00 am - 12:30 pm.
About the guide and the spirit of the trip - Sea Kayaking excursions will be under the experienced and professional guidance of one of the most experienced guides in Mauritius with years of experience in leading kayaking trips, while sharing his local knowledge, passion, and love of nature. All trips are organized with high emphasis on safety, while following all safety regulations and proving full safety gear.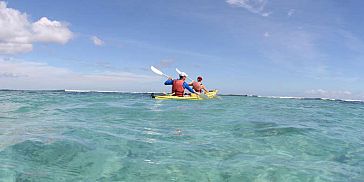 Each trip is carried out with total respect towards nature and while making it a top priority to stress the importance of its preservation. This kayaking excursion will take you around some of the most beautiful places in Mauritius and you will get to learn more about the fauna and flora and what's being done towards its preservation, making this a unique and enriching experience.
Sea Kayaking in Mauritius: When you take part in kayaking, it will give you the opportunity to experience much of the natural beauty of Mauritius from close. Whether it includes the fine greenery of the lagoons, or the magnificent open waters of the Indian Ocean, it is unlikely that you will ever see such splendor of nature anywhere else.
Regardless of your degree of expertise, this is great opportunity to take part in an exhilarating sport, and see the glorious sights that can be found nowhere but in Mauritius. Whether you choose one of the breezy, calmer routes, or decide to venture out into the deep ocean waters, you are sure to have a great time.
Kayaks available
3 Single Kayaks (4.0m-4.5m)
6 doubles kayaks (4.5m-5.5m)
The kayaks are equipped with: hatches, back rests, tow ropes and all safety gear, including feathered paddles and personal floating devices (PFD).
All kayaks are equipped with a watertight compartment to store your spare clothing, cameras and other valuables.
Also available: dry bags, lycra gloves, caps masks and snorkels.
---
Comments
Trip duration: starts at 9:00 am and finishes at around 12:30 pm
Juice and snacks will be provided during the trip
It is highly recommended to bring sea sandals or shoes, mask and snorkels, sun cream, towel, swim suit and spare set of clothes
Region: Mauritius north
Difficulty: Easy to Average
Minimum age requirement: 8 years and above
---
Exclusive Sea Kayaking Trip - Ile d'Ambre Island - Half Day (optional)
For those of you who want to paddle through the mangroves of Ile d`Ambre and soak in the peace and tranquility of the place with more privacy and at your own pace, we recommend the Exclusive Sea Kayaking Trip - Ile d'Ambre Island - Half Day.
The advantages of the Exclusive Sea Kayaking Trip - Ile d'Ambre Island - Half Day are as follows:
Having a personal guide only for you and your partners
Benefit from maximum flexibility in the activity pace
You can decide when to take break, stop for a photo.
Included in the package: Exclusive Sea Kayaking Trip - Ile d'Ambre Island - Half Day and a personal guide.
---
Price
Shared basis Sea Kayaking Trip - Half Day:
Price per adult: 55 Euro / adult
Price per child (ages 8-12):39 Euro /child
Exclusive Sea Kayaking Trip - Half Day
Price for the Private Exclusive Sea Kayaking Trip - Ile d'Ambre Island - Half Day (up to 2 participants): 290 Euro
Reviews
89% Level of Satisfaction
Based on 1 review
|
reviewed by Axel Funk – Germany
|
September 15, 2017
Reaction time to your queries and requests
Travel consultant's professionalism level
Added value given to you by the travel consultant
Consultant's knowledge of Mauritius and the products / services
Overall satisfaction from the customer support service
Level of services provided as part of the activity?
Level of professionalism by activity operator staff / guide
Your level of enjoyment from the activity
Quality of meals & drinks included (if applicable)
Ease of booking the activity
Overall satisfaction from the activity
---