Mauritius South Tour (Private Tour)
| | |
| --- | --- |
| Location | South |
| Operating Days | Monday, Tuesday, Wednesday, Thursday, Friday, Saturday |
| Duration | 9 hrs |
| Activity Time | 08:30 - 17:30 |
| Transportation | Included in price |
| Comment | As this is a private trip, we can customize the tour route and times as per your prefrences |
Tour of Mauritius South Region – Mauritius Private South Tour
Discover the beautiful south of Mauritius, one of the most beautiful areas of Mauritius.
This tour offers you to discover and explore the beautiful south of Mauritius, and visit several of the main sights and places of interest of the Southern region of Mauritius.
This is a Private Tour, only for you to go in a private vehicle (including pick up and drop off from anywhere in Mauritius)!
As part of this tour you will visit many interesting and exciting sights in one day:
Crocodile & Giant Tortoises Park
Bois Cheri – Tea Plantation and Factory
Saint Aubin House
Grand Bassin (the sacred lake and Hindu temple)
Mangal Mahadev – Shiva Statue
The village of Gris - Gris and the Viewpoint
The full day private South tour includes:
Pick up and drop off from any hotel / place of accommodation anywhere in Mauritius
Full transportation to all the sights
A personal driver guide to show you around and inform you on each of the sights
The South of Mauritius is famous for its many nature reserves, breathtaking scenery, wild nature, mountains, parks and plenty of attractions and sights to visit.
All along, you will travel in maximum convenience in an air-conditioned family car / minivan (for bigger groups), with an experienced driver/guide to show you around.
The Mauritius South Tour – Tour Itinerary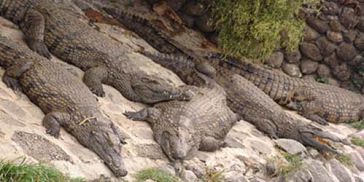 Crocodile & Giant Tortoises Park
The park is home to various species of animals, reptiles and plants. The park is set in a beautiful rain forested valley with natural freshwater springs, full of prawns and fish. As part of your visit to the Crocodile & Giant Tortoises Park, the park's guides will guide you through some unforgettable walks, and you will stroll through luxuriant greenery where banana trees, palm trees and giant bamboos provide shade for the crocodiles and the giant tortoises. During your stay in the crocodile park you can also experience a firsthand unique encounter with the giant tortoises and turtles, and get a rare chance to feed, pet and play with them.
Also thousands of Nile crocodiles are found in the park and you can watch them in maximum safety.
The Crocodile & Giant Tortoises Park also offers a mini zoo of Mauritian fauna where you can find most of the Mauritian mammals and reptiles including skinks, phelsumas (geckos), giant tortoises, turtles, bats, deer, mongooses, monkeys, wild boars, as well as domestic livestock such as goats, fat-tailed sheep and donkeys.
A must see is the park's rare collection of butterflies and other brightly-colored insects (with about 23 000 species), which is one of the most fascinating in the world.
Gris – Gris
The village of Gris-Gris is found at the Southern tip of Mauritius. The appeal of Gris Gris lies in it scenery, the high cliffs here drop abruptly to the sea and the bracing winds of the Indian Ocean blow all year round. Gris-Gris is well known for its sea cliff and this is definitely a sight worth seeing. This part of the island is not surrounded by coral reefs and this is why thick waves crash directly on the cliffs. At the southern end of Gris-Gris you will have a great viewpoint on the cliffs and will see the squashing of waves against the flanks of the cliffs.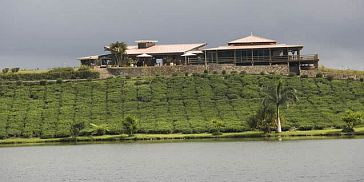 Bois Chéri
Visit of Bois Chéri, the biggest tea producer in Mauritius. It is also the first tea plantation in Mauritius dates back to 1892. As part of the visit of the Bois Cheri, you will enjoy a guided tour with a local guide leading you through the factory and the tea plantation, offering you to discover the history, stories and tales of Bois Chéri and the importance of tea productions in Mauritius.
After the guided tour of the tea factory, you will visit the tea production museum learning more about the history of tea in Mauritius. The Bois Chéri offers a great panoramic view of the south of the island. Nowadays Bois Chéri produces a new range of flavored teas, green teas and herbal teas. You may taste them during your visit.
Saint Aubin House
The Saint Aubin house was built in 1819. It has been home to several managers of the sugar estate, before being renovated in the 90's in order to preserve a part of the Mauritian heritage. Today one may still see the beams and ship poles used in its original construction.
You will also discover the vanilla plantation of the estate and the interesting transformation process of the vanilla orchid from the flower to the aromatic pod.
Grand Bassin (also known as Ganga Talao)
Grand Bassin is a lake situated 6km South East of Mare aux Vacoas in a secluded mountain area in the district of Savanne, deep in the heart of Mauritius. It is about 1800 feet (550m) above sea level. Grand Bassin with its Hindu temple is a holy lake for Mauritians of Hindu faith. The lake rests in the crater of an extinct volcano. It is said that the water inside the lake communicates with the waters of the holy Ganges of India. The Hindus of Mauritius declared the Grand Bassin as a Holy lake. The Hindu community performs there a pilgrimage every year on the Maha Sivaratri (Shiva's Great Night), on this day they honor the Lord Shiva. Beside the lake there is a temple dedicated to Lord Shiva and other Gods including Hanuman, Lakshmi, and others.
Mangal Mahadev – Shiva Statue
Beside Grand Bassin you will also get to see the statue of Lord Shiva. The statue is of 108 feet (33 meters) and is the highest known statue in Mauritius (and one of the 50 highest statues in the world). The sight of the Mangal Mahadev statue is quite impressive as it is a beautiful crafted very big statue.
---
Additional information regarding the Mauritius South Tour:
Start & End times:
Duration: The duration of the private South tour is 9 hours
This private tour is offered every day
Departure time: 8:30 am from your hotel / place of accommodation
Return time: 17:30 pm back to your hotel / place of accommodation
(Upon request it is possible to start or finish the tour in a different time)
Car Capacities
You can choose from a selection of vehicles types:
Family Car - Up to 4 passengers
SUV Car - Up to 6 passengers
Minivan - Up to 12 passengers
About the drivers
All drivers speak fluent English and French (Upon special request we can organize driver who speaks additional languages). The drivers, citizens of Mauritius, will be happy to provide you with information about Mauritius and each of its sights.
All drivers are very professional, time efficient and friendly. There is high emphasis on being always on time and providing reliable devoted service to customers.
---
Lunch at the Hungry Crocodile Restaurant
The Hungry Crocodile restaurant welcomes you in luxuriant greenery and a range of exotic birds. A selection of dishes is made by the Chief for you to choose from and which consists of a starter, main course, dessert.
You can choose the dishes from the selection of dishes detailed here below:
Menu A (Basic Menu)
Fruit Punch
Chicken pieces in a Creole sauce served with white rice, lentils, cucumber salad, pickled papaya OR Grilled Fish Fillet of the Domain (Berri Rouge) served with parsley butter, lemon wedge, fresh vegetables and white rice
Coconut tart with vanilla ice cream
Menu B (Vegetarian Menu)
Fruit Punch
Creole Vegetable Curry served with white rice, lentils, appallam and chutneys
Banana tart and ice cream
Menu C (Crocodile meal)
Fruit Punch
'Hungry Crocodile' Salad (Chassives of crocodile fillet, OR smoked crocodile served with fresh exotic salad (Heart of palm, cabbage, apple and pineapple)
Grille Berri Rouge Fillet served with homemade butter, fresh vegetables and white rice.
Coconut Tart with vanilla ice cream
500 ml water, citronella tea
Menu D (Crocodile Supreme)
Fruit Punch
La Vanille salad (Fillets of smoked marlin, pineapple, tomatoes, papaya pickle, lettuce)
Crocodile vindye, fresh green salad, white rice and lentils
Exotic Sorbet (Sorbet and fresh pineapple)
500 ml water, citronella tea
Price for the lunch Menus
Menu A: 19 Euro
Menu B: 19 Euro
Menu C: 25 Euro
Menu D: 28 Euro
---
Comments
The private tour is done in a private car / minivan (for bigger groups) and includes full transportation to all the sights, pick up and drop off from any hotel in Mauritius and a driver to show you around.
This trip is offered every day except on Sundays
The Bois Cheri factory is opened only Wednesday and Thursday
---
Prices
Transportation:
The Transportation prices are Per Vehicle (and not per person). You can choose the vehicle type according to the number of passengers in your group.
Private Daily Tour in a family Car (for up to 4 people): 89 Euro
Private Daily Tour in a SUV big Car (for up to 6 people): 99 Euro
Private Daily Tour in a Minivan (up to 12 people): 119 Euro
The above transportation prices are per vehicle and not per person
Entry Tickets Packages (includes entry tickets to all the sights as part of this tour):
Price per Adult: 38 Euro
Price per Child (ages 3-12): 23 Euro
Price per Baby (ages 0-3): Free of charge
The prices of the entry tickets packages are special discounted prices.
Lunch at the Hungry Crocodile Restaurant:
Lunch menu A: 19 Euro / person
Lunch menu B: 19 Euro / person
Lunch menu C: 25 Euro / person
Lunch menu D: 28 Euro / person
Total Tour Price Per Person
| | | |
| --- | --- | --- |
| Number of Participants | Total Price | Price Per Person |
| 2 Adults | 165 Euro | 83 Euro |
| 4 Adults | 241 Euro | 60 Euro |
| 6 Adults | 327 Euro | 55 Euro |
| 12 Adults | 575 Euro | 48 Euro |
| 2 Adults + 2 Children | 221 Euro | 53 Euro |
* The total tour price includes: Private Transportation and Entry Tickets to all the sights
Customers who bought this activity also purchased