Nature Adventure Package (Quad Biking, Zip Lines)
| | |
| --- | --- |
| Location | South |
| Minimum Age | 8 |
| Operating Days | All Days |
| Duration | 7 hrs |
| Activity Time | 10:00 - 17:00 |
| Transportation | Offered as Supplement |
| Comment | When ordering this day package you benefit special discounted package price |
Nature Adventure Package (Quad Biking, Zip lines)
For nature fans also seeking some adrenalin, this is the perfect full day of adventures!
Enjoy the adventurous ziplines, a fantastic quad bike trip, swimming at the waterfalls and doing pedalo while marveling at the beauty of nature at the same time.
It is a full day full of fun, exciting activities and nature discovery, consisting of a range of adventurous activities.
As part of this day package you will enjoy selection of activities
2 hours quad biking in a unique setting, swim near the magnificent waterfalls
Have free time to swim along the waterfalls in a beautiful natural pond
Zip lines adventure - riding 4 zip lines, including the longest zipline in Mauritius and in the entire Indian Ocean – 500 meter long!
Sightseeing – opportunity of discovering the reserve's magnificent landscape
Included in the price of this special day package are
All trips and excursions charges
All entry fees
Choice between either Grilled Menu or Mauritian Menu
Full transportation to the park, including Pick up and drop off from any hotel / place of accommodation anywhere in Mauritius (optional)
Suggested Day Itinerary
09:45 Arrival at the reserve
10:00 – 12:00 Adventure time. Enjoy 2 hours of Quad Biking while discovering the fauna and flora of the reserve
12:00 – 12:30 Free time for Swimming at the Waterfalls
12:30 – 13:15 Return to the reserve's restaurant to enjoy a delicious lunch
15:00 – 16:15 Time for Ziplining. Try our full set of ziplines while enjoying the scenery from above.
16:15 – 17:00 Discover the beautiful nature and the reserve's magnificent landscape by foot following one of the many nature trails
---
Day package description
La Vallée des Couleurs Nature Park in the South East of Mauritius is a very popular sight to visit; it is a real oasis of tranquility and peace for you to relax, have fun and also revitalize your spirit. On your arrival, you will be swept away by this mysterious and breathtaking panorama.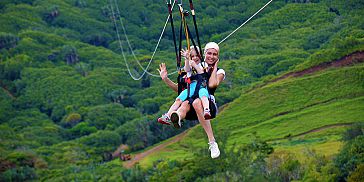 The trip starts by adding some adrenaline to your exploration with a 2 hours Quad Bike activity. Setting off for a bit of quad biking you will be driving through muddy banks, crossing rivers and heading up hill splashing up and down steep dirt trails.
At La Vallée des Couleurs, there are numerous natural ponds and waterfalls to disvoer. The four famous waterfalls in the reserve are Cascades Vacoas, Bois de Natte, Cheveux d'Ange and Chamouzé, where visitors can listen to water rustling, relax in natural intimacy and feel inner peace. After the quad biking you would have some free time to discover these ponds and to enjoy swimming in the beautiful natural pond along one of these stunning waterfalls – truly a must! you can relax under the waterfalls or refresh yourself in the cool waters just before heading for lunch.
The lunch is served at the scenic restaurant of the reserve, and you have the choice between either a grilled Menu or a Mauritian Menu. After lunch, your adventure continues with some relaxation and fun activities.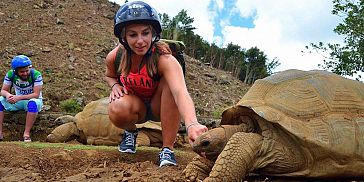 Your amazing journey continues with hiking across the beautiful landscape, where the 4 different zip lines await you. A zip-line, also known as a flying fox, zip wire, or Tyrolean crossing, consists of a pulley suspended on a cable mounted on an incline. It is designed to enable a user propelled by gravity to travel from the top to the bottom of the inclined cable. As part of the zip lines adventure, you can watch stags in their natural habitat. You will also get to ride the longest zip line in Mauritius (and in the entire Indian ocean) which is of 500m in length, while discovering our stunning landscapes, forest and waterfalls from high above!
Following the Zip line adventure you can spend some more time in the reserve strolling along one of the many beautiful trails. This is a good opportunity to have a closer look at this unique colour of the Earth and to reach the viewpoint at the mountain top where you will enjoy a captivating, breathtaking panoramic view of almost the entire South Coast.
About the Vallée des Couleurs
The Ziplining together with the Quad Biking adventure are all done at the Vallee des Couleurs reserve. La Vallee des Couleurs Reserve in Mauritius is home to various species of flora and fauna like the Mauritian Fody.
Nature lovers are bound to like this place; it is quite a unique experience with the indegenous fauna and flora that abound in the park. Visitors are treated with a range of natural landscapes, including plateaus, mountains, valleys, craters and crater-lakes.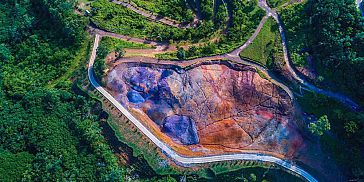 The unspoiled beauty of the land captures every heart and soul. The park is also home to tortoises, monkeys, stags, fish and also birds such as the Pink Pigeon, Paille en Queue, Cateau Vert with various endemic trees like the Ebony, Bois de Natte, Takamaka and other rare plants also contributing to the beauty of the park.
Cascade Vacoas, Cascade Bois de Natte, Cascade Cheveux d'Ange and Cascade Chamouzé are the four wonderful waterfalls where visitors can listen to water rustling, relax in natural intimacy and feel inner peace. The park also offers a captivating and breathtaking panoramic view of the South Coast.
You will have the opportunity to contemplate a fantastic land of 23 colours; whose origin dates back to millions of years after the volcanic eruption of the Bassin Blanc! The green vegetation, birds, arthurium, green houses, deer park, endemic trees, beautiful prawn ponds, rivers and the multicoloured earth form this wonderful landscape.
Lunch Menu
As part of this full day adventure, you can choose one of the following lunch options:
MENU A
STARTER
MAIN COURSE
Grilled Chicken French
Fries
Salad
DESSERT
DRINKS
MENU B
STARTER
Mauritian Fish salad with lemon dressing
MAIN COURSE
Chicken and Prawn Cream Curry
DESSERT
DRINKS ½
---
Additional information regarding this day tour package:
Comments
This day package is available as from the age of 8 years old
The park is open every day from 10:00 to 17:00
Quad bikes Brands : Bombardier automatic or Kymko
You have to be 16 years old or more to drive a quad. From the age of 8 you can join the quad biking as a passenger.
This zip lines trip is valid from the age of 2 years old - minors must be accompanied by an adult to sign their disclaimer
It is recommended to bring: sunscreen, bathing suit, spare set of clothes, towel, sport shoes and waterproof camera / camera cover
Frequent maintenance work, including safety gear and following strict safety regulations, all guarantee maximum safety for all visitors.
Car Capacities
You can choose from a selection of vehicles types:
Family Car - Up to 4 passengers
6 Seater vehicle - Up to 6 passengers
Minivan - Up to 12 passengers
About the drivers
All drivers speak fluent English and French (Upon special request we can organize driver who speaks additional languages). The drivers, citizens of Mauritius, will be happy to provide you with information about Mauritius and each of its sights.
All drivers are very professional, time efficient and friendly. There is high emphasis on being always on time and providing reliable devoted service to customers.
Prices
Transportation
Private Daily Tour in a family Car (for up to 4 people): 79 Euro
Private Daily Tour in a 6 Seater vehicle (for up to 6 people): 85 Euro
Private Daily Tour in a Minivan (up to 12 people): 105 Euro
The Prices are per vehicle referring to the number of passengers applicable for each vehicle type.
Excursions & Entry Tickets Package
When ordering this day package you benefit special discounted package price on these complete trips package.
The special discounted price for this package
Price per person going for this trips package on a Single quad: 210 Euro
Price per person going for this trips package on a Double Quad (price based on 2 people sharing a quad): 175 Euro