Padi Discover Diving - Initiation Dives - Tamarin
100% Level of Satisfaction
Based on 1 review
| | |
| --- | --- |
| Location | South West |
| Minimum Age | 10 |
| Operating Days | Monday, Tuesday, Wednesday, Thursday, Friday, Saturday |
| Duration | 3 hrs |
| Activity Time | Flexible |
| Transportation | Offered as Supplement |
| Comment | This is the ideal package for first time divers. CLOSED on sundays - Starting times: Between 12h00 to 13h00 |
Resort course / Discover Scuba Diving
PADI Discover Diving – Initiation dives in Tamarin's Diving center.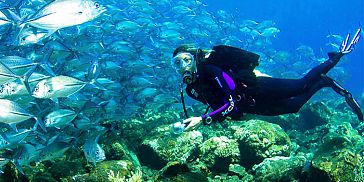 If you have always wanted to be a true explorer and venture out at sea, exploring the marine world, this is your chance to make your dream come true. Diving is guaranteed to open up a new world of adventure so go ahead and create some incredible memories.
Additionally, scuba divers in Mauritius are spoilt for choice- there are numerous dive sites strewn all over the island.
During the Discover Scuba Diving experience, you will receive a quick and easy introduction to the amazing underwater world of the tropical island. You will also learn basic essential skills like how to handle scuba equipment and underwater breathing techniques, as part of a PADI certified course.
This is the perfect experience for beginner divers or those who have never dived before but are keen to delve into the wonders of the underwater world.
Additional Information about the Discovery Beginner Scuba Diving PADI Certified Course
Some divers say there is nothing like the freedom of movement and weightlessness experienced underwater. Being able to hear nothing but the sound of your own breathing while you observe the mesmerizing sea life around you has been said to change lives forever. This wondrous experience is heightened in the clear waters of the Indian Ocean.
Unlike the reefs in Seychelles and the Maldives, the coral reefs in Mauritius have not been bleached or affected by the warming of the ocean. The crystal-clear water, the abundance of fish life and colourful reefs provide magnificent backdrops for underwater filming and photography.
Mauritius, almost completely encircled by a barrier coral reef, is home to many sponges, sea anemones and a variety of colourful fish. These wonderful sea creatures and vegetation provide an incredible scenery for all divers.
The open sea dive will take place under the direct careful supervision of a PADI Professional, so you can freely enjoy your diving experience, without any worries.
Inclusions
1-hour pool session – learn the basics of scuba diving
Boat trip to the diving site in the open sea
1 open sea dive with a maximum depth of 12m under direct supervision of a professional instructor
Dive Insurance
All necessary equipment will be provided
About the Discovering Scuba Diving PADI Certified Course
The Professional Association of Diving Instructor (PADI) course is designed to introduce you to the amazing world of scuba diving and help you become a confident diver.
You will first get a detailed briefing from a qualified scuba instructor prior to the pool session that includes an overview of the scuba equipment, the pool session and the sea dive. The pool session will focus on breathing underwater and go through some basic scuba diving skills in preparation for the sea dive, such as learning to move around underwater with gear and learning key skills that you'll use during every dive.
Master these key skills and safety rules that will carry over to your full scuba certification course when you decide to take the next step (the Open Water Diver course).
Comments
Starting Times: Between 12h00 and 13h00
Minimum age: 10 years old
All necessary equipment will be provided.
The activity is accessible to anyone in good physical condition- not suffering from cardiovascular, hearing or respiratory problems.
For safety reasons, the diving trip is not suitable for pregnant women.
This activity is offered every day, except on Sunday.
About Diving in Mauritius
To learn more about the diving conditions in Mauritius check our Diving in Mauritius page
You can also learn about the different diving courses available in Mauritius, the general structure of a diving course, and on the biggest diving organizations by checking our Diving Courses page
Price
Price per Person for the PADI Discover Scuba Diving Experience – Initiation dives 75 Euro
Reviews
100% Level of Satisfaction
Based on 1 review
|
reviewed by Anne cordery – United Kingdom
|
April 11, 2017
Reaction time to your queries and requests
Travel consultant's professionalism level
Added value given to you by the travel consultant
Consultant's knowledge of Mauritius and the products / services
Overall satisfaction from the customer support service
Level of services provided as part of the activity?
Level of professionalism by activity operator staff / guide
Your level of enjoyment from the activity
Ease of booking the activity
Overall satisfaction from the activity
---