Safari Adventures Day - 1 Day Package
| | |
| --- | --- |
| Location | West |
| Minimum Age | 15 |
| Operating Days | Monday, Tuesday, Wednesday, Thursday, Friday, Saturday |
| Duration | 9 hrs |
| Activity Time | 08:00 - 17:00 |
| Transportation | Offered as Supplement |
| Comment | Participants have to be 15 years or older, and more than 150 cm in height. |
Safari Adventures Day - 1 Day package
This day package is all about discovering the amazing Africans Savannah of Mauritius and having a day full of exciting safari adventures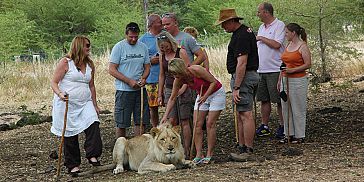 You will get to see many animals, breathtaking scenery, have a unique walking with lions, enjoy exhilarating quad biking adventurous trip and also have a Rando fun adventure of ziplinning.
This is definitely a highly recommended day trip activity for animals lovers, adventures seekers and for anyone looking to experience an exceptional day.
You will be sure to have a unique day experience which you will cherish forever.
As part of this day package you will visit and enjoy
Walking with Lions Excursion
Visit of the Casela Nature Park
Rando Fun Adventure (ziplining adventure)
Quad Biking trip
Included in the price of this special day package are
All trips and excursions charges
All entry fees
Full transportation to all the sights (optional)
Pick up and drop off from any hotel / place of accommodation anywhere in Mauritius (optional)
A personal driver guide to show you around and inform you on each of the sights (optional)
Suggested Day Itinerary
Pick up from your place of accommodation
Quad biking trip
Visit of the Casela Nature Park
Rando Fun Adventure
Walking with lions
Drop off at your place of accommodation
* The exact pick up time will be determined according to the location of your place of accommodation
---
Information about each Excursion and Attraction
Walking with Lions
Experience a one-on-one encounter with Lions in Mauritius!
Feel the adrenaline and the sense of excitement when being so close to these amazing creatures. It is a unique once in a life time experience!
The encounter with lions is an adventurous activity proposed to those who wish to experience the wild side. Don't miss this unique opportunity which will be one of the highlights of your holiday in Mauritius!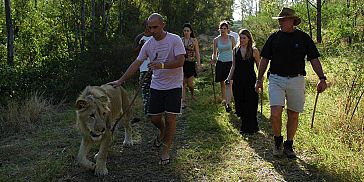 The walking with lions takes place on the banks of Riviere du Rempart in a separate area of the Safari.
On your arrival, you will be briefed on the lions and on the safety measures which should be taken during the adventure and the time you will spend with the lions. Afterwards you will be introduced to the lions and their handlers.
From the moment you meet the lions, your adventure shall begin. Under the coolness of the trees you can take pleasure in viewing the lions from very close, see them playing and hopping on the rocks of the river banks and scaling the trees. The lions roam freely amongst the participants giving them the unique opportunity of being in close contact with them. With the supervision and guidance of the lions' handlers, you can get close to the lions and experience from first hand how it is to walk with lions, pet the lions and play with them. The adventure will end with refreshment time. The duration of the walking with lions excursion is about 1 hour.
Visit of the Casela Nature Park – World of Adventures
About the Casela Safari and Bird Park: The Mauritius Casela Park is a real nature and adventure park. It is located besides the Rempart Mountain on the South-West of Mauritius offering magnificent views of the countryside rolling down the west coast of Mauritius.
The park includes four thematic worlds: Safari, Nature, Mountain and Water, as well as a hub for discovery and learning.
Safari Kingdom: Quad, Photo-Safari, dedicated area for Big Cats, Elephants and suitable for safaris and interactions with Giraffes.
Nature Kingdom: Bird Park, Canopy Park, Animal show.
Mountain Kingdom: Canyoning, Via Ferrata, Zip Lines, Climbing Wall
Water Kingdom: Wave pool, Toboggans (children and adults), a lagoon as well as an artificial river.
Discovery Centre: 4D Cinema, discovery of natural science and History of Mauritius through giant 3D Maps.
The visit to the park includes
Toboggan - Experience a thrilling fun ride on the first toboggan slide in Mauritius, zigzagging your way through the tubby slide together with your family, friends and kids. The Toboggan includes two slides placed on a slope on which one slips with buoys. The first spans 1.80m, with turns and twists. The other, a little stiff and fast ending with a bump taking you up in the air landing on a gigantic buoy.
Walk thru the aviary - Walk through the bird aviary and interact with various colorful bird species from around the world.
Safari photo - Find yourself face-to-face with zebras, ostriches, deer, African antelopes and all their neighbors during a unique 45 minutes safari tour taking you to the Mauritian savannah onboard one of the safari vehicles.
Big cats viewing - For Big Cats lovers, this is a dream come true! Far from the African savannah, experience the thrill of coming close to the King and other big cats! Included in the ticket price is the visit to the Big Cats park where you would enjoy a close view of the lions, cheetahs and tigers.
Giraffe viewing - Come face to face with majestically animals for a unique viewing experience.
Kid's playground - A new kid's playground that will offer sensation to the young ones! A classic dome, a 5 way swing, a spire net, a climbing wall, springers, and seesaws among other adventures…
Petting farm - An ideal setting for people of all ages, especially children to interact with farm animals such as dears, rabbits, fawn and their other friends at the mini farm offering a touching experience. A great way for the young ones to learn about the animals and get closer to nature.
Note: as this is a full day package, the above visit and excursions will be under time limitation
Rando Fun Adventure
Rando Fun Adventure - one hour full of fun, surprises and adventures in the nature.
The Rando fun adventure includes crossing of a canyon on a suspended bridge and a ziplinning adventure (going on a Triple zip line and a Double zip line).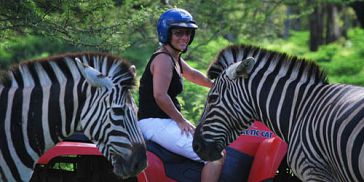 This is the ideal activity for adventure and nature lovers and for those who have wished to experience flying like a bird.
You will get to enjoy a mix of fun, surprising activities, and at the same time discover the beautiful scenery of the South West of Mauritius and of the Yemen nature reserve.
One of the highlights of this adventure is that you will get to cross a full width canyon on a double ziplines of 165m in length.
What is Zip Lines? A zip-line (also known as a flying fox, foefie slide, zip wire, aerial runway, aerial rope slide, death slide or tyrolean crossing) consists of a pulley suspended on a cable mounted on an incline. It is designed to enable a user propelled by gravity to traverse from the top to the bottom of the inclined cable, usually made of stainless steel, by holding on or attaching to the freely moving pulley.
Quad Biking Trip
Experience an adventurous Quad Biking activity in the most amazing natural setting!
2 hours of quad-biking excursion in the 4,500 hectares of Yemen natural reserve park. The quad biking trip allows one to discover the safari park whilst observing the wild animals from close in their natural habitat.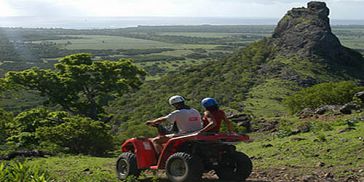 You will enjoy 2 hours of intense pleasure, appreciating the thrill of riding the quad bike and the charm that prevails in the reserve. This quad biking trip offers the ultimate combination of quad biking trip with a safari exploration. More than a quad bike outing, it is a trip through a real safari where as part of the trip you will have the opportunity to see the many animals inhabiting the park.
The quad bike course takes you up the park heels, down some valleys and across rivers whilst enjoying the breathtaking surrounding and the beauty of the reserve.
You can enjoy this amazing experience as individual or together with your partner - You have a choice between riding a single-sit quad bike suitable for 1 person and a double-sits quad, ideal for 2 passengers. Children under the age of 16 (and above the age of 8) can enjoy this quad biking activity alongside an adult seated on a double quad bike.
The quad biking trip is done in groups led by the park's experienced guides. The guides are there to lead the way, explain about the park, the animals and the flora you will encounter along the way and answer all your questions.
No experience is required to ride the quad bike. The quad bike's controls are very easy to learn and master and within minutes you will feel like an experienced quad bike driver.
Additional information regarding the Safari Adventures Day Package
Comments
The walking with lions is offered for adults only (15 years old or above)
In order to take part in this activity you must be above 150cm (1.50m = 4.9 feet)
To drive a quad bike you have to be 16 years old or more (for participants age 15, it is possible to join the quad biking trip as a passenger)
What to bring: hat, sun block, sport shoes / closed shoes, recommended also long pants
This day package is not available on Sundays
Car Capacities
You can choose from a selection of vehicles types:
Family Car - Up to 4 passengers
SUV Car - Up to 6 passengers
Minivan - Up to 12 passengers
About the drivers
All drivers speak fluent English and French (Upon special request we can organize driver who speaks additional languages). The drivers, citizens of Mauritius, will be happy to provide you with information about Mauritius and each of its sights.
All drivers are very professional, time efficient and friendly. There is high emphasis on being always on time and providing reliable devoted service to customers.
Prices
Transportation
Private Daily Tour in a family Car (for up to 4 people): 69 Euro
Private Daily Tour in a SUV big Car (for up to 6 people): 75 Euro
Private Daily Tour in a Minivan (up to 12 people): 95 Euro
The Prices are per vehicle referring to the number of passengers applicable for each vehicle type.
Excursions & Entry Tickets Packages
When ordering the Safari Adventures Day Package you benefit special discounted package price on these trips and excursions.
Included in the price are: Walking with Lions, 2 hours Quad Biking Trip, Rando Fun Adventure and entrance to the Safari and Bird Park.
The special discounted package prices are detailed in the table here below: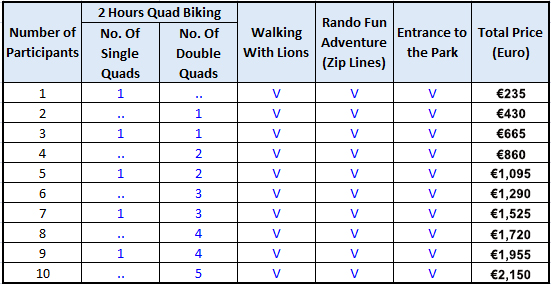 Please note that in case of even number of participants (For example:2, 4, 6, 8, 10) each two participants will ride one double quad. In case odd number of participants (1, 3, 5, 7, 9), one of the participants will have to ride a single quad bike.
Customers who bought this activity also purchased