Sunset Safari Experience at Bel Ombre Nature Reserve
| | |
| --- | --- |
| Location | South West |
| Operating Days | All Days |
| Duration | 2 hrs |
| Activity Time | 17:00 - 19:00 |
| Transportation | Offered as Supplement |
| Comment | Minimum no. of participants: 6 pax |
Activity Time
17:00 - 19:00
Transportation
Offered as Supplement
Comment
Minimum no. of participants: 6 pax
Witness Nature's Unrivalled Sunset Splendour at Bel Ombre Nature Reserve - Overview
Are you a thrill seeker? Would you like to immerse yourself in the unparalleled beauty of a nature reserve on a quad/buggy or 4x4 safari tour at sunset? Then with Mauritius Attractions it is possible with the Sunset Safari Experience at Bel Ombre Nature Reserve! This amazing package not only allows you to witness the spectacular Mauritian sunset while being surrounded by nature in its purest form but also allows you to choose either a 2h Quad or Buggy Tour or a 2h 4x4 Safari .
The Bel Ombre Nature Reserve is the ideal place to take a moment with your family or friends to relax and enjoy the breathtaking views and natural beauty of Mauritius. You will be at the heart of a picturesque nature reserve covered with a stunning biodiversity, the reserve offers a truly unique land experience. Whether you opt for the quad/buggy option or the 4x4 safari which includes snacks and drinks, this exhilarating and invigorating ride will be one to remember.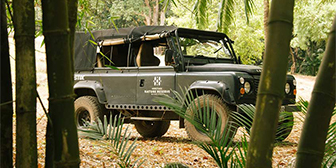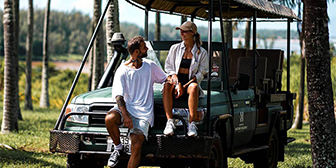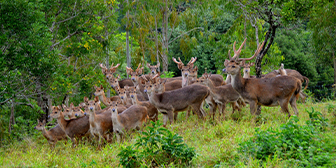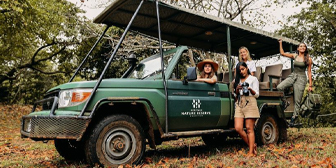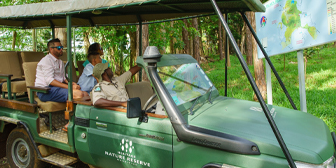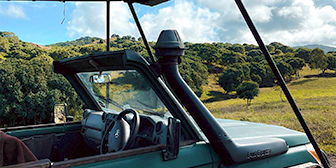 Highlights of this Package:
Explore the picturesque natural sites of the southern region
You can choose between the quad/buggy option or the 4x4 safari for your adventure
Delight yourself with the typical Mauritian snacks and drinks offered
Marvel at the legendary tropical sunset of Mauritius
Dedicated driver-guide to ensure a more enjoyable tour in the Nature Reserve
Experience the essence of Mauritian wildlife nature in the most unique way
---
Sunset Safari experience at Bel Ombre Nature Reserve includes:
Option 1 - Buggy / Quad
2h Quad or Buggy Tour
Snacks
1 homemade juice or water or soft drink
Option 2 - 4x4 Safari
2h 4x4 Safari Adventure
Snacks
A glass of Prosecco or homemade juice or water or soft drink or beer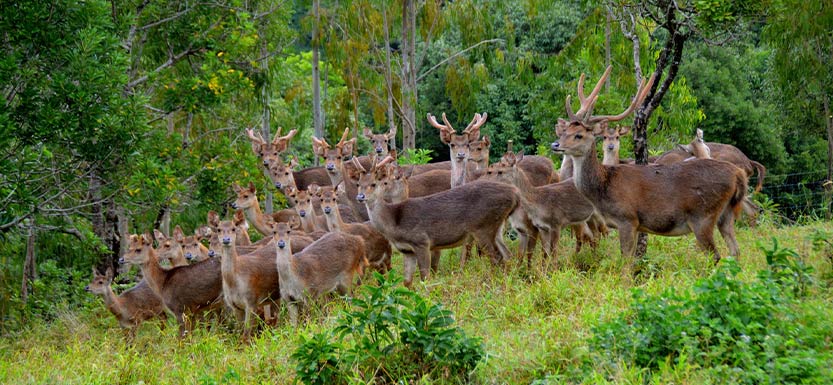 ---
Transportation & Driver Details
Transport is available for an additional supplement and will include pick up and drop off from any hotel / place of accommodation in Mauritius.
Car Capacities
You can choose from a selection of vehicles types:
Family Car - Up to 4 passengers
6 Seater vehicle - Up to 6 passengers
Minivan - Up to 10 passengers
About the Drivers
All drivers speak fluent English and French (Upon special request we can organise drivers who speak additional languages). The drivers, citizens of Mauritius, will be happy to provide you with information about Mauritius and each of its sights.
All drivers are very professional, time efficient and friendly. There is high emphasis on being always on time and providing reliable devoted service to customers.
---
Bel Ombre Nature Reserve's Welcome Centre
| | |
| --- | --- |
| Duration: | 2 hours |
| Operational Days | |
| | Quad/Buggy Ride : Wednesday & Friday only |
| | 4x4 safari: Thursday & Saturday only |
| Activity time | |
| | Quad/Buggy : 17:00 - 19:00 |
| | 4x4 Safari : 17:00 - 19:00 |
---
About the Sunset Safari Experience - Bel Ombre Nature Reserve
This package will allow you to immerse yourself in the unsurpassed beauty of nature; it's a unique experience you won't soon forget. Be sure your need for excitement and adrenaline will be satisfied with the Sunset Safari Experience at Bel Ombre Nature Reserve.
Choose from two options: 2 hour Quad/Buggy or 2 hour 4x4 Safari.
You will go on a thrilling adventure through a protected nature reserve with a professional driver-guide and a four wheel drive vehicle. This will be an opportunity to see the mesmerising beauty of the sunset with your own eyes.
Plus, on top of the mirador, you can savour some local Mauritian snacks and drinks while gazing at the most spectacular views you've ever seen. For sure, you won't want to miss the opportunity to snap the sunset over the horizon. This is heaven!
The reserve is surrounded by a stunning natural landscape of waterfalls, rivers, mountains and valleys, and is home to an amazing diversity of plants and animals - this is a moment you won't want to miss!
This original and unique safari tour of the Bel Ombre Nature Reserve is sure to be a highlight of your holidays in Mauritius.
About Bel Ombre Nature Reserve
Nestled within the spectacular and historic 2,500-hectare estate of Heritage Bel Ombre, Bel Ombre Nature Reserve is an exceptional invitation to the wild side of Mauritius. The reserve provides a premium land experience in the heart of a scenic nature reserve wrapped in stunning biodiversity that packs fun adventures for visitors of all ages.
The striking blue and warm Indian Ocean on one side and the dramatic lush landscapes of tropical forests, rivers, waterfalls and mountainous terrain on the other will make for a true back-to-nature experience. The geomorphology, climate and vegetation of Bel Ombre Nature Reserve also provide excellent habitats for various plant and animal species.
The nature reserve demonstrates commitment to conservation through long-standing partnerships with public authorities and specialist organisations like the Mauritian Wildlife Foundation, Reef Conservation and SOS Patrimoine.
---
Sport shoes
Spare clothes
Swimsuit
Hat/Cap
Camera
Towel
Hat
Sunglasses
Sunscreen
Mosquito repellent
---
Sunset Safari Experience at Bel Ombre Nature Reserve - Food & Beverages
---
| Sunset Safari Experience at Bel Ombre - Quad/Buggy (Wed & Fri) | |
| --- | --- |
| Price per Single Quad | 148 Euros |
| Price per Double Quad | 158 Euros |
| Price per Single Buggy | 148 Euros |
| Price per Double Buggy | 158 Euros |
| Sunset Safari Experience at Bel Ombre - 4x4 Safari (Thurs & Sat) - Currently unavailable | |
| --- | --- |
| Price per Adult | 48 Euros |
| Price Per Child (3-12) | 25 Euros |
---
Booking Attributes