Walking With Lions
84% Level of Satisfaction
Based on 20 reviews
| | |
| --- | --- |
| Location | West |
| Minimum Age | 15 |
| Operating Hours | 09:00 - 17:00 |
| Operating Days | Monday, Tuesday, Wednesday, Thursday, Friday, Saturday |
| Duration | 1 hrs |
| Activity Time | Flexible |
| Transportation | Offered as Supplement |
| Comment | This activity is offered on these times: 9.15am, 10.00am, 10.30am, 2.00pm and 3.30pm |
Walking with Lions Adventure in Mauritius!
Experience a one-on-one adventure with the Lions in Mauritius' unique lion's park.
Feel the adrenaline rush the sense of excitement and know how it is to be so close to these amazing creatures. It is a unique once in a life time experience!
The walking with lions is an adventurous activity proposed to those who wish to experience the wild side. Don't miss this unique opportunity which will be the highlight of your holiday in Mauritius! This activity takes place on the banks of Riviere du Rempart in a separate area of the Safari park.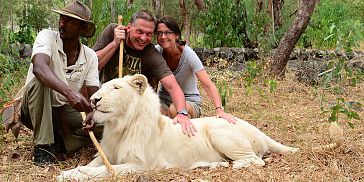 On your arrival to the park, you will be guided a special safari bus which will take you to the lions reserve where you could see the lions as well as tigers and cheetahs.
At the lions reserve, the safari team will welcome you and consecutively will brief you with a short introductory chat on the lions and on the safety measures which should be taken during the adventure and the time you will spend with the lions.
Then after, you will be introduced to the lions and their handlers to start your 1 hour walking with lions excursion.
Under the coolness of the trees you can take pleasure in viewing the lions from very close, see them playing and hopping on the rocks of the river banks and scaling the trees.
The lions roam freely amongst you offering a unique opportunity of being in close contact with them.
With the supervision and guidance of the lions' handlers, you can get even closer, and experience from firsthand how it is to walk alongside the lions, lead them the way and even pet them.
You will get to see how the lions interact between them, climb trees and even how they feed.
After the walk, refreshments are offered followed by explanations about the reproduction and conservation program of the lions.
Visit of the Casela Nature Park – World of Adventures
Important: The Walking with Lions is done at the Yemen Reserve which is part of Mauritius Safari and Bird Park. Accordingly, we offer you to purchase the Walk with lions excursion together with the entry tickets to the park.
About the Casela Safari and Bird Park: The Mauritius Casela Park is a real nature and adventure park. It is located besides the Rempart Mountain on the South-West of Mauritius offering magnificent views of the countryside rolling down the west coast of Mauritius.
The park includes four thematic worlds: Safari, Nature, Mountain and Water, as well as a hub for discovery and learning.
Safari Kingdom: Quad, Photo-Safari, dedicated area for Big Cats, Elephants and suitable for safaris and interactions with Giraffes.
Nature Kingdom: Bird Park, Canopy Park, Animal show.
Mountain Kingdom: Canyoning, Via Ferrata, Zip Lines, Climbing Wall
Water Kingdom: Wave pool, Toboggans (children and adults), a lagoon as well as an artificial river.
Discovery Centre: 4D Cinema, discovery of natural science and History of Mauritius through giant 3D Maps.
The visit to the park includes:
Toboggan (Avalanche Mines) - a thrilling fun ride on the first toboggan slide in Mauritius. The Toboggan includes two slides placed on a slope on which one slips with buoys.
Tulawaka Gold Coaster – an adrenaline-inducing alpine coaster that runs along 800m. Perfect for all thrill seekers. It can be ridden solo or in tandem.
Walk thru the aviary - Walk through the bird aviary and interact with various colorful bird species from around the world.
Safari photo - This great value tour lets you find yourself face-to-face with zebras, ostriches, deer, African antelopes, white rhinoceros, impalas and kudus during a unique safari tour on-board one of the safari vehicles.
Big Cats Kingdom - For Big Cats lovers, this is a dream come true! Visit the Big Cats' park to enjoy a close view of the lions, caracal and tigers.
Giraffe and pygmy hippo viewing - Come face to face with these majestic animals for a unique viewing experience.
Camel and llama viewing - Meet the camels and llamas, considered as one of the friendliest and most loving animals you will ever meet. Spend some time getting to know these amazing creatures.
Monkey Kingdom - have some fun watching the long-tailed monkeys skip and hop about, in their enriched, natural habitat.
Kid's playground - A new kid's playground that will offer sensation to the young ones!
Petting farm and Tortoise pen - Ideal setting for people of all ages, especially children to interact with farm animals as well as tortoises.
3D Interactive Map and 4D Cinema
Additional activities offered at the Park
---
Comments
The lions park is open every day except on the 25th December and 1st January
The walk with lions are offered everyday except on Sundays
The walking with lions encounters is offered only for adults (15 years old or above)
In order to take part in this activity you must be above 150cm (1.50m = 4.9 feet)
All participants must be physically and mentally capable to perform this particular activity.
Participants should not have any major hearing or visual impairments.
This activity is covered by a safety brief therefore the participants need to be proficient either in French or English.
The Big Cat keepers, have the right to not let a customer participate in the activities if the restrictions are not met.
If any of the above is found incorrect on the day of your activity "NO" refund will be considered. These rules are for your safety.
Duration of the entire visit to the park: 3-5 hours
Duration of the walking with lions: about 1 hour
This activity is offered on these times: 9.15am, 10.00am, 10.30am, 2.00pm and 3.30pm
Tulawaka Gold Coaster: Riders can go solo as from 12 years old (minimum height 1m40) or in tandem. Those under 4 years old should be accompanied by an adult
Private Walk with Lions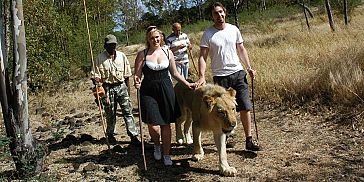 For more exclusivity, we also offer our clients, the opportunity to take their Walk with Lions on the wild side in maximum privacy, only you, the lions and their keepers.
You will be accompanied by a personal guide; receive personal care and guidance from the big cats' keeper and benefit from various extras.
Your Exclusive Walk with Lions also includes a complimentary interaction with the one of the big cats. You will also receive a complimentary DVD of your experience.
Included in the Private Walking with Lions package
Private Walk with Lions (1 hour)
Interaction with one of the big cats (15 min)
DVD with pictures and videos of your activities (Walk with lions & Interaction)
---
Price
Shared basis Walk with Lions
Walking with Lions: 99 Euro / person
Visit of the Mauritius Safari and Bird Park: 22 Euro / person
Exclusive Walk with Lions
Total Price for the Exclusive Walk with Lions Package for up to 5 participants: 1250 Euro
Visit of the Mauritius Safari and Bird Park: 22 Euro / person
Reviews
84% Level of Satisfaction
Based on 20 reviews
|
reviewed by Tina Glossop – United Kingdom
|
January 30, 2018
Narvadha has been exstremely helpful and compassionate as we had to cancel our first trip to Mauritius due to the sudden lose of my mum. But we have kept in touch and she has excelled in every way thank you again Narvadha????????
---
|
reviewed by mrs Cawthorne – United Kingdom
|
November 17, 2017
Reaction time to your queries and requests
Travel consultant's professionalism level
Added value given to you by the travel consultant
Consultant's knowledge of Mauritius and the products / services
Overall satisfaction from the customer support service
Level of services provided as part of the activity?
Level of professionalism by activity operator staff / guide
Your level of enjoyment from the activity
Ease of booking the activity
Overall satisfaction from the activity
We have used mauritius attractions several times now and they are consistently professional and helpful. First class service.
---
|
reviewed by Victor Cooper – United Kingdom
|
November 12, 2017
Reaction time to your queries and requests
Travel consultant's professionalism level
Added value given to you by the travel consultant
Consultant's knowledge of Mauritius and the products / services
Overall satisfaction from the customer support service
Level of services provided as part of the activity?
Level of professionalism by activity operator staff / guide
Your level of enjoyment from the activity
Ease of booking the activity
Overall satisfaction from the activity
---