Horse Riding Excursion & Quad Biking - Full Day Package
94% Level of Satisfaction
Based on 1 review
| | |
| --- | --- |
| Location | East |
| Minimum Age | 12 |
| Operating Days | All Days |
| Duration | 7 hrs |
| Activity Time | 09:00 - 17:00 |
| Transportation | Included in price |
| Comment | Suitable from age 12 years. Both activities are offered thrice a day at: 10:00, 13:30 and 15:30 |
Activity Time
09:00 - 17:00
Transportation
Included in price
Comment
Suitable from age 12 years. Both activities are offered thrice a day at: 10:00, 13:30 and 15:30
This Activity Is Not Operational Until Further Notice
Horse Riding Excursion & Quad Biking - Full Day Package Overview
Experience an adventurous fast-paced quad bike ride through the reserve and slow things down with a gentle horse-riding activity, where you will be taken off the beaten track to discover the hidden gems of the island.
As part of this Full Day Package you will enjoy a horseback excursion and experience an adventurous 2 hour Quad Biking activity, in one of the most preserved regions in Mauritius!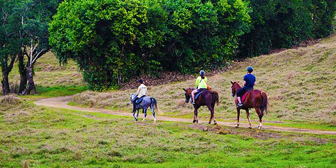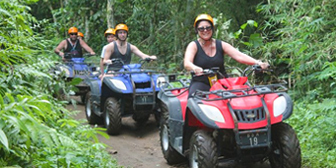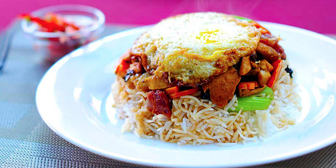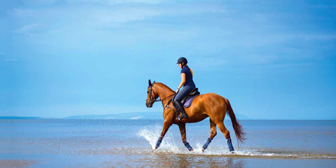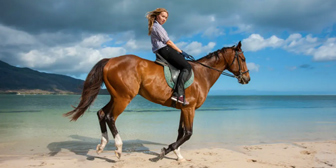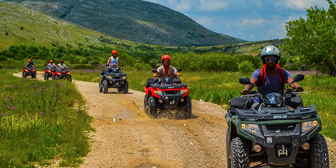 As part of this Full Day Package you will enjoy a selection of activities:
Experience an adventurous 2 hour Quad Biking activity
Enjoy a Horseback Riding Activity (1 hour)
Discover the natural beauty of the island, besides its famed beaches and lagoons
You will have the privilege to watch the rare species of birds
Free time to hike inside the estate
The Onsite restaurant is the place for you to enjoy the tasty local cuisine
---
Horse Riding Excursion & Quad Biking - Full Day Package inclusions:
All trips and excursions charges including all entry fees
2 hrs guided quad biking tour
Test drive & security briefing
Approximately 1 hour guided horse riding excursion
Welcome Cocktail and Mineral Water during the trips
Sanitary caps with helmets and all necessary equipment
Refreshing towel and hot showers after tour
Complete Mauritian buffet lunch
Full transportation to all the sights including pickup and drop off from any hotel / place of accommodation anywhere in Mauritius (optional)
A personal driver guide to show you around and inform you on each of the sights (optional)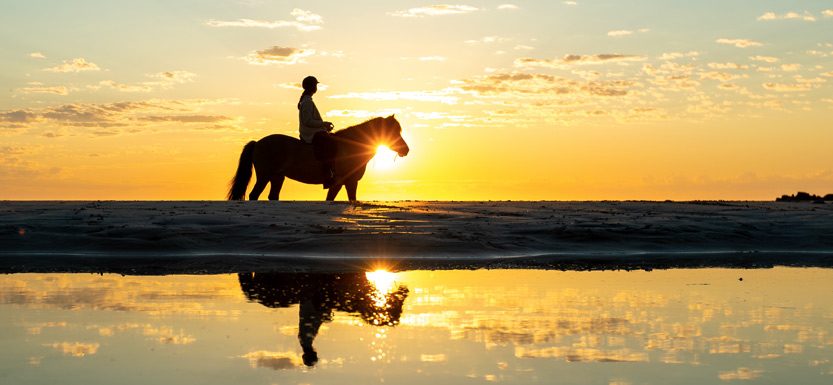 ---
Transportation & Driver Details
Car Capacities
You can choose from a selection of vehicles types:
Family Car - Up to 4 passengers
6 Seater vehicle - Up to 6 passengers
Minivan - Up to 10 passengers
About the Drivers
All drivers speak fluent English and French (Upon special request we can organize drivers who speak additional languages). The drivers, citizens of Mauritius, will be happy to provide you with information about Mauritius and each of its sights.
All drivers are very professional, time efficient and friendly. There is high emphasis on being always on time and providing reliable devoted service to customers.
---
Your Hotel / Place of accommodation anywhere in Mauritius
| | |
| --- | --- |
| Duration: | The duration of the activity is 7 hours |
| Operating Hours: | The park is open every day from 09h00 - 17h00 |
| Activity Times: | Both activities (Quad Biking and Horse Riding) are offered during 3 time slots, at: 10h00, 13h00 and 15h30 |
| | This private tour is offered every day |
| Departure time: | 9:00 from your hotel / place of accommodation |
| Return time: | 17:00 back to your hotel / place of accommodation |
---
07:30 – 08:00* Pick up from your place of accommodation
09:45 Arrival at the reserve. You will enjoy a welcome cocktail and fill the disclaimer form
10:00 – 10:15 Quad biking Excursion- You will have a briefing session by the instructors followed by a Test Drive
10:15 – 12:15 Adventure time. Enjoy 2 hours of Quad Biking while discovering the fauna and flora of the reserve
12:15 - 14:00 Return to the Domaine's restaurant to enjoy a delicious Mauritian Buffet
14:00- 15:30 Spend some free leisure time in the Domaine, where you can explore the reserve.
15:30 – 16:30 Time for the Horse Riding Excursion. Discover the scenery of the charming reserve with a 1 hour ride on Horseback.
17:00 - 17:30* Drop off at your place of accommodation
* The exact pick up / drop off times will be determined according to the location of your place of accommodation.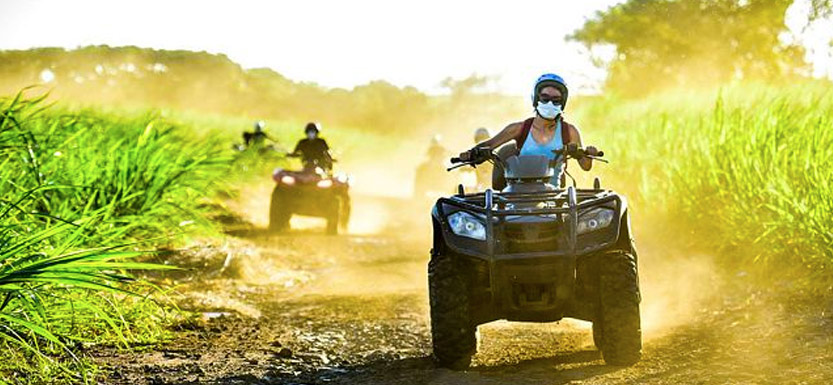 ---
Horse Riding Excursion & Quad Biking - Full Day Package Full Description
As part of this package you will spend a full day (7 hours) at Domaine De L'Étoile, a nature reserve where you can have fun exploring the wildlife. You will be able to enjoy an exciting Quad Biking trip of 2 hours discovering the lush green location and spot some endemic trees and animals. Animal lovers would definitely love this package for they will be able to trot around on horseback. You will fall in love with this activity and maybe make a new horse friend, creating memories to last forever. To end the day on a delicious note, you will get to feast on an exquisite lunch at the estate's restaurant.
About the Quad Biking Trip
Ride through 1200 hectares of green hills, mountains, ponds and rivers of the Domaine De L'Etoile Réserve. The activity takes place in Mauritius' reserve which was a private hunting estate. Today, it is a private nature reserve where luxurious fauna and flora can be admired.
Upon Arrival to the Domain, you will receive welcome cocktails followed by a Safety Briefing and a Basic Quad Biking Lesson. You drive in a group led by experienced guides who are not only outgoing and friendly, but will also be able to give you information on the historical, geographical and significant aspects of the Domaine.
As part of the trip, you will explore large plantations, indigenous forests, lush valleys and rivers. Your guide will make sure to show you all the hidden gems found along the way, provide you with interesting information on the spectacular surroundings and introduce you to the endemic flora and fauna. You will also be able to admire the birds, deer and other animals that roam along in the reserve.
You can enjoy this amazing experience in Mauritius on your own or together with your partner - You have a choice between a single quad or a double quad, ideal for 2 people.
About the vehicles
Quad Bikes
No. of Vehicles: 8 Double seated "Arctic Cat" Quad Bikes and 7 Double seated "Caram"
Type: Arctic Cat- 400 cc (4x4) & 700 cc (4x4) | Caram- 400 cc
Age requirement: Drivers must be 17 years old or older. Passengers must be at least 12 years old
About the Horse Riding Excursion
The horse riding is done in a beautiful private domaine. The landscape at that domaine is rather mountainous and offers the visitors spectacular panoramic views, indigenous forests, beautiful valleys, sparkling rivers, and encounters with wild animals and endemic birds.
The horse riding trips are performed every day in the morning or during the afternoon, and are planned carefully according to the riding level of the riders so each rider will be sure to fully enjoy the ride and have memorable moments.
The horseback ride lasts approximately 1 hour and will take place in small groups of 7 riders maximum.
So saddle up and prepare for an exhilarating ride where you can view the stunning surroundings of the area!
About the Horses
The horses are "Boerperds." This race of horses from South Africa is considered by experts as the ideal family horse – ideal for quiet rides by non-experienced riders. The nobility of these horses, their presence and their beauty makes them for centuries, an outstanding companion.
Experienced guides will ride alongside allowing riders of all levels to enjoy the horse riding experience in maximum safety and to enjoy the scenery all along the ride.
Number of horses: 7
Type of horse: South African "Boerperd"
Saddle: Western Saddle and stirrups
More about the Domaine and the landscape
Previously a private hunting domain, and only recently opened to the public, this Domaine remained one of the most preserved regions of Mauritius. The domain counts English gardens, rivers, and indigenous woods which are rich in hundreds of different varieties of plants and trees, including the most ancient ebony trees of Mauritius and other endemic species as well as cinnamon trees, vetivers, orchids, traveler's trees, banana trees and more.
A large river flows through the Domaine as well as trickling streams and flowing waterfalls.
It is best described as a wonderful and enchanting area where all nature lovers can enjoy themselves. A number of activities are offered, including, Quad biking, Horse riding and Hiking circuits. Visitors will witness, in turns, spectacular panoramas, Java deers and endemic birds. There is also an onsite restaurant which presents a quiet and peaceful environment where guests can recall the special moments of the day while enjoying the tasty local cuisine.
---
Sun block cream
Mosquito repellent
Good footwear
Long trousers
Sport shoes & socks
Camera
A change of clothes
---
Horse Riding Excursion & Quad Biking - Full Day Package - Food & Beverages
As part of this package, we offer you to enjoy a delicious lunch at The Domaine de L'Etoile which is a ravishing restaurant found in the reserve, situated next to the Grand River South-East with stunning views onto the mountain.
At this restaurant, you will be offered a buffet allowing you to savour the typical Mauritian cuisine inspired from the diverse cultures present in Mauritius. The restaurant also proposes a fusion cuisine.
There are 2 different types of Adult menu and 1 Kids menu:
---
Transportation
The Transportation prices are per vehicle (and not per person). You can choose the vehicle type according to the number of passengers in your group.
| | |
| --- | --- |
| Private Daily Tour in a family Car (for up to 4 people): | 79 Euros |
| Private Daily Tour in a 6 Seater vehicle (for up to 6 people): | 85 Euros |
| Private Daily Tour in a Minivan (up to 12 people): | 105 Euros |
The transportation charges are per vehicle (and not per person) referring to the number of passengers applicable for each vehicle type.
Excursions & Entry Tickets Packages
When ordering this day package you benefit from a special discounted package price on these trips and excursions.
Included in the price: visit of the Domaine, 2 Hours Quad Biking, 1 Hour Horse Riding.
| Optional Lunch | |
| --- | --- |
| Adults Classic Menu: | 25 Euros |
| Adults Formal Menu: | 29 Euros |
| Kids Menu: | 14 Euro |
---
This Activity Is Not Operational Until Further Notice
Please contact us on +230 269 1000 or +230 5257 5757 to check for availability before proceeding with the booking.
Reviews
94% Level of Satisfaction
Based on 1 review
|
reviewed by Yi-Feng Ho – Shangri-La's Le Touessrok Resort
|
June 07, 2017
Reaction time to your queries and requests
Travel consultant's professionalism level
Added value given to you by the travel consultant
Consultant's knowledge of Mauritius and the products / services
Overall satisfaction from the customer support service
Level of services provided as part of the package / tour?
Level of professionalism by on-site staff / guide?
Your level of enjoyment from the package / tour
Quality of meals included (if applicable)
Ease of booking the package / tour
Overall satisfaction from the package / tour
Vehicle condition & comfort level
Overall satisfaction with the transport service
---