Horse Riding Excursion & Quad Biking - 1 Day Package
94% Level of Satisfaction
Based on 1 review
| | |
| --- | --- |
| Location | East |
| Minimum Age | 7 |
| Operating Days | All Days |
| Duration | 7 hrs 30 mins |
| Activity Time | 09:30 - 17:00 |
| Transportation | Included in price |
| Comment | Suitable from age 12 years. Children with previous riding experience are accepted from the age of 7 |
CURRENTLY UNAVAILABLE
Horse Riding Excursion & Quad Biking - Full day Package
As part of this Full Day Package you will enjoy a horseback excursion, experience an adventurous 2 hours Quad Biking activity in the most preserved region in Mauritius!
This is a great full day activities packages taking you off the beaten track discovering one of the most romantic spots on the island,for you to experience an adventurous Quad biking activity and a Horse Riding Excursion in the most amazing natural setting!
The landscape at that domaine is rather mountainous and offers the visitors spectacular panoramic views, indigenous forests, beautiful valleys, sparkling rivers, and encounters with wild animals and endemic birds.
As part of this day package you will enjoy selection of activities
Quad Biking Excursion (2 hours)
Mauritian Lunch (Optional)
Horseback Riding Activity (2 hours)
Free time to hike inside the domaine
Included in the price of this special day package are
All trips and excursions charges
All entry fees
Welcome Cocktail and Mineral Water during the trips
Complete Mauritian buffet lunch (optional)
Full transportation to all the sights including Pick up and drop off from any hotel / place of accommodation anywhere in Mauritius (optional)
A personal driver guide to show you around and inform you on each of the sights (optional)
Suggested Day Itinerary
07:30 – 08:00* Pick up from your place of accommodation
09:45 Arrival at the reserve. You will enjoy a welcome cocktail and fill the disclaimer form
10:00 – 10:15 You will have a briefing session by the instructors followed by a Test Drive
10:15 – 12:15 Adventure time. Enjoy 2 hours of Quad Biking while discovering the fauna and flora of the reserve
12:15 - 14:00 Return to the domaine's restaurant to enjoy a delicious Mauritian Buffet (optional)
14:00 – 16:00 Horseback Time. Discover the scenery of the charming reserve with 2 hours of Horse Riding Excursion
17:00 - 17:30* Drop off at your place of accommodation
* The exact pick up / drop off times will be determined according to the location of your place of accommodation.
---
Information about each Excursion
About the Quad Biking Trip
2 hours of Quad Biking activity in the 2,000 hectares of green hills, mountains, ponds and river of the reserve. The activity takes place in Mauritius' reserve which was a private hunting domaine before. Today, it is a private nature reserve where luxurious fauna and flora can be admired.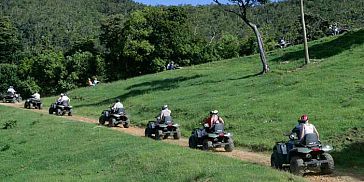 Upon Arrival to the Domain, you will receive a welcome cocktails followed by Safety Briefing and Basis Quad Biking Lesson.
During the quad biking trip, you will past large plantations, indigenous forests, lush valleys and rivers. Your guide will make sure to show you all the hidden gems found along the way and to provide interesting information on the spectacular surroundings and introduce you to the endemic flora and fauna.
From up the mountains you will have panoramic views on more than half of Mauritius can be seen; from the central plateaus to the Lion Mountain via the Moka range. You will also be able to admire the birds, deer and other animals that roam along in the reserve.
You will have the privilege to watch Kestrel, Mauritian Cardinals Java Stag Deers ( Rare deers found in Mauritius), boars, monkey and bats as well as the rare species of birds like the "Cateau Vert" and the "Crescerelle."
You drive in a group led by experienced guides. After a last checking of this four-wheel drive, it takes a few minutes to initiate the quad drive.
The instructors are outgoing and friendly and talk about the history of the natural site, the meaning of this nature reserve and give a lot of geographic information in a very interesting way.
You can enjoy this amazing experience in Mauritius as individual or together with your partner - You have a choice between single-sit quad for 1 person and double-sits quad, ideal for 2 people.
About the Horse Riding Excursion
The horse riding is done in a beautiful private domaine. The landscape at that domaine is rather mountainous and offers the visitors spectacular panoramic views, indigenous forests, beautiful valleys, sparkling rivers, and encounters with wild animals and endemic birds.
From the domaine's peak half of Mauritius can be seen: the central plateaus, Moka mountains range, and also major part of the coastline.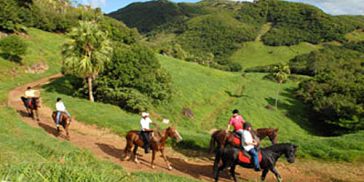 As part of your horse riding excursion you will be able to watch kestrel, Mauritian cardinals, Java stag deers (rare deers foud in Mauritius), boars, monkeys and bats as well as rare species of birds like the "Cateau vert" and the "Crescerelle".
The horse riding trips are performed every day during the afternoon, and are planned carefully according to the riding level of the riders so each rider will be sure to fully enjoy the ride and have memorable moments.
The horseback rides last approximately 2 hours and occur in small groups of 6 riders maximum.
The horses are "Boerperds." This race of horses from South Africa is considered by experts as the ideal family horse – ideal for quiet rides by non-experienced riders. The nobility of these horses, their presence and their beauty makes for centuries an outstanding companion.
Experience guides will ride alongside allowing riders of all levels to enjoy the horse riding experience in maximum safety and to enjoy the scenery all along the ride.
More about the Domaine and the landscape
Previously a private hunting domaine, and only recently opened to the public, this 2000 hectares domaine remained one of the most preserved region of Mauritius.
The Domaine also includes crystalline sources and rivers that extend to distant mountains. A large river flows through the Domaine as well as trickling streams and flowing waterfalls. This natural environment favors the survival of wild animals, while you will be able to admire deers, boars, monkeys and bats as well as rare species of birds such as the "Cateau Vert" and the "Crescerelle" It is all about indigenous forests rich of several varieties of plants and trees with the famous ancient ebony trees and more endemic species.
The domaine counts English garden and indigenous woods rich of hundreds of different varieties of plants and trees, including the most ancient ebony trees of Mauritius and other endemic species as well as cinnamon trees, vetivers, orchids, traveler's trees, banana trees and more.
The visitors of the domaine are those who describe it best; A unique and natural land which submerges you at the core of a green, authentic and captivating Mauritius, "Splendid, extraordinary, astounding, magical, amazing".
The spectacular panorama, indigenous forests, bountiful valleys, sparkling rivers, stags from Java and endemic birds are the wonders which pass in front of their eyes.
Additional information regarding this day tour package
Included in the price
Welcome cocktail
Test drive & security briefing
Sanitary caps with helmets
2 hrs guided quad biking tour
Approximately 2 hours guided horse riding excursion
Mineral Water during the tour
Refreshing towel after tour
Fact Sheet
No. of Vehicles : 10 Double seated "Arctic Cat" Quad Bikes
Type : Arctic Cat— 400 cc (4 x 4) / 477 kgs
Maximum capacity per Quad Bike tour : 10 x 2 = 20 persons
Circuit length for Quad Bike : 26 Km – 28 Km
The horseback rides occur in small groups of 6 riders maximum
Comments
Included in the price: welcome cocktail, entrance fees to the private grounds, Quad Biking guidance, Horse Riding guidance and drinking water (will be provided during the trip)
The Quad bikes Brands : Arctic Cat 400 cc automatic
This quad biking activity is offered at: 10.00 am and the horse riding at 2.00 pm
An initiation circuit is compulsory so the guides can evaluate the driving capacity of each client
Children above the age of 12 can enjoy this activity alongside an adult on a double quad bike
You have to be 17 years old or more to drive a quad (or 12 years and above, to join the quad biking trip as a passenger)
The horse riding excursion is suitable from the age of 12 years old. Children with previous riding experience (level of Gallop 3), are accepted from the age of 7
Pregnant women and physically challenged person are not authorized to go on this excursion
It is recommended to participants to wear sports shoes with socks and to wear long trousers
Helmets, goggles, coats, cooler box are also provided for the Quad Bike Tour
Hot showers and refreshing towels are available for the use of visitors. Accordingly, it is recommend to bring spare clothes in case you would like to have shower after the excursion
The park is open every day
What to bring: Sun block cream, mosquito repellent, good footwear, long trousers, sport shoes, socks and a camera!
---
Car Capacities
You can choose from a selection of vehicles types:
Family Car - Up to 4 passengers
SUV Car - Up to 6 passengers
Minivan - Up to 12 passengers
About the drivers
All drivers speak fluent English and French (Upon special request we can organize driver who speaks additional languages). The drivers, citizens of Mauritius, will be happy to provide you with information about Mauritius and each of its sights.
All drivers are very professional, time efficient and friendly. There is high emphasis on being always on time and providing reliable devoted service to customers.
---
Lunch Meal (Optional)
As part of this tour package, we offer to enjoy a delicious Mauritian lunch at the beautiful domaine restaurant situated ideally beside the river. Around the divine dishes with the genuine flavours of the local cuisine, each guest re-lives the extraordinary moment, he has experienced during the day.
Traditional Mauritian lunch buffet consisting of:
Beef Dry Curry, Chicken in Créole Sauce, Chinese cabbage, Lentils, Pumpkins, Rice, Pasta, Sauteed salted fish, Aubergine Chutney, Tomato Chutney, Coconuts & peanuts chutney, Vegetables pickles, Caramelized papaya in fresh orange flavour.
---
Prices
Transportation
Private Daily Tour in a family Car (for up to 4 people): 75 Euro
Private Daily Tour in a SUV big Car (for up to 6 people): 85 Euro
Private Daily Tour in a Minivan (up to 12 people): 105 Euro
The Prices are per vehicle referring to the number of passengers applicable for each vehicle type.
Excursions & Entry Tickets Packages
When ordering this day package you benefit special discounted package price on these trips and excursions.
The special discounted package prices are detailed in the table here below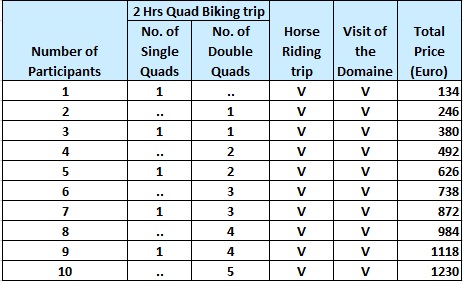 Please note that in case of even number of participants (For example: 2, 4, 6, 8, 10) each two participants will ride one double quad. In case odd number of participants (1, 3, 5, 7, 9), one of the participants will have to ride a single quad bike.
Lunch Menu
Price per person for the lunch menu at Domain's restaurant : 19 Euro
CURRENTLY UNAVAILABLE
Dear Customer, to book this activity please contact us on +230 269 1000.
Reviews
94% Level of Satisfaction
Based on 1 review
|
reviewed by Yi-Feng Ho – Shangri-La's Le Touessrok Resort
|
June 07, 2017
Reaction time to your queries and requests
Travel consultant's professionalism level
Added value given to you by the travel consultant
Consultant's knowledge of Mauritius and the products / services
Overall satisfaction from the customer support service
Level of services provided as part of the package / tour?
Level of professionalism by on-site staff / guide?
Your level of enjoyment from the package / tour
Quality of meals included (if applicable)
Ease of booking the package / tour
Overall satisfaction from the package / tour
Vehicle condition & comfort level
Overall satisfaction with the transport service
---
Customers who bought this activity also purchased