Horse Riding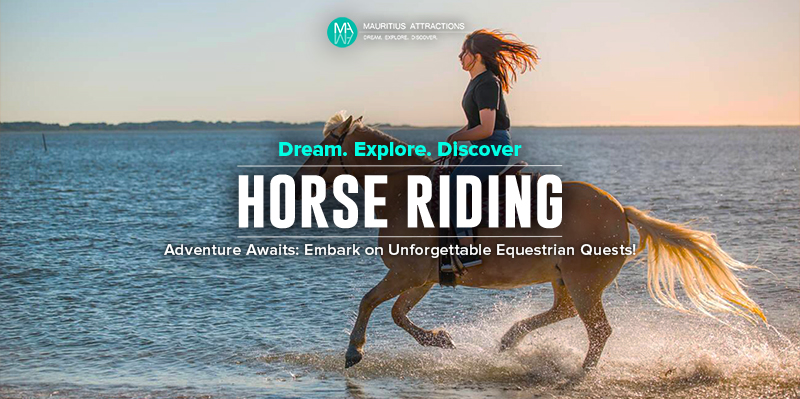 Discover beautiful blue lagoons, white sandy beaches, mountain ranges and breath-taking nature, all while horse riding! A dream for some, a reality for you…
Whether you want to ride these incredible stallions on the wonderful beach of Mauritius, enjoy a romantic sunset with your loved one or explore the breath-taking nature of Mauritius on a horse back, you are sure to have a memorable time joining any of the many horse riding trips with these charming animals.
For an experience of a lifetime, choose any of our beach rides along one of the most breath-taking beaches in Mauritius, either in Le Morne, Belle Mare or Riambel Beach. For a more romantic atmosphere, couples can also go for their horse ride activity in the afternoon in the soft light of sunset.
On the East coast, you can enjoy horseback riding along the mountain paths, through lovely scenery, cross streams while also encountering the local wildlife and birds.
Even the one who is a passionate of horse racing will be pleased to see our exclusive offer to the VIP lounge of Champ de Mars discovering the world of Mauritius horse racing in a true VIP style.
So, there is no place for hesitation! Mauritius is the perfect destinations for horseback riding. So enjoy a romantic trot on the beach or a leisurely ride with the professionals guides, this will certainly be one of the best ways to see the beauty of Mauritius in an Eco green way.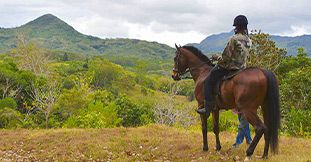 About the Horse Riding Excursion in the South West of Mauritius (Lavilleon Adventure Park) Far from the city rush, situated in a very peaceful and calm environment, you will be welcomed by very… read more →
---
---
South West
Duration : 30 mins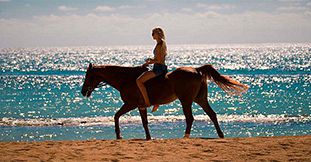 About Horse Riding at Balaclava Equestrian Centre Come and discover horse riding at the Balaclava Estate. Mauritius Attractions has designed the perfect package for you to enjoy a horse riding… read more →
---
---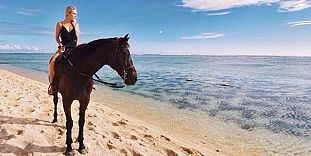 About the 1- Hour Horse Riding On Belle Mare Beach Far from the city rush, situated in a very peaceful environment, you will be welcomed by a very friendly staff and get to meet your horse. This… read more →
---
---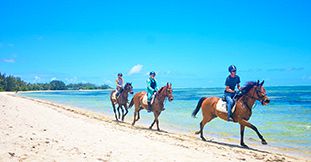 Beach Horse Riding in Mauritius (Riambel) - Trip Description Imagine the warm rays of the sun on your skin, the breeze on your face and only the sound of hoofbeats on the white sand of Riambel beach … read more →
---
---
South
Duration : Flexible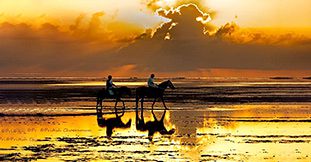 Sunset Horseback Riding on the Beach - Trip Description Immerse yourself in an unperturbed horse ride on the pristine shore of the South Coast of Mauritius. Saddle up and head to the deserted beach… read more →
---
---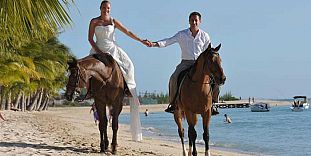 Private Horse Riding Activity On The Beach - Overview Upon arrival you will be welcomed by a very friendly staff and you will meet your horse. You will have 10 minutes of initiation before leaving… read more →
---
---
South West
Duration : 1 hrs 30 mins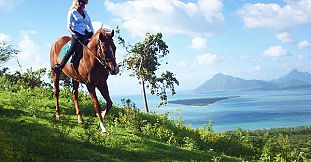 Horse Riding at Le Morne - Discover this World Heritage Site on horseback Spend a magical 2- hour horse riding in a beautiful and serene setting. Far from the hustle and bustle of the city, located… read more →
---
---
South West
Duration : Flexible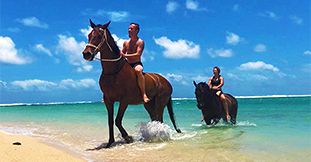 About the Romantic Horseback Riding & Swimming at Riambel Beach If you were looking for a private and intimate activity to enjoy with your better half, then you're in the right place. A… read more →
---
---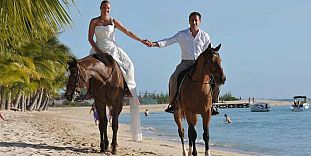 Horseback Beach Riding & Sunset Catamaran Cruise This is a great romantic afternoon-evening package including riding the most majestic horses along the beach, with the crystal turquoise blue… read more →
---
---
South West
Duration : Flexible