Royal Floating Relaxation Massage
| | |
| --- | --- |
| Location | North East |
| Operating Hours | 09:00 - 17:00 |
| Operating Days | Monday, Tuesday, Wednesday, Thursday, Friday, Saturday |
| Duration | 2 hrs |
| Activity Time | Flexible |
Royal Floating Relaxation Massage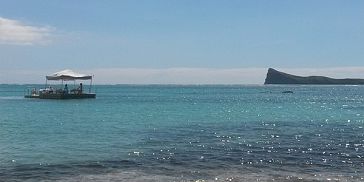 It is the most romantic private escape you can find in Mauritius. The Royal Floating Relaxation Massage is the epitome of romance, tranquility and relaxation in a sun-drenched destination amidst clear, turquoise-colored waters on a private platform.
Far from any prying eyes, we invite you to find your personal Zen through the Royal Floating Relaxation Massage which is a 60 minutes private wellness treatment offered in the heart of the lagoon of Grand Gaube, North East of Mauritius. You will furthermore have 60 more minutes to unwind aboard with this idyllic handcrafted intimate getaway unique on the island.
Whether you need a break from the daily grind or simply want to spoil yourself or a special someone during your vacation on the island, this sumptuous relaxation treatment offered on a private floating exquisitely decorated platform amidst turquoise waters will help you achieve a perfect state of balance, calm and relaxation. All in extreme intimacy far away from the concept of traditional treatments in spas. The therapist will welcome you with a home-made fresh infusion to hydrate your body and help in naturally flushing toxins out of your body.
Fresh flowers and soft white cotton curtains adorning the embarkation will set the scene as you will gently glide on the blue waters. The pleasant saline breeze will further invite you to loosen up as you will lie down for the treatment. The relaxation massage techniques used by the qualified therapists will make you find respite and calm for your whole body and mind. Natural ingredients used for the massage will smoothen, lift and add glow to your skin. Lovebirds having the treatment side by side will definitely have their stresses melt away and enjoy time together in a memorable manner.
More about the Royal Floating Relaxation Massage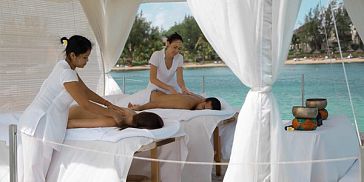 The Royal Relaxation Massage is a perfect retreat for you and your loved one. It has been crafted to offer you a VIP experience on a floating platform where you will be totally cut off of the everyday life. Navigate in the middle of the calm bay while spoiling yourself with a 60-minute pure relaxation massage with maximum of intimacy exclusively for you and your partner.
The Relaxation Massage techniques used are from a tradition that has been carried on through millennia by cultures worldwide, making use of the essential oils which will penetrate your body through the skin, activate the necessary chemical reactions and finally removed the toxins. Under the nurturing touch of the expert therapists, the blissful massage is performed gently all over the body.
As your treatment is over, you will be invited to appreciate some moments of tranquility on the platform while enjoying some snacks with soft drinks. Some pure moments of pleasure and well-being is a feeling like no other!
Comments
This Royal Floating Relaxation Massage package includes:
Fresh towels
Welcome drink
60 minutes relaxation massage on the floating platform
60 minutes relaxation while navigating on the embarkation
Soft drinks - Coca, Sprite, Fanta
Soft drinks & Beers
Assortment of snacks
---
Optional Add-ons:
Upon request, the client can choose to have some other drinks at an additional cost:
---
About Grand Gaube Beach: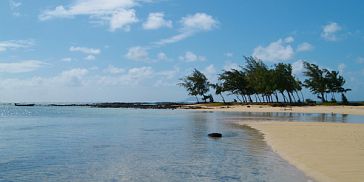 One of the most beautiful sites in Mauritius, you will not find a match for the gorgeous ocean views elsewhere other than Grand Gaube Beach.
The floating platform lies on the crystal clear and turquoise lagoon in the North-East coast. You can enjoy spectacular views of the northern islets of Mauritius from the sea - Gunner's Quoin (Coin de Mire), Flat Island, Round Island and Serpent Island.
Take a break in one of the most beautiful coasts in Mauritius; this is island life at its most romantic and joyful self!
---
Prices
Price per Couple: 200 Euros
Supplement per additional person: 95 Euros
Optional add-ons:
Wine (red,white,rose): 29 Euros