Horse Riding Excursion
| | |
| --- | --- |
| Location | East |
| Minimum Age | 7 |
| Operating Hours | 09:00 - 17:00 |
| Operating Days | All Days |
| Duration | 2 hrs |
| Activity Time | Flexible |
| Transportation | Offered as Supplement |
| Comment | Suitable from age 12 years. Children with previous riding experience are accepted from the age of 7 |
A horseback excursion in one of the most beautiful nature rich domains of Mauritius.
The horse riding is done in a beautiful private domain spreading over 2000 hectares situated in the south-east of Mauritius.
The landscape at that domain is rather mountainous and offers the visitors spectacular panoramic views, indigenous forests, beautiful valleys, sparkling rivers, and encounters with wild animals and endemic birds.
From the domain's peak half of Mauritius can be seen: the central plateaus, Moka mountains range, and also major part of the coastline.
Upon your arrival to the domain you will receive a welcome cocktails, followed by safety briefing and basic riding lesson.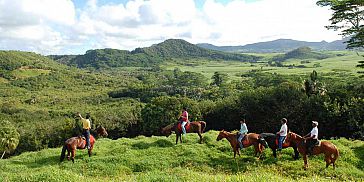 As part of your horse riding excursion you will be able to watch kestrel, Mauritian cardinals, Java stag deers (rare deers foud in Mauritius), boars, monkeys and bats as well as rare species of birds like the "Cateau vert" and the "Crescerelle".
The horse riding trips are performed every day in the morning or during the afternoon, and are planned carefully according to the riding level of the riders so each rider will be sure to fully enjoy the ride and have memorable moments.
The horseback rides last approximately 2 hours and occur in small groups of 6 riders maximum.
The horses are "Boerperds." This race of horses from South Africa is considered by experts as the ideal family horse – ideal for quiet rides by non-experienced riders. The nobility of these horses, their presence and their beauty makes for centuries an outstanding companion.
Experience guides will ride alongside allowing riders of all levels to enjoy the horse riding experience in maximum safety and to enjoy the scenery all along the ride.
Traditional Mauritian lunch buffet (optional)
The lunch consists of
Beef Dry Curry, Chicken in Créole Sauce, Chinese cabbage, Lentils, Pumpkins, Rice, Pasta, Sauteed salted fish, Aubergine Chutney, Tomato Chutney, Coconuts & peanuts chutney, Vegetables pickles, Caramelized papaya in fresh orange flavour.
Price for the lunch
Optional lunch buffet: 19 Euro / person
More about the landscape
Previously a private hunting domain, and only recently opened to the public, this Domaine remained one of the most preserved region of Mauritius.
The domain counts English garden, rivers, and indigenous woods rich of hundreds of different varieties of plants and trees, including the most ancient ebony trees of Mauritius and other endemic species as well as cinnamon trees, vetivers, orchids, traveler's trees, banana trees and more.
A large river flows through the Domaine as well as trickling streams and flowing waterfalls.
Comments
Included in the price: welcome cocktail, entrance fees to the private grounds and horse riding guidance.
Hot showers and refreshing towels are available for the use of visitors (bring spare clothes in case you would like to have shower after the excursion).
Pregnant women and physically challenged person are not authorized to go on this excursion.
The horse riding excursion is suitable from the age of 12 years old. Children with previous riding experience (level of Gallop 3), are accepted from the age of 7.
It is required to wear long trousers, and sport shoes with socks.
Weight Limitation: max 90 kg
---
Exclusive Horse Riding Excursion (Optional)
This is an ideal option for those looking to enjoy a private and intimate horseback riding experience. As part of the exclusive horse riding excursion you will be able to see it all from up the domain's peak atop a horse, making it even more enjoyable and unique exclusive experience.
Since this is a private horse riding trip, the riding pace will be set as per your riding level and preferences, with well trained horses carrying you safely along spectacular routes
Included in the package: 2 hours' Private Horse riding activity in the most preserved region in Mauritius having your own personal Guide to lead the way.
Maximum number of participants: 4 participants
---
Prices
Shared basis Horse riding Excursion
Price per Participant: 62 Euro
Lunch buffet (optional): 19 Euro / per person
Exclusive Horse riding Excursion
Option 1 - Exclusive Horse riding Excursion for up to 2 participants: 290 Euro
Option 2 - Exclusive Horse riding Excursion for up to 4 participants: 500 Euro
Lunch buffet (optional): 19 Euro / per person
Customers who bought this activity also purchased