Kitesurfing in Le Morne
| | |
| --- | --- |
| Location | South West |
| Minimum Age | 12 |
| Operating Days | All Days |
| Duration | Flexible |
| Activity Time | 10:00 - 18:00 |
| Transportation | Offered as Supplement |
| Comment | Choose between: 2 hours, 6 hours 10 hours Kitesurfing Course |
Activity Time
10:00 - 18:00
Transportation
Offered as Supplement
Comment
Choose between: 2 hours, 6 hours 10 hours Kitesurfing Course
Kitesurfing in Le Morne - Overview
Are you looking to learn kitesurfing or perhaps try this great activity in one of the world's leading kitesurfing destinations?
Mauritius Attractions offers the best kite-surfing packages in Mauritius at Le Morne - a top ranked and world renowned kitesurfing spot. The kitesurfing lessons are ideal for all levels - from complete novices to advanced levels. During this activity, you can experience the exciting Mauritian waters and discover what makes this place so special to water sport lovers.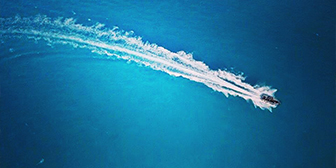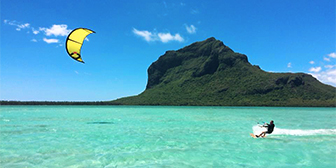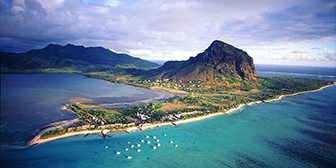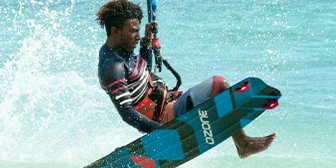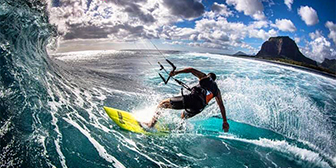 Highlights of this activity:
Show off your Kitesurfing skills in a paradise setting
Learn kitesurfing from the best IKO instructors
Explore the huge lagoon in the south western point of Mauritius, Le Morne
Discover the West Coast in a thrilling way
Develop a passion for an exciting watersport that will last a lifetime
---
Kitesurfing in Le Morne - Inclusions
Kitesurf at an iconic locations - Le Morne
You will get both the experience and lessons on how to kitesurf
Choice of either a 2, 6 or 10-hour Lesson
Qualified instructors by the International Kiteboarding Organisation (IKO)
Latest and highest quality equipments: kite, bar, board, harness, helmet and shoes
Supervision and a security boat throughout the activity
IKO Progression card:To certify your level according to your skill.
Public liability insurance for your safety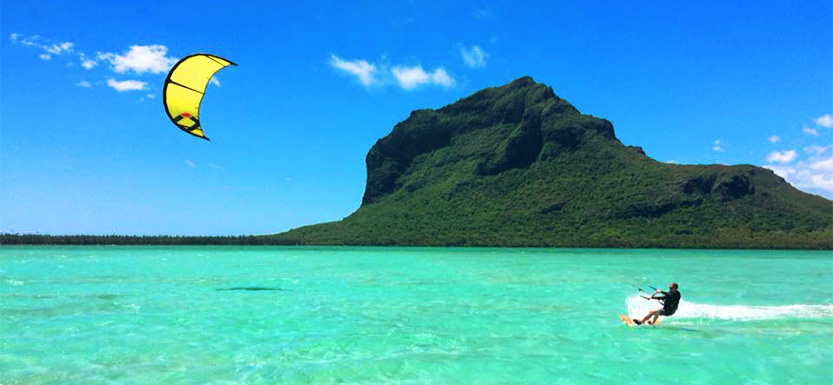 ---
Transportation & Driver Details
Transport is available for an additional supplement and will include pick up and drop off from any hotel / place of accommodation in Mauritius.
Car Capacities
You can choose from a selection of vehicles types:
Family Car - Up to 4 passengers
6 Seater vehicle - Up to 6 passengers
Minivan - Up to 10 passengers
About the Drivers
All drivers speak fluent English and French (Upon special request we can organise drivers who speak additional languages). The drivers, citizens of Mauritius, will be happy to provide you with information about Mauritius and each of its sights.
All drivers are very professional, time efficient and friendly. There is high emphasis on being always on time and providing reliable devoted service to customers.
---
Le Morne Beach, South West Region
| | |
| --- | --- |
| Duration: | 2 hours, 6 hours or 10 hours - as per your selection |
| Note: | Longer sessions can be spread over a few days |
| Operating days: | All days: Monday – Sunday |
| Activity Time: | 10:00 - 18:00 |
---
Kitesurfing in Le Morne
Mauritius Attractions offers the best kite-surfing packages in Mauritius at Le Morne- a top ranked and world renowned kitesurfing spot.
The kitesurfing lessons are the ideal for all levels- from complete novices to advanced levels in kitesurfing, offering all to explore this exciting activity in the Mauritian waters.
About the Kitesurfing Experience
You will learn everything worth knowing about kitesurfing, obtain kitesurfing skills and you can be sure to discover a deep and lasting passion for kitesurfing. No physical strength is needed for kitesurfing, just the determination to try. It is one of the fastest growing water sports in the world, constantly changing with new safer equipment and materials, guaranteeing your safety and pure enjoyment.
During your entire kitesurfing experience you will be accompanied by the fully qualified IKO instructors who are very passionate about what they do and they will make everything for you to feel like home. They are committed to share their expertise and knowledge with you, making sure your kitesurfing adventure in Mauritius is the best you have ever had!
The kitesurfing lessons can be enjoyed from beginners to advanced-level surfers to explore our huge lagoon in the south western point of Mauritius, at the exceptional spot of Le Morne.
In order to make your first kitesurfing steps as easy as possible, the equipment which is used at the kitesurfing centre is the latest of its kind and of the highest quality, made especially for all levels of surfers.
As all instructors are highly committed to your security, there haven't been any accidents occurring during lessons. For added safety, there is also a security boat as backup during lessons.
Considering to enjoy your kitesurfing at Le Morne? Then think no longer as this is certainly one of the best spots for kitesurfing in Mauritius, ideal with shallow flat waters and its onshore winds. The perfect calm water inside the spacious lagoon offers the ideal conditions to practice the basics controls and skills of kitesurfing.
At the end of your lesson, you will receive a kite boarder IKO progression card which certifies your level according to your skills. With the kiteboarder card, you can easily continue to learn in any IKO affiliated kitesurfing centers located worldwide.
Mauritius Attractions offers a selection of Kitesurfing lessons:
The lessons take place in the paradise surroundings of Le Morne kite lagoon (kite beach) - one of the best kitesurfing spots in the world.
2 hours Lesson
If you are still not quite ready to embark into a longer kitesurfing lesson, then this 2-hours lesson is a great way to go for an amazing experience while discovering our calm huge lagoon.
The 2 hours lesson is best suited for first time surfers in our lagoon, offering you the best. It offers the novices the key basic kitesurfing skills and to have a "taste" of kitesurfing which can turn into a long lasting passion. It can also be enjoyed by the intermediary level and advanced surfers, giving them the opportunity to practice their skills and knowledge of kitesurfing in our perfect, spacious lagoon.
6 hours Lesson
This 6 hours lesson is ideal for beginners as it will introduce you to the world of kitesurfing with special attention. Intermediary and advanced level surfers can also take up this lesson. It can be completed in one day only.
You will learn all basic kitesurfing skills, and/or achieve more skills. You will also be much more confident in controlling and manoeuvring the kitesurf as well as riding the waves in the huge lagoon. This lesson is recommended for those who are looking for something extra than just a short taste of kitesurfing.
10 hours Lesson
The 10 hours lesson is ideal for complete novices as it will provide you with the basic skills of kitesurfing: the correct movements and how to react in all types of situations. Even intermediary and advanced level kiters can take up this lesson to practice their skills in our huge lagoon and keep on developing their passion for kitesurfing. The lesson will begin with theory and safety, followed by analysing the current conditions such as the wind direction and dangers.
You will then move to the exciting part of practising all the theory and spend as much time as possible in water. In addition to the basic kitesurfing skills, you will also learn a selection of manoeuvres and kitesurfing techniques. You will do several exercises such as launching and landing the kite and body drag so that you can get used to feeling how the kite pulls you.
You will have much more confidence in all aspects that we move on to the board. The 10 hours lesson also prepares you toward any future kitesurfing activities and advanced lessons.
The 10 hours lessons are stretched over 5 days with 2 hours of kitesurfing lessons per day. Exceptionally, an arrangement to have the 10 hours spread over 3 days can be made. The first 2 days will have 4-hour long lessons and on the last day, 2 hours of kitesurfing will be arranged for you.
Package options for the all the three options
Private basis –This can be done on a one-to-one basis with one of the professional instructors which will also have his own kite. Once you are riding, i.e. kitesurfing left and right, riding upwind but you are not feeling confident enough to ride independently, we offer the lesson through walkie-talkie to supervise
Group basis - up to 4 people. However, maximum 2 persons per instructor is allowed to ensure that you have the correct level of attention when learning to kitesurf
The entire kitesurf equipment is included: kite, bar, board, harness, helmet and shoes
Additional Info
About the Kitesurfing centre
The kitesurfing centre is located in the South West of Mauritius at the beautiful beach of Le Morne, also known as Mauritius' Kite Lagoon. The spot is simply the most ideal location to learn and further develop your kitesurfing skills.
Their goal is to teach you how to kitesurf with confidence and maximum safety. This is of course achieved with a team of experienced and IKO qualified instructors in a friendly ambiance.
The motto is "Enjoy Your Ride." Hence, ensuring each customer enjoys the fun and safe lessons delivered by a highly experienced team of instructors. Expect not only to learn kitesurfing but also make friends who share a similar passion and love for kitesurfing. Only the latest and safest equipment on the market is used to respond to your safety.
About the Kitesurfing Location
The focal point of kitesurfing in Mauritius is kite Lagoon in Le Morne. It is one of the ideal and safest spots in the world to learn and practice kitesurfing because of its onshore winds and shallow water. The spacious lagoon which is protected by a beautiful reef is perfectly made for kitesurfing. It offers a safe environment and allows downwind slides to Le Morne in the secure South Easterly winds.
With shallow flat waters, this spot is ideal for beginner to advanced surfers who are looking to excel in freeriding and wake style. If you want to push your limits while kitesurfing in Mauritius, Le Morne is surely the best place, making your kitesurfing experience one of the most memorable! For more advanced surfers who like to play in the waves, located 600m from Kite Lagoon you will find some of the best wave conditions in the world.
Some key facts
Best winds: May – October
Wind Conditions: 15- 30 knots, South East
Water Temperature: perfect for Board shorts
Water Type: Perfect Waves and Lagoon flat water
Weather: Sunny Tropical
---
Private & Exclusivity VIP Option
Private basis package options for the all the three options (2,6 and 10 hours options)
This can be done on a one-to-one basis with one of the professional instructors who will also have his own kite. Once you are riding, i.e. kitesurfing left and right, riding upwind but aren't feeling confident enough to ride independently, lessons will be done through a walkie-talkie to supervise.
---
Sea sandals or shoes
Sun cream
Towel
Swim suit
Spare clothes
---
| Kitesurfing in Le Morne | Shared | Private |
| --- | --- | --- |
| 2 Hours Lesson | 99 Euros /Person | 165 Euros /Person |
| 6 Hours Lesson | 250 Euros /Person | 440 Euros /Person |
| 10 Hours Lesson | 380 Euros /Person | 645 Euros /Person |
Shared basis – This is done in groups of 2 people, accompanied by the kitesurfing expert
Private basis – This can be done on one-to-one basis with one of the professional guides
---
Booking Attributes