Maritim Hotel Mauritius
Address:
Balaclava/Turtle Bay, Terre Rouge, Mauritius
Reservation:
(230) 269 0333
Email:
Click here for Email
Note:
Special Discounted rates when booking via Mauritius Attractions
Maritim Hotel Mauritius
Maritim Mauritius - Hotel Overview
The Maritim Hotel Mauritius, immersed in the calming ambience of a tropical hideaway is a luxurious beach resort & spa of the highest international standard.
Originally open in December 1990, completely renovated in 2009, Maritim Hotel Mauritius is your home away from home and your ideal starting point to discover Mauritius.
The hotel is a perfect blend of tropical and colonial architecture which provides an elegant background for a sophisticated and yet totally relaxing vacation.
Encircled by dazzling white sandy beaches, surrounded by the turquoise depths of the Indian Ocean and picturesquely framed by a 25 hectare green tropical garden and nature park the hotel setting is remarkable.
Thanks to the unequalled multitude of sports and leisure facilities available for its guests, the Maritim is ideal holiday retreat for both families and couples.
Location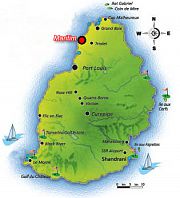 The Maritim Hotel Mauritius is located at 'Turtle Bay' - the republic's first Marine National Park - on the island's north west which is considered to be the sunniest region of the Island.
Nestled amidst expansive landscaped grounds, the trip from the airport only takes around 50 to 60 minutes.
Be it the turquoise waters of the Indian Ocean in front of the hotel, or the lush tropical hinterland behind, the entire location is simply breathtaking.
Those who like to arrive in style can charter a helicopter as the hotel has its own landing area.
Conveniently located between the capital Port Louis and the most popular spot Grand Bay, both about 15 km away from the hotel (15 to 20 minutes by taxi), which offer nice shopping possibilities, museums, bazaars, restaurants, markets, cafés, discotheques and much more.
Distances: 60 km from the airport, 15km from Port Louis, 15km from Grand Bay.
Accommodation
Exhibiting all the pleasures of a tropical island hotel resort, each of the 215 stylish rooms/suites has a private sea view balcony or terrace on the Turtle Bay coast line.
Inviting, modern, spacious and yet cosy, Maritim Hotel Mauritius boasts a choice of rooms and suites, meticulously designed to the highest standards both aesthetically and in terms of soothing comfort equipped to suit the needs of leisure or business travellers.
Maritim Hotel Mauritius offers 6 categories of rooms, namely
Premium Room
Privilege Room
Prestige Room
Suite
Presidential Suite
Family Villa with private pool
Room Types
25 Premium Rooms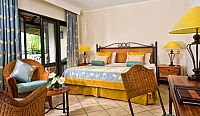 34 sqm including balcony or terrace; elegantly decorated in natural tones with a warm contemporary tropical atmosphere and furnished with wooden furniture with the choice of double or twin beds.
97 Privilege Rooms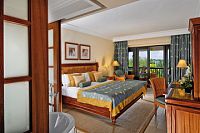 40 to 44 sqm including balcony or terrace; our carefully designed and decorated Privilege rooms will give you the full sensation of warmth, comfort and relaxation with the choice of double or twin beds. The spacious bathroom area can be wide opened by sliding doors; with double wash-basin, separate shower, free-standing tub and separate toilet. Interconnecting rooms are available on request.
75 Prestige Rooms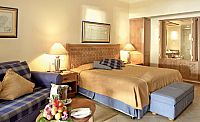 Enjoy the breathtaking view in our 58 sqm Prestige room. Elegantly fitted-out with a light tone wooden furniture and designed with natural tone cotton and silk fabrics. Equipped with a large bathroom which can be opened to the bedroom by decorative screens, comprising of a bathtub and separate shower, independent toilet with bidet and separate double washbasins. Furnished with walk-in closets or large wardrobes
2 handicapped-friendly rooms with wheelchair access
Please note that the resort's integration within its geographical location means certain accessibility issues may arise.
Suites & Villas
10 elegant Junior Suites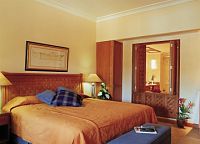 10 suites of 92 sqm delicately decorated with pastel green fabrics and furnished with light wood furniture.
4 theme suites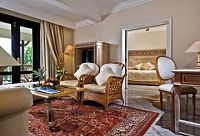 Sense the exotic charisma of one of our 4 themed suites of 80 sqm:
Frangipane Suite
Suite - tropical style suite
"Namaste Suite" - unique suite with its Indian touch
"Victory Suite" - the marine suite as a tribute to the historical background of Balaclava
"Savannah Suite" - Special theme designed suite with an African flair
1 romantic Honeymoon Suite
1 Honeymoon Suite of 105 sqm with its huge terrace, private whirlpool and sun deck offering exclusive holidaying for the newly weds.
2 exclusive Presidential Suites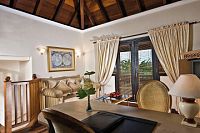 Stretch in one of our 2-storey 125 sqm suites.Master bedroom with adjoining luxury bathroom comprising of a separate shower & bathtub, double washbasins, private sauna and walk-in closet. Large lounge and guest toilet and modern equipped business study in roof top. 3 TV. A large terrace with its whirlpool overlooking the bay. The Presidential Suite is also declined on 2 themes giving each of them its distinct character.
1 luxurious Family Villa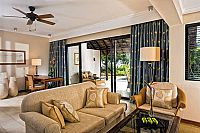 Comprising of 1 Privilege Room and 1 Prestige Room The key for a luxury stay: 1 Family Villa of 160 sqm consisting of two separate sleeping rooms with terrace and private bathroom and a representative common living room with outside dining veranda. The villa offers privacy and intimacy with its private garden, spacious terraces and exclusive swimming pool. In response to modern family lifestyle, this suite enables you and your loved ones to enjoy a real sense of personal space and total relaxation in a typical seaside atmosphere. Butler Service on request
Rooms Layouts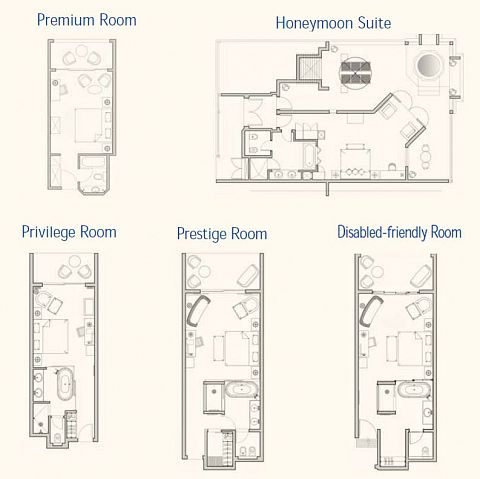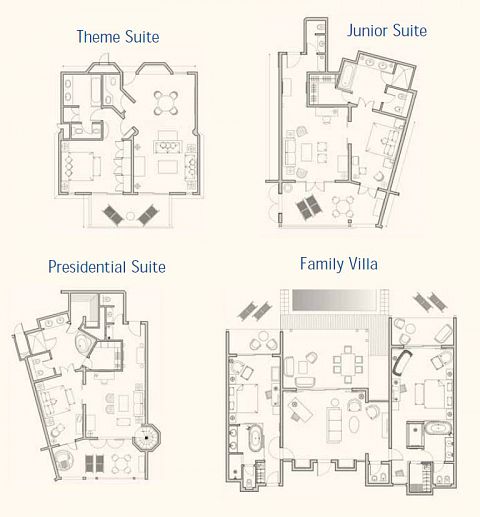 Rooms Features
165 non-smoking rooms and 50 smoking rooms in all categories
All rooms have either a balcony or terrace and are equipped with bathroom/WC, hairdryer, make up mirror, air conditioning, tea and coffee making facilities, electronical safe, TV with video and radio channels, telephone, WIFI internet connection and minibar.
38 business rooms (spread throughout the entire category range) are additionally equipped with Wireless LAN and printer/fax machines.

Available upon Request
Baby Cot
Iron and ironing board
Antiallergic pillows and bedding
Butler Service
Maritim Spa & Wellness Center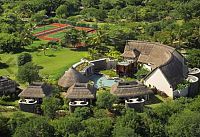 The Maritim hotel Tropical Flower Spa and wellness center is an oasis of tranquility.
The Spa & Wellness Center, wonderfully integrated within the resort's 25 hectare landscaped grounds, covers an expansive 3,500 sqm.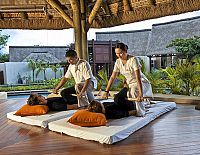 This is where you will delve into a world of tranquility where the splashing of waterfalls and the chirping of tropical birds is not some looped recording.
Indulge in some professional pampering while treating yourself to the benefits of therapeutic treatments and cosmetic applications.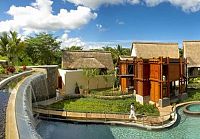 All massage preparations, creams and masks are made using tropical flowers, plants and natural oils from the region which are then mixed according to the results of your skin analysis.
Honeymooners are in for a special treat: a special area within the wellness oasis is dedicated to ensuring newlyweds get their life as husband and wife off to the perfect start.
There is also a special room dedicated to bridal preparations - in addition to head-to-toe beauty treatments, hairdressing, manicures and pedicures, the bridal dressing rooms are comprehensively equipped to ensure everything is perfect on this most memorable day.
With a total of 12 treatment cabins, a dry massage pavilion, a hair salon, a stunning relaxation area located behind an impressive waterfall, a state-of- the art wet area, including jacuzzi, sauna, hammam, experience showers and a kneipp walk, guests are transported into a realm of tropical beauty and well-being.
Massages & Body Treatments - In addition to a full range of massages, such as the Frangipani Relaxation Massage or the Rose Foot Reviver, the Maritim Flower Spa offers a unique range of dry massages such as the Bamboo massage, where use is made of bamboo stems to stimulate pressure points around the body and enhance a feeling of pure well-being.
Pure Nature - The treatments offered are based on the beauty traditions of local tropical flowers. With a combination of flower essences, essential oils, dry and fresh flowers, the ingredients for all body treatments are individually prepared for each guest. Flower essences are herbal infusions made from the flowering part of the plant, which address emotional and mental aspects of wellness. The flower essences used at Maritim Spa have been manufactured in Mauritius, using only the richest organic plant life.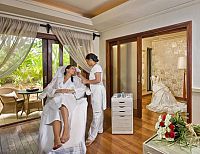 Bridal Suites
- Another highlight of the Maritim Spa is the Bridal Suites, which provide each bride and groom a unique haven in their preparations for their special moment. Each Bridal Suite is equipped with a dedicated area for beauty treatments, including nail care and make-up, a sumptuous dressing room and an outdoor relaxation area, where loved ones can participate in this exciting journey.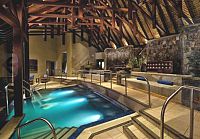 The Ultimate Spa Experience - Each experience at the new Maritim Flower Spa is truly a unique journey, where each guest is provided a consultation dedicated to offering treatments designed for physical wellbeing, emotional balance, mental release,environmental awareness and spiritual recognition.
Open daily from 08:30 to 20:00
Getting Married at the Maritim Hotel
Those searching for an unforgettable place to get married or renew their vows need look no further than the Maritim Hotel Mauritius.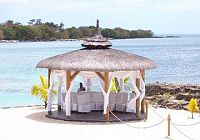 The Maritim offers its very own 'Special Bride Room'. This preparation area includes a dressing room, hairdresser, manicurist, pedicurist and lots more.
You can choose from a selection of wedding packages including wedding planning, organization and formalities, all for very affordable budgets.
Any couple having their wedding at the Maritim will benefit a special discount on the room rate, including half-board for the bride, decoration, bridal bouquet, boutonniere, groomsman, live music (guitarist), 1 bottle of sparkling wine during the wedding ceremony as well as a candle-light-menu.
Sport & Leisure Facilities
Maritim hotel offers the most extensive variety of sports facilities, daily activities including games as well as selection of competitions. Almost all the all sports and use of sports equipment are free of charge.
Guests may use the following hotel facilities/equipment free of charge: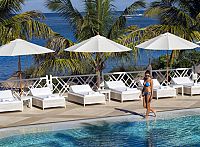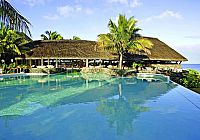 Fitness centre with modern trimming machines (air-conditioned)
3 tennis courts (synthetic grass) with floodlighting, rackets free of charge, balls for a fee
The hotel's 9 hole golf course (longest hole is 340 m), Driving Net
Water ski
Sailing boats (guests can also partake in a complimentary sail course covering the basics - takes around 20 to 30 minutes)
Windsurfing (guests can also partake in a complimentary windsurfing course covering the basics - takes around 20 to 30 minutes)
Snorkling including equipment
Glass bottom boat (daily trips)
Pedal boat
Archery
Canoes
Croquet
Miniature golf (9 holes directly on the beach)
Table tennis
Jogging
Yoga
Giant Chess
Football
Volleyball
Boccia
Water gym
Boat-House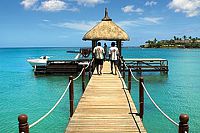 Fully equipped for all kinds of water sports the boat house offers all guests of the hotel to enjoy variety of sea and water activities and water sports.
The following water sports are available completely free of charge and are not subject to any time limit: water-skiing, windsurfing, sailing (Hobie cats & Lasers), canoeing, glass bottom boat trips, snorkelling, pedal boats.
Open daily from 09:00 to 17:00
The Maritim Sport & fitness Club:
Located next to the main pool, the 150m² fully air-conditioned gym is fitted out with a selection of modern equipment.
Open daily from 08:00 to 20:00
Diving Centre:
The diving school at the Maritim Hotel Mauritius is staffed by qualified professionals and teaches both guests and non-guests the special knowledge needed for safe scuba diving. The Diving Centre caters well for those adventurous guests who want to see what's under the warm and clear sea.
Open from Monday to Saturday: from 09:00 to 16:00
Maritim Golf Course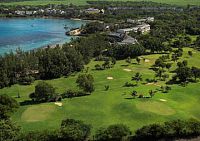 The hotel has a 9-hole (par 29) golf course, the longest hole of which is 340 meters.
Designed by Graham Marsh Golf Design and Atam Mohun, the Maritim Golf Course is a rather unique combination of 9 holes par 29.
The Maritim Golf Course is very well designed and will be a pleasure for any golfer to play. It gives an excellent opportunity to practice various levels of skills during a relaxing holiday.
A tremendous variety in length elevation and angle is achieved by this Golf Course. Each hole can be played from two different tees. A wide range of shots will confront the golfer during his/her round.
Golf-pro available for individual lessons on request (with supplement) for both beginners and advanced courses.
Complimentary Green fees for hotel guests. Clubs are available on rental (with supplement per set).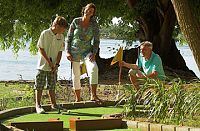 Open 7 days a week: 08:00 – 17:30
Facilities: Driving Net, Practice putting green, Golf lessons with certified Pro instructor, Golf shop
Players without handicap: Approval of the Golf-Pro is required before playing the course
Mini Golf
For children and families the mini golf course situated in the shade of the trees offers great fun.
Horse-Riding Center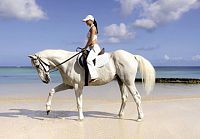 Located next to the Ruins of Balaclava on the estate, the Maritim hotel has its own Equestrian Centre with 12 horses and ponies.
A minimal fee will be applied for lessons in the corral and the ponies will make the joy of kids for special payable lessons.
Open daily from 09:00 to 16:00
Horse riding as from 6 years
Children: 6 - 18 years (pony)
Adults: as from 18 years (horse)
Long trousers and closed footwear is requested
Children Facilities
Turtle Club
Located near the beach in the middle of a safely fenced playground, our kids club is a small house consisting of a game/TV-room, kitchenette, toilet and veranda. The children will enjoy selection of fun games, toys, children videos and the large children's play ground.
Also, there is changing daily children's activities programme.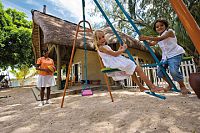 At the Turtle club friendly hostesses take care of children ages 3-11 years.
Open daily from 09:00 to 16:00
Mini Golf: For children and families the mini golf course situated in the shade of the trees offers great fun.
Animal farm: the Maritim has a small animal farm where children can pet and fead animals. There is also Giant Tortoises area where children can see and pet the Giant Tortoises.
Pony riding: for children as fro the age of 6 years ponies riding activities are available at the Maritim Equestrian Centre.
Baby-sitting: Baby-sitters are available on request (24 hrs notice) against a small fee.
Restaurants & Bars
Belle Vue - Main Restaurant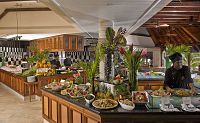 Enjoy comprehensive sumptuous breakfast buffets and delicious dinners from the buffets and open cooking stations in this top restaurant, with an excellent view over the pool area and the sea from all tables. The restaurant is of open terrace restaurant on split-levels under an expansive wooden roof.
Additionally, the Belle Vue also serves buffet lunches of local specialties and international favorites.
Breakfast: from 7:30 to 10:30 - Spacious buffet with an extensive selection of hot and cold dishes, home-made bread and pastries, tropical fruits, cereals, etc
Lunch: from 12:30 to 15:00 - buffet lunch
Dinner: from 18:30 to 22:00 - Different buffets, barbecues or theme evenings and on selected days table d'hôte menus with choice for the various courses
Château Mon Désir - À-la-carte restaurant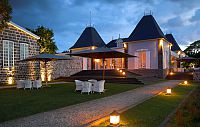 Offering Colonial Style atmosphere, overlooking the historical Ruins of Balaclava, the River Citron and the dreamful Turtle Bay and surrounded by our Equestrian Centre, the Château Mon Désir restaurant offers the very best cuisine of today in a unique historical surroundings.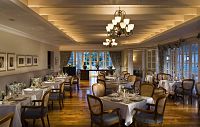 More than a restaurant, it is a tribute to the Mauritian history which took place in Balaclava, homage to the beautiful nature and the power of elements.
You will experience International Fine Dining in a historical and beautiful tropical estate, where classical elements and modern influence of French cuisine meets the Mauritian spirit in a unique blend of tastes.
It's a place where the world's cuisines cross-pollinate in all sorts of creative and delicious dishes. It's a place which can still initiate you to the finest cuisine with essential ingredients needed to make food from all over the world.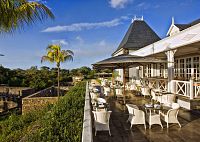 Guests with "All inclusive" or half board get a discount of Rs 1,000 per Person when dinning at the for the Château Mon Désir.
Dining: Monday - Saturday, from 19:00 to 22:00
High Tea: Monday - Sunday, from 15:00 to 17:30
Brunch: Every Sunday, from 11:30 to 14:30
Château Mon Désir website Château Mon Désir's restaurant brochure.
La Marée - Beach Restaurant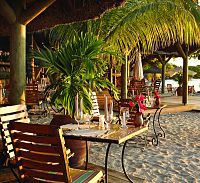 Located right on the beach, this restaurant prepares delicious snacks and scrumptious meals as well as afternoon coffee and cake. Here is where you can enjoy an exquisite selection of fresh seafood specialties and other grillades served in a casual and rustic atmosphere, while you marvel at a magnificent bay view. A great place for breakfast, lunch or romantic dinner for two while watching the sundown.
Breakfast - à-la-carte - from 7:30 to 10:30 - included for guests booked in a villa or suite
Lunch - from 12:30 to 15:00 - with a big range of seafood and barbeque meals. Guest with "All Inclusive" get a discount of Rs 400 per Person
Dinner - from 19:00 to 22:00 - guests with half board or "All inclusive" get a discount of Rs 400 per Person
Quarter Deck - Hotel Bar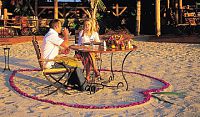 The perfect place for cool cocktails, cold beer, tasty snacks and wines served at the correct temperature accordingly. The Quarter Deck bar is directly located at the sea with a beautiful view over the bay. Raise a glass and toast your decision to treat yourself to a little paradise.
Open daily from 9:00 am to late at night (01:00 am)
Happy Hour from 17:00 to 19:00
Snacks à-la-carte daily from 12:30 to 23:00
Pool Lounge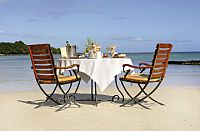 Open sky lounge beside the main pool offering early-bird breakfast and vareity of snacks throughout the day in a relaxing atmosphere.
Open daily from 9:00 to late night (01:00 am) - Selection of refreshments, home-made pastries, snacks, tea and crêpes.
Early bird breakfast daily from 4:00 to 7:30
À-la-carte snacks daily between 12.30 and 23:00
Additional Services:
Beach Service - Daily from 9:00 to 18:00
Room Service - Daily from 7:30 to 23:30