Bois Chéri Bubble Lodge - Mauritius
Address:
Bubble Lodge
Bois Chéri, Mauritius
Telephone:
(230) 269 1000
Overview - Bois Chéri Bubble Lodge
Carefully designed to blend with the ecosystem, the Eco Bubble Lodge offers you a stargazing retreat in a serene environment set in the luxuriant tea plantation of Bois Chéri in the South of Mauritius, alongside an enthralling lake flanked by palm trees.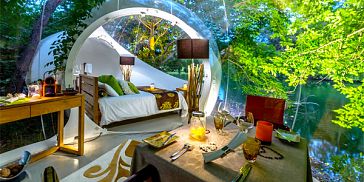 If you are seeking to boost your inner energy and experience a Zen atmosphere during your vacation, then let yourself go and embrace the serenity of this unique location-a wondrous tea plantation in a rather cool environment offering scenic luxuriant green landscapes in the South of Mauritius.
Dating back to the 1890s, the tea plantation is the oldest of the island. This lush tea plantation is best discovered on foot and offers not only a visual richness but also a flavourful richness of the senses. Bois Chéri has enabled the development of a true culture and tradition of tea in Mauritius. Its factory now produces more than half of the island's tea.
Ideal for couples, friends, and family, the eco lodge offers an intimate hideaway in the midst of nature with plenty of fresh air. It has especially been designed to cater for a sustainable and yet very comfortable stay, where you can contemplate the beauty of nature around you. Created by the French designer Pierre Stephane Dumas, the concept behind this eco lodge is to ensure a very low environmental impact.
Additionally, the lodge was developed to target a minimum consumption of energy and material, together with a maximum comfort and interaction with nature. The idea is to ensure that the lodge is kept in shape through a turbine auto adaptable which exerts a light pressure and renews air continuously from two to nearly seven times the volume of air per hour depending on weather conditions.
The turbine can also treat the air within the bubble which consequently exit mosquitoes, dust, pollen and other allergens that are blocked with particulate filters.
While enjoying the freshness of the environment you can also indulge in fun complimentary activities like kayaking, paddling, fishing, hiking and tea tasting. Other activities such as golf, quad biking and visit to the tea factory can also be organised.
---
Bubble Lodge - Location
Bubble Lodge is situated on the southern part of Mauritius at Bois Chéri Tea plantation. There is a distance of 46.5 km from the capital city, Port-Louis, and 19km from the SSR International airport. This area is known for the freshness and purity of its air as well as for the vividness of its landscape.
---
Bubble Lodge - Accommodation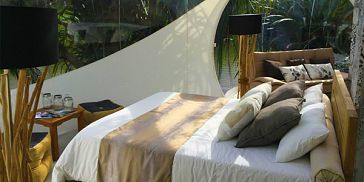 The lodge has been designed with a rustic décor to really make guests feel one with nature. It consists of 3 units which include three modular bubbles with sitting area, bedroom and bathroom, including an exterior shower, all of which is air-conditioned. The air is renewed throughout. It can accommodate up to 2 adults with 2 children under 16 years old.
This innovative approach to the accommodation is based on with minimum energy consumption, maximum comfort, and interaction with the environment.
The lodge also has turbines (32 to 36 dB) which consume only 90 W; they are placed a few meters from the lodge. Their main function is to help treat the air. Mosquitoes, dust, pollen, allergens, can be blocked with particulate filters. Safety frames equip the access module; this allows the input and output without deflating the bubbles
Maximum Occupancy: 2 adults + 2 children under 16 years old.
Area: 25m²
Bedding: King size bed; sofa bed
Facilities & Amenities
1 large bedroom
1 dining area
1 seating area with a sofa bed
1 bathroom
1 external shower
Air conditioning
Electric kettle
Towels and linen
---
Activities & Facilities
Leisure activities by the lake (kayak, pedal boat, tilapia fishing)
Strolls/hiking amidst the tea plantations
Free Tea Tasting at Bois Chéri Restaurant
Free Secured Parking
---
Le Bois Chéri Restaurant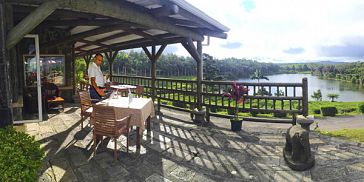 As for your meal plan, the Bois Chéri restaurant offers refined cuisine, and absolutely scenic views of the south coast, along with the volcanic Crater Lake.
Here you will embark on a culinary and cultural journey to the history Mauritian tea.
You will have the chance to taste green, black, and flavoured tea-all aromatic versions.