Best Rodrigues Island Hotels
The best hotels to stay at in Rodrigues
If you are looking for a quiet retreat, look no further than Rodrigues Island which is a great hidden gem to spend a stress free holiday. It is a real paradise on Earth where the people are welcoming and very friendly. Rodrigues is a small island which managed to keep its nature untouched. It is mountainous with many wonderful beaches and amazing small islands surrounding it.
Although Rodrigues is a relatively small island in the Indian Ocean, it can easily host 1000 travellers at once. There are no five star hotels but there are 4 stars and 3 stars hotels as well as guest houses around the island.
Whether you're planning to stay for a night or for the week, the area around Rodrigues Island has accommodations to suit every traveller's needs.
Below are some of the best hotels and guest houses in Rodrigues:-
Tekoma Boutik Hotel
Tekoma is an invitation to be carried away by the scenery around the hotel, its fine sandy beach, the elegance of its Creole architecture, the little paths near the hotel which lead to Trou d'Argent, the island's unspoilt beauty and the kindness of its inhabitants.
The Tekoma Boutik Hotel is tucked away in Anse Ally, away from the hustle and bustle of the city. It's a cosy four-star hideaway with everything you will like for an unforgettable vacation. With its 15 comfortable and chic bedrooms, a Creole restaurant, a beach bar, and a relaxing garden area where the air is filled with the delicious fragrance of flowers will have you relaxed during your whole stay.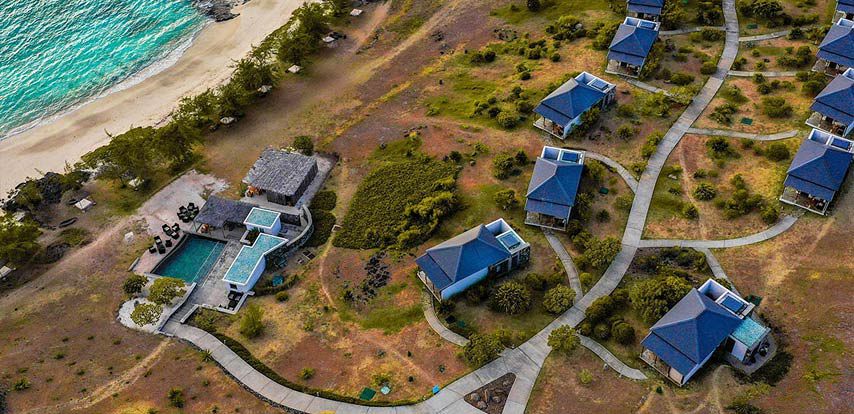 It is a boutique hotel that reveals its deep attachment to Rodrigues in its architecture, its choice of natural materials and the warm way the hotel team welcomes guests. Indeed, the team positively enjoys informing guests of the best walks and talking about the people of Rodrigues and the local culture.
From its cliff-top vantage point, the building stands majestically and looks out onto the swimming pool and the sea. The large openings provide a wonderful atmosphere with plenty of light and marvellous views. There is a delightful inner garden next to the restaurant, sheltered from the wind and a great place in which to relax.
Rooms combine comfort with peace and quiet, and each has a terrace with sea view. In the morning, guests can watch fishermen setting off in their pirogues. Windows have been strategically placed to take advantage of the greenery and the blue of the lagoon, which has inspired the décor: bright turquoise contrasting with shades of sand, brown and slate, and natural wood. The pure clean lines of solid-teak furniture and the understated style give rooms an exceptionally elegant and harmonious feel.
Mourouk Ebony Hotel
The Mourouk Ebony is a 3-star hotel located south-east of Rodrigues, a few kilometers east of Port Sud-Est. This charming hotel in the typical Creole style is located opposite the island's lagoon and offers a wide choice of outdoor activities for young and old. It is an ideal hotel for couples or families who wish to unravel all the secrets of the island. Thanks to a peaceful atmosphere and attentive staff, the Mourouk Ebony represents a small haven of peace, a real cocoon of privacy where you will not have time to get bored.
The rooms and villas of the hotel allow guests to experience a stay "feet in the water" at the edge of a magnificent beach. All have their own terrace where you can relax while listening to the lapping waves.
The hotel is also ideal for kitesurfing and scuba diving in an exceptional environment.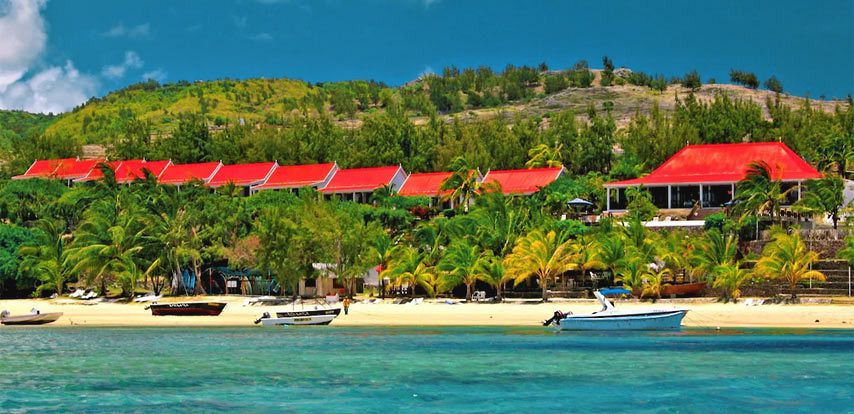 The hotel's ten bungalows feature 30 rooms among which some are interconnecting, as well as two villa-style accommodation options and one with a private swimming pool. The rooms are air conditioned and equipped with private bathrooms and offer stunning views of the lagoon.
Enjoy a tropical holiday at the Mourouk Ebony Hotel and be pampered from the minute you step off the plane. Benefit from being located in one of the most prime kitesurfing regions or you can opt for a gentle paddle in the lagoon or a friendly game of beach volleyball, there's plenty of leisure options to keep you occupied.
The Mourouk Ebony hotel boasts of an exotic and aromatic Cuisine - a great delight to your taste buds. Vegetables are picked fresh from the hotel's garden and seafood is brought in fresh from the lagoon.
You will be charmed with their fantastic Rodrigues hospitality and the hotel's incredible comfort.
Cotton Bay
Cotton Bay is a relaxing, family-friendly beach hotel in Pointe Coton, on Rodrigues' northeast coast. It provides spacious rooms, suites and villas directly overlooking the lagoon and is right in front of one of the island's most stunning beaches. The hotel can accomodate three to six guests, making them ideal for families looking to spend a dream holiday in a Rodrigues hotel.
The rooms and villas at Cotton Bay are all decorated in a neutral, modern decor and have sea views and direct beach access. You will have the chance to linger with your feet in the water and to see the several nearby points of interest such as Trou d'Argent beach, Anse Mourouk and Graviers beach.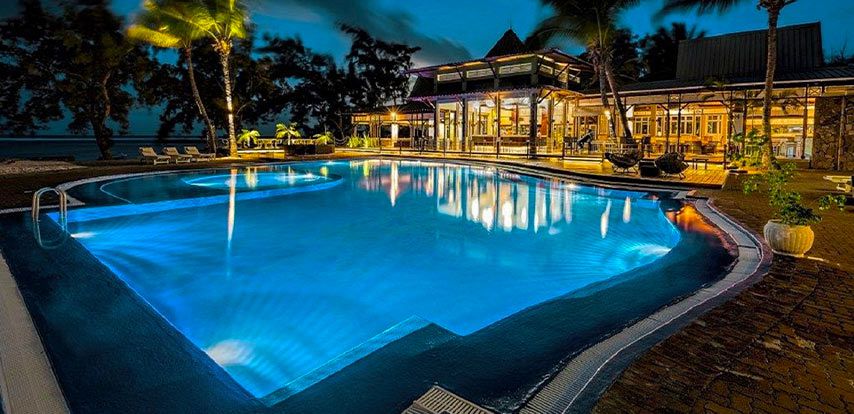 Want to do more than soak in the sun on our stunning tropical beach .Cotton Bay Hotel also offers several leisure time activities to enhance your holiday stay. Hike the majestic hills surrounding the hotel. Stroll along the shores of the undeveloped coastline of Rodrigues. Explore the lagoon in a sea kayak. Get up close with the tropical fishes scuba diving. Whatever your interests, Cotton Bay Hotel offers a variety of activities to enhance your holiday.
Cotton Bay Hotel is also home to the Cotton Dive Centre where both beginners and experienced scuba divers alike may discover the coral reefs of Rodrigues with the diving professionals.
Find your way to the Cotton Bay Spa, a health haven, for an added relaxation. Expert spa therapists will customize massages and special spa therapies to your specific needs, leaving you feeling revitalized.
The restaurant serves a delicious buffet breakfast each morning. Dinner is either a 3- course meal or generous buffet. Meals are based on local fresh seafood, steaks and Rodriguan Creole cuisine, with international dishes also available. The open air lounge looks out over the lagoon and is a perfect place to enjoy cocktails before or after dinner. There is sometimes evening entertainment in the form of the local Sega dancing on the beach.
Bakwa Lodge
Bakwa Lodge is located on the beach of Rodrigues' opaline waters, secluded in a beautiful seascape that includes rural fields, coral reefs, and unspoiled beaches, undisturbed save for the occasional footprints. The lodge is a real cocoon of privacy with its 6 suites, a large beachfront villa, and above all its personalized and attentive welcome. It is a perfect hotel to treat yourself to a peaceful and authentic holiday by the sea . In a picturesque environment, a stone's throw from the lagoon, you will have the impression of living a timeless stay, far from your daily worries.
This secluded part of the island is home to one of the island's most famous wind and kite surfing spots, as well as countless chances to explore the island's crisscrossing countryside roads and coastal paths. The gardens have naturally growing vegetation and are lightly lit in the evenings so that visitors can star-gaze at the southern sky.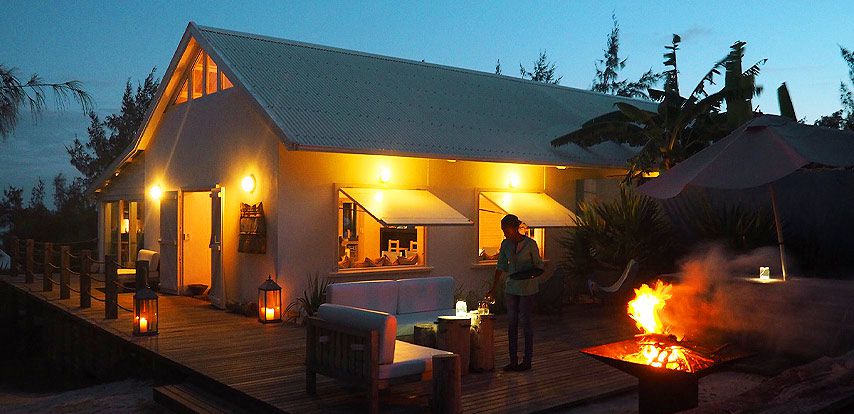 The lodge has a beach-house styled restaurant and bar which offers a friendly and relaxed atmosphere.The Chef prepares delicious homey meals of fresh vegetables, fish captured by local fisherman, and juicy tropical fruits, all of which are firmly ingrained in the island's Creole tradition.
Enjoy a relaxing stay at the Bakwa Lodge and seize this chance to reconnect with nature. Hire a bicycle and go biking or hike to explore the nearby area. For those who love water, the beach is directly accessible from the lodge where guests can swim, snorkel, suntan or go for long walks to further creeks.
Bakwa Lodge is a chic nomadic retreat that provides an oasis of tranquility away from the hustle and bustle, as well as proximity to and a variety of opportunities to explore Rodrigues' natural world, an earthly paradise.
Cocotiers Hotel
Cocotiers Hotel is located on Rodrigues Island's north-eastern shore and welcomes you for some amazing vacations. This 3-star beachfront hotel, located near the city Port Mathurin and other tourist attractions, is an outstanding value for business travelers, single travelers, romantic couple getaways, or unique family vacations.
This beachfront hotel, nestled in a beautiful tropical garden in an idyllic corner of the Mascarenes Islands, is a heaven of peace. In Rodrigues, you will be able to witness the peaceful way of life.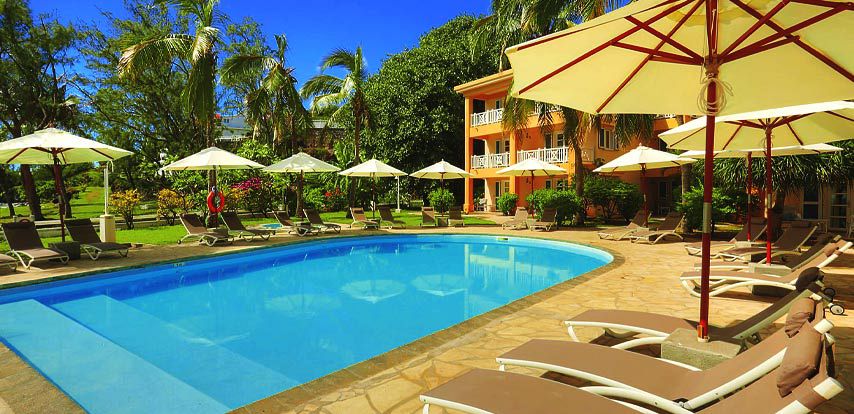 The cuisine of Les Cocotiers reflects the local traditions of Rodrigues and it is pleasantly presented.You will eat in an open-air dining area with exotic wood furniture that overlooks the lagoon and swimming pool. Taste the marinated sea bream and chicken and shrimp eaten with rice and spiced sauces. Fresh products from the island which are simple and good, and the setting obviously stirs your appetite. Dessert will be the banana flambée with ice topping in a green coconut, which you won't be able to refuse.
There is an outdoor pool and a children's pool, both overlooking the turquoise lagoon. The hotel also offers direct beach access, for you to enjoy long walks along the shore, or you can choose to relax by the pool on the comfy sun loungers as you contemplate the magnificent views.
La Belle Rodriguaise
The delightful retreat of La Belle Rodriguaise is located on Rodrigues' south-eastern coast, delicately situated over the superb white sandy beach of Graviers. Your dreams of a place where life is relaxed and unhurried become your reality as you soak in the peacefulness and charm of La Belle.This beachfront property offers excellent value for solo travelers, as well as for romantic couple getaways or special family holidays.
Once you arrive you can feel the stress of life evaporating away in the tranquil, sun-drenched atmosphere. The tropical breezes of Rodrigues will gently remove all the pressures of life as you settle in for the most relaxing time of your life.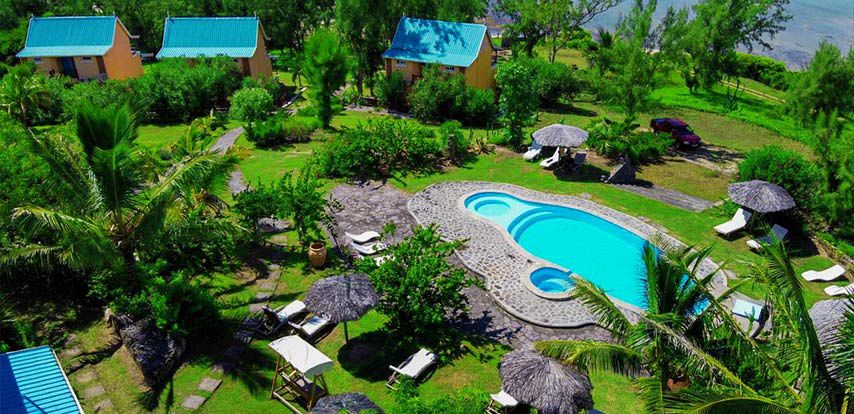 The guest house is set in a tropical garden that spans two hectares and is surrounded by nature. On one side, the ocean's turquoise blue and green splendor beckons you, while on the other, the breathtaking Mountain Chérie.
Designed to reflect the Creole soul, all rooms have stunning sea views and overlook a splendid lagoon and are blessed by the stunning morning sunrise.The design and decoration of the rooms features authenticity, tranquillity and exoticism.
The delicacies will vary from hormone-free free-range chicken to seafood that looks like it just leapt from the sea onto your plate. Rodrigues is also known for producing small-scale local delicacies like black pudding, sausages, and galantine.
La Belle Rodriguaise also offers a personalized service tailored to all your needs. Young and dynamic, the team will make every effort to ensure that your holidays will be a relaxing time of peace and discovery, in a secure environment.
The Royal Attitude Business Hotel
The Royal Attitude Business Hotel is a brand-new hotel. The hotel is in the heart of Port Mathurin, Rodrigues, with administrative offices, banks, the harbor, and the popular Port Mathurin Market all within walking distance. This hotel is ideal for guests who wish to spend some quality time reconnecting with each other while on a discovery trip in Rodrigues.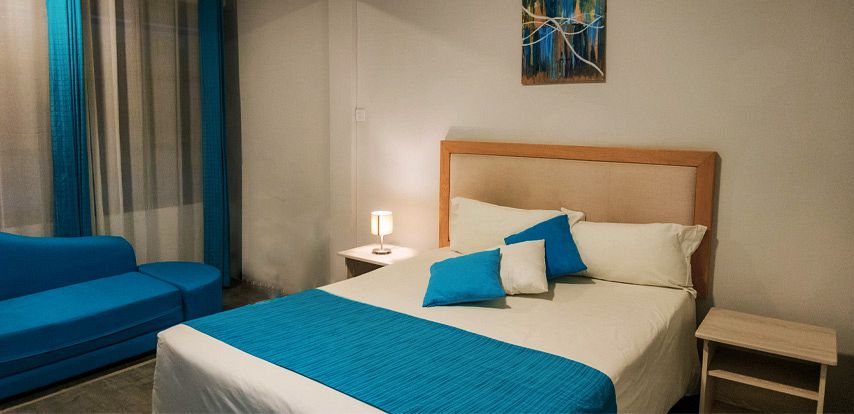 Enjoy a bite at the property's restaurant, the Royal Restaurant, which serves a delightful local cuisine to enrich your culinary experience and give you the full Rodriguan experience. Depending on your choice, you can enjoy breakfast and dinner at the restaurant.
You'll be only a few minutes' walk from the Port Mathurin Market and close to many restaurants and shops during your stay at Royal Attitude Business Hotel, allowing you to make the most of your journey. Baladirou Beach, Five Senses Garden, Pointe Coton, Trou d'Argent Beach, and Francois Leguat Nature Reserve are all within a short drive of the hotel.
Escale Vacances
Escale Vacances is located in Fond La Digue near Port Mathurin and provides clean and stunning rooms with thoughtful facilities and views of a green mountain where you can breathe in the pure fresh air.
The guesthouse is surrounded by a flowering garden of endemic trees and a swimming pool in the valley of the river Cascade Pigeon, sandwiched between the grassy hills of Creve Coeur and Montagne Fanal.
Escale Vacances offers guests 23 air-conditioned rooms with adjoining bath rooms in this quiet and tranquil area, all of which are beautifully furnished in island style with cane and wood and provide all of the expected amenities.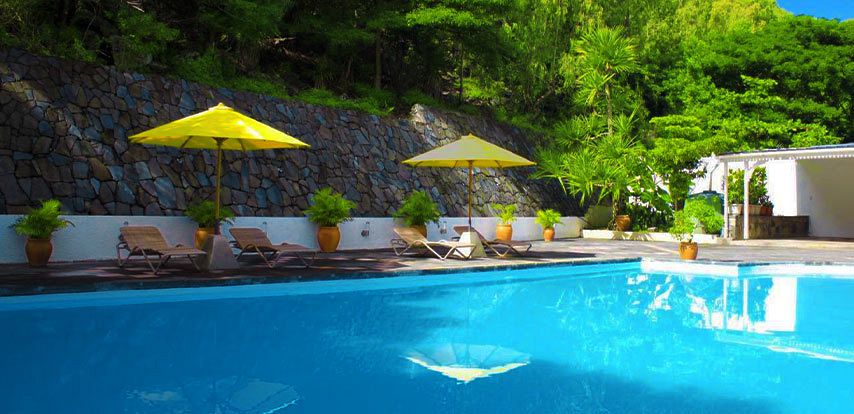 The small restaurant, which has an adjoining bar and serves Rodriguan, Chinese, and international cuisine, has a strong reputation on the island.
Escale Vacances' beautiful island hospitality and relaxing climate evoke the harmony and tranquillity of a bygone age and at night, the rare Golden Rodrigues Fruit Bats can be seen roaming the starry sky in the surrounding hills and along the shore.
A small handicraft shop, a bank, the church, a grocery store, and the Port Mathurin jetty are all within walking distance and it's a nice spot to relax during hot summer evenings.
Le Flamboyant Hotel
The cosy Le Flamboyant Hotel is located in the heart of Port Mathurin and provides affordable lodging during your stay in Rodrigues. The hotel, which is designed to reflect local architecture, is ideal for those who want to be close to restaurants, nightclubs, bakeries, transportation, a local market, and stores.
While staying at the hotel, you will have the opportunity to learn about Rodriguan culture.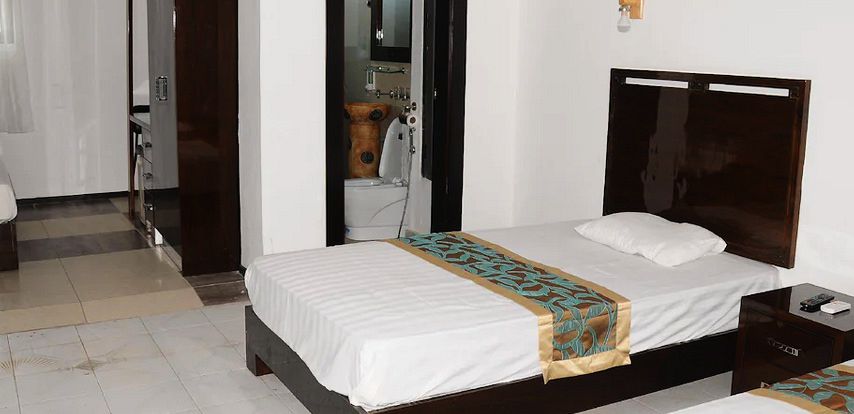 The rooms are comfortable and spacious with an architectural local touch, welcoming you for a total feeling of strangeness and offering you quiet, calm and relaxation.
The hotel's restaurant is delighted to present you with traditional Rodriguan cuisine prepared with fresh ingredients. Succulent fish, beef, and fresh organic vegetables are among the dishes, which are both innovative and refined. Tempt your taste buds with delectable dishes and desserts created only for you. Relax in the lounge while sipping on some refreshing drinks with a hint of Rodriguan flavor.
Le Pandanus
Le Pandanus is located on the northern coast of Rodrigues which provides accommodations with stunning sea views and access to a variety of amenities such as an onsite restaurant, lounge, boutique shop, and leisure options. A stay at Le Pandanus will delight guests looking for a laid-back vacation in a seaside environment while also having access to all of life's conveniences and amenities.
This hidden gem features an elevated dining room with a seaview. The meals are lovingly prepared and the usual table d'hôte hospitality and authenticity is at the heart of everything it does. The seafood is excellent, particularly the octopus, which is prepared to perfection.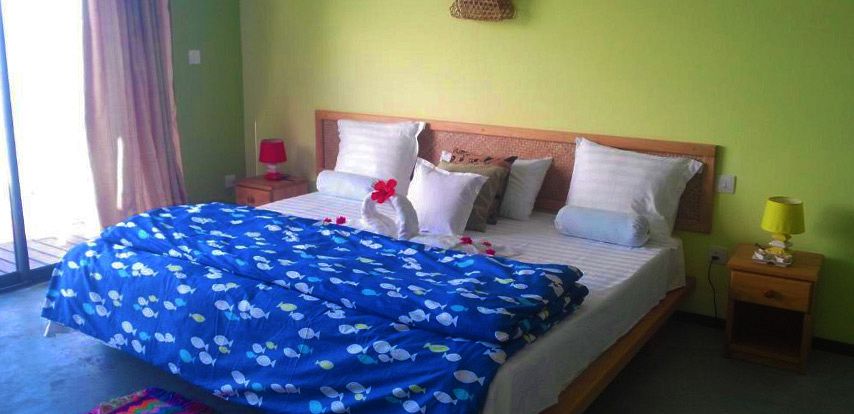 The property also conveniently offers a one-stop shop concept which allows visitors to interact with local people and discover the local handicrafts from the shop. Other facilities such as billiards, karaoke as well as other leisure facilities such as kiddie rides for the little ones are sure to keep the whole family entertained.
During the day, you can watch fishermen go about their daily lives in the vast blue lagoon. Otherwise, you can still go for a stroll in Baie Malgache's small village, where you'll meet nice locals.