Mauritius Holiday with Young Kids
It's possible that your children have never heard of Mauritius but they may have heard of Madagascar, the neighbouring island due to the famous animated film. Mauritius, a small island in the Indian Ocean, is not only one of the most exotic destinations on the planet, but it is also one of the most child-friendly, offering the whole family a variety of unforgettable adventures as well as any comfort you can imagine.
Below are the recommended experiences for families in Mauritius:
Casela Nature Parks
For more animal adventures you can't go wrong with a visit to Casela Nature Parks which consists of four different thematic worlds - Safari Kingdom, Nature Kingdom, Mountain Kingdom and the Water Kingdom Here your kids can encounter zebras, ostriches, antelopes, white rhinos, impalas and kudus. Enjoy a thrilling experience at the Discovery Centre's 4D Cinema, where you can learn about the island's past and natural science by massive 3D maps that create the timeline.
Petting Farm Animal Feeding, Lorikeet Feeding, Pony Ride, Giraffe Feeding, Paddock Camel Ride, Tortoises Feeding, Tilapia Fishing, and Zip Lining (400m) are all included in Casela's Kids Animal Adventure Package. The Paddock Camel Ride is a five-minute ride where you can enjoy a fun ride on the back of these friendly desert animals.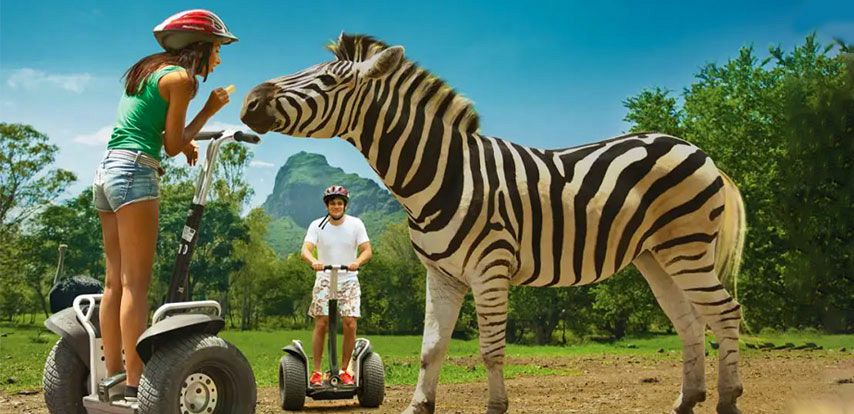 Lorikeet Feeding is a fun experience where kids can even let the beautiful birds rest on their shoulders. Another activity is Tilapia Fishing where the children will be given their own fishing equipment and will be able to capture fish in a safe water body.
If your child is looking for some thrilling adventure take him or her to the Zipline Activity, which features five 400-meter-high zip lines that pass over a waterfall and a gorge. If you've never done it before, it'll be fascinating for you because you'll get a panoramic view of the area.
Book the Casela Nature Parks Packages
La Vanille Nature Park
La Vanille Nature Park is a great day out for the family and is a fantastic park that occupies about 5 hectares of land near the village of Riviere des Anguilles and features some beautiful flora and animal preserves.The park is located in a tropical forest of bamboo and palm plantations and is home to a variety of crocodiles, turtles, and tortoises that are housed in protected enclosures according to their age and species.
There is also a wide variety of other fauna, including giant tortoises in open enclosures, deer, wild pigs, iguanas, geckos, eels, and wild boars, among others. There is an insectarium where visitors can see one of the world's best collections of insects.The Park has a specially built play area with a petting farm and other exciting events for children seeking entertainment. There's also Le Crocodile Affame, which serves a variety of exotic dishes.
Book the Themed Adventure Packages at La Vanille Nature Park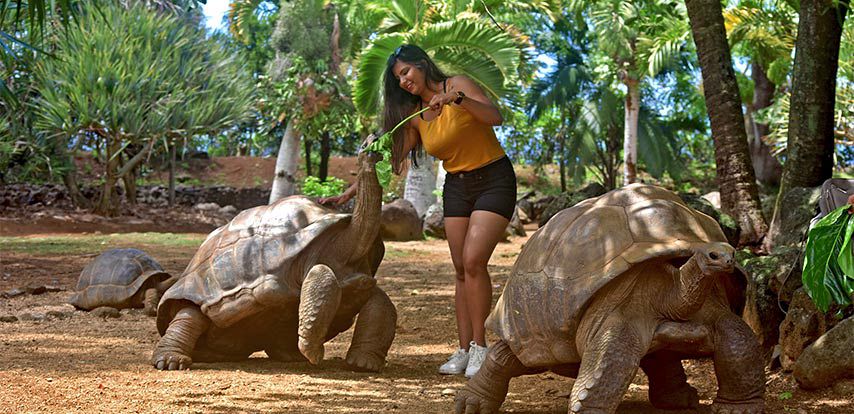 The Submarine Trip
If you and your children are interested in learning more about the underwater world, we suggest taking a submarine tour. Yes, you should know that it is a true submarine that goes under the ocean's surface and allows you to have a closer look at sea life. The moraines, colorful rays, coral, lobster, and stingray can be seen.
The Submarine will transport you to a depth of 35 meters, where you will see the ocean come to life. Within the submarines, there is also a video screen that displays the photographs taken by the camera outside. The breathtaking sights and sensations of being seated in a submarine and submerged for almost two hours are unique and unforgettable.
Book the Submarine Underwater Trip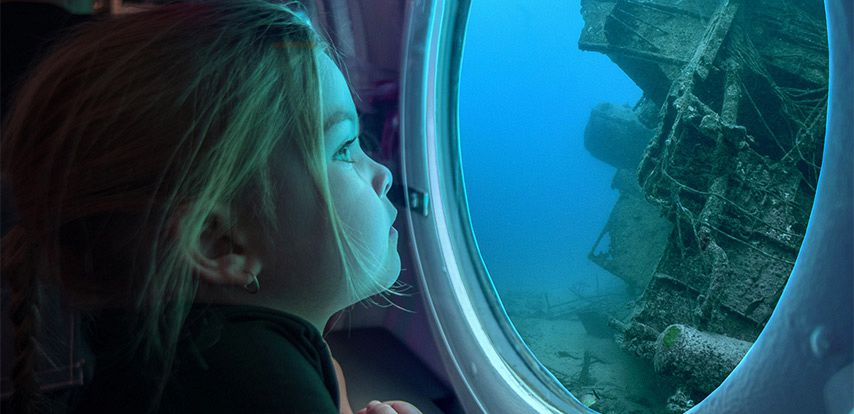 The Semi Submarine
Seize the opportunity to experience the semi-submarine equipped with a deck and an underwater unit, allowing you to experience both being out at sea and exploring underwater with the illusion of sailing in a submarine.
Enjoy spectacular views with maximum safety behind the boat's glass windows in a comfortable air-conditioned cabin.
This unique vessel is an ideal activity for families with children, who love watching fish up close but this time with a new exciting feeling of being in a semi submarine and watching from below the waterline.
Semi - Submarine Trip (Nessee)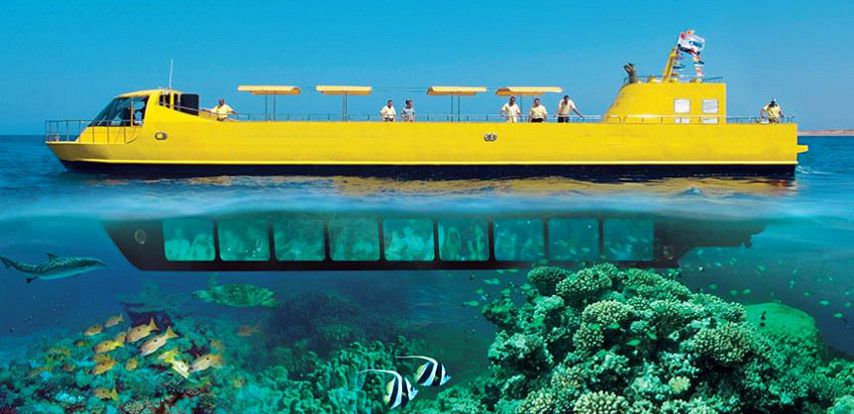 Dolphin or Whales watching
Dolphin watching in Mauritius is a highlight children will never forget and its another childhood dream is to come face to face with a dolphin in the middle of the ocean.Dolphins love the warm Mauritian waters and are often seen playing in the bay as the sun rises, before heading back to the open sea. In Mauritius, you will have a unique opportunity to see as well as swimming with these adorable marine mammals in their natural habitat
Boat trips are organized very early in the morning to see them, most of the time on the west coast, in Tamarin or Black River
Book the Swim with Dolphins or Whales watching packages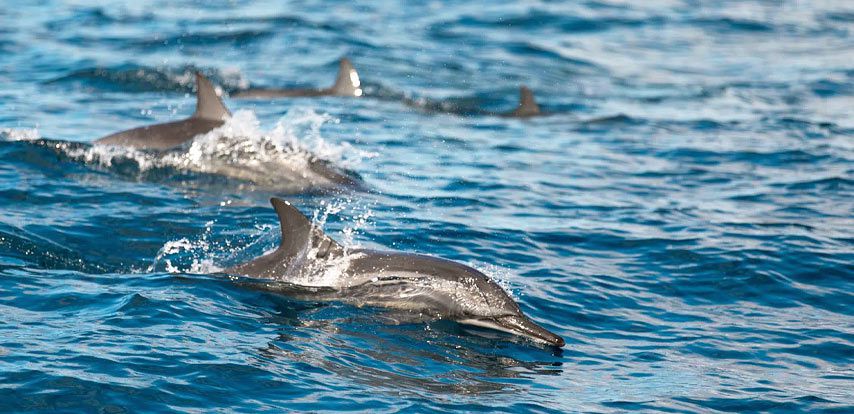 Beaches
Mauritius is surrounded by gorgeous beaches and is the ideal destination for families who love the sea. The beach of Trou aux Biches is perfect for swimming with little ones who may not be experienced swimmers yet as the water is clear, shallow and calm. It's also a great beach to introduce the kids to snorkeling. Along the coast route, you'll find food stalls serving tasty local cuisine, as well as cafes and restaurants for you and your family to have a quick bite.
Blue Bay Beach located on the south east coast of Mauritius, is also great for snorkeling due to the abundance of sea life and the kids would love to see the underwater world.
Ile aux Cerfs, another great spot to take the family and has many water and land activities to occupy the kids. One of the most popular ones is the Treetop Adventure Park, which has obstacles suitable for kids and adults and great for building up kids' confidence and skills.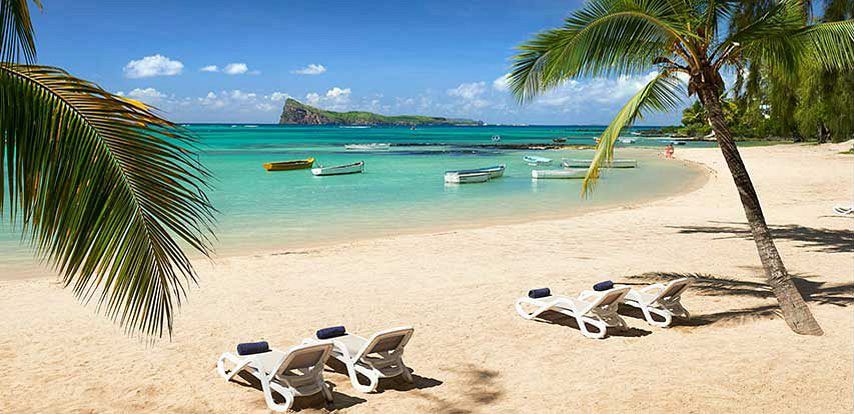 Sail to Ile aux Cerfs
The catamaran cruise to Ile aux Cerfs is a famous Mauritius cruise for families with children. When sailing, take in the crystal-clear waters and stunning landscapes while relaxing on Ile aux Cerfs' gorgeous white sand beaches. The crew will cook the BBQ lunch while you snorkel in a crystal clear blue water amid colorful coral and fishes.
Ile aux Cerfs is known for its stunning lagoon, fine sandy beaches, and a variety of activities If you want to sunbathe on one of the island's magnificent beaches or engage in one of the many nautical activities available, you can have a relaxing day on Ile aux Cerfs with your family.Ile aux Cerfs welcomes you to rest on its gorgeous white sand beaches, under the shadow of palm trees, with your eyes in the turquoise waters of the ocean, whose openness promotes swimming, as well as participate in a variety of water sports such as kayaking, canoeing, water skiing and parasailing. You and the kids will have a memorable time on this beautiful island.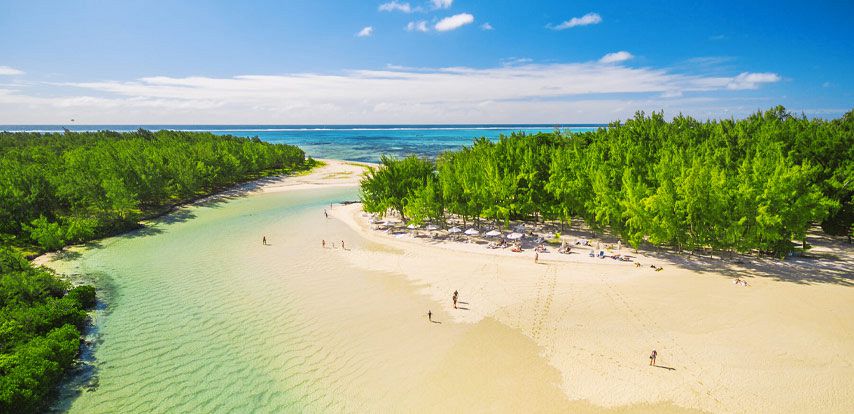 Chamarel colored earth and waterfall
Chamarel is known for its scenic locations and natural attractions in the surrounding area. The Seven Colored Earth, Chamarel Falls, and the Black River Gorges National Park, not to mention the Ebony Forest, are among them.
The Chamarel waterfall is about 100m high and the tallest single-drop waterfall in Mauritius. It splashes into an oval pool before flowing down a 6 km tropical-forest-fringed canyon to Baie du Cap.If you children are older and you like hiking, we can recommend a trek of three hours to the base of Chamarel Waterfalls, where you can have a swim in the pool as the waterfall showers you from its majestic heights.
The Seven Colored Earths are located in the park. At sunrise, the sand dunes reflect in stunning colors of red, orange, violet, gray, blue, purple, and pink, making for a spectacular natural spectacle. The idea that iron and aluminum particles have a natural repellent effect on one another may explain the constant distinction of the various strips of colored sand.
Bookt the https://mauritiusattractions.com/chamarel-ultimate-discovery-tour-p-1179.html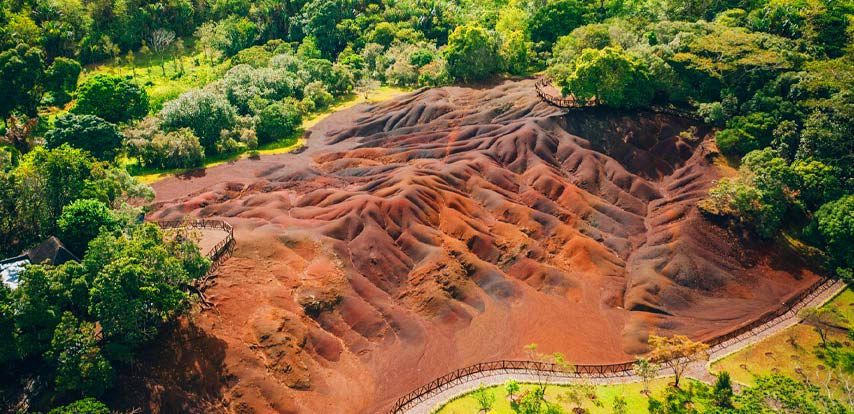 Curious Corner of Chamarel
If your child is naturally curious and still has intriguing questions on his or her mind, you should schedule a trip to Chamarel's Curious Corner. The location is in Chamarel village, directly across from the seven-colored earth entrance.The Curious Corner of Chamarel is a house filled with delusional fantasies that will amuse you and your family beyond their imagination.
The curious corner was passionately constructed by creative professionals with the idea to surprise the curious minds of their visitors. It is mostly visited by families with children where you will experience fun packed illusions with adventures, along with mind games, and activities suitable for curious people of all ages.It's an interesting, entertaining, and social outing that will transport you to the fantastic world of optical illusions, where you'll actually be unable to believe your eyes. So plan on spending at least an hour and a half to complete the adventure.
Book the The Curious Corner of Chamarel package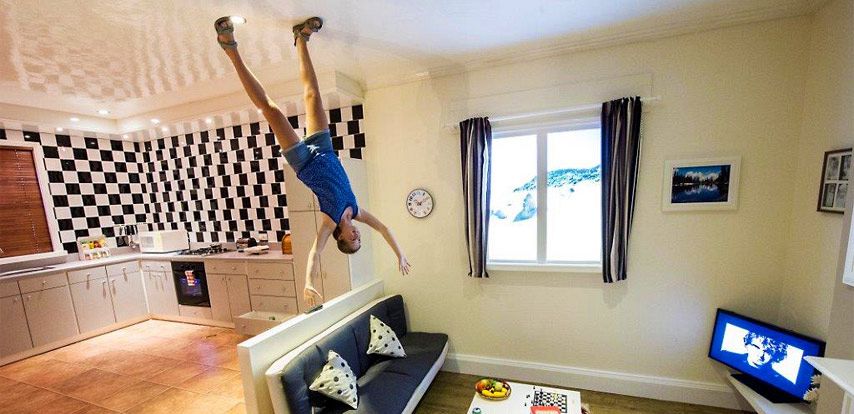 Glass bottom boat trips
Get onboard a glass bottom boat with your kids and explore the undersea world through the glass boat floor without getting wet. It is both a lovely experience and a fun way to get to know tropical fishes with the skipper's help.
The Blue Bay marine park, located on Mauritius' south east coast, is the perfect place to see marine life. The Marine Park, which is close to Mahebourg, is 353 hectares in size. The magnificent blue waters and the blue-colored lagoon that gives the area its name will astound you.
The Glass Bottom Boat will give you and your family the exclusive ability to see sea life from the boat or go on a snorkeling experience. The boat's glass bottom allows for breathtaking views of the sea and its life In the Marine Park, you can see algae, seagrasses, mangroves, corals, and a variety of other sea creatures. You will spot the Sailfin tangs Surgeonfish, Damselfish, Trumpetfish, Butterflyfish, and tiny Pipefish which make the experience truly breathtaking.
Book the Glass Bottom Boat To Blue Bay Marine Park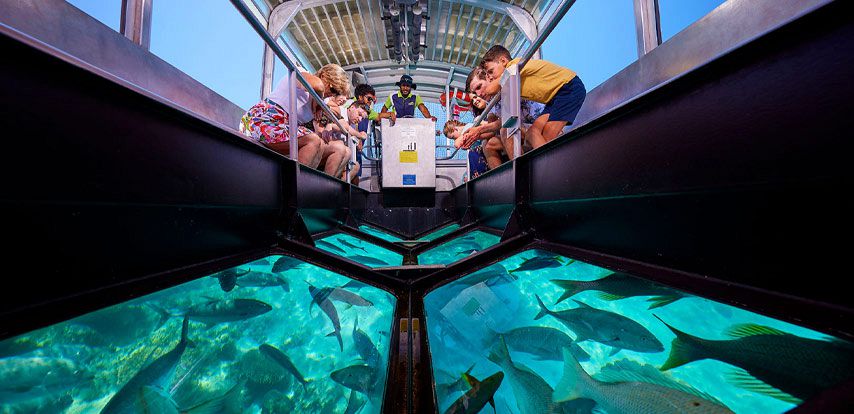 Ile Aux Aigrettes Island Tour
If your kids love wildlife then you must certainly go for an island tour on the Southern Coast of Mauritius. Ile aux Aigrettes is a tiny coral island of 26 hectares which is a nature reserve and sanctuary of exotic and indigenous species, under the supervision of the Mauritian Wildlife Foundation. A trip with your kids will introduce them to the unusual wildlife of this offshore island sanctuary. Look closely and you will discover plants and animals, unique to Mauritius and found nowhere else in the world. Some of them have come close to extinction like the pink pigeon, a bird that was in danger of extinction for many years. You might spot a group of Aldabra giant tortoises who roam free on the island after being released by the Mauritian Wildlife Foundation.
Book your Visit to Ile Aux Aigrettes Island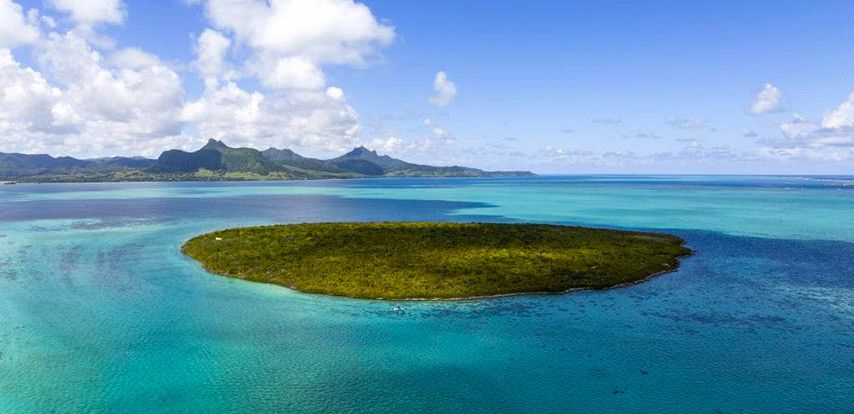 Ebony Forest Reserve
Ebony Forest is located in the Chamarel, which is renowned for its breathtaking views and winding roads. Ebony trees and endangered exotic birds including the Echo parakeet and Pink Pigeon can be found in the reserve.
There are many hiking routes to explore the Ebony Forest, as well as 300-meter elevated walkways. A guide will take you to the best-preserved ebony forest in Mauritius, where you will see some of the island's rarest plants and maybe see the Paradise Flycatcher or a Bulbul.
If you're traveling with small children, the safari jeeps that run every 30 minutes to the various perspectives are a good option.
Book the Ebony Forest Discovery Tour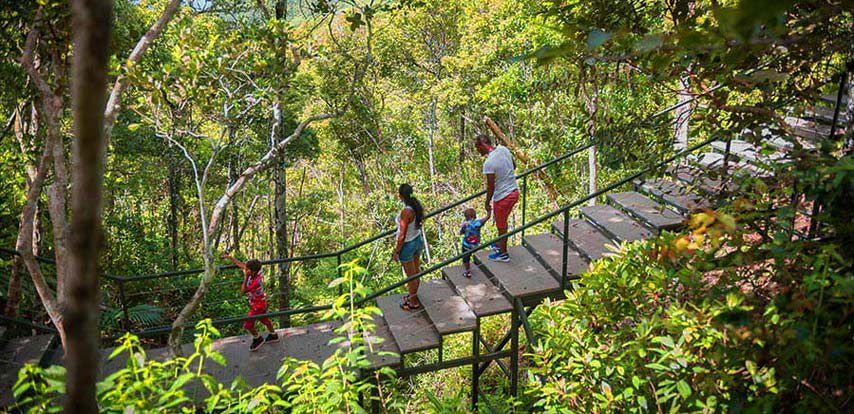 Splash N Fun Leisure Park
Splash N Fun Waterpark is the ideal location for a fun-filled day with your family. The Splash N Fun Waterpark, which features a variety of pools and adrenaline-pumping waterslides, is sure to bring smiles and laughs to everyone.
Aside from aquatic sports, the Waterpark has a gaming area with a range of virtual reality games to appeal to gamers of all ages. It also has a 5D movie theater and a number of other attractions, such as a bump car ride and a pirate boat. Furthermore, the waterpark has a restaurant that is open even after park hours and serves delectable seafood as its main course.
Book your adventure at the Splash and Fun Leisure Park