10 Best Markets in Mauritius
The Best Markets in Mauritius
Colorful and friendly, the markets of the island are places of exchange for Mauritians, where they make their purchases of the day. Ideally, the markets are to be discovered in the morning, while the animation is at its height.
The markets in Mauritius range from small back street village markets to big town markets full with hundreds of street stalls offering many different products.
While until several years ago the markets mainly offered local Mauritius made products and food products, today you are sure to find many Mauritius made products alongside top international brands.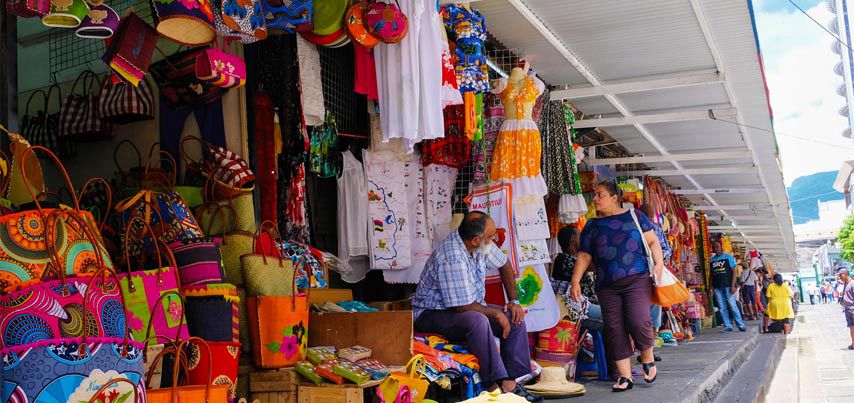 Mauritius Markets a Place to Discover & Shop!
Like all the markets around the world, you can expect to find all kinds of Knicks and knacks, from tourist souvenirs, local artworks, textiles, costume jewelry, DVDs, CDs, vegetables, seafood, spices and many more.
The markets in Mauritius are also a great place to try the local street food. You should try the local delights sold by food and drinks hawkers. Do not miss the Indian roti (paratha), dholl pourri, samoosa and gato piment, and alouda drink. With that, make sure the food stall is clean and that the seller is popular with the local which is a good sign for the quality of the food and for providing you with fresh food.
Discover the Best Markets in Mauritius:
The Central Market - Port Louis
The central market of Port Louis (also known as the Port Louis bazaar) is one of the most frequented markets of Mauritius and the one most visited by tourists. The Port Louis Market is the ideal place to buy and try locally made foods. The things on sale here are cheap and the market brings you closer to the local life. The market is a very popular meeting point for both locals and tourists.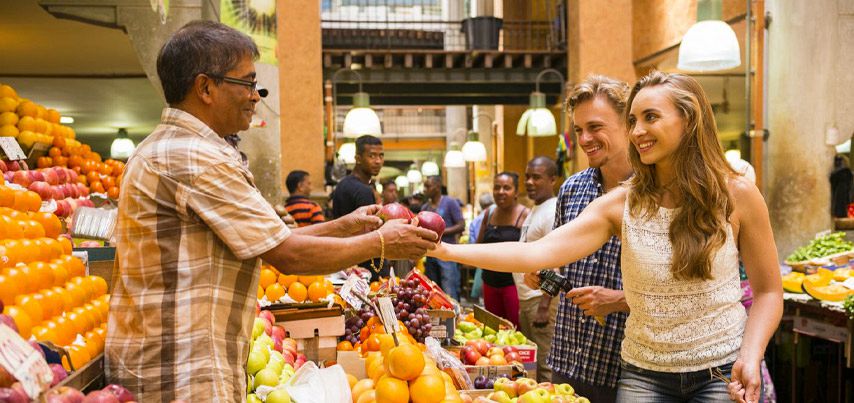 The Port Louis market has several sections. There is a section that sells fruits and vegetables, a section for meat products and seafood, upstairs a shopping mall that sells souvenirs and a clothing section.
Port Louis is a great place to find many interesting products. You will find local crafts, textiles, religious artefacts, spices and other artifacts for very cheap prices. There is also a corner of food that sells vegetarian food like Dholl Puri, Briani, Halim and other selections of additional local dishes.
Operation hours:
Monday to Saturday: 08:00 - 17:30
Sunday: 08:00 - 11:30
Le Craft Market, Caudan Waterfront
The Craft Market is located in the Caudan Waterfront shopping center at the center of Port Louis. This market is less authentic and a bit pricier than the Central Market, but it is also less crowded and thus, is pleasing to shop and look around. It is built like a big court with 2 floors and it consists of around 36 stalls full of a vast variety of local made products, textiles, Mauritian spices, fruits and many souvenirs for very cheap prices.
You can find high-quality souvenirs, as well as a wide selection of brightly-colored clothes. Be sure to take home some Mauritius glass or a bottle of Ylang Ylang essential oil.
It is one of the best places to buy souvenirs and ship models in Mauritius. Bargaining is strongly advised before any purchase is made.
Operation hours:
Monday to Saturday: 9 am - 5 pm
Sunday: Closed
Quatre Bornes Market
The Quatre Bornes market, located in the center of Quatre Bornes at Saint-Jean Street, is very popular with tourists and locals. The market specializes in textiles and clothing, including souvenir t-shirts, fabrics sold by the meter, printed Mauritian wears, casual wear and much more.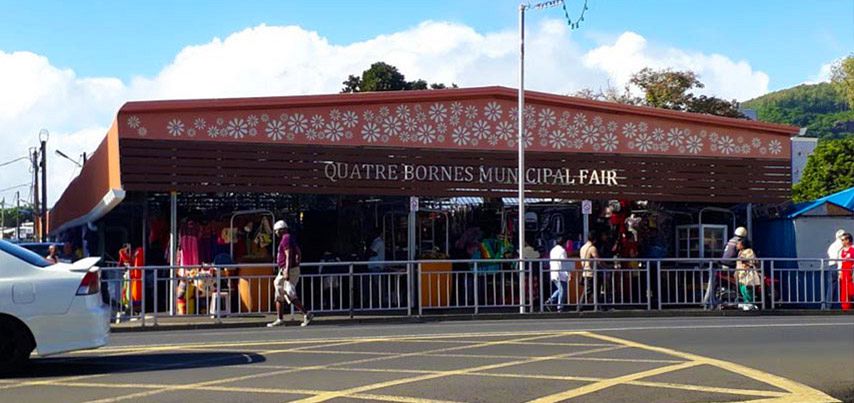 The market of Quatre Bornes is one of the most famous markets of Mauritius. On Wednesdays and Fridays, the Marketplace focuses on food. Hundreds of stalls offer a wide variety of fruits and vegetables, fresh produce and local specialties.
Every Thursday and Sunday, the Mauritian city is transformed into a textile capital. The Market of Quatre Bornes then offers traditional fabrics and textiles of all kinds. This is an opportunity to make great deals because you will find much more attractive prices than on other Island markets. As tourists are quickly spotted by the merchants, do not hesitate to negotiate prices!
Operation hours:
Monday to Saturday: 06.00 - 18.00
Sunday and Public Holidays: 06.00 a.m. to noon
Recommended to visit: Thursday & Sunday
Grand Baie Bazaar
Situated in the heart of Grand Baie there is the Grand Baie Bazar. The road leading to the bazaar is already bustling with plenty of shops on the right and left side of the road, which sell mostly souvenirs or clothes.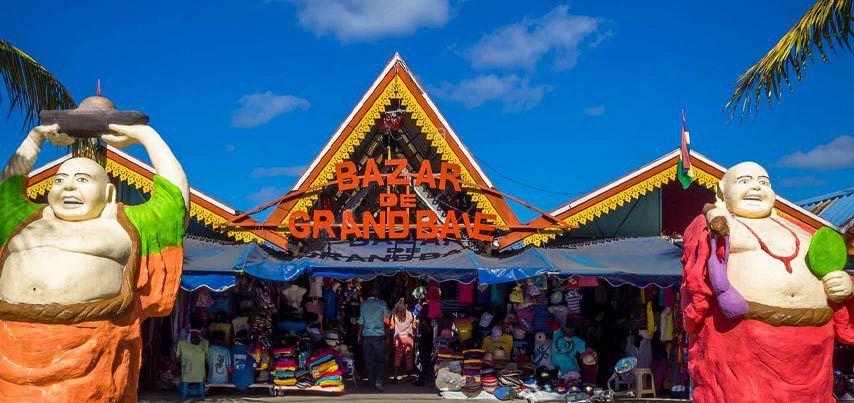 At Grand Baie Bazaar there is a real bazaar atmosphere; the vendors try to attract the tourist's attention with their shouts to lure them into their small shops. There you can find mainly the typical souvenirs and many local made products. This is also the place to find a variety of cheap clothing and local imitations of world renowned brands. Some of the stalls at the bazaar offer colourful bags, fabrics, handicrafts, beautiful stones, and even silver and gold jewellery. Do not hesitate to bargain at the bazaar, and most likely with some bargaining you can bring down the price quite drastically.
If all the shopping has made you hungry, then don't worry as there are numerous stalls around the market from where you can savour freshly prepared snacks.
Operation hours:
Monday to Saturday: 09.00 - 17.00
Sunday and Public Holidays: 09:00 - 13:00
Flacq Market
Named after the largest district of Mauritius, the Flacq market is also the largest open-air market in Mauritius. Here, the Indo-Mauritian heritage is strong and the colorful market attracts a large number of people.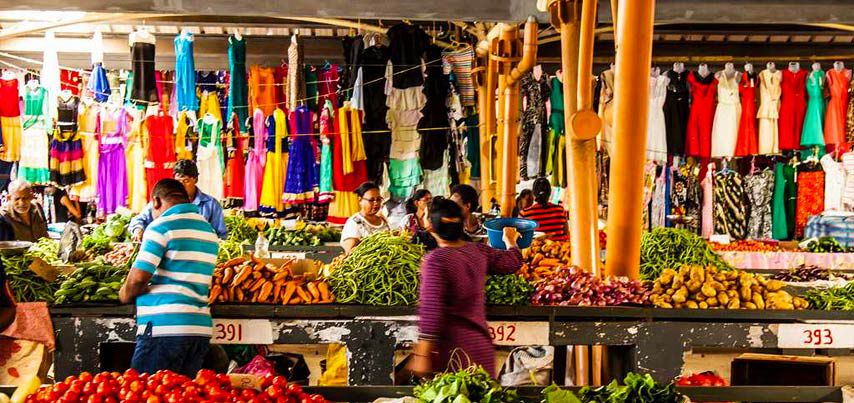 The market is open every day, but the best recommended time to visit the Flacq market is during Wednesdays and Sundays when all the stalls are open. At the Flacq market you will find textiles, many local fruits and vegetables, fresh fish and seafood, also vanilla and herbal tea which are two of the local specialties of the Flacq area. The spices section is also highly recommended. Your nose will tingle with pleasure.
Operation hours:
Monday to Saturday: 06.00 - 18.15
Sunday: 05:30 - 18:30
Recommended to visit: Wednesday & Sunday
Mahebourg Market
Mahébourg used to be the capital of Mauritius and has lovely colonial buildings so, if you'd like to combine some shopping with a cultural background, it's the right spot!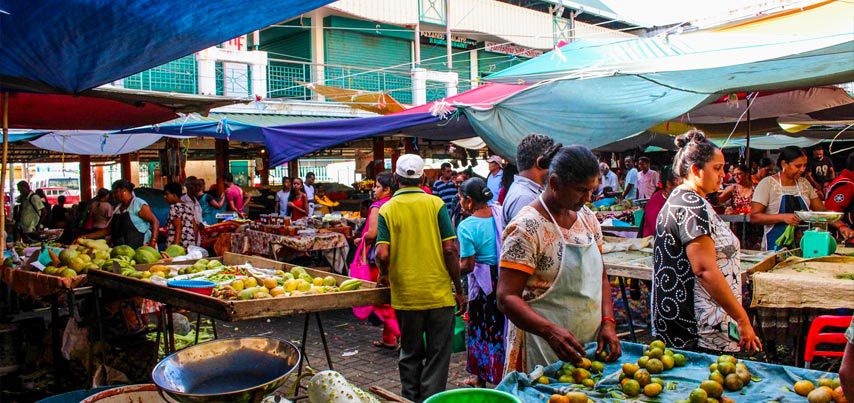 The market of Mahébourg is a unique market which is open only once a week on Monday. That day the entire area around the waterfront of Mahébourg turns into a huge open-air flea market where you can find many bargains: local crafts and fantastic souvenirs from Mauritius.
The Mahébourg market has a wide variety of offers ranging from traditional Indian and Chinese goods, vegetables, fruits, local spices, electronics and many more. The Mahébourg market also has a section for traditional menus where you are sure to find briyani, Dholl Puri, Chinese noodles and lots of Creole and Mauritian dishes. The market is close to the sea and we recommend it if you like street food. Try some "gâteau piment" (chili cake) or fritters.
Operation hours:
Curepipe Market
The city of Curepipe is located in the district of Plaines Wilhems and it is the second city after Port Louis that is considered big and significant. It is also a great haunt for shopaholics and one of the most popular markets in Mauritius to go on a shopping spree where you may find duty free shops, modern clothing shops and Indian apparel.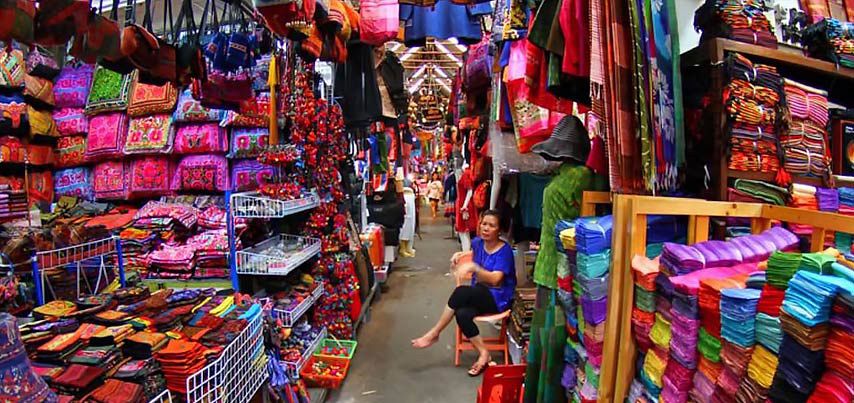 Operation hours:
Monday to Saturday: 07:00 - 16:30
Sunday: Closed
Goodlands Market
Goodlands market is located in the north, and if you want to discover Mauritius, it's impossible not to go there! On Tuesdays and Fridays, it's the cloth market, Wednesdays and Saturdays, the vegetable market. On market days, beautiful displays of fresh vegetables and fruits will surely attract your attention. If you come in summer take the opportunity to regale yourself with the famous lychees and delicious perfumed mangoes.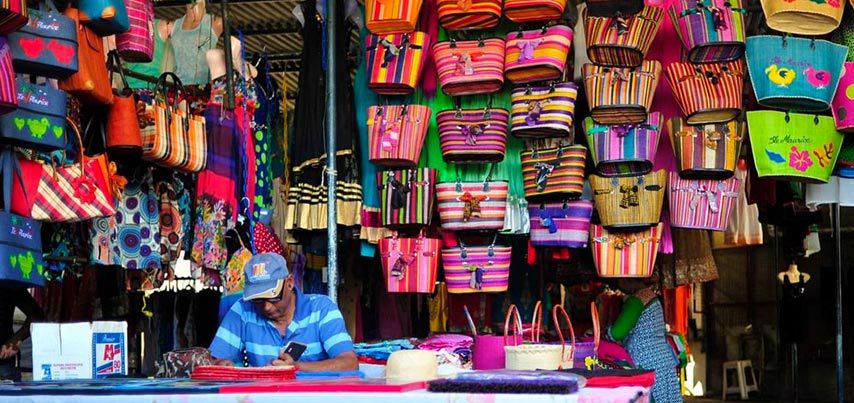 For lovers of nature and organic products, the small shopping centre of Goodlands regularly hosts an Earth Market with vegetables and other healthy and pesticide-free products on Saturdays from 10 am to 2 pm. A pleasant moment of sharing in a good mood with enthusiasts.
All the prices of these products are negotiable and decent bargaining is prevalent. However, things are reasonable here, and quality is maintained. You should pay a visit if you like organic products at a decent rate.
Operation hours:
Monday to Saturday: 07:00 - 16:30
Sunday: Closed
Mauritius Market - Our Conclusion
Visiting the markets of Mauritius is one of the essential activities to discover the authentic face of the island. It's a way of blending in with the Mauritian population. Wander through the alleys and discover Mauritian products and dishes that will probably stay as memories forever.
Your Local Expert Tip:
When visiting any of the markets of Mauritius you will find that negotiating is a key part of any purchase. This is why your negotiating skills need to be sharp or you will be caught in a tourist trap. When you will obtain the negotiating skill then you will find that you can get the desired products for almost half the initial price.
Trips and Tours Including Market Visits:
Below you will find details on some shopping tour packages, offering visits to many of the main markets of Mauritius:
Tailor Made - Mauritius Market Tour:
You may also create your own Tailor Made Tour and visit any of the markets of your choice by using this link:
https://mauritiusattractions.com/customized-tour-package.php
Additional Tour Packages including Market Visits: