Casela World of Adventures
About the Casela World of Adventures - the most visited attraction in Mauritius
The Casela World of Adventures, described as the most visited attraction in Mauritius, is a scenic nature park situated in the midst of sugarcane fields in the western region of the island, with the Rempart Mountain as a backdrop.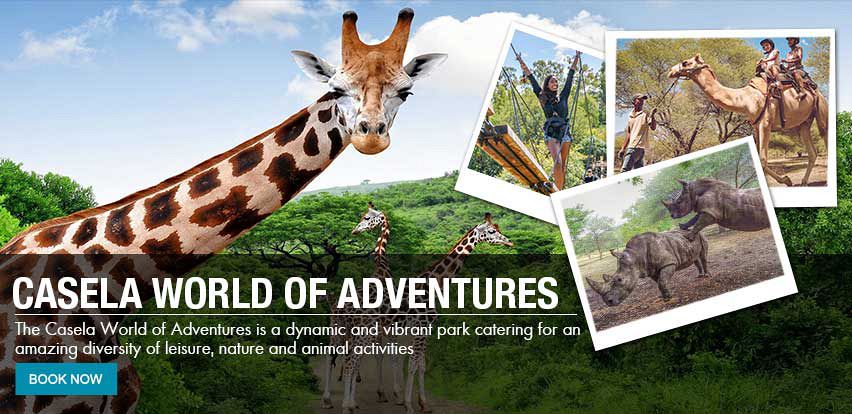 The nature park has an incredible array of activities and fun experiences on offer. Adventurous travellers can try out thrilling activities ranging from ziplining, quad biking trails, canyoning and more, while those looking to have a fun time with their family can visit the impressive African safari animals including big cats, monkeys, giraffes, rhinos, impalas and zebras.
Thrilling Activities at the Casela World of Adventures
Personalise your Casela experience, best suited to your adventurous needs and desires, by choosing from the plethora of activities available that includes everything from quad biking and mountain climbing to thrilling interactions with cheetahs and lions and camel riding. For a pure adrenaline rush, go for the incredible set of zip lines with one ending at the foot of a waterfall or try out the Canyon Swing.
The four thematic worlds offered by Casela are:
Mountain Kingdom: Zig Zag Racer, Doub Doub Racer, The Risk Factor Bridge, Zip and Splash Tour, Canyon Swing, The Deep Valley Long Fly over and Via Ferrata
Big Cats Kingdom: Walk with Lions, Interact with Lions, Drive Thru, Interaction with Cheetah, Interaction with Caracal, Interaction with Serval, Camel Riding and Interaction with Cubs (subject to availability)
Safari Kingdom: 1-hour Quad, Giraffe Feeding, Segway, Rhino Interaction and E-bike Safari
Middle Kingdom: Tortoise Feeding and Petting Farm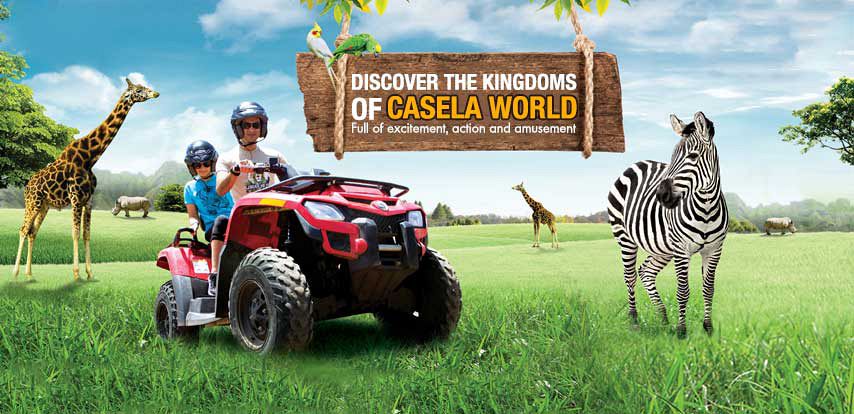 ---
Action-Packed Thrill Mountain Activities at the Casela World of Adventures
Ziplining
Feel the thrill of Zip Lines that make you feel like you're actually flying - the Zip Lines at Casela World of Adventures are ideal for anyone in search of new experiences and an adrenaline rush. Plus, you even get to discover the park aerially, with a bird's eye view. There is nothing quite like the thrilling activities on offer here to break away from your monotonous routine!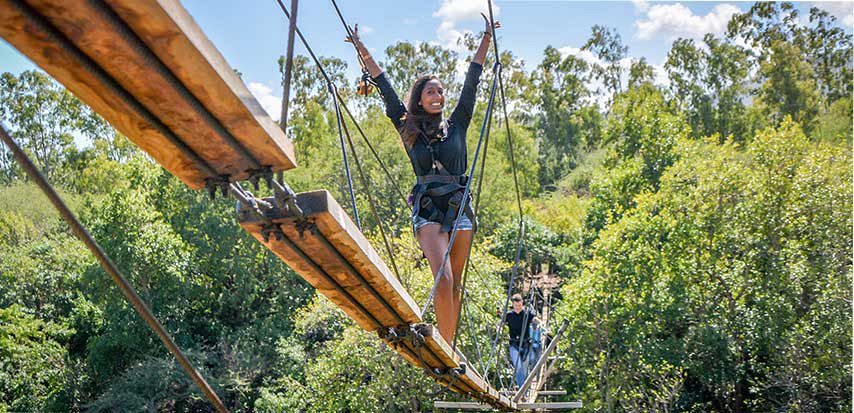 Challenge your friends to an ultimate zip line race with the Racer Doub Doub featuring two 80m Zip Lines side by side. If you're feeling bold, try the Zig Zag Racer packing a combo of 4 Zip Lines, for an extensive zip lining experience, or head to The Risk Factor Bridge including the Nepalese Bridge + 3 Zip Lines or the Zip Splash Tour that consists of 4 Zip Lines including one landing in a river. Each one of these options will satisfy your desire for novelty and offer you a memorable experience in a stunning natural environment.
Canyon Swing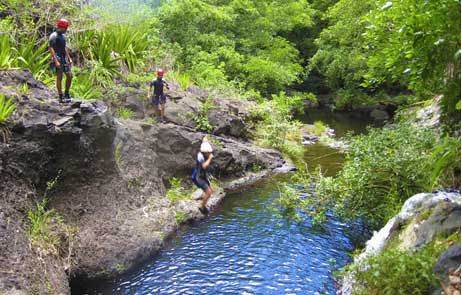 For more adrenaline-induced moments, try the Canyon Swing - a different type of bungee jumping. Jump from the 45m high platform and dive into the canyon amongst the birds and sometimes bats. Once equipped and briefed on the safety measures, you are all set to fly between the canyons. You will be lucky to get the scenic views of Casela Nature Park from very high.
Mountain Climbing
Designed to please sporty adventurers, the mountain climbing activity includes a Via Ferrata Canyon Tour that takes you through sugarcane fields, plateaus and uneven routes.
Before you set off, you will be fully equipped with high-standard safety gear and professional guides will also be available to provide a helping hand.
This activity will certainly delight those who have a taste of adventure and mountain climbing. You will begin your adventure with a hike towards the peak of the Mamzel Zabeth Mountain. Test your limits with this physically demanding activity including a via ferrata canyon tour at Casela.
---
Safari and Animal Activities at the Casela World of Adventures
Walk with Lions
Walking with lions - the king of the jungle is an extremely impressive experience. The walk takes place by the Rempart River and to ensure your safety, a briefing is provided by expert animal handlers before you set out to roam alongside the king of the jungle. The lions roam freely, with you by their side, offering you the unique opportunity of being in close contact with them. It's definitely a walk to remember!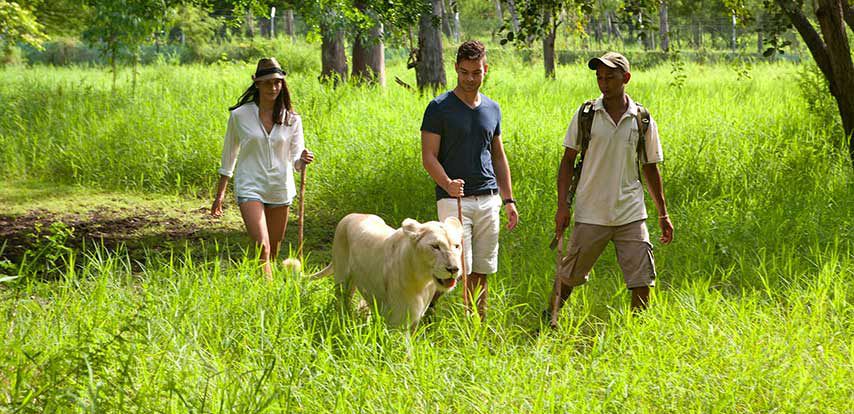 Interaction with the Big Cats - Lions, Cheetahs & Caracals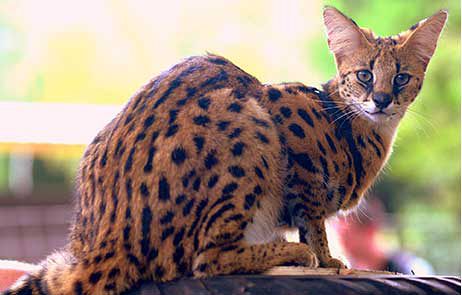 Big cat enthusiasts will enjoy the thrill of getting up close and personal with the king of the jungle as well as other African safari felines with the Big Cats Interaction at Casela Park. Feel the surge of emotion as you give the majestic animal a pat under the watchful guidance of the professional team of supervisors, and get this one-of-a-kind encounter captured on camera!
Interactions with lions at Casela last approximately 10 to 15 minutes inside the enclosure and are also available with caracals, cheetahs and cubs.
Interaction with Cubs (as and when available)
You will have the unique opportunity to see and pet baby Simba or Nala at Casela. Make the most of this thrilling chance of petting lion cubs. These balls of fur are generally so playful and adorable that you are sure to fall in love with them in no time! You will always treasure this amazing encounter.
Interaction with Rhinos
Those curious to see what a one-ton heavy animal looks like can opt for the special activity - Interacting with Rhinos inside their enclosure. Always accompanied by the enthusiastic carers, you will enrich your knowledge about these charming beasts of the Rhino family.
Drive Thru
A 45 minutes' drive on a rugged terrain will bring you closer to majestic lions roaming about with the Big Cats Drive Thru in Mauritius . Depending on their moods, the lions sometimes do more than just posing – they can be seen climbing trees, playing among themselves. On a lazy day, they can be seen doing what lions do best; lazing around, just letting the day go by.
E-Bike Safari
The E-Bike Safari allows you to explore the Casela safari park effortlessly and at your own pace, thanks to an electric bike that offers a 100% eco-friendly ride.
This e-bike tour gives you the chance to benefit from thrilling encounters with animals from the African savanna in an environmentally-friendly way. Ride comfortably in the safari zone to see popular safari animals up-close, such as Wildebeest, Impalas, Cape Elands, Kudus, just to name a few.
Segway Trip
Enjoy a Segway Trip through the the 4,500 hectares of the Mauritius' Yemen Nature Reserve Park, part of the Casela World of Adventures.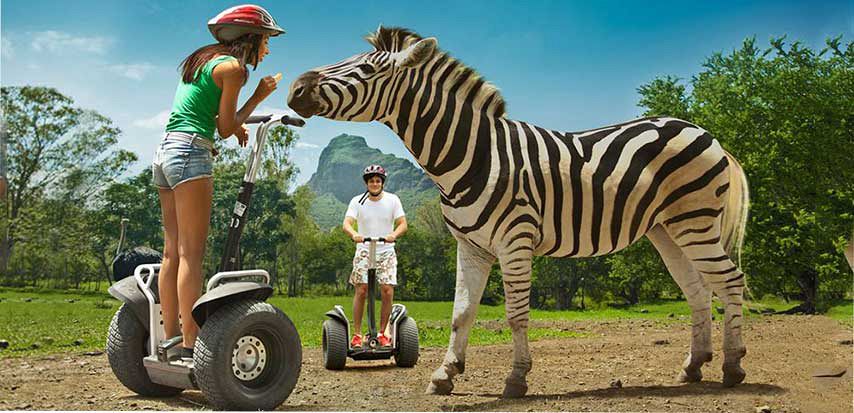 This trip will give you a unique travel experience on the modern Segway transporter, while discovering the beautiful nature and the wildlife of the safari park. The Nature Reserve offers the ideal setting for the Segway trip. More than a standard Segway excursion, this is a trip through a real safari.
Safari Quad Biking
For an even more interesting way to manoeuver around the park you can opt for the Safari Quad Biking trip. During the ride, be on the lookout for deer, zebras, ostriches, African antelopes, wild boars and many more animals. The course takes you up the park hills, down valleys and across rivers. Those who want to enjoy the experience with more privacy and at their own pace, can go for the Exclusive Safari Quad Biking. It guarantees you personal guidance from the accompanying guide, ride in your own pace with no rush or being delayed by others!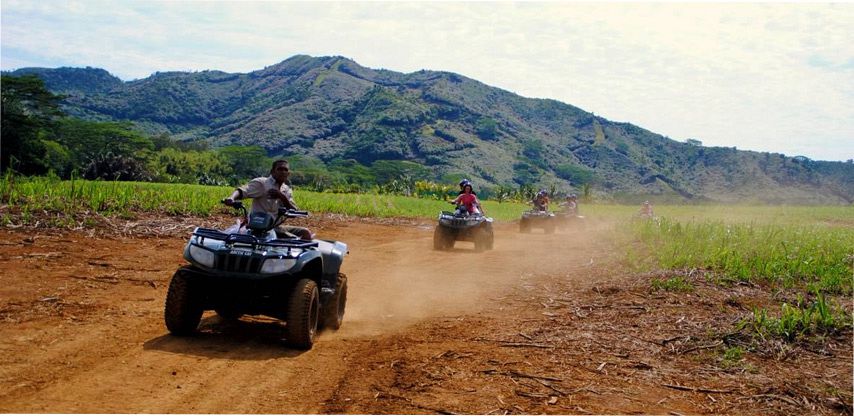 Camel Riding
Enjoy a fun Camel ride at Casela World of Adventures. Comfortably seated on the back of the dromedaries, you will discover the beautiful Casela park and enjoy magnificent surrounding views! A camel ride is an experience that will not be soon forgotten.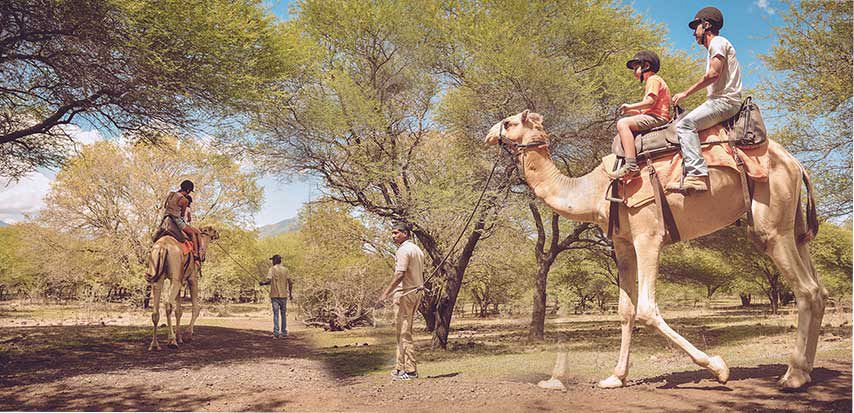 Camels are one of the most social and loving animals you will ever meet and you will be glad you spent a little part of your day in their company. Their height and special gait makes camel riding a greatly enjoyable experience.
---
Family Activities at the Casela World of Adventures
Zookeeper for a Day Kids Package at Casela
With the Zookeeper for a Day Kids Package at Casela, give your child the unique chance to go behind the scenes as a real zookeeper at the Casela World of Adventures, a sanctuary that houses a wide range of animals; birds, lions, tigers, zebras, ostriches, giraffes and many other African safari animals.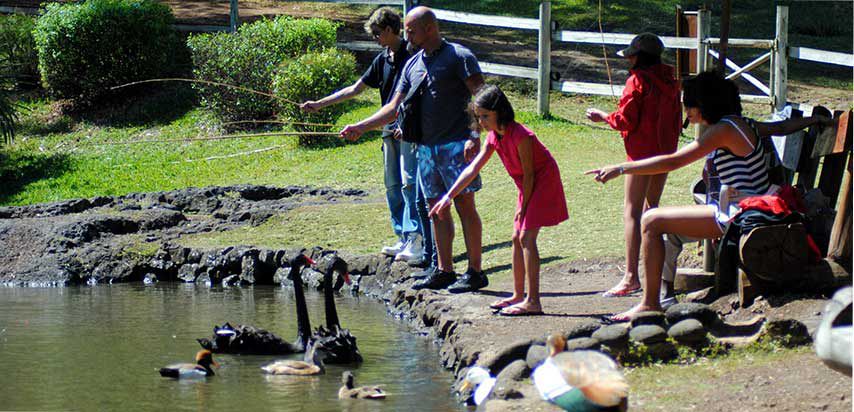 From food preparation to feeding and through the observation of animals, the children will experience the duties of a zookeeper and will be sensitized about the protection of biodiversity. This interesting kids' package also includes the park's entrance ticket, a "Zookeeper" t-shirt, lunch, refreshments and a group photo session.
Kids Animal Adventure at Casela
A day spent in the Casela World of Adventures is a guaranteed moment full of excitement, action and amusement wiht the Kids Animal Adventure at Casela. Give your children the opportunity to enjoy a visit of the park and also interact with a number of friendly creatures with this Kids Animal Adventure package at Casela. The young ones can interact and feed the animals from the petting farm including giraffes & tortoises whilst also having a fun experience on camel and horse-back.
It offers an ideal setting for animal lovers of all ages, especially children, to interact with farm animals. Rabbits, fawn and their other friends at the mini farm offer a touching experience while being bottle-fed (for a supplement) or simply hand fed. This is a great way to allow the young ones to learn about animals and get closer to nature while offering an ideal setting for children to interact with farm animals.
Giraffe & Ostrich Feeding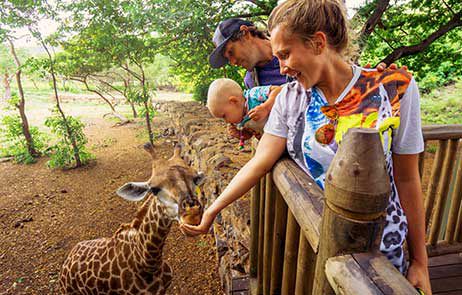 If your kids often wonder what giraffes really look like and how they live, bring them to Casela World of Adventures and introduce your children to the tallest animal on the planet. Giraffes are very friendly and they will all be delighted to enjoy some food fed to them by kids.
Whilst feeding the tallest animals, why not also feed the tallest birds on the planet? You will also have the chance to get up close with the tallest and largest birds on the planet- ostriches. These large, flightless birds are a rare and unique sight that are sure to make you smile.
Tortoises have a docile nature so they are great for kids. Furthermore, the kids will be able to feed the Aldabra giant tortoises, one of the largest tortoises in the world, at Casela World of Adventures.
The Pony Ride is a journey that starts from the goat enclosure and continues to the pigs, the fawns and calves. The ride is supervised by a professional staff member, who ensures that your child will spend a safe and memorable time with Casela's lovable animals.
---
Visit of the Casela Nature Park – World of Adventures
Situated on the west coast of the island with the magnificent Rempart Mountain in the backdrop and spreading over 250 hectares, Casela World of Adventures is home to a unique variety of animals on the island and provides unique experiences to visitors from all around the world.
A visit of the park includes the following:
Safari Bus Ride - A delightful fun ride to see zebras, ostriches, rhinos, African impalas and wildebeest.
Walk thru the aviary - Walk through the bird aviary and interact with various colourful bird species from around the world.
Giraffes and Pygmy Hippos viewing - Come face to face with these majestic animals for a unique viewing experience.
Camels and llamas viewing - Meet the camels and llamas, considered as one of the friendliest and most loving animals you will ever meet. Spend some time getting to know these amazing creatures.
Kid's playground – A fun children's playground that will please the young ones!
Avalanche Mines (Toboggan) - a thrilling fun ride on the first toboggan slide in Mauritius. The Toboggan includes two slides placed on a slope on which one slips with buoys.
Monkey Kingdom - Have some fun watching the long-tailed monkeys skip and hop about, in their enriched, natural habitat.
Petting farm and Tortoise pen - Ideal setting for people of all ages, especially children to interact with farm animals as well as tortoises.
Tulawaka Gold Coaster – An adrenaline-inducing alpine coaster that runs along 800m. Perfect for all thrill seekers, it can be ridden solo or in tandem.
Discovery Centre: 4D cinema, discovery of natural science and history of Mauritius through giant 3D Maps.
---
Tailor Made Activity Package at the Casela World of Adventures
You can benefit from maximum flexibility by creating your own customized program of fun and exciting activities - all pre-booked and organized for your maximum satisfaction with the Tailor Made Casela Day Package.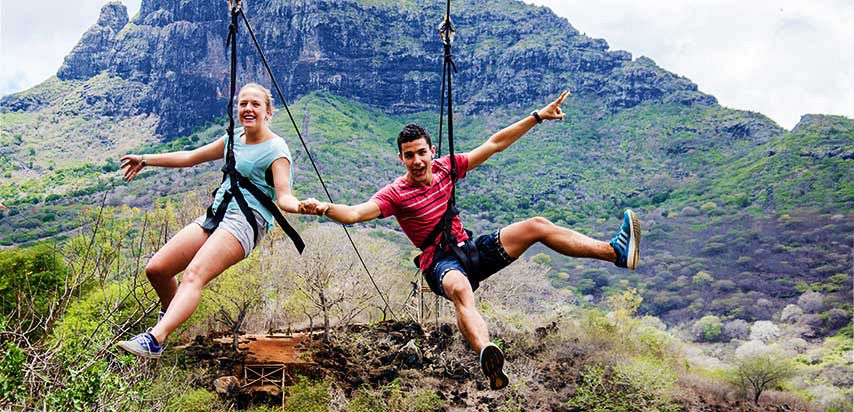 You can also add to your package a delicious lunch at the park's restaurant and/or a pick up and drop off service from your place of accommodation.
Facilities at the Casela World of Adventures
Restaurant
The Casela Restaurant is the ideal place to take a breather at the Casela World of Adventures and enjoy the spectacular view over Tamarin Bay and the Mauritian West Coast. The restaurant proposes Mauritian, European and Asian specialities as well as a kids' menu, all served around the staggering natural surroundings. There are also several food outlets around the park to suit your taste.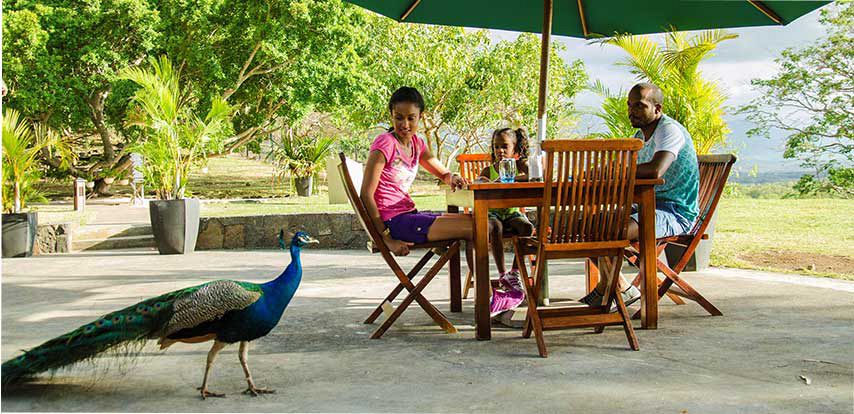 Gift Shops
Gifts and souvenirs to remind you of your day, or to delight friends and family. From small mementoes of your visit, or something for the children to superb designer African crafts, textiles and jewellery- the gift shops offer a wonderful choice.
---
Additional Information about the Casela World of Adventures
History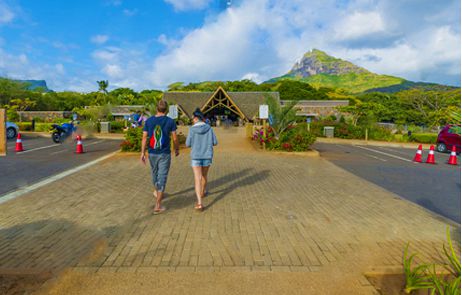 Casela opened its doors in December 1979 as a bird sanctuary. It soon became a must see attraction in Mauritius over the years thanks to its panoply of adventures, that always seem to surpass each other, be it the quad biking or a bus safari trip, unforgettable encounters with the big cats, crossing a Nepalese bridge and ziplining above trees and canyons.
Over the years, the activities on offer in this unique scenery only kept expanding. Today, it is possible to feed the giraffes, the bright-coloured lorikeets or the pygmy hippopotamus, discover the hilly landscape of the park on the back of a camel or to fish the tilapias and go on a fun tour of the park with the e-bike safari trip.
Conservation
True to its founding vision, Casela World of Adventures is more than ever involved in the conservation and protection of endangered species.
In February 2015, the park ensconced its notoriety as a major player, counting Her Royal Highness Princess Stephanie of Monaco as the new patron of the park. Princess Stephanie, known for her involvement in the protection of elephants in Asia fully espoused the efforts of Mauritius' number one visitors' attraction.
---
Important Info
Address: Royal Road, Cascavelle, Mauritius
Operating Days & Hours: Daily from 09h00 to 17h00
Note: The Casela World of Adventures is closed on the 25th of December and the 1st of January.
Bring along: mosquito repellent, comfortable clothes & footwear and a change of clothes just in case.