Sailing in Mauritius
Mauritius is a tropical pearl located in the warm turquoise water of the Indian Ocean surrounded by beautiful coral reefs.
Mauritius is a perfect holiday destination with a vast range of water sports activities, stunning beaches, offering spectacular tourist attractions and mouthwatering cuisines.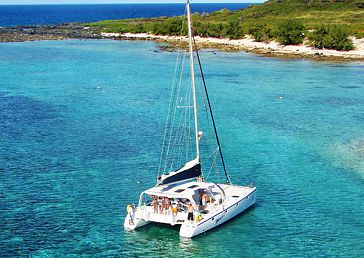 What better way to enjoy your holidays than to enjoy a sailing cruise or any related activity in this paradise island? The crystalline water of the Indian Ocean, beautiful lagoon and genteel sea breezes makes sailing, water sports activities and water excursions in Mauritius a very gratifying experience for the body and the soul.
Mauritius offers a wide range of sailing activities on various types of cruising vessels to take you for unforgettable sailing trips to one of the hundred small islands surrounding Mauritius' main island.
Weather it is a catamaran daily cruise to one of the islands, a yacht trip, or any other activity from the vast variety available, you just have to choose the activity that suits you most and you are guaranteed to have a great time in Mauritius!
---
Cruising vessels of varied types and sizes available in Mauritius:
Cruising vessels of varied types and sizes (catamaran boats, speed boats, luxury yachts and more) are available to take you on a sailing trip, cruise or to enjoy some of the sea excursions in Mauritius, all in full safety.
These vessels are equipped with navigational and communicational devices, safety equipments and various other facilities to make your cruising comfortable and enjoyable.

Here is a list of some of the cruising vessels currently operating in Mauritius: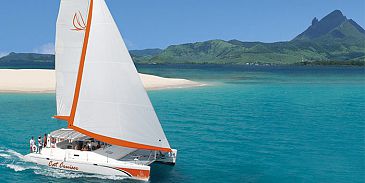 Catamaran boats - A catamaran is a type of multihulled boat or ship consisting of two hulls, or vakas, joined by some structure. Catamarans can be sail or engine-powered.
The typical day-charter catamarans take between 10 -30 persons aboard, depending on size. There is also an option to rent the catamaran exclusively for yourself and your guests.
Lunch, drinks, towels and snorkeling equipment is usually supplied as part of the catamaran trips.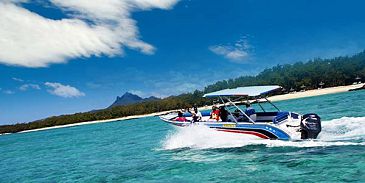 Motor/ speed boats- A motorboat is a vessel propelled by an internal combustion engine or electric motor driving a jet pump or a propeller. A speedboat is a small motorboat designed to move quickly.
Due to the complexed structure of the lagoons and the regulations regarding the use of pleasure crafts speedboats, there are very few speedboats for day rentals in Mauritius, and they are always rented with the skipper.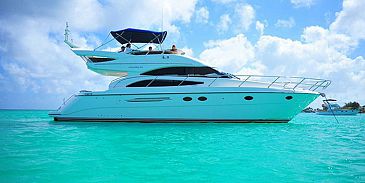 Luxury yachts - The term luxury yacht refers to a more expensive privately owned yacht which is professionally crewed. Also known as a Super Yacht, a luxury yacht may be either a sailing or motor yacht. For a peaceful day at sea, we recommend the day-chartering of yachts on an exclusive basis. The rentals include the services of crew, the organization of food and drinks and more.
Exclusive day-chartering is of course a more expensive solution which allows the real enjoyment of the peacefulness of the sea and the quiet surroundings. Offering the flexibility in terms of itineraries and time, it is really a great option for groups or for those with a more flexible budget.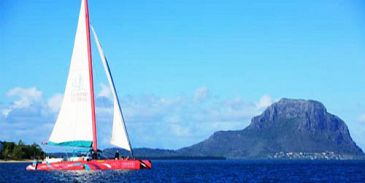 Harris Wilson- the genuine 18 meters racing catamaran (60ft) Catamaran was built for ocean racing. This catamaran offers traveling in speed. In this catamaran you can experience the thrill as this sleek racing boat takes you away...
---
Sailing destinations:
In addition to the option to cruise around the beautiful coastline of Mauritius, it is highly recommended to take a sailing trip to one of the small islands surrounding the mainland.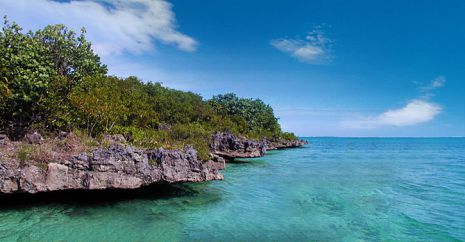 Mauritius main island is surrounded by nearly hundred of small islands (=islets), some of which are close to the coast and others far away, difficult to access. A few of these islets are now nature reserves with endemic wildlife; Ile aux Aigrettes and Round Island are prime examples. Other islands bear coconut plantations such as Ile Aux Benitiers.
Many of these islands are regularly visited by both Mauritians and tourists because of the beautiful beaches and scenery they offer.
---
Below you will find some information about the small Islands (islets) of Mauritius:
Île aux Cerfs - Ile aux Cerfs (French for deer island) is an island near the east coast of the island of Mauritius. The island house a five star hotel and a golf course. The only method of access to this islet is by ferry from Trou d'Eau Douce.

Île D'Ambre - Ile D'Ambre or Amber Island, is an islet off the eastern coast of Mauritius. It is relatively large compared to some of the other islets, and it has a number smaller islets of its own, including Île Mounick, Matapan Island and Îlot Canarde. The Forestry Services of the Ministry for Agriculture, Fisheries and Natural Resources is in charge of the islet.
Flat Island - Flat island, known as Île Plate in French, is located near Round Island, Île aux Serpents and Coin du Mere at the extreme north of Mauritius. There is a graveyard on the island dating back to the 19th century. It also houses one of the two working lighthouses in Mauritius.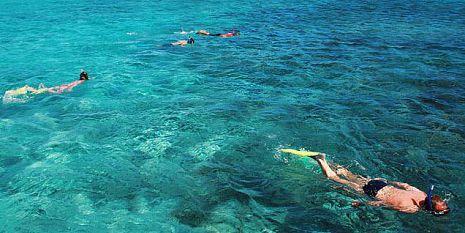 Gabriel Island - known also as Îlot Gabriel, is located near the Round Island and the Flat island, at the extreme north of Mauritius, about 10 kilometers north of Cap Malheureux. The distance between Gabriel Island and Flat island is only 750 meters. The size of the island is only 42 hectares, making it much smaller than Flat island, and the highest point is of 28 meters. Gabriel island is a protected natural reserve. In comparison to Flat Island, Gabriel Island has much let Flura and vegetation. The island is most famous for if its beautiful unspoiled beaches, with crystal clear water surrounding the entire island. It is a very popular site for snorkelers, and also offers great dive sites.
Round Island - Round Island is an uninhabited islet 22.5 kilometers north of Mauritius. It has an area of 1.69 square kilometers and a maximum elevation of 280 meters. The island is a nature reserve under the jurisdiction of the Mauritian Ministry of Agriculture and Natural Resources. Rare reptiles that are endemic to Round Island include the Round Island skink, Round Island day gecko, and Round Island boa.
Île de la Passe - Ile de la Passe is a rocky islet in the bay of Grand Port. Between 20-25th of August 1810, during the British campaign to capture the island from the French, it was the scene of a long and very hard-fought battle between the forces of French and British frigates.
Coin du Mire - Coin du Mire, also called Gunner's Quoin, measures just 65 hectares and lies 8km north of Mauritius. There are remnants of a sugar plantation set up by Dutch settlers. The Coin du Mire hotel is the only tourist attraction on the island.

Grand Port Islets - The Grand Port islets once made up a small volcanic island which has submerged with the rising tide. The islets around Grand Port include Île aux Flamants, Île Vacoas, Île Fouquet, Île aux Fous, Île aux Oiseaux, Rocher des Oiseaux, Île de la Passe (above), Île Marianne, Îlot Chats and Île aux Signes amongst many others.
Pointe Bernache - Located not too far from Île D'Ambre, Pointe Bernache is a small islet which is popular with tourists as it has a stunning beach on its south coast. The island is surrounded by a lagoon, which is often fished in.
Mouchoir Rouge - Mouchoir Rouge, located in the bay of Grand Port, in Mahebourg, has a small guest house which is permanently inhabited. There was once another small islet not far away, but this has sunk in recent years and at low tide emerges as a rock.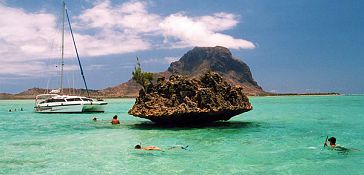 Île aux Benitiers - Ile aux Benitiers includes a large island, with coconut plantations and is permanently inhabited and the smaller Îlot Benitier. The main island is 2km long and 500m wide lying off of La Gaulette.
The islet of Îlot Benitier has been on private lease since 1927 and also supports a small plantation, but is only accessible for a few months a year.
On the northern tip of the main island there are small colonies of migratory birds.
Îlot du Mort - Ilot du Mort is Known as Dead Man Island by the British, the island is known to be the site of many shipwrecks. It is located off the coast of Rivière du Rempart.
Île Albatross - Ile Albatross is located near Savanne, southern Mauritius. There are thousands of migratory birds on the island and it has been declared a nature reserve.
Île de L'Est and Île aux Chats - Both of these relatively large islands, lying to the east of Mauritius and considered part of Flacq, become temporarily merged at low tide. The islets are an increasingly popular camping site and there are plans to rebuild a disused lodge on Ile de L'Est.
Île Vacoas - Not to be confused with the Grand Port islet, the Ile Vacoas of Flacq was named after the Vacoas (sugarcane in Creole) which was planted by the European arrivals.
Île aux Sables and Île aux Cocos - Ile aux Sables and Ile aux Cocos are two islets off the eastern coast of Rodrigues. Both are nature reserves and home to meteorological stations. They are well-known for their abundant bird life.
Cat Island - Cat Island (French: Île aux Chats) is a small island lying south of Rodrigues in the Indian Ocean. It is surrounded by a coral reef and is known for its diving and snorkeling sites.
Hermitage Island - Hermitage Island (French: Île Hermitage) is a small island lying south west of Port Sud-Est in Rodrigues. It is reputed to be the location of buried treasure and is a popular destination for tourists.
Additional Islets includes: Reservoir Islets, Île aux Serpents, Barkley Island, Île Fournaise, Île des deux Cocos, Île aux Lubines, Îlot Seychelles, Le Souffleur, Île Fregate, Île aux Tonneliers and Île Albatross, Île Sancho, Île Roches, Île Crabe Île aux Fous.
Treat yourself to a memorable day in the Indian ocean.
Let us know if we can help you in anyway...
Wishing you a great time in Mauritius....the Mauritius Attractions team.
---
- Source: Wikipedia, the free encyclopedia