Best Waterparks in Mauritius
With sublime weather and ample sunny days, Mauritius is the perfect exotic holiday getaway.
Apart from the turquoise beaches, people looking for a different experience, the Island nation has Water Parks that offer extensive Rides and Entertainment. There's something about Water Parks that a beach cannot fulfill.
These Water Parks are always the go-to place all round the year however if you are looking for less crowded days, do avoid the weekends and the school holidays.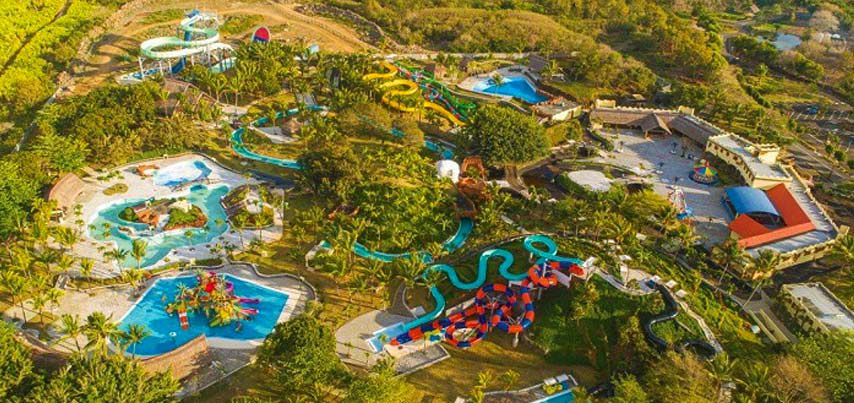 Discover the Best Waterparks in Mauritius
Splash & Fun Leisure WaterPark
Located on the East coast of the island, at Belle Mare, The Splash and Fun Leisure WaterPark opened in 2019 is the largest water park on the island and the most famous one!
After massive investment and years of work, the water park opened and is now offering a range of fun activities, water slides, wave pool and even amusement park rides.
The Splash and Fun Leisure WaterPark is designed to cater to a day of fun and thrill. The place has a shipwreck structure and a pirate themed architecture that will set you right in the mood of an adventure. To guarantee a perfect day, the park is equipped with 7 water attractions, 5 dry attractions, 6 food outlets, 2 pools and 1 gift shop.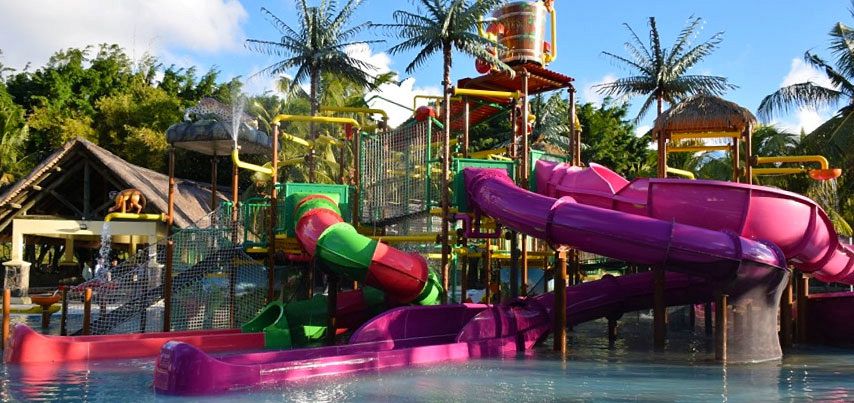 One of the popular rides is the 'Crazy Ride,' perfect fun attraction for families as up to 4 people can fit in a float and go down a zigzag slide that leads to a small pool. The Constrictor is another ride not to be missed! It's a thrill ride that goes in all directions and it will surely get your adrenaline pumping.
The park is also equipped with 2 pools, (i) an adult pool that will help you to relax and forget the hectic world (ii) a wave pool that brings you the excitement of the sea with the safety of the land! For those who want to take things slow and not get wet, you can sit back and try the 5D & 7D cinema which blends high quality and immersive visuals to make you live an unforgettable moment. Among the dry land activities, there are also Bumper Cars, Merry go round and the Pirate Ship.
One of the highlights is the VR (virtual reality) World, which consists of many of the most advanced VR equipment and games for a great out of this world fun experience for the young and old alike.
Onsite there are highly trained lifeguards to ensure the safety of everyone. To refill your energy there are several food outlets available whereby you can grab burgers, sandwiches, crisps, snacks and drinks.
Location: Belle Mare
Operation Hours: Everyday from 09:30 - 17:00
Age requirements: Children as from 3 years old can enjoy the rides
Tysplash Water Playground
Tysplash is the first thematic and secure splashpad for children from 90 cm to 150 cm.
Located on the West part of the island, at Cascavelle shopping village, this leisure mini waterpark has an ocean theme.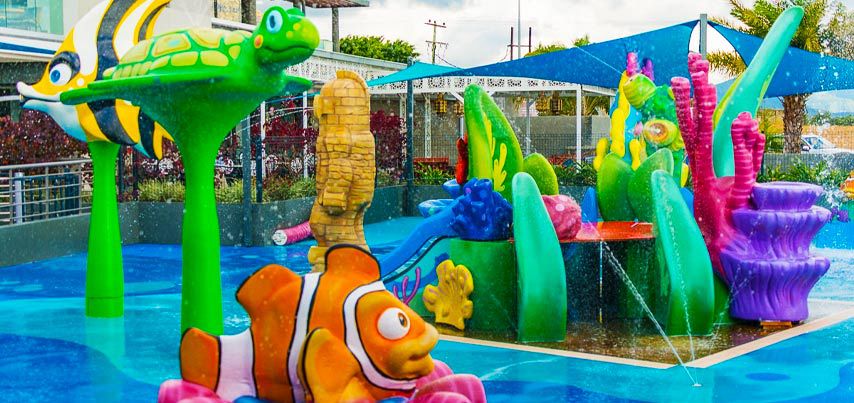 Children will have an amazing time discovering the fantastic world of reefs and its inhabitants. Tysplash has a splash pad of 250m2 comprising of 10 water games, 2 aquatic slides and an air conditioned creche.
The splash pad will welcome kids from 3 to 9 years old and no swimming skills are required for the same. Kids will get the chance of enjoying some exciting adventures with the variety of games and waterjets available.
For the most adventurous littles ones to experience strong sensations, they can try sliding in the 2 immersive slides. The aquatic playground will widen your children's imagination and they will have some amazing and memorable times.
There are some food outlet options available onsite and therefore parents can enjoy a meal while keeping an eye on the children. Tysplash is also the perfect place to celebrate unforgettable birthdays!
Location: Cascavelle shopping village
Operation Hours: Timings: 10:30 - 18:00 (Closed on Mondays)
Height requirements: Children as from 90cm can enjoy the splashpad and for the free fall slides children between 120cm to 150cm
Time Twisters Playground
Time Twister provides family entertainment in the Northern region of Mauritius and it's a land of fun for the whole family. Children of all ages are welcomed and safety as well as fun is guaranteed!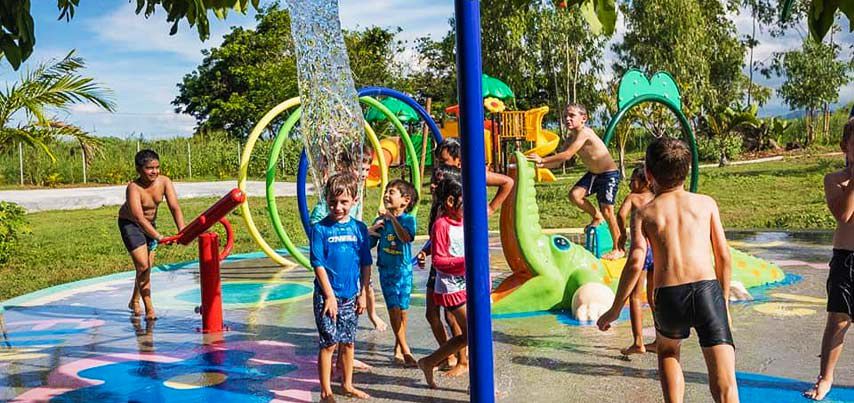 The park includes a water playground with activities like splash pads and slides. It's a fun place for children to meet and have an amazing time. During the hot summer days, the splash pads are particularly popular and it's a great way for kids to cool down.
Time Twister focuses on the development of a family recreational park which offers quality activities to the local and visiting communities.
The activities are structured in a safe and stimulating environment tailored to the needs of children in different age groups. Few other activities available are skateboarding, trampolining, castle jumping and many more. Time Twisters also organizes several other activities e.g birthday parties, holiday programmes and after school activities.
Location: Cottage Village
Operation Hours: Monday - Saturday: 09:30 - 18:00, Sunday: 10:00 - 15:30
Age requirements: No age restrictions
Tips for a Fun Day Out in Mauritius' Water Parks
For maximum comfort and a pleasant experience below are few tips:
You have to bring your own swimwear and for ladies, one piece swimsuits are advisable
Bring your own towels as these are not provided
Do consider bringing a hat to help shield your face from the sun
All the waterparks are outdoors and therefore to prevent sun burns, apply sunblocks
At most of the places, there is also a food court where you can chill and enjoy nice meals with your family and friends.
It's also important to note that children must be accompanied by an adult at all times in the parks. The leisure parks do not assume any responsibility or liability for unattended children.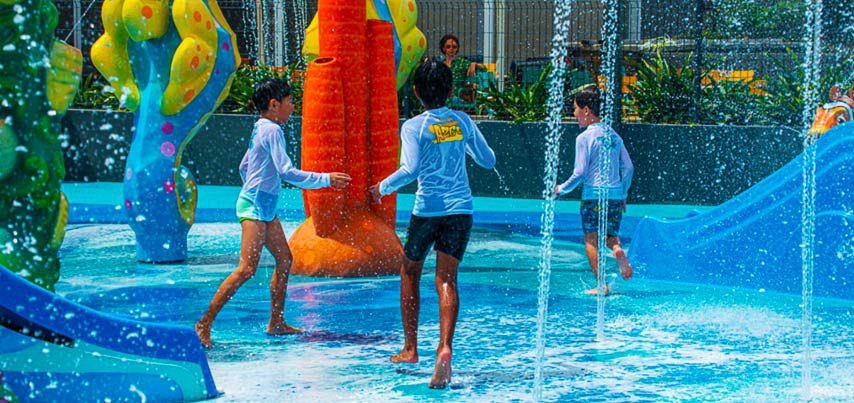 The Mauritius Waterparks - Conclusion!
With the exciting water parks available around the island, you will have a fun filled day with your friends or families.
The main waterpark attraction is surely the Splash & Fun Leisure WaterPark which is the largest and leading one on the island.
Better to visit any of these parks during weekdays, as it may be packed during weekends. Furthermore, if your kid is looking at celebrating his birthday in a unique way along with his buddies, then one of these options can certainly be considered.