Boutique Villa On The Rocks
Boutique Villa On The Rocks
Address:
La Chapelle St, Trou d'Eau Douce
Telephone:
(230) 5770 7446
Email:
Click Here
Boutique Villa On The Rocks Overview
Make your next trip to Mauritius an unforgettable one with a dreamy vacation at the luxurious Boutique Villa On The Rocks. Located in Trou d'Eau Douce, on the beautiful renowned beach of the East coast, the Boutique Villa On The Rocks will quickly become your sanctuary of choice.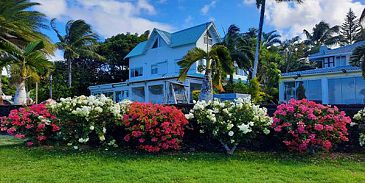 With the ocean at your doorstep (steps leading directly to the sea) and the azure sky as your roof, the Boutique Villa On The Rocks perfectly encapsulates the true essence of tropical holidays. Featuring spacious living areas, a lounge, a fully-equipped kitchen, an infinity pool and a lush green garden, each villa is perfectly fitted to welcome adults and children alike.
Wake up to the gorgeous sunrise views, a truly magical show reflecting on the ocean which you can admire from your balcony, spend the day lazing by the beautiful infinity pool overlooking the ocean or chill in the shade of the furnished terrace while enjoying the views of the lush green garden.
This contemporary luxury villa uniquely blends the old and new. Old school charm meets modern convenience. Combine this with a breathtaking view that you will not find anywhere else, and you have found a winning combination. It is perfect for travellers looking for a feeling of home in a unique setting. The infinity pool is set high up and blends seamlessly with stunning views of the sea and boats. Kick back in one of the loungers and give your 'Gram followers something to talk about. Oh and did we mention steps that go directly to the ocean?
Boutique Villa On The Rocks has 3 rules: Relax, Unwind & Enjoy - the perfect recipe for comfortable and luxurious tropical holidays on paradise island.
---
Key Highlights - Boutique Villa On The Rocks
Residence of 5 Villas set on the beautiful Trou d'Eau Douce beach on the East coast
Luxurious and Contemporary Accommodation
Panoramic views of a turquoise lagoon and magical sunrises
Infinity pool overlooking the ocean and steps leading directly to the sea
Lush green garden with direct access from your room
Fully equipped modern kitchen
Modern amenities and free WIFI for guest comfort
Complimentary welcome pack on arrival (bread, butter, cheese, yoghurt, milk, water, juice, eggs, oil, salt, pepper, sugar, etc)
Possibility to be picked up on its own private jetty to be taken by boat to Ile aux Cerfs Island known for its beautiful white sand beaches
---
Location & Getting There:
Location of the property: La chapelle St, Trou d'Eau Douce
Trou d'Eau Douce is a fishing village located on the eastern side of the island. With the beauty of its little streets, its corrugated iron huts, its beach and, of course, its inhabitants, Trou d'Eau Douce is a captivating place. Being a fishermen village, it's very common to see some of them early in the morning, unravelling their nets or fishing materials at the Débarcadère, the fish landing station.
The centre of Trou d'Eau Douce is well-known for its lively atmosphere, hospitality, food, and inhabitants. Each day it welcomes many people visiting the village or heading to visit some of the surrounding islets such as Ile aux Cerfs and Ilot Mangenie.
Trou d'Eau Douce is also the starting point for most excursions to Ile aux Cerfs Island. Many of them include stops on the lagoon for snorkelling and lunch on the island.
Distance to Key Locations:
Sir Seewoosagur Ramgoolam Intl. Airport (MRU) - 41 km
Port Louis - 47.4 km
Trou d'Eau Douce public beach - 2.2 km
Belle Mare Public Beach - 9.7 km
GRSE Waterfalls - 7.6 km
Flacq Market - 10.9 km
Domaine de l'Etoile - 16.5 km
La Vallée des Ferney - 30.1 km
Mahebourg Waterfront - 36.3 km
Short boat transfer to Ile aux Cerfs
---
Boutique Villa On The Rocks Accommodation: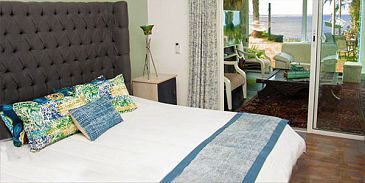 Bask in the spacious and luxurious apartments fitted with modern equipment, thoughtful amenities and simply everything you need.
The type of apartments available at Boutique Villa On The Rocks :
3 bedroom Apartment: Ground Floor 150m2
4 bedroom Apartment: 1st Floor 150m2
The facilities available in the accommodation:
Seaview furnished balcony
Air conditioning in bedrooms
Outdoor lounge
Fully equipped kitchen
Dining and living area
Flat Screen televisions
Seaview lounge
Wi-Fi Internet access
Amenities:
Toilet paper
Pool & Beach Towels
Bed & Bathroom Linen
The facilities of the complex
Infinity swimming pool overlooking the ocean (shared)
Steps leading directly to the sea
Charming lush green garden
Hammock and sun loungers in the garden
Welcome pack on arrival (bread, butter, cheese, yoghurt, milk, water, juice, eggs, oil, salt, pepper, sugar, etc)
Charcoal BBQ
Daily Housekeeping: Daily housekeeping services are provided daily besides Sundays and public holidays. The maid can also prepare delicious meals at an extra cost.
Wifi and Satellite Channels: All apartments offer free and unlimited Wi-Fi connection as well as satellite channels.
Airport transfer and Car Rental Service
Services at additional costs:
Meals can be arranged at an additional cost
---
Boutique Villa On The Rocks - Apartments Types and Details:
3 bedroom Apartment: Ground Floor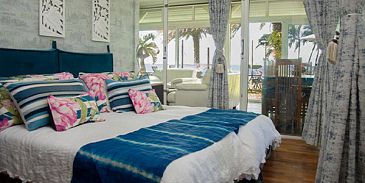 The very spacious Ground Floor Apartment offers a total of 150 m² of living area and opens directly onto the garden, with clients having the possibility of walking directly onto the beach and to the ocean ahead.
The apartment boasts 3 bedrooms and 2 bathrooms. With an elegant and simple decor highlighted by bright and warm living spaces including a living-dining room and a fully equipped open-plan kitchen, the apartment allows independence if you wish to cook.
Facilities:
Furnished Terrace
Shared Garden
Shared Infinity Swimming Pool
Living and Dining space
Living room with Flat screen TV
Fully equipped kitchen: microwave, oven, induction hobs, fridge, refrigerator, Nespresso machine, kettle, kitchen hood, kitchenware…
Bedroom 1 – Ensuite Master bedroom: king size bed, sink, bathroom with toilet, hair dryer, air conditioning
Bedroom 2: Queen size bed with air conditioning
Bedroom 3: 2 single beds that can be joined to make double beds and air conditioning
2nd bathroom with bathtub and toilet
Parking is available
4 bedroom Apartment: 1st Floor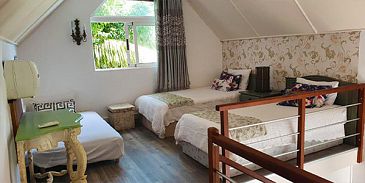 The stunning sea view that can be enjoyed from the balcony of this luxurious 150 m2 apartment will remain forever etched in your memories. This apartment embraces intimacy, serenity and spectacular views of the ocean. A picture-perfect setting for a dream holiday.
An added perk of the First Floor Apartments is that it has a bedroom on the mezzanine, ideal for couples with children who want to have their own space - a total of 4 bedrooms.
The bright living spaces, furnished and decorated with the greatest care, will captivate you the moment you step inside. A lounge/dining room and a fully furnished and equipped open plan kitchen further add to the luxury of your stay. Be your own chef or make the most of our catering service to have your breakfasts or meals delivered to your apartment.
Facilities:
Furnished Balcony
Shared Garden
Shared Infinity Swimming Pool
Living and Dining space
Mezzanine with Flat screen TV
Fully equipped kitchen: microwave, oven, induction hobs, fridge, refrigerator, Nespresso machine, kettle, kitchen hood, kitchenware …
Bedroom 1 – Ensuite Master bedroom: sea view, queen size bed, sink, bathroom with shower & toilet, air conditioning, balcony
Bedroom 2: Queen size bed with air conditioning and balcony
Bedroom 3: Double bed on mezzanine with TV, couch and air conditioning
Bedroom 4: 2 single beds on the mezzanine that can be joined to make double beds, air conditioning
1 bathroom with shower and toilet
Parking is available
---
Restaurants & Dining:
Restaurant in close proximity to Boutique Villa On The Rocks
Sous Le Manguier - Snack - 300m
Restaurant Gilda - 500m
Chez Tino - 600m
La Case Poisson - 650m
Le Café des Arts - 900m
Green Island Beach Restaurant - 1 km
---
Attractions & Activities nearby
Attractions & Activities in close proximity to Boutique Villa On The Rocks
Trou d'Eau Douce public beach - 1 km
Pointe Maurice Jetty (for boat transfer to Ile aux Cerfs) - 3.1 km
Palmar beach - 4.6 km
GRSE Waterfalls - 7.6 km
Links Golf Course - 8.4 km
Legend Golf Course - 8.8 km
Belle Mare Public Beach - 9.7 km
Splash N Fun Leisure Park - 10.6 km
Flacq Market - 10.9 km
Domaine de l'Etoile - 16.5 km
La Vallée des Ferney - 30.1 km
Mahebourg Waterfront - 36.3 km