Kaz'alala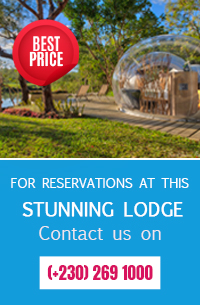 Kaz'alala Overview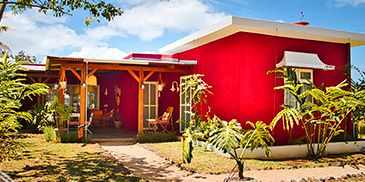 Located on the south coast of Mauritius, at the heart of Bel Ombre, Kaz'alala is a different way of living Mauritius. Adjacent to the historic Heritage Le Chateau and the award-winning Heritage Golf Club, Kaz'alala is an invitation to get lost on the wild coast.
The accommodation is composed of four self-catering houses which once formed part of a sugar plantation housing camp, with a total of 18 well-appointed bedrooms. Scattered in a lush tropical garden, each house has its own theme and has been thoughtfully renovated with a fresh design to create an inviting, authentic home while maintaining the sense of place.
---
Additional information on Kaz'alala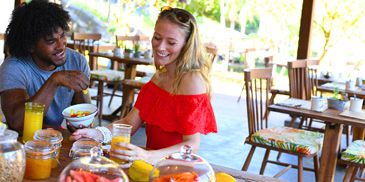 With garden views, Kaz'alala is situated in Bel Ombre and has a restaurant, a shared kitchen, bar, garden, year-round outdoor pool and terrace.
Both WiFi and private parking are accessible at the bed and breakfast free of charge.
Each unit is fitted with air conditioning, private bathroom and a kitchenette including a microwave, fridge, stovetop and a toaster.
Guests at Kaz'alala can enjoy a continental or a buffet breakfast.
There is a shared lounge at this property and guests can go cycling nearby.
---
Kaz'alala - Location
Bel Ombre
Bel Ombre Beach is 700 m from the accommodation, while Heritage Nature Reserve is 4.3 km from the property. The nearest airport is Sir Seewoosagur Ramgoolam, 29 km from Kaz'alala Hosted B&B, and the property offers a paid airport shuttle service.
Situated within the spectacular and historic 2,500-hectare domaine of Heritage Bel Ombre in the pristine South of Mauritius, and just steps away from an elegant 19th century chateau and the Indian Ocean, they offer discerning guests an alternative beyond the usual formulaic and predictable hotel experience.
---
Lodge type at Kaz'alala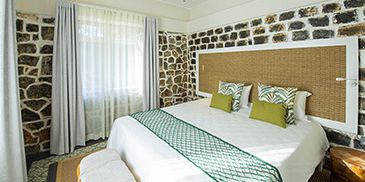 Lakaz La Vie
From the roadside to the mountaintops, green is the predominant colour throughout the year in Bel Ombre. Kaz'alala's main house and oldest homestead dating from two centuries, "Lakaz La Vie" (The House of Life) has a green theme that echoes the verdant landscape outside featuring seashore meadows, a beautifully manicured golf course and a pristine nature reserve stretching more than a thousand hectares, among others.
Lakaz La Vie, with its 2 family rooms and its 3 double rooms, is the perfect spot to indulge in the simple pleasures of life with a sense of connection to nature. The house flows through from the kitchen to the living room and dining area, and out onto the spacious terrace. In addition to the four rooms in the main building, there is a separate outbuilding with another room.
Cabane du Cardinal
The "Cabane du Cardinal", with its 3 double rooms, borrows its colour theme from the distinctively red head and breast of the Mauritius fody, a rare species of endemic birds also called "Cardinal de Maurice". This freshly renovated sugar plantation house is equipped with everything you could need to feel at home. Relax on a hammock with that book you've been wanting to read since weeks and life becomes so much sweeter.
It is also a reminder of the brilliant flame trees, bougainvillea and lychee trees loaded with fruit in summer that adorn the landscape of Mauritius, which will provide awe-inspiring experiences for nature enthusiasts and cultural travellers.
Lakaz Lamer
"Lakaz Lamer", literally The House of the Sea, pays tribute to the marine heritage of Bel Ombre. The soothing blue tones create an environment that replenishes the soul and recharges the spirit. The tree swing on an ancient Indian Almond Tree is an invitation to finally lie back and sloth.
Filled with fresh air and natural light, this house, composed of 4 double rooms, is an oasis for sun, sea and sand worshippers as well as those guests for whom the colour blue symbolises freedom and adventure.
---
Lodge Facilities
Kaz'alala Hosted B&B is situated in Bel Ombre and has a restaurant, a shared kitchen, bar, garden, year-round outdoor pool and terrace. Both WiFi and private parking are accessible at the bed and breakfast free of charge.
Free parking
Bar / lounge
Board games / puzzles
Children Activities (Kid / Family Friendly)
Pets Allowed ( Dog / Pet Friendly )
On site restaurant/bar
---
Kaz'alala - Bar & Restaurants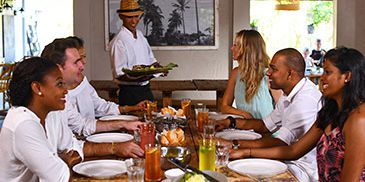 Breakfast
At Lakaz Mama, a superb, copious breakfast is available every morning from 7am to 10am in a bright and fresh setting. An ideal way to start your day before setting off to explore the many surrounding attractions and recreational opportunities or just relax and soak up the Bel Ombre sun.
Fresh fruits, home-made jams, honey, coconut hotbuns, pancakes, mauritian fritters or Kaz'alala style omelettes, just to mention a few... Breakfast is a ritual that you never get bored of at Kaz'alala.
All-Day Dining
A selection of light bites is available all day for lunch or for munching in between meals. For light meals, you can enjoy a Smoked Marlin Salad with its Pineapple, Lime & Peanut Dressing for lunch or a Fish Vindaye sandwich (with the traditional Pain Maison or a baguette). For something more hearty and if you are ravenous, why not try the Chicken Curry, condiments and warm Farata (Indian flatbread).
For Dinner
Lakaz Mama Restaurant with its open-plan kitchen serves lovingly prepared dishes for dinner in a soft and subdued atmosphere. They use the finest and freshest local surf and turf produce, including fish and deer, in a light, friendly atmosphere. Check with your host to find out what's on the menu for the Pop-Up Evenings.
---
Additional Features at Kaz'alala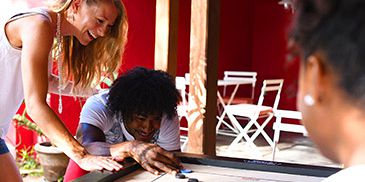 Kaz'alala provides authentic connections to the community of Bel Ombre through its commitment to Responsible Tourism. It is committed to sourcing of fresh produce from the region and genuine care for the environment through no single-use plastic from the onset.
Your host at Kaz'alala will make sure that your every need is catered for. The ambassador of Creole hospitality will greet you the local way, with a sincere "Bonzour" (Hello) as well as a beaming smile and contagious laugh that say lots about the warm personality inside.
Your host knows the island inside out – you can always count on her to tell you where all the hidden treasures are. In addition to explaining to you the rules of local games such as Petanque or Carrom, she will also teach you creole words that will help you get along in Mauritius. She speaks English, French and of course Creole!