Le Clos Du Littoral - Evaco

Address:
Le Clos Du Littoral
Grand Bay, Mauritius
Telephone:
(230) 263 2216
Email:
Click here for Email
Website:
www.evacoholidays.com
Le Clos Du Littoral Overview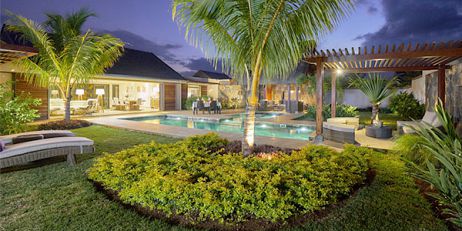 Le Clos du Littoral is a luxurious villa located at Grand Bay and near the frequently visited shopping centre, La Croisette in the northern part of the island. This new estate offers top notch villas set at the heart of a natural environment, and the harmonious architecture of the villas provides many green open areas for relaxing moments.
The interior design is elegant with light and contemporary furnishings. Experience high quality room facilities during your stay here. Some rooms include television LCD/plasma screen, free welcome drink, closet, private pool, internet access – wireless (complimentary), provided to help guests recharge after a long day.
Renting a villa at Clos du Littoral is perfectly suitable for a couple, as well as a family or a group of friends as there are villas of one, two, three, four and five bedrooms depending on the number of guests joining you.
The complete list of recreational facilities is available at the hotel, including private beach, fitness centre, sauna, outdoor pool, skiing. The residence is secured 24 hours a day with the staff being discreet in all circumstances.
The cleaning staff is on duty every day for your comfort during your holidays. Guest relation officers will be at your disposal throughout the day while being discreet, and just through a phone call will be able to book a catamaran trip or a car to visit other parts of Mauritius.
---
Le Clos Du Littoral Location
Le Clos du Littoral is located at Grand Baie, most famous seaside resort of the island. Offering a pleasant climate throughout the year and the most beautiful beaches of the north, Grand Baie is the first choice of residence for many Mauritians and expatriates.
This luxury villa is 1.3 km from La Croisette, 2.3 km from Grand Bay Beach, and 4.9 km from the city centre.
---
Accommodation capacity of Le Clos Du Littoral
The Clos du Littoral consists of two phases of accommodation. Phase I of Clos du Littoral has been hailed as an unprecedented commercial success. The project comprises 63 high-end villas divided into six categories, where each villa provides comfortable living space complemented with optimum natural lighting.
Clos du Littoral II is both the continuity and the complement of phase I. This second development will set a new benchmark in luxury residential development in Mauritius, occupying an area of more than 7 hectares.
Accommodation Categories:
1 Bedroom villas (110 m2)
2 Bedroom villas (250 m2)
3 Bedroom Villas (300-700 m2)
4 Bedroom Villas (800-1000 m2)
5 Bedroom Villas (950-1000 m2)
1 Bedroom Villas
Villas Astrolabe are distributed on 2 different floors, with a surface area of 110 m2 on 257 m2 of land. These villas are the ideal place for couples. They are equipped with a double bedroom, a bathroom and separate toilet. If you have a child, the team will propose to set up an extra bed at an additional charge.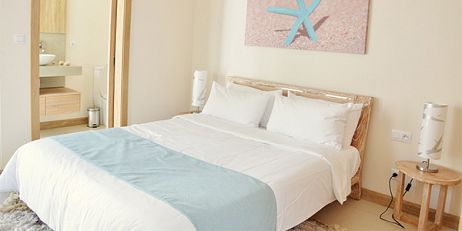 Maximum Occupancy: 2 adults + 1 child
Area: 110 m2
Bedding: 1 king bed; 1 extra bed upon request
Room Amenities
Separate sitting area
Air conditioning
Ceiling fan
Phone
Kitchen
Free bottled water
Microwave
Daily housekeeping
Private bathroom
Shower
Iron/ironing board
In-room safe
2 bedroom villas
The charming two-bedroom home has a build-up surface of 250 m2 including a kitchen, a living room and a dining room directly overlooking a large open terrace. The first bedroom situated on the first floor, enjoys access on a partially covered private terrace.
The second bedroom suite is on the ground floor, with large windows opening on the garden. The villa overlooks the garden which is an invitation to relax and unwind at all times, with a private pool and garden shed.
Maximum Occupancy: 5 adults
Area: 250 m2
Bedding: 1 Queen Bed + 1 king bed
COVERED AREAS
Kitchen/Living Room/Dining Room
Master Bedroom
Principal Bathroom
Second Bedroom
Second Bathroom
Utility Room
Garden Shed
Kiosk
SEMI COVERED AREAS
BUILT AREAS
3 bedroom villas
Villas Caravelle have been designed for groups of friends or for larger families. They are equipped with a master bedroom with a double bed, featuring its own private bathroom with walk-in shower, twin vanity unit and separate toilet.
They also have two additional double bedrooms with their individual bathrooms with shower and separate toilet. A single bed can be added at an extra cost as these villas can accommodate up to 7 guests.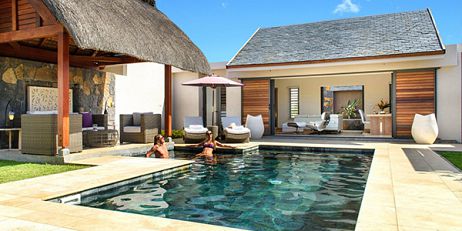 Maximum Occupancy: 7 adults
Area: 300 - 700 m2
Bedding: Double beds; 1 extra bed upon request
COVERED AREAS
Kitchen / Living Room / Dining Room
3 Bedrooms
3 Bathrooms
Office
Utility Room
Garden Shed
Kiosk
SEMI COVERED AREAS
BUILT AREAS
LAND AREA
4 bedroom villas
The four bedroom villas at Clos du Littoral are perfect for guests looking for space. They are equipped with a master bedroom featuring a King size bed, a private bathroom, twin vanity unit and separate toilet, but that is not all, there is also three additional double bedrooms with their private bathrooms with shower and separate toilet. The garden is remarkably spacious. These villas accommodate up to 9 guests provided you request an extra bed.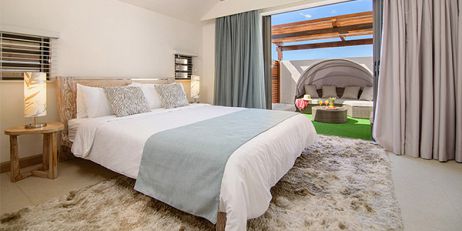 Maximum Occupancy: 9 adults
Area: 800 - 1000 m2
Bedding: King size beds; 1 extra bed upon request
COVERED AREAS
Kitchen / Living Room / Dining Room
4 Bedrooms
4 Bathrooms
WC
Garage
Corridor
Garden Shed
Kiosk
SEMI COVERED AREAS
Yard of Bathroom 1, 2, 3, 4
Yard - Living Room
Yard - Kitchen
BUILT AREAS
Villa
Pool Beach / Passage
LAND AREA
5 Bedroom Villas
Set in peaceful and chic surroundings, these ultra-luxurious villas are tailor-made for discerning clients and combine sophisticated living, elegant architecture and comfort at its best. The villa type covers a total surface area of 950 to 1000m2 and comprises five bedrooms with en-suite bathrooms embellished by adjacent corner gardens.
The vast and elegant living spaces are connected by large openings. These villas are the epitome of luxury and privacy, offering unparalleled intimacy to its occupants. The outdoor area has been created to enjoy tropical lifestyle at its best, with its beautiful lush garden, vast swimming pool and kiosk.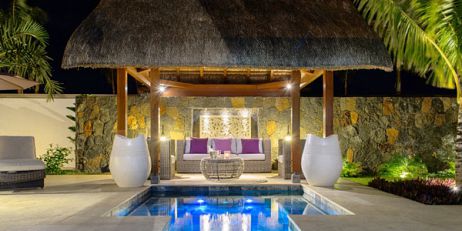 Maximum Occupancy: 11 adults
Area: 950 - 1000 m2
Bedding: Double beds; 1 extra bed upon request
COVERED AREAS
Kitchen
Living Room /Dining Room / Office
5 Bedrooms
5 Bathrooms
Outdoor Bath
Wardrobe
Utility Room
Lobby
Store
SEMI COVERED AREAS
EXTERNAL AREAS
---
Activities & Facilities
The Spa
Located at the centre of the village, the Spa of Clos du Littoral is a haven of peace and relaxation. Unwind and destress in this serene sanctuary dedicated to the well-being of the body and mind.
Offering deluxe pampering, the spa offers a variety of massages and beauty cares/treatments and takes your senses on an amazing holistic experience.
La Plage, Beach Club
Found on one of the most pristine beaches of Mauritius in Trou-aux-Biches, the private Beach Club- 'La Plage' is just a mere ten minutes away from Clos du Littoral.
Treat yourself at the beach restaurant and bar and unwind with a relaxing massage in our massage cabana overlooking the turquoise lagoon. Various water-sport activities are also available.
Enjoy exclusive access to this idyllic spot by presenting your access card provided during the check-in at Clos du Littoral. A free shuttle service is also available 4 times a day.
The Beach Club is also available for birthday and wedding celebrations and various events are regularly organised there.
The Kids Club
The phase II will also offer a Kids Club, set in the heart of the village. With a spacious green arena, designed with all the amenities to guarantee the safety of the little ones and with the help of dedicated and professional staff, this much awaited complimentary service will ensure that your children enjoy a memorable stay.
The Gym
As part of The Clos du Littoral II, an ultra-modern gym fitted with state-of-the-art equipment of international standards will be available for residents. Situated a few steps away from the residence, it will offer the perfect opportunity to stay in shape and release stress, with the help of a qualified coach. Guests can enjoy a relaxing session at the Spa nearby after their workout.
The Lounge Club
The Clos du Littoral II will also offer a prestigious lounge club, surrounded by a superb environment. Expect a warm welcome, first-class bespoke services and convivial gatherings in this exclusive and elegant place.
The Bowling Alley
A bowling alley will be set up for the exclusive use of residents who will have the opportunity to indulge in a popular game whilst enjoying a moment of conviviality, relaxation and tranquillity.
Gardens
This relaxing sanctuary, etched in the heart of nature has been based on a concept of harmonising the architecture of the resort with its surrounding environment. A river will run across the lush gardens, doted here and there with pools flowing into a large pond. Paths will offer pleasant strolls and a secured and supervised kids' corner will welcome children. The park will add to the charms of the place and will offer a breath of fresh air at any time of the day.
Daily Housekeeping
Daily housekeeping services are provided 7 times a week. The maid can also prepare delicious meals at an extra cost.
Wifi and Satellite Channels
All villas offer free and unlimited Wi-Fi connection as well as satellite channels.
Shuttle Service
Guests are provided with a free shuttle service several times per day to the shopping centre of La Croisette and to the private Beach Club 'La Plage'. The shuttle operating hours are available in the villas or at the reception of Clos du Littoral.
Concierge Service
The concierge service provides valuable assistance, information and advice to ensure you spend an unforgettable holiday in Mauritius.
---
Restaurants & Bars
Continental Breakfast
Each morning, between 9.00 and 9.30, a housemaid will bring you a basket of cookies, with accompanying tea, coffee, fruit juice, bread, butter and jam. If you also wish to have eggs, bacon, sausages, etc. with your breakfast, you may place an order (à la carte) or buy your own groceries, and the housemaid will be delighted to prepare it all for you.