LUX* Belle Mare Hotel Mauritius

Address:
Costal Road, Belle Mare, Mauritius
Telephone:
(230) 402 2000
Fax:
(230) 415 2020
Email:
Click Here
Website:
www.luxislandresorts.com
LUX* Belle Mare Hotel - 5 Star
LUX* Belle Mare Hotel Overview
Situated in the village of Belle Mare on the East coast of Mauritius, LUX * Belle Mare Hotel, is one of the most lavish hotels in the island. The vibrant beach hotel welcomes you with its pristine white beaches and a dazing lagoon. A stay at LUX * Belle Mare Hotel will definitely be a unique and enchanting experience for the guests.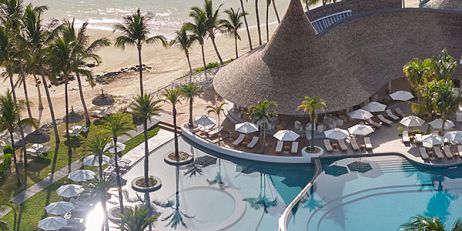 One is bound to be charmed by the colonial style and cozy atmosphere of the luxurious hotel which will in turn take you to another world, far from a busy and hectic one. Thus, LUX* Belle Mare Hotel is the ideal destination for those who would prefer to retreat into a peaceful and blissful location in Mauritius.
If you are looking for a posh area to live in Mauritius then the beach hotel is perfect choice. In addition to this, those who appreciate luxurious surroundings, extensive facilities as well as personalized service and also for those who have an inclination for finer things of life, are undoubtedly going to enjoy their stay in the hotel.
LUX* Belle Mare Hotel also comprises of one of the island's largest swimming pools coupled with a spa which may even help the guests to benefit from some relaxation facilities. The diverse activities which the hotel proposes undoubtedly form part of its most appreciated features.
---
Hotel Location
Bearing in mind the fact that LUX* Belle Mare Hotel is situated on one of the best beaches of the island where it is nice and refreshing on even the hottest of summer days, one can easily draw a picture of the area where he will be staying . The hotel is approximately 50 kilometers from the capital of the island Port-Louis and 45 kilometers from Sir Seewoosagur Ramgoolam International Airport.
---
LUX* Belle Mare Accommodation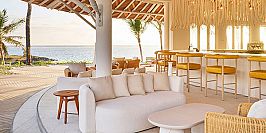 Wake up to the sound of the warm Indian Ocean lapping against the shore after a blissful night's sleep in your handcrafted LUX* Sleep Tight bed and beautifully appointed suite or villa. Freshly re-designed by an international designer , Kelly Hoppen , they will be your tropical sanctuary during your Mauritian break. So open your eyes, stretch and relax. It's going to be another wonderful day in paradise!
One of the priorities of the beach hotel is ensuring the comfort of its guests according to the family size, and thus it offers 5 types of suites and villa details here below:
SUITES
The suites are especially designed with the mindset meeting each and every preferences and lifestyle ! You can find below the different type of suites available with full descriptions:
Junior Suites
There are 5 types of junior suites as follows:
Junior Suite
Junior Suite Pool view
Romantic Junior Suite
Beach View Junior Suite
Family Junior Suite
Villas
Ocean View Villa
Beachfront Villa
Prestige Villa
Room, Suite, Villa Facilities
Sea Facing balcony or terrace
Air conditioning and ceiling fans
Mini bar
Safe
Hairdryer
Complimentary tea and French press
Luxurious marble bathroom with separate toilet, bath and separate shower
Telephone with International Direct Dialing
Satellite Television and an array of music channels
State-of-the –art LCD flat screen TV and DVD Player
Private whirl bath in Lagoon and Maharajah suites
220/240-volt power points
Junior Suite
Number of Rooms: 60
Size : 60m²
The standard Junior suites are specially designed to convey a very beach house feeling with a touch of elegance. Each suite is equipped with a King-size Sleep Tight bed , a dressing room and luxurious bathroom with a large walk-in shower, two wash basins, a bath and separate toilets. The 48 inch wide LED TV's ; elaborate HIS & HER minibar offerings ; high speed Wi-Fi; IPTV with movies on demand are just a few of the special features provided for these rooms.
Junior Suite Pool view
Number of Room: 27
Size : 60m²
The Junior Suite Pool view is located close to the hotel lobby and offering direct access to the swimming pool. The Pool Junior suites offer wonderful views of the large multi depth pool , gardens and the lagoon. With all the amenities and comforts of a classy suite on offer ; enjoy free high speed Wi - Fi and then settle in for a night with a movie on demand on the IPTV.
Romantic Junior Suite
Number of Room: 33
Size : 60m² Meant for couples , this Spacious and airy room , with terraces overlooking the tropical gardens and the zen pond , each Junior Suite offers the utmost in comfort and style making it a really romantic place to enjoy with your better half . These suites ensure quiet and tranquil surroundings combined with a sumptuous dash of romance in the air! These suites feature special amenities in the room including the Focal sound system besides all the features of Junior Suites.
Beach View Junior Suite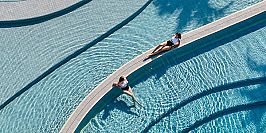 Number of Room: 33
Size : 60m²
Enjoy a generous sense of space featuring vibrant dashes of color on neutral base colors with super King-size Sleep tight bed promises the ultimate in comfort, while a leisurely sitting area and spacious terrace overlook the gardens, the soft white sands and the turquoise lagoon. Freshen up in the spacious bathroom with walk-in shower, bath, double washbasins and separate toilet with adjoining dressing room. The 48 inch wide LED TV's ; elaborate minibar offerings; high speed Wi-Fi ; IPTV with movies on demand are just a few of the special features provided for these rooms
Family Junior Suite, (120m²), King bed and 2 single beds
Number of Room: 10
Size : 60m²
The Family Junior Suites are specially designed in a contemporary style especially suited for families on holidays .These interconnecting suites allow the perfect balance of space and togetherness. Fresh colors through furnishings and natural tones of wood create a bright and inviting ambience for the whole family. Each of the interconnecting suites is equipped with Sleep Tight beds, a dressing room and spacious bathroom with a large walk-in shower, two wash basins, a bath and separate toilet and a 24 hours Room Service facility.
The rooms consist of a king size bed and 2 single beds , best for a family of 4!
Ocean Suites
Number of Room: 4
Size: 90m²
The Ocean suites offer a unique combination of space, luxury, comfort and location at the very best. Each Suite is equipped with a huge Sleep Tight bed, a large bathroom with separate shower, toilet and a large terrace overlooking the Indian ocean. Just imagine yourself watching the moon rising as you relax in your large bath ! With the 48 inch wide LED TV's ; elaborate mini bar offerings ; high speed Wi-Fi ; IPTV with movies on demand are just a few of the special features provided for these rooms.
Honeymoon Suites
Number of Room: 7
Size : 95m²
The Honeymoon suite is the perfect place to be in to start a new life together with a King-sized Sleep Tight bed ; large and designed bathroom , ideal location of the suite and a stunning lighter and brighter feel characterize the suite. The large terrace of the suite is ideal for a romantic breakfast or candle light dinner and you can rest assure of your full privacy !
The LUX* Suite
Number of Room: 7
Size : 240m²
Convenient for a group of 4 persons.
The LUX* Suite ,the ultimate in elegance and comfort! Sink into a plush sofa, tuck into dinner in the private dining room or sunbathe in absolute privacy on your picturesque rooftop terrace, complete with a solarium. A large terrace gives direct view of the tropical gardens ; together with a private butler to attend to all your needs. A connecting Junior Suite is also available for family or friends.
VILLAS
Earthly paradise: for those seeking a truly intimate and indulgent escape, these stylish abodes are real homes away from home ,with all the pampering you can expect of the five-star resort a few steps away.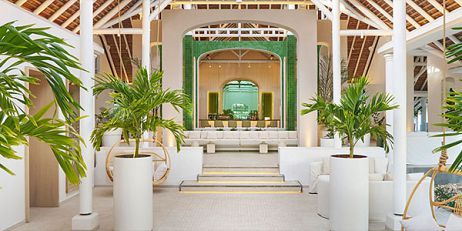 The 12 elegant Villas at LUX* Belle Mare are situated in their own secluded grounds on the northern side of the resort and offer breathtaking sea views.
Each Villa has its own lounge and dining room, as well as a small kitchen, so guests can be as independent as they wish. Satellite channels are available on large 56"TVs. Guests with iPods can dock them into the in-room sound system, and, of course, free Wi-Fi is available throughout the resort.
The Villas offer a 24-hour valet service with all the full access to the fabulous array of five-star facilities available in the resort.
Facilities include
Award-Winning Spa,
The Largest Swimming Pool In Mauritius,
A State-Of-The-Art Gym,
Cafés, Bars And Exceptional Restaurants, And
A Host Of Water- And Land-Based Activities.
The Villas have also their own heated pools, ideal in the winter months when the air temperature occasionally falls to a chilly 24C.
Please find below more details on the villas
Ocean View Villa
Number of Villas: 8
Size : 160m²
You will be instantly seduced by the warm and intimate decor as well as the spacious rooms within villas. The rich granite bathroom and its sunken bath along with the glazed bay directly accessing the heated private swimming pool are simply superb. The Ocean view villas offer a perfect combination of space, luxury, privacy and comfort, just everything to make your stay perfect!
Beachfront Villa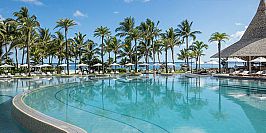 Number of Beach front Villas: 2
Size : 180m²
The magnificent Indian Ocean view is omnipresent throughout the Villa, due to the large glazed bays in the lounge, dining room and the bedroom.
Guests can step out of their gardens directly onto the beach!
The distinctive bathroom seems to flow into the ocean and, from the bath, one can dreamily enjoy the silvery moon rising over the ocean or the majestic sunrise – an unique unforgettable moments of communion with the beauty of Mauritius. These Villas are ideal hide-away for honeymoons or birthday celebrations. The straw shelter on the patio is an ideal place for tête-à-tête romantic meals. The unmatched location on the beachfront with a private garden and direct access to the beach make this villa "the must be" address on the island.
Prestige Villa
Number of Villas: 2
Size: 255m²
Prestige Villas are set back for maximum privacy. Slightly raised, with a private swimming pool, they cover an area of 255 sq metres, with a garden area and a private patio. With full exclusivity, these Villas offer two bedrooms with maximum freedom and space. The master bathroom comprises a large bath and accesses a small inner garden with an outdoor shower. The two rooms are very bright and airy and they open up onto the private garden and swimming pool. The very relaxing and contemporary color scheme conveys a convivial atmosphere to the villa, which is ideal get-away for holidays with the family or a couple of friends.
---
LUX* Belle Mare - Restaurants and Bars
LUX* Belle Mare offers 4 restaurants and 3 bars:
MIXE
Beach Rouge
Amari by Vineet
Duck Laundry
The Kitchen
The four restaurants are there to attract guests with innovative cuisines – with a blend of local spices and from all over the world. The internationally experienced Chef artfully combines a delicious mix of continental flavors with an exquisite range of cuisine.
About the restaurants and bars
MIXE
With a fabulous view of the glittering ocean and expansive swimming pool, MIXE dishes up a tempting all-day menu of island specialties, from a fresh sprawling breakfast buffet to round-the-world gastronomic dinners. It's a spectacular spot: there's a Josper-style grill, live cooking stations, an Asian Corner, a Spicy Curry Corner, a glass tandoor, a saj oven for oriental bread-making and a Japanese teppanyaki area. Sweet things also get a starring role, with a chocolate room where guests can watch and participate in cooking sessions, a glass oven for viennoiseries and a lavish display of pastries and desserts.
Beach Rouge
Occupying a prime spot right on the sands, Beach Rouge is open for lunch and dinner. There is a touch of French Riviera in the special white and red decors. In the lounge area, cocktails and tapas make for lazy days and cool evenings by the Indian Ocean: flop down on cushions on the beach to the upbeat sound of top DJs. Local, fresh-from-the-sea produce shines in the kitchen, where chefs whip up tantalising feasts of the island's best seasonal fare.
Amari by Vineet
For a dash of Asian spice, head to Amari by Vineet, the resort's new Indian restaurant !
A clean-lined but opulent space for the Michelin-star chef's scintillating fare. A leading light in the reinvention of Indian cuisine, Chef Vineet Bhatia won his first Michelin star at Zakia in London in 2001, followed by another in 2006 for his personal venture 'Rasoi' at London as well as in 2009 for 'Rasoi by Vineet' in Geneva. His masterful technique makes the textures and flavours of India shine, in sumptuous, subtly spiced dishes with contemporary flair.
Duck Laundry
Heading further east , Duck Laundry is the place for contemporary-style Chinese dishes, featuring duck in its many guises including crowd-pleasing Peking duck with steamed pancakes. Dim sum, on-the-spot noodle stations, a wood-fired duck oven and a Chinese barbecue station complete the experience, crowned by a varied selection of Chinese teas and Asian spirits.
NOTE: The Restaurants are opened as from Lunch time to Midnight every day.
---
Planning a romantic private dinner on the beach!?
We will be more than happy to organize for you a romantic tête-à-tête, private dinner on the beach which can be arranged under a canopy of stars. For room service and in-villa dining, just pick up your virtual LUX* Valet.
Enjoy some Happy hours at any of the 3 Bars that Lux* offers with top services adding to your list of great Souvenirs!
K-Bar
Café LUX*
Mari-kontan
K-Bar
The K-Bar knows a thing or two about tempting tipples. Light snacks and classically British afternoon teas make a pleasing preamble on the deck facing the ocean.
Café LUX*
At night, the bar takes on the airs of a microbrewery and serves our own range of refreshing B-LUX* craft beers, including its very own cuvée LUX*, a whisky-barrel-aged brew with hints of Café LUX*. In the minibar, you will find personalized bottles of beer.
Mari-kontan
While staying in our sugar country, don't miss Mari-kontan, a cabana-style rum corner featuring a delectable range of Mauritian spirits. Bottles of local rhums arrangés (flavoured rums) make great souvenirs.
Thirst still not quenched? Order sunlounger-friendly drinks with Beach Service , or stop by LUX*'s retro ICI parlours for homemade ice-cream. Coffee lovers get spoilt at Café LUX* , which serves LUX*'s own delicious Island Blend !
---
LUX* Belle Mare - Activities
Swimming pool
Take a dip in the island's largest swimming pools, measuring 2000 square meters. Its crystal clear water will provide you with a good alternative to the warm waters of the Indian Ocean while a special shallow-depth area is available for the kids to splash around.
Water sports
Staying in a beach hotel and not making the most of the water sports available is a real loss! Ranging from windsurfing, big game fishing, water skiing and snorkeling, the hotel also offers kayaks and pedal boats for sailing.
Diving
Discover the wonders of the calm eastern lagoon with the guidance of the five-star PADI-qualified diving monitors which the hotel provides its guests. Ideal dive sites which are located only ten minutes away from the hotel by boat ride offer a panoply of corals and schools of fish namely the tuna, barracuda, king fish, small white sharks along with the extravagant eagle rays.
Land-based activities
The hotel also caters for those who are passionate about adventures and exciting experiences-Get competitive with games such as Volleyball, Tennis or Table Tennis! Or simply relax with a round of petanques. For those who are growing more conscious about their fitness he LUX* Me Fitness offers fitness programmes and the very efficient yoga classes along with an impressive array of tailor - made exercises. One can also venture around in the neighboring regions by bike or do a scenic hike on the along the lush mountain passes.
Golf
Three 18-hole championship courses with great sweeping views of the coastline and greens are just minutes away from the hotel. Moreover, special golf itineraries can be organized as part of private - hire journeys.
LUX* Me spa
Step from the real world into another one where relaxation is at the centre of everything. The luxury Spa of LUX* Belle Mare is at heart of a beautiful garden and includes sauna, hammam and hydrotherapy facilities. Me LUX*Me is a unique concept which combines spa, fitness, nutrition, yoga, retreats and experiences into one venue. The LUX* Me experts will ensure that you make the best of luxurious facials, massages and scrubs. Specialised programmes such as retreats or flexible Vitalite experience allow you to participate in a way to maximize wellbeing and vitality.
Clubs
The beach hotel not only caters for adults but also for kids and teens. Taking due advantage of these clubs, parents can enjoy some free and intimate time while their children are being taken care by qualified hostesses.
---
Kids Club
The Kids Club has a lovely atmosphere, with a large room for activities and a fenced garden play area outside. The qualified hostesses really know how to get on with children, as they look after and entertain youngsters from 3 to 12. A babysitting service is also available on request, for a fee. Children's dinner is served at 6.30pm every night.
Teens Club
The Teens Club arranges a whole range of activities for those aged 12 and over, including a number of optional excursions outside the hotel (Open during school holidays only).
---
Conference Center
Are you planning a meeting? This resort has a 24-hour business center, a conference center with conference/meeting rooms as well as secretarial services, audio-visual equipment and translation services, so you can organize your event with ease.
Event Catering facilities
Banquet facilities
Computer Station
Internet point
Valet parking
Concierge desk
Hair saloon
Gift shops / news stands
Dry cleaning / laundry facilities
Currency exchange
---
Entertainment
Daily programs are displayed for children and adults. Guests are entertained by local artists and themed evenings.
Getting married at LUX* Belle Mare
Imagine tying the knot on a sandy beach with an exotic sunset...It may sound like fantasy but thanks to the hospitality and benevolence of Mauritian people, your dream wedding can become reality. Unlike many exotic wedding destinations, Mauritius offers non-residents a legally binding marriage. Here you can enjoy each and every moment of your wedding without being part of hectic situations.
These facilities are provided if you intend to conduct your wedding in our resort
Wonderful wedding coordinators who will handle all your requests and plan your marriage according to your preferences and special demands.
Exceptional cuisine and the finest beverages
Floral arrangement
Entertainment
Photographers
Fireworks
The-bride- arriving-on- horse moment
Special ornament and dress
All you have to do is to decide where to have your ceremony and reception.
With such a fantastic array of activities and facilities that are rivaled by none, a holiday in Mauritius could not be more exciting than at the LUX* Belle Mare!