Driving in Mauritius
Below you find some facts, tips and advices for driving in Mauritius

Driver's license
Foreigners with a driving license issued by a competent authority in their respective countries are allowed to drive during their stay in Mauritius.Before you arrive to Mauritius make sure to check if your country has signed a convention with Mauritius regarding your country's driver's license.
Also, make sure to check with your ministry of transportation at your country of residence if your national driver's license is sufficient for driving in Mauritius, or if an International driver's license should also be presented together with your country's national driving license.

Speed limitation
Speed limitations are 40 km/h in agglomerations and 80 km/h on the main open roads. On the Mauritius highway the average speed limitation is 100 km/h and at some parts it is 110 km/h – make sure to follow the speed signs.

Drive on the Left
Cars drive on the left hand side whilst priority is for vehicles coming from the right.

Mauritius Highway
Mauritius has only one highway. The highway starts from the airport situated in the South East of the Island and ends in the North of the Island at Grand Baie.

Road Signs
All roads sign posts are of International standards.

Rush hours & Heavy Traffic
You are most likely to encounter heavy traffic during peak hours: 07:30am – 09:30am, and 15:00pm – 18:00pm. During these times there is heavy traffic mainly in Port Louis area and at the entrances/exits of the main cities.

Alcohol limitation
When driving in Mauritius you are not allowed to have more than 50mg of alcohol in the bloodstream. Make sure not to drink and drive!

Mobile Phone Whilst Driving
It is strictly illegal to use a hand held mobile phone when driving.

Road Tolls
There are no road tolls in Mauritius.

Seat Belts
Wearing seat belts is mandatory at any given time for all car passengers.

Fuel / Petrol
Unleaded fuel and diesel are used in all petrol stations.
Petrol stations are open everyday from 06:00 to 20:00 (some petrol stations are open until 22:00). There is no need to get out of the car to petrol the car, simply park the car by a petrol pump, and an attendant will come to your window and ask the amount to be filled.
Most petrol stations accept payments done using all major credit cards but make sure to confirm this with the station's attendants.
Parking
Free parking is available almost everywhere in Mauritius except than in the main city centers. In the city centers of Port-Louis, Curepipe, Quatre-Bornes and Rose-Hills, there is a charge for parking on the street. The charge for parking is of 20 / 30 Rupees per hour depending on the exact location. In most cases you will find clear sign indicating the requirement for paid parking ticket and also the zone type (Parking Zone 1 / Zone 2). According to the parking zone type you will know which parking ticket to use. The parking tickets are sold at all the petrol stations and with some vendors in the city centers. Also available in all the city centers are private car parks where you can park your cars for charge of about 50 Rupees / hour.
Tips for Driving in Mauritius
Mauritius a Small Island - Remember that the island of Mauritius is relatively a small island, just over 60km in length and under 50km across. This is why it is perfectly possible to reach all four corners of the island in a day. With that, when planning your driving course in Mauritius, you should take into account factors such as the speed limitations, small roads and the heavy traffic during rush hours. Also, while planning your itinerary make sure to leave enough spare time to visit many of the sights, attractions, centers and beautiful viewpoints you encounter along the way.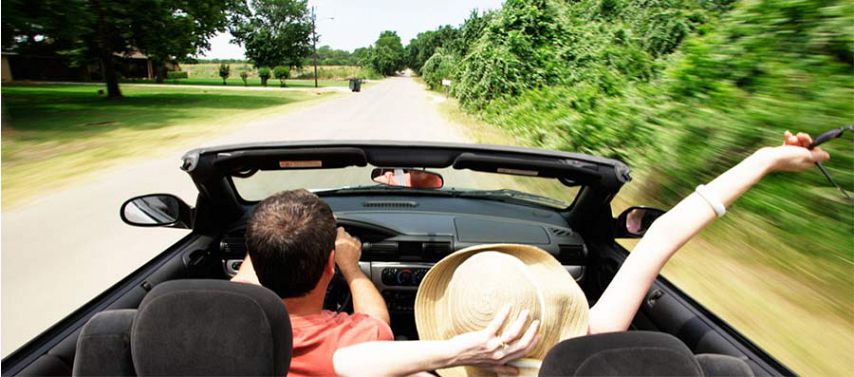 Highway Vs. Small roads - The Mauritius highway is a great time saver, but driving on the highway is not as fun or as interesting as driving through sugar-cane fringed gravel tracks, squeezing past yellow buses on narrow roads or stopping in the small, friendly villages. Driving in the smaller roads will reveal a more intimate Mauritius on its many hidden villages, with that, driving in small roads is more time consuming.
Road Map – A big Help - Mauritius being a small island with many direction signs along the main roads and at every major interaction is pretty easy to navigate. With that, when deciding to go off the main roads you will find very little direction signs and you can easily get lost. This is why a decent road map can be very helpful too.
Friendly people happy to assist and show the way - If you're really not sure where you are or where to go to, or in case you got lost, just ask the locals for directions. The Mauritians are very friendly and are always happy to help and show you the way to your destination. Many times you will find that you don't even have to ask for instructions, as the locals will be happy to advice and show you the way even before you ask.
Parking in Port Louis - When visiting Port Louis it is advised to park the car at the parking lot of the Caudan shopping complex as it is more secured and when doing so you save the hassle of driving into small streets and the chaotic traffic of Port Louis.